*This post may contain affiliate links. Please read the full disclosure here. 
Amazon gift cards are perfect for a birthday, anniversary or as a Christmas present. It's also a convenient way to shop online.
What if I told you, there are 11 simple ways to snag a free amazon gift card?
That's right and you don't need to pay anything to receive these free gift cards, that are redeemable not just at Amazon, but also a few big-name brands, like Walmart, Starbucks and Target.
Amazon has become the one-stop-shop for most of us. You name it, they've got it.
From extra-low price offerings to speedy deliveries – its just perfectly convenient for shoppers.
This means getting a free Amazon gift card can save you money on everyday essentials and help build your savings.
The majority of the ideas listed below will help you can earn these Amazon gift cards with or without your participation in surveys, and without completing offers.
But, for those of you interested in completing surveys for Amazon gift cards, I have listed some of the most legit sites at the bottom of this post, with some that pay up to $50 per survey.
These free gift cards app work by letting you complete little tasks, and reward you for your effort.
Most of the tasks require very little action at your end and is a great way to accumulate gift cards to spend on your monthly expenses.
Let's start with the best ways to get free Amazon gift cards fast.
11 Ways to Get Free Gift Cards On Amazon
1. Earn for Scanning your Shopping Receipts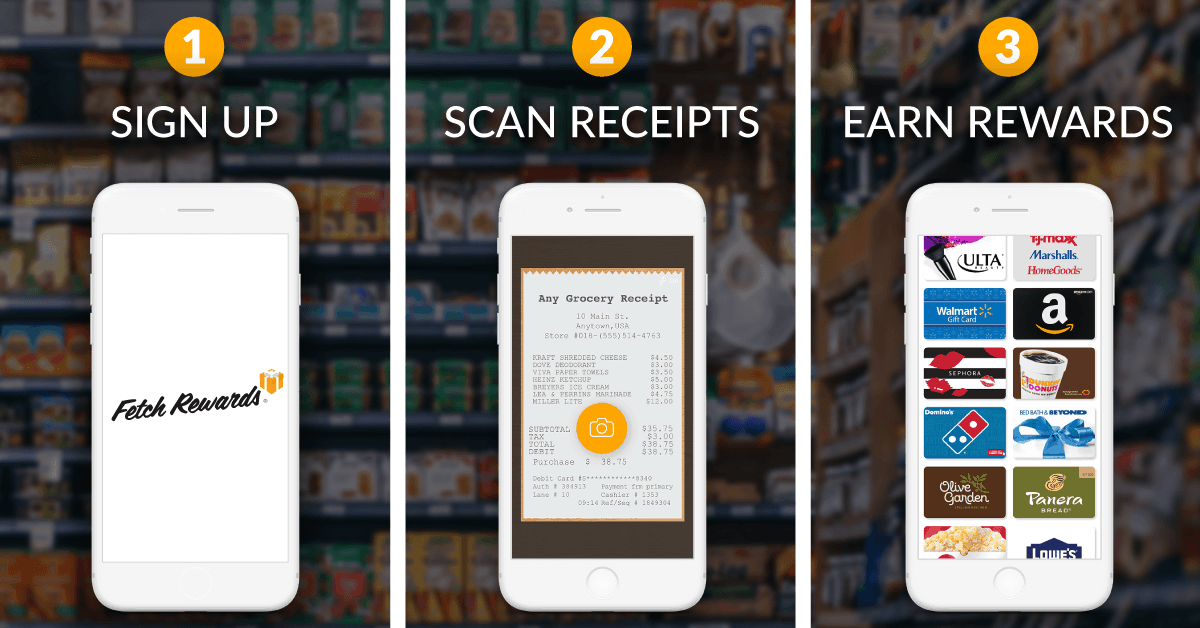 A phone app that will earn you rewards for simply scanning your shopping receipts.
Fetch Reward is an app that pays you to scan your receipt.
As simple as that!
No couponing, no scanning barcodes, no surveys and no ads. Once you finish shopping just scan your receipt to earn rewards in the form of e-gift cards from Target, Amazon, Kohl's, Sephora and hundreds more.
You can cash out with as little as $3. Download Fetch Rewards for free on your phone and earn free gift cards.
2. Free Amazon Gift Card Codes (Automatically)

Honey is a free Chrome extension, that you can download to your desktop. Once downloaded, this app will automatically find and apply coupon codes to your online shopping cart at the checkout.
The reason I love this is that it takes the hassle out of searching for coupon codes online.
This app just gives you the codes, so you save money almost instantly. They are a reliable company with over 7 million users and growing.
For every 1,000 points you earn, you get a $10 gift card. Once you join you will also be given a referral link that gives you 500 points for each person you refer. This means you can earn a free $10 gift card with just 2 referrals.
I personally use the honey app for free Amazon coupon codes and to earn bonus points each time I shop online.
The Honey app doesn't just work with Amazon, it works with almost any online store. I have used it for online grocery shopping, at health food stores and to shop for clothes.
Here is the Honey Gold points I have accumulated in the past couple of months. It's not much, but that's a free $20 Amazon gift card that I can now spend!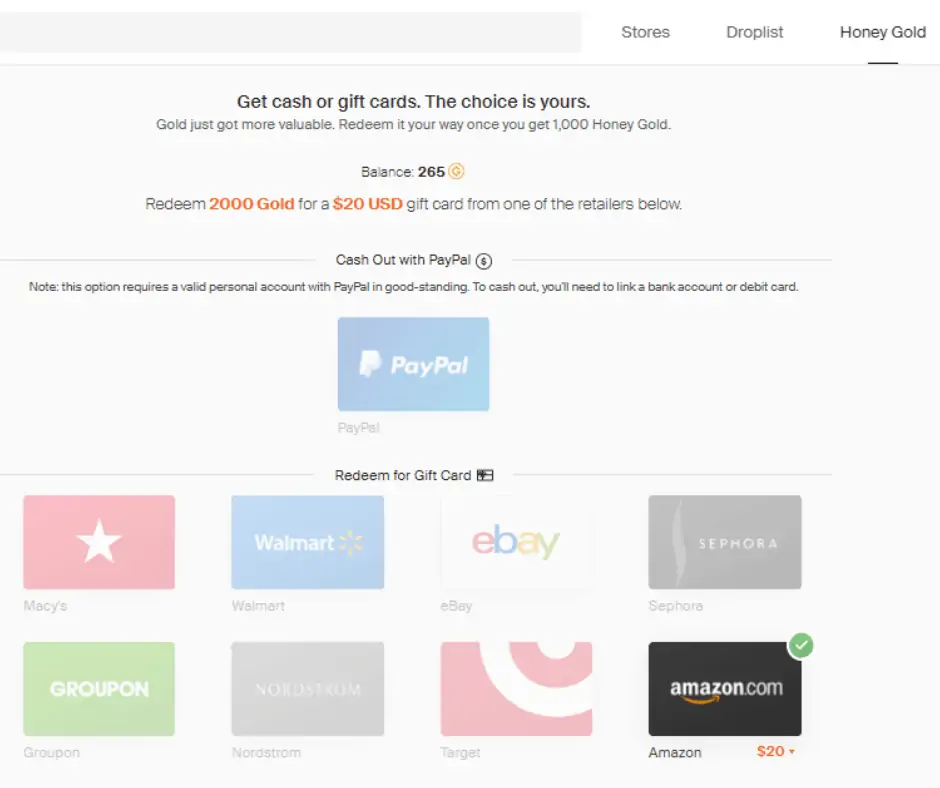 The Honey App works with over 30,000 online shopping sites including Amazon and is available to American, Canadian, Australian and UK members.
3. Online Research Panel
Pinecone Research:
This is a reputed research site that pays you a flat rate of $3 per task, unlike some sites that only earn you a dollar for an hour worth of surveys.
Not everyone can sign up with Pinecone Research as it's available through invite-only.
You can participate in their research studies if you live in the US or the UK. The money you earn can be redeemed for gift cards that include Amazon and a few other retailers.
> Here is your invite link to try Pinecone Research.
Survey Junkie:
It is one of the most robust and trusted work from home sites with an A+ rating on BBB and 5-star customer reviews.
They also have a 4-star rating on Trustpilot with over 11,000 reviews.
What makes Survey Junkie more reliable? Because they pay their survey takers and the earning potential can go up to $50 per surveys redeemable by Amazon gift cards or PayPal.
Unfortunately, they are only available for those living in the US, Australia and Canada.
> You can sign up here for a $2 bonus.
Respondent – $300
Since we are talking about online research, I thought I'd include the Respondent app. This is a high paying online research site where you help researchers with their work – by answering questions online or feedback by a video call.
Earning potential can go up to $300 a study. This usually works out to be $140 an hour. There are no prerequisites to begin, so anyone can apply.
They don't pay gift cards, but they do pay PayPal cash, but I felt it was definitely worth mentioning if you are keen on online research.
Read our full Respondent Review post here.
---
Make extra money by browsing the web, watching videos, playing online games and testing new products - clothing, food, cosmetics and more! Its free to join. Sign up for your chance to
get a $5 Swagbucks bonus.
---
4. Drop App
If you want to get free gift cards without completing surveys or offers this is the way to do it.
Drop is a free app that you download and link to your debit or credit card. And next time you do your shopping as normal, you get cashbask into your bank account.
Step 1: Link a debit/credit card
Step 2: Shop with that card – either grocery shopping or taking an Uber to earn points.
Step 3: Redeem points for Amazon Gift cards.
The Drop app is legit and has been featured on Forbes and other big publications.
5. Free $10 Amazon Gift Card
MYPOINTS
If you enjoy cashback sites, here is another generous American/Canadian cashback site worth considering – MyPoints.
MyPoints gets you up to 40% cashback on every purchase at Amazon and 2000 other retailers.
Every time you shop points are added to your account, and it is redeemable not just for gift cards but also as cash into your PayPal account.
Join MyPoints for a free $10 Amazon gift card for new users who shop for $20 or more at their participating retailers.
IBOTTA
Another cashback app that gives you cashback between 24-48hrs.
Yes, they are very fast and very legit. And the best part is you earn cash not points, for scanning and uploading your shopping receipts – whether in-store or online.
Check out our full Ibotta review here.
6. Earn for your opinion
Harris poll is one of the oldest and well-known organizations around.
You make money answering questions that help the decision-makers in government, corporations and other non-profit organizations based on your answers.
You get paid gift cards that are redeemable at Amazon, iTunes, and Starbucks.
> It's free to sign up here if you live in the United States and here if you are in Canada.
7. Get paid to read emails
Inbox dollars is a site that pays you for reading emails, surfing the web, or making purchases online.
This is a BBB accredited business with an A+ rating. They get paid by brands for taking consumer opinions, so when you voice your opinion, you get paid. Up to $57 million in rewards have been paid so far.
> You can earn your first $5 just for signing up here.
Tip: The number of paid emails you get increases with your active participation (up to 3 emails a day). So once you sign up, remember to check your inbox for the confirmations email and start getting paid.
Related post: Incredibly easy ways to get free money right now
8. Earn to Watch Videos
If you have heard about Swagbucks and not sure if it's one worth trying, let me show you an easy way to make money from it.
But first, what is Swagbucks?
It's a website that pays you cash into your Paypal account or Amazon gift cards, for completing simple tasks like watching a video. Yes, you get paid to watch cooking shows!
Another easy way is to browse the internet using their search bar. So say you want to search for a chocolate cake recipe. You would normally go to Yahoo or Google and type in – chocolate cake recipe.
But if you have Swagbucks, instead of using Yahoo, go into Swagbucks and click on their search bar to search for the chocolate cake recipe and earn points. How easy was that?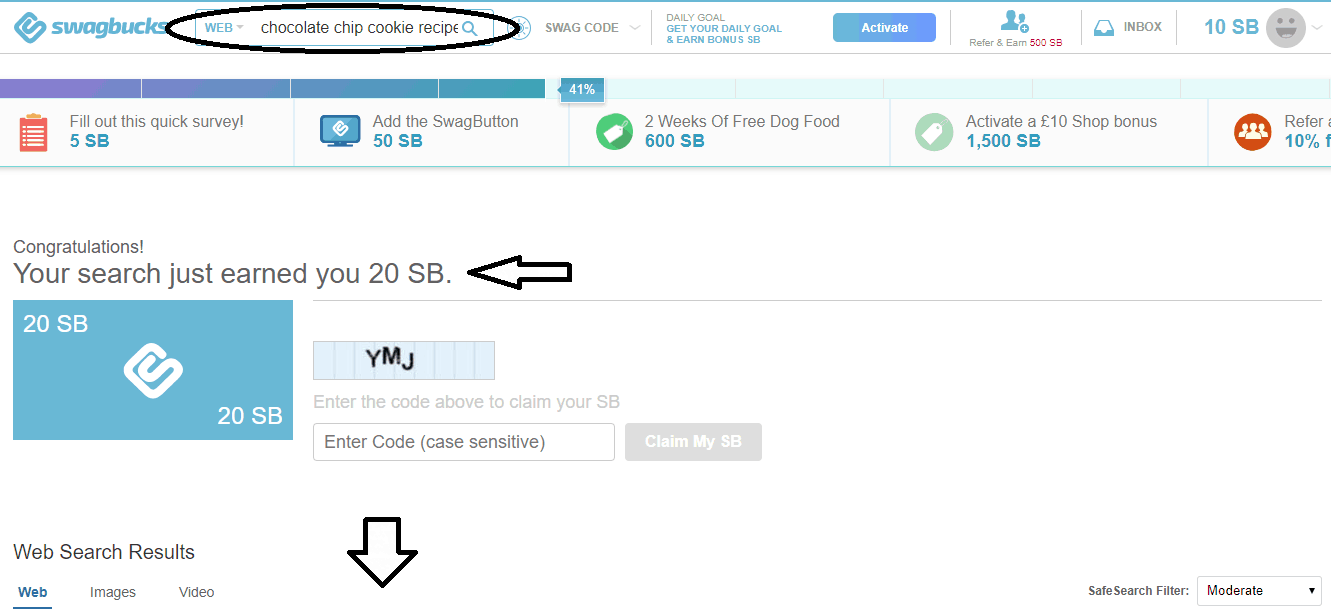 See how I used their search bar on the Swagbucks website to search for a chocolate chip cookie recipe? Below I have earned 20 SB (points) for one simple web search. And if I scroll further below you can see web search results for the cookie recipe.
> You can sign up to Swagbucks for a free $5 bonus here>>
Once you have accumulated your points, you can go to the rewards section to claim your free $5 Amazon gift card at the least. The more points you get, this can even get you a free $100 Amazon gift card.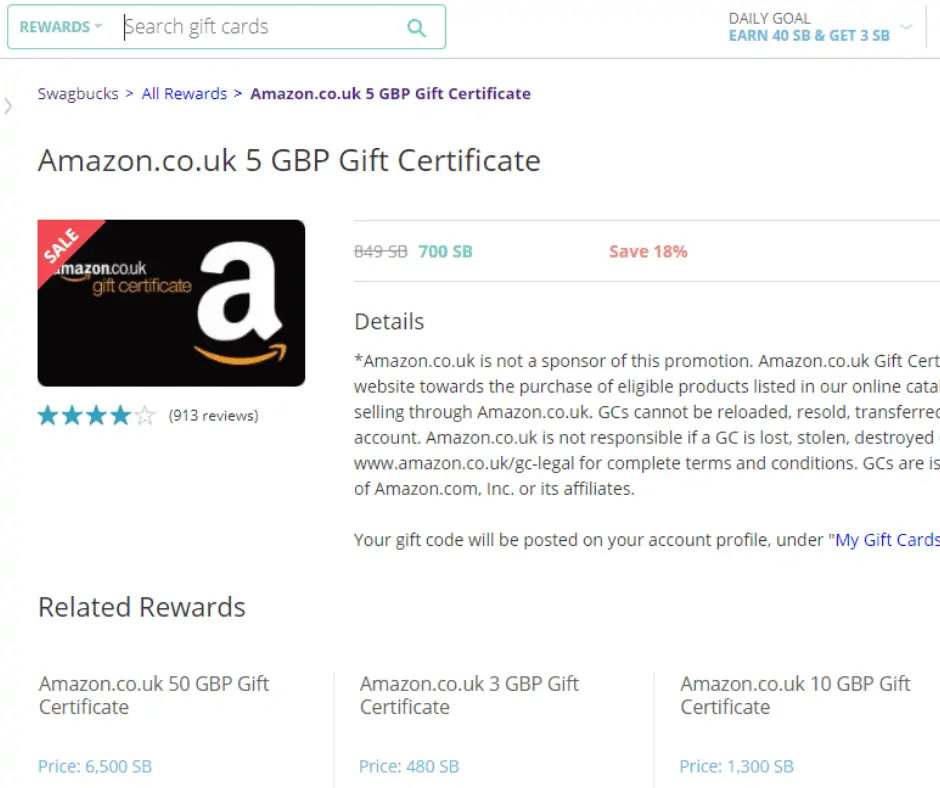 9. Install apps and earn $50
With Earnably you can install apps or sign up for services and earn. Your rewards can be redeemed through Amazon gift cards, or cash out through Paypal or Bitcoin.
Neilsen is another free app which you download on your computer or mobile to earn $50.
All that is required is that you install the app and keep it running for the 30 days to earn your first $5 credit. And if you have it for a year, you earn $50 for each device it's installed.
> Neilsen Panel is available if you live in the US. Download the app now to get rewarded.
10. Surveys For Amazon Gift Cards
If you are looking for more ways to earn quick cash or gift cards, you might want to sign up to these high paying survey website that will help you earn up to $50 per survey.
Here are some other reliable ones that will increase your chances of earning more.
Global test market – Sign up here and earn up to $5 per survey.
Pinecone research – Earn prepaid virtual visa cards when you join here.
11. Take a photo
When you walk in front of a store and see the job vacancy board, take a photo of it and earn points to an Amazon gift card.
You can do this with Job Spotter a mobile app that is free to download for both Apple and Android users.
Once you download the app, click and send photos of the hiring sign and the storefront to accumulate points that can be exchanged for Amazon gift cards.
Post Highlights:
Pinecone Research – $3 flat rate
Survey Junkie – earn up to $50/questionnaire
Drop App – get cashback to your debit/credit card by linking this free app
Swagbucks – Earn for browsing the internet
MyPoints – up to 40%cashback from Amazon, Walmart and 2,000+ retailers
If you are looking for more ways to make and save money, here are smart ideas on how to get free coffee.
How to get free Amazon gift cards