*This post may contain affiliate links. Please read the full disclosure here. 
Babysitting Applications for 13 year olds
In the United States and Canada, 13 year olds are allowed to babysit, with the exception of Illinois, in which the minimum age a minor can stay home alone or babysit younger children is 14.
In the United Kingdom, there are no minimum age requirements for babysitters. Online platforms, however, have their own age requirements.
The rest of this article will detail the responsibilities and apps for babysitting jobs for 13 year olds.
This includes babysitting requirements for 13 and 14 year olds, and what jobs are available online to apply.
How Can a 13 Year Old Babysit?
While there isn't a legal babysitting age in the UK, Canada, and the US, children as young as 12 are generally considered old enough to babysit. This heavily depends on their maturity level, however.
Even if the babysitter is 13, there are a number of factors to take into consideration to check if they are indeed mature enough to babysit:
1. Training in First Aid and CPR – the American Red Cross offers these classes to children as young as 11. These classes will prepare the babysitter for emergency situations
2. Impulse control – does the 13 year old have the capacity to stop and think through a situation before acting?
3. Understand priorities – does the 13 year old understand how to put more important things first, such as putting their phone away so they can keep a close watch on the children in their care?
4. Understand the responsibilities – the 13 year old should understand everything the babysitting job entails, from changing diapers, to bath time, to appropriate recreation. They must know what to do in each of these situations (like how to check the temperature of the bath water) and understand their importance, as well as be comfortable in fulfilling these duties
5. Skills – caring for an infant requires more skill than caring for a school aged child. The 13 year old must understand what responsibilities are required for the ages of the children in their care
Experience – a 13 year old with experience helping his or her parents with younger siblings is more likely to understand babysitting responsibilities, and will likely find more babysitting jobs for 13 year olds.
How Much Money Can a 13 Year Old Make as a Babysitter?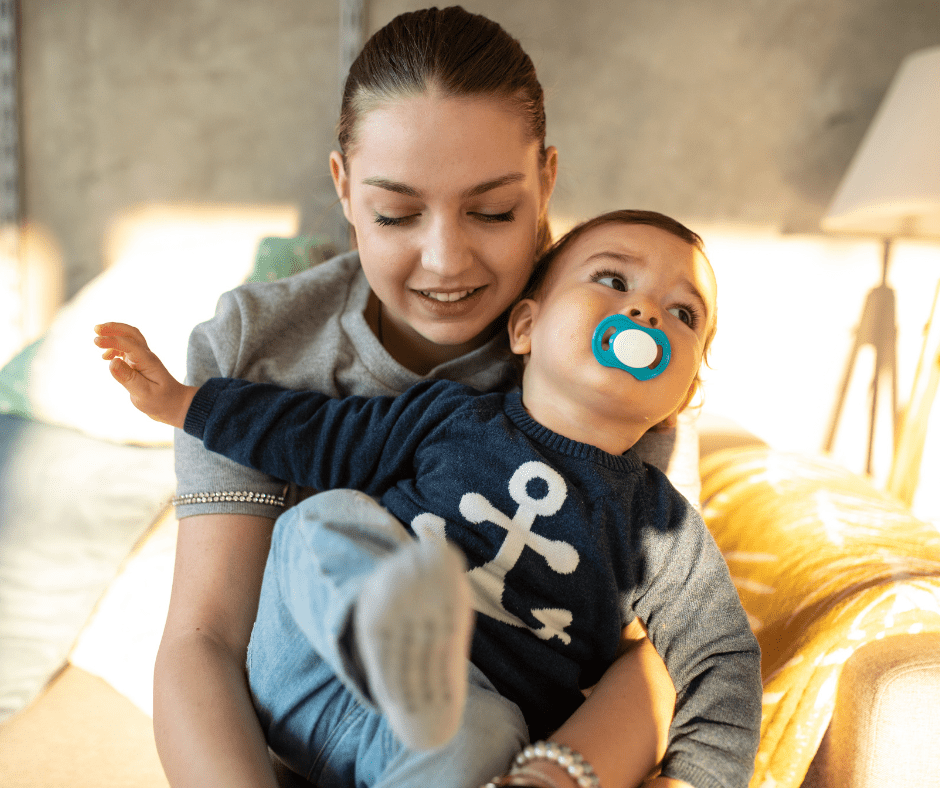 Babysitting jobs in the United States pay between $14 and $23 dollars per hour.
If watching more than one child at a time, the rule of thumb is to add $1 -$2 to the base hourly wage, according to Sittercity.
Babysitting jobs for 13 year olds would likely have an hourly wage at the lower end of the range, starting at $14 an hour.
Experience and certifications would fetch a higher hourly wage, regardless of babysitter's age.
At $14 per hour, if a babysitter picked up one 4-hour babysitting job a week, then they'd make a little more than $220 per month.
Babysitting Jobs for 13 Year Olds:
1. Sitter.com

According to Sitter.com's terms and conditions, 13 year old sitters can create a babysitting profile and apply for jobs.
This is a great platform for finding babysitting jobs for 13 year olds.
2. Bambino Sitters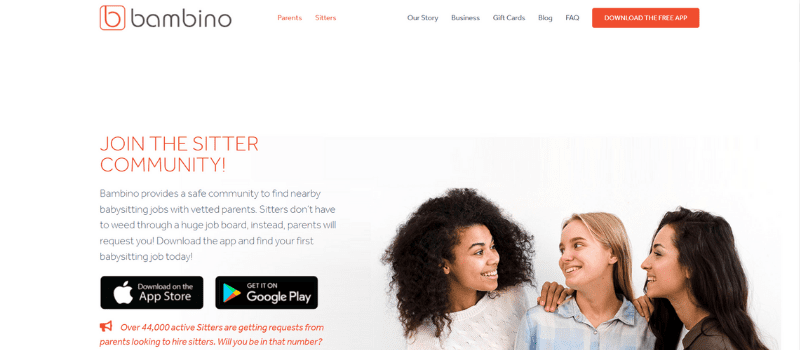 This site is great to find babysitting jobs for 13 year olds. Sitters fall into one of four categories:
Junior sitters – between 13 – 15
Standard sitters – between 15 – 18
Advanced sitters – over 18
Elite sitters – older and background checked
This platform doesn't require background checks, however, sitters can volunteer to have one done in exchange for a rate increase. Check out Bambino for more information.
3. Babysits.org

This site is a global babysitting community. When you log onto the site's home page, it has a list of countries you can choose in order to find a babysitter where you live.
They require sitters to be at least 14 years of age.
4. SOS Garde

This is an online service to find local caregiving and babysitting jobs.
You need to be 15 years and older with a right to work in Canada to apply for a babysitting job at SOS Garde.
5. Juggle Street

This Australian and New Zealand-based caregiving network requires a minimum age of 15 for babysitters.
Sitters aged 15 – 17 require a parent or guardian's consent for them to work. Because Juggle Street is based in Australia, each sitter is required to have a Working with Children Clearance (WWCC).
Apart from babysitting jobs, they also offer before and after school care and tutoring jobs.
6. Sitters.co.uk

While a specific age requirement wasn't available on this babysitting site in the UK, they require all their sitters to have at least 2 years of professional childcare experience.
So, it's safe to say that the sitters have to be a minimum of 18 years old to meet those requirements. Read more about Sitters here.
7. Care.com
In order to create your babysitter profile and apply for jobs, you have to be at least 18 years old.
This is so Care.com can run a complete background check.
8. Sittercity.com

Sittercity is a a free to use babysitting job app to search and find jobs in your area.
According to Sittercity, babysitting jobs can pay an average $17.50 an hour in the US, but it depends on alot of factors such as location, experience and job description.
This babysitting platform requires sitters to be at least 18 years old.
Sittercity offers services throughout the United States, and their site claims to service 95% of US zip codes.
9. Sittr
This Australian babysitting platform requires sitters to be certified in first aid and to carry a Working with Children Clearance (WWCC) which is mandatory for all childcare workers in Australia.
While no minimum age for sitters was specified on their website, their screening process involves presenting a government-issued ID such as a driver's license or a passport, so the sitter must be at least old enough to obtain this documentation.
10. Helpr
Helpr helps both private clients and assists employers with subsidized childcare.
---
Get $5 for signing up with Swagbucks:
Make extra money by browsing the web, watching videos, playing online games and testing new products - clothing, food, cosmetics and more! Its free to join. Sign up for your chance to
get a $5 Swagbucks bonus.
---
Like Sitters.co.uk, they didn't list a specific minimum age for their sitters but require at least 2 years of professional childcare experience.
They are available in many (but not all) major cities throughout the United States.
11. Urban Sitter
This babysitting platform requires sitters to be 18 years of age.
12. Bubble
At Bubble, the minimum age requirement for a babysitting job is 16.
They have a babysitting app that is available on both Google Play and the App Store.
13. Snagajob
Snagajob, unlike the sites listed above, is a job recruitment platform that helps you find jobs based on what you are looking for.
For babysitting jobs, it goes off your location and lists the jobs posted on various sites (Care.com, Sittercity, etc.).
When applying, you are directed to the site of the job's original posting, where you are required to make an account and set up your profile before you can apply.
Whether you can find babysitting jobs for 13 year olds depends on the company who posted the job.
14. Indeed.com
Like Snagajob, Indeed is a job recruitment platform through which you can apply to local jobs posted by other sites.
When applying, it usually directs you to the original website, where – especially for babysitting – you are required to set up a profile before applying.
Because most companies posting on recruitment websites are those platforms that require sitters to be at least 18, they are not the best place to find babysitting jobs for 13 year olds.
How can a 13 year old babysit?
Depending on the age of the children in your care, your responsibilities as a babysitter may vary.
The most common responsibilities as a babysitter include:
Ensuring child safety – the most important aspect of babysitting, this means keeping a close watch on the children, removing potential risks, and make sure they are safe at all times.
1. Removing choking hazards and securely locking away harmful substances (like cleaning chemicals or medications)
2. Keeping children in your sight at all times. If you have to step away to use the bathroom or run bathwater, make sure the children are in a safe environment and regularly check in on them
3. Don't invite anyone else into the home
4. Have a list of emergency numbers, including Poison Control – the parents/guardians of the children should give these to you before leaving
5. Water safety – if the family has a pool, make sure there is a gate securely locked to prevent drowning. If there isn't a gate, keep children inside and away from the pool. Keep toilets closed and don't leave small children in the bathtub unsupervised.
According to the University of Michigan, babies and toddlers have drowned in less than 1 inch of water
6. Have your vaccinations up to date – this is often overlooked, but is extremely important when babysitting young children who may not yet be old enough to receive certain vaccines (i.e. children under 12 months are too young for the measles vaccine).
If you're unsure about whether your vaccinations are current, ask your healthcare provider
Food preparation – you'll likely have to prepare one meal during your stay as a babysitter, and likely snacks, as well.
You'll be responsible for remembering any food allergies of the children in your care, their dietary needs, and serving meals and snacks that are appropriate for their age (i.e. don't serve anything that could be a choking hazard for small children, feeding babies baby food or formula)
Know the children's routine – if this information isn't given by the children's parents, don't be afraid to ask. Ask about mealtime, bath time, and bedtime and any parts of the routine such as story time before bed
Homework help – if any of the children in your care are school aged, you'll be required to help with their homework
Changing diapers – make sure you know where the diapers and wipes are, and how to dispose of dirty/wet diapers. Never leave a child unattended on a changing table
Bathing and Dressing – older children should be able to dress themselves, but you'll need to help younger children and babies. Make sure their pyjamas are appropriate for the weather (i.e. don't put a fleece sleeper on a baby in the middle of summer).
Test the bathwater to make sure it isn't too hot. Have all soap, towels, toys, and clothes in the bathroom before placing child in bathtub.
Don't leave them unattended under any circumstance
Light housekeeping – it's important not to leave the house a mess, as it will affect your chance for repeat business
Play games and entertain the children – be friendly and approachable and play with the children. If you have a good first impression on the children and the parents, you're more likely to have repeat business
Certification in First Aid and CPR – while not required, it's highly recommended for babysitters. The American Red Cross offers babysitting courses, which include First Aid and CPR, to adults and children as young as 11.
What are good babysitting applications for 13 year olds?
To sum up, some of the best babysitting sites to find jobs for a 13 year old are:
Bubble
Bambino
Helpr
Care.com
Sitter.com
Sittercity
Sittr
SOSSitter
Babysits.org
Urban Sitter
Juggle
Apart from babysitting, check out these other jobs for 13 year olds that pay well.