*This post may contain affiliate links. Please read the full disclosure here. 
Proofreading Jobs from Home No Experience
Do you have the skill to correct punctuation and spelling errors?
If yes, then you have what it takes to become an online proofreader with an income potential between $36k-$60k a year.
Online proofreading jobs are in demand, because there is an increase in online content and marketing, which means more job opportunities for proofreaders.
A good number of bloggers and online businesses need help to proofread blogs, books and other digital content. They require a second pair of eyes to check and correct mistakes and edit errors before the article is published and goes live.
There are many online proofreading jobs for beginners who are interested in working either full-time or part-time.
If want to begin online proofreading jobs from home, you will find this to be a flexible work from home option that is not country-specific.
Online Proofreader Job Role
It's a known fact that businesses and individuals need writing.
Writing covers tons of digital space, from emails to website "About Us" pages to product descriptions to eBooks and more. But what about the rest of the writing process?
Companies don't just need someone to put pen to paper; they need someone to make sure the writing is clear, clean, and error-free. That's where proofreaders come in.
Proofreaders make sure that writing is concise and accurate.
It's great work for a detail-oriented individual who likes a challenge. Knowing what goes into solid proofreading is important, as it lets you earn more and helps you build a stable career.
What is Proofreading?
Proofreading is a vital part of editing.
It's the process of reading through a piece of writing and marking any errors you find so that they can be fixed before publication.
Proofreading is normally one of the last steps before a piece is published, and it's used to catch smaller errors that might not have been caught in the initial drafts or developmental edits.
Proofreading jobs require you to take a piece of content written by someone (like a blog post or an email) and make it perfect.
It's the final stage of editing, which involves correcting grammatical errors like misplaced commas and spelling errors.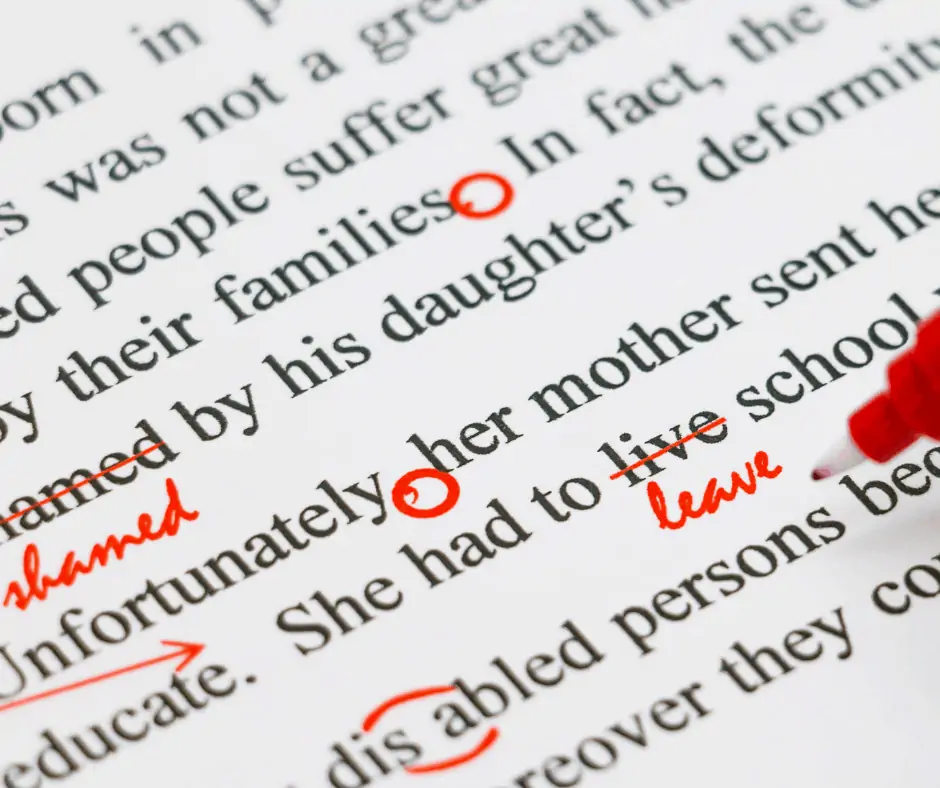 Proofreaders look for:
Simple grammar mistakes like improper spelling or punctuation errors.
Strange sentence structure or word choice which makes the writing hard to read.
Factual inconsistencies or small plot holes.
Catching and fixing these errors adds polish to pieces and gets them ready for professional publication.
It can make the work appear more authoritative and trustworthy, which is especially important to businesses and individuals looking to be seen as experts on a particular topic.
Here are a few types of online content that require proofreading:
Blogs/websites
eBooks, novels
Cookbooks
Email Newsletters
Online Marketing Material – advertisements and brochures
Social Media Posts
Essay editing
Research papers
Resumes and cover letters
How Do You Make Money Proofreading?
While some publishing companies will hire in-house proofreaders, most people who make money from proofreading are freelancers.
Freelancers work on a project-by-project basis with a variety of clients; they aren't full-time employees of a particular agency, and instead, work for themselves.
Getting started as a freelance proofreader is as simple as signing up for a job listing site (or multiple sites) and putting together a proofreading resume, which should focus on your experience and expertise with the English language.
In today's post we will be taking a look at some proofreading companies that offer online proofreading jobs for beginners.
These sites let companies post listings for individual projects or longer-term contracts that you can apply to work on remotely.
Do You Need Qualifications to Become a Proofreader?
Since proofreading is often done on a freelance basis, there's no one set of qualifications a proofreader needs to start working in the field.
Findings on Indeed suggest that proofreaders should be proficient in various academic writing styles, as well as familiar with editing software like Adobe Acrobat and Microsoft Word.
Many employers will administer their own proofreading competency tests to applicants, which on its own is enough to get many entry-level proofreading jobs.
How Do You Become a Proofreader?
If you are good with the red marker and can spot errors easily, you are halfway there.
The next half requires you to learn about the proofreading industry, how to run a proofreading business from home and to land clients.
For that I would recommend you take a look at this online training – Proofread Anywhere . It teaches you everything you need to become a proofreader.
Don't forget to check out this free online proofreading workshop, so you can learn to use your word skills to make money from home.
How Much Do Online Proofreaders Make Per Hour as a Beginner?
According to Salary.com, the hourly rate for entry-level proofreaders are $20 an hour, the average pay rate is $26 an hour and the highest level of pay is $33 an hour.
So, a proofreader with no experience can still expect to make at least $20 an hour, making it more lucrative than many entry-level jobs.
How to Land Entry Level Proofreading Jobs Online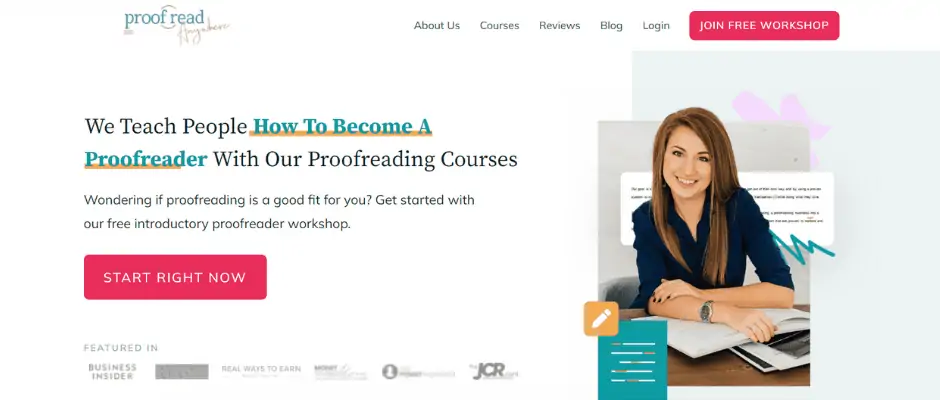 Caitlin Pyle, creator and owner of Proofread Anywhere, has created a comprehensive online training suitable for aspiring proofreaders with no proofreading background or experience.
She has taught over 15,000 students in the last 7 years to become online proofreaders.
If you would like a taster session, feel free to watch Caitlin's introductory video on proofreading, to see if this is the career you are interested to pursue.
---
Make extra money by browsing the web, watching videos, playing online games and testing new products - clothing, food, cosmetics and more! Its free to join. Sign up for your chance to
get a $5 Swagbucks bonus.
---
Proofread Anywhere's online training teaches:
How to proofread research papers, blogs and books
Everything you need to know about proofreading
How to find potential prospects
Avoid common mistakes made by beginner proofreaders
Practical step-by-step lessons
Everything from basics to marketing!
The training also gives you access to a support team and a student community to help provide guidance and answer question as a new proofreader.
For proofreaders not knowing where to start, this would be the best way to land entry level proofreading jobs online, with support and assistance to help you along the way.
Check out Cailtin's free online video workshop to understand how to start and run a proofreading business at home.
31 Legitimate Online Proofreading jobs from home
The first few on the list are entry-level online proofreading jobs, while the options further down are for more experienced proofreaders.
While these are just some places to find remote proofreading jobs, social media and networking can land you more gigs. Joining Facebook blogger groups can help you connect with online business owners – a great way to network and find clients.
Let's now take a look at these proofreading jobs that you can do either part-time or as a full time career.
At Click Worker, you get to work on a freelance basis in content creation, proofreading, editing or app testing. With the freedom to work whenever you like, this can be a flexible work at home job for stay at home moms.
Payments to you are made by PayPal either weekly or monthly.
Upwork is one of the best online platforms to find any type of freelance work, including proofreading jobs.
They offer both short term and long term projects that can last up to 6 months.
Glancing at Upwork, you will see the pay rate for proofreaders are $16-$30 an hour. Definitely a worth checking out Upwork.
Fiverr is the best place to search for online proofreading jobs for beginners.
While the pay can be on the low scale, this makes a good starting point for entry-level proofreading to find work and experience.
Another freelance job board when you can use their search box to narrow down results for online proofreading jobs.
At Guru, jobs are offered at a fixed price or an hourly rate.
Offering a number of writing and copyediting jobs, We Work Remotely is another site to keep track, when searching for remote jobs.
Lionbridge offer proofreading jobs online. Most of their job openings have very basic requirements which include a high school diploma.
Clear Voice offers freelance proofreading jobs that hire worldwide.
The type of jobs they have available range from writing to proofreading. You get the opportunity to work as a freelancer, following a flexible work schedule.
Payments are made to you weekly or monthly by PayPal.
To apply for an opportunity with Polished Paper, you will need to submit an application form and upload your resume. And the final stage is a 35 questionnaire editor test.
They are looking for freelance book reviewers in English and Spanish.
Reviews need to be 350 words and due 2 weeks after the book is assigned. Submit some of your writing samples to increase your chance of being accepted.
The criteria for eligibility is that you are a native English speaker with a fluency in English and basic grammar knowledge.
They pay weekly via PayPal and is a great place to start for beginner proofreaders.
Pay is between $19-$46 an hour and you can apply from any country.
You will need to complete a 20-minute preliminary test to begin the application process. They have both full-time and part-time work opportunities.
They offer freelance editing and proofreading jobs.
If you sign up to their email listing, you will receive weekly new job openings in your inbox.
Writing Jobz offer a wide range of work for writers such as copywriting, essay writing and proofreading.
With over 100 jobs posted daily on a variety of topics, Writing Jobz can be the best place for freelancers to find proofreading work.
Primarily a job site for transcriptionists, Ubiqus also offer jobs for proofreaders and copywriters.
They are actively recruiting remote academic editors.
A bachelor's degree is a minimum requirement due to the academic nature of the work.
You can expect to be proofreading and editing a wide range of materials but predominantly dissertations and theses from ESL students and academics.
Typical rates of pay are $20-30 per hour, depending on your editing speed.
You can apply by filling out an online application form. They require you to edit a sample as part of the application process.
Their website accepts clients that need editing completed within 24 hours.
This means there is constant work coming in through the door – more opportunity for you. You can submit your application form right here.
Edit Fast offers part-time proofreading jobs from home.
They will send you notifications when there is potential work available from clients, so you need to sign up with them to be notified.
They have a job board directory that you can check regularly to see if there is a suitable job vacancy.
You can also sign up with them to get weekly job listings delivered to your inbox.
Whether you are a professional proofreader or a translator, you can apply with eCorrector. Just email them your resume to be eligible.
They occasionally hire proofreaders and freelance editors. Good to check them out to see if they are hiring.
You can choose to work either full time or as a freelance proofreader. If you see a job that doesn't suit you, subscribe to get email alerts to be notified of new job openings.
They have been on the top 20 list of the best telecommuting jobs by Forbes in 2016.
To apply you need to have a degree in the subjects listed here. Prior editing experience is not necessary but can be an advantage.
They require you to have a minimum of 5 years of work experience and you can earn up to $3,000 a month.
If you are eligible to apply, there is an online independent contractor form that needs to be completed and you should hear back from them within 5-10 business days.
Scribbr offers a wide range of essay editing jobs online.
They provide work from home proofreading jobs with a flexible schedule – accept/decline job offers according to your preference.
You will also need to be a native English speaker and be available for work at least 10 hours a week.
If you are interested in editing papers online – try Scribbr.
You need to be a qualified and experienced freelance editor to apply.
They don't specify how many years of experience is needed, although typical work involves editing research articles, thesis, and essays.
Currently not accepting new applications. But be sure to check back to apply.
They require you to have a minimum of 5 years of work experience to apply. You can sign up to their newsletter to be notified of new job openings.
They are looking for highly qualified proofreaders from any country. They are currently hiring, so you can apply if you meet their requirements.
Experience is required for editors and proofreaders to apply.
You will need to have a college degree and at least 5 years of editing experience in order to apply.
How to Find Online Proofreading Jobs?
If you are looking for freelance proofreading jobs on a large platform, here are a couple of places you can find work.
Freelancing is a great way for entry level proofreaders to build a portfolio.
While searching for a job, apart from using online proofreading companies, also browse the internet using keywords such as editing jobs, copy editing jobs, or remote proofreading jobs to broaden your search results.
Job boards:
Job board directories are also great to find new jobs on a regular basis. Because of their massive reach and database, you have more jobs to choose from, with new vacancies added frequently. Here are two of the biggest websites that hire remote workers.
Freelancer
People Per Hour
LinkedIn
Pro Blogger
Remote.co
Virtual Vocations
Start your own website
If you want to ride solo and be your own boss, the best thing to do is to start your own website.
It costs less than $100 a year to have your own site, which you can use to promote your proofreading services.
You can set your own rates, offer discounted pricing and also provide special offers on certain services.
Create a blog section on your website to showcase samples of your work. You can also post reviews of customer satisfaction on your site.
How do you promote your work?
It's great when you own your business, but the big question is where can you find clients especially if you are just getting started?
Start a Facebook page and promote it to family and friends. Word of mouth is the best way to get started as a beginner.
You can share your services on relevant Facebook groups.
My best option is Pinterest. It can get the word out a lot faster. You can create pin images of your website and direct readers from Pinterest to site. Here is a more detailed post on how you can do this.
3 Simple ways to tell if Proofreading is for you.
Are you good at catching typos and misplaced punctuation

?

Do you often correct texts on social media?
Cringe when a restaurant menu has a misspelled word?
Want to explore further?
Use your proofreading skills to branch out into these 4 online editing jobs that are also high paying.
Get Paid to Proofread Online
Proofreading for money is a relatively simple field to break into.
As long as you're able to prove your mastery of the language, give consistent work of high quality, and manage your own schedule, finding proofreading jobs from home is a great way to earn money on your own schedule.
If you are happy to edit papers for money, this is definitely the career to consider.
Online Proofreading Jobs