When you have an infant and a toddler you know how hectic life can be for a mom. That was me not long ago, and that's when I decided that work from home jobs were the best way to move forward.
These days there are so many little-known stay at home mom jobs that pay well. And today we are going to dig deep into those that are flexible to work around your busy lifestyle – like typing jobs for moms.
One big hurdle that I had when looking for legitimate work from home jobs, was attending phone calls.
It's not easy having little kids echo in the background while concentrating on the phone. If that's you, this list of 20 non-phone jobs you can do from home.
Note: If you are looking for work from home jobs moms with newborns, here are 4 online job opportunities that are flexible to work around your busy life at home.
Alright! Let's get straight to this incredible list of 19 stay at home jobsl.
*This post may contain affiliate links. Disclosure here.
19 Best careers for moms
1. Edit files at home
This online job requires you to edit files at home. If you love to read, write and play word games this job might interest you.
We are talking about working as a scopist.  This post here will explain in detail the job description of a scopist.
Your job is to edit files that will be sent to you by court reporters. You need to check for spellings and vocabulary and make necessary edits.
As a scopist, you can work from anywhere, as you receive and return files via the internet. So everything can be done from your home as long as you have a good internet connect and reliable computer to work on.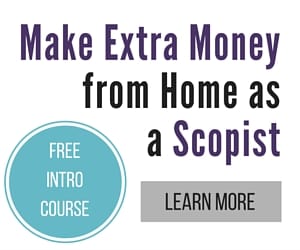 Salary: $4,000 a month and over.
Free Enrollment to mini Scopist course:  JOIN NOW
2. Convert audio to text – $45k
We are talking about transcription work. Just like scoping, transcribing jobs require you to edit corrections.
Here you are given a set of audio files that you will need to edit errors. This is fully flexible and one of the best well-paying work at home jobs.
---
Need Extra Cash via PayPal?
Get paid cash from one of the highest paying and reliable websites - Survey Junkie.
Join 9 million others and get paid to do research HERE !
---
There are three types of transcription jobs – General, Legal and Medical. While general is an easier option, legal and medical transcriptionist can get paid higher.
How to become a transcriptionist: Learn how
Salary: $45,000/year
Free Mini-course: ENROLL HERE 
3. Get paid to use Pinterest
This might seem strange to some, but yes you can make money on Pinterest in many different ways.
One such way is through affiliate marketing. You join an affiliate program and create pin images for each of your products and share it on Pinterest.
When someone spots your pins > goes on to read > and clicks on the affiliate link to make a purchase >> you will make a commission!
I have tried this in the past and have made $122.50 in just one month! And that's without writing a blog post on my website!

I use PicMonkey (free trial) to create beautiful pin images and link it to the affiliate program I join and share those pins on Pinterest.
Check out all that New PicMonkey has to offer.> 
Here is a detailed post on how to make money with Pinterest.
The earning potential with affiliate marketing can vary depending on how well you promote. The $122.50 I made was in my early days – so really sky is the limit!
4. Pinterest  Virtual Assistant
This is another option to make money using Pinterest, by becoming a Pinterest virtual assistant.
Your job will be to help online businesses promote their products on Pinterest. A few things that you will do is to set up a Pinterest account and create pin images to promote on the platform.
This highly sought after course will help you learn how to become a Pinterest VA and work from home. They also help you land clients so you can find work in your early days.
Salary: Between $35-$50 an hour
Enrollment is open only a few times a year: Join the waitlist HERE to be notified.
Here are 7 extra ways you can make money from Pinterest>>
5. Virtual assistant
Just like a Pinterest VA, you can also work from home as a General Virtual Assistant.
Download this FREE list of 150+ services you can offer once you become a Virtual assistant.
Virtual assistants are in high demand as many business owners prefer to outsource most of their regular tasks, like reading and sending emails and promoting their business on social media.
Here is how you can become a Virtual assistant in 30 days>>
6. Make Money with A blog
This here is my all time favorite. I own this blog ONE FINE WALLET and I began it in early 2018, hoping to make some money from it. Little did I know that it would generate an income each month for our little family.
The real cost of starting a blog in 2019,
A RELIABLE website hosting – I highly recommend Siteground which is less than $4/month
 You can begin with a FREE website theme – I used the DIVI theme for this blog and love it! You get a 10% off using this link.
An email service provider, so readers can subscribe to your blog – Mailerlite is FREE up to 1000 subscribers
And that's it! You are ready to begin. So really its just the website hosting that will cost you for the initial set up.
7. Write and earn
There are 3 ways you can get paid to write and earn,
Become a freelance writer and earn when working with clients.
Write for magazines and get paid per article that is published.
Begin your website own so you can promote your service as a freelance writer.
The flexibility of earning as a writer is perfect for stay at home parents. You can work when ou kids nap or during their play time. I am an early riser, I get most of my online work done in the morning before the kids wake up. And during the day, I fine tune my work.
Gine Horkey owns a freelance writing business and trains moms to start a freelance writing career in 30 days. Her students have started landing writing work just 2 weeks into starting her course. Are ready for your turn?
Enroll in 30 days or less to Freelance Writing Success.
And if you are not fully sure yet, download a FREE copy of 200 topics you can write about as a freelance writer. This is sure to spark some new ideas and give you some inspiration!
8. Proofreading
If you are looking to create a sustainable long-term income, I would recommend this highly paid and in-demand work at home job.
As a proofreader. This, in my opinion, is one of the best jobs for stay at home moms.
If you have eagles eyes to spot misspelled words, then this is one job you must considering doing.  As a proofreader, you can edit typos in books, blogs, resumes, cookbooks and much more.
I highly recommend you sign up for this FREE 7-minute workshop and see if this is a good fit for you.
You don't need any prior experience or a college degree to become a proofreader. And best of all, you can work from anywhere in the world.
9. Online Teaching
Another flexible job opportunity for stay at home moms is online tutoring.
You don't need a fancy tutoring qualification or experience to begin. A bachelors degree is a minimal requirement in most cases.
Here are 5 English tutoring companies that need you to teach English online. You will be given all the necessary study material to help you train Primary school kids.
Most of the sessions take anywhere between 30 minutes to an hour.
Salary – $14-$26 an hour.
10. Sell Online – Etsy
You might have bought Christmas crafts or handmade crafts on Etsy, but have you considered selling things yourself?
Join this massive creative marketplace where there are over 33 million buyers ready to purchase handmade jewelry, scarves, crafts, clothes or just anything you can make. You can even sell printables to make a living on Etsy!
Once you join Etsy, you can list your product and will pay a little commission fee only when you make a sale.
Here are 3 things you need to decide before starting an Etsy store,
What you want to sell
Open an Etsy shop
Create your products
Stock up your store.
Promote – On social media (Pinterest is great)
Spread the word – with family and friends and ask them to share the good news.
Once you become an established Etsy seller bring in a steady income each month.
11. Sell Photos
You can make money selling stock photos. This is a huge necessity for online business owners, including myself.
Stock photos are images that websites may use to beautify their content and make it more appealing to readers. You can create your own website and start selling your photos.
Your investment would be a good camera (or even a high-quality phone camera) and some props to make your photos stand out. You can place a white foam board on your floor and line up some props to create a stunning photo.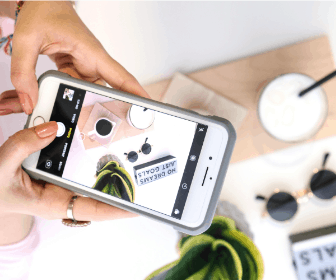 Pixistock and IvoryMix are two of my favorite websites created by moms that sell amazing stock photos.
12. Sell an ebook
Apart from blogging, I make money selling my own ebook.
You can sell your ebook on Amazon or on your own website. I chose to sell it on my blog and it cost me less than $30.
I used Canva a free website to create my ebook, Adazing to create a mock-up cover image and SendOwl to take care of the payments and transactions ($9/month).
13. Start a Youtube channel
If you prefer being in front of the camera, instead of writing you can start your own YouTube channel. You make money on a Youtube channel from ads that appear or affiliate products you promote.
As a stay at home mom, you can create a channel based on baby food, toddler life, parenting, fun kids crafts, or just lifestyle. If you have more time on your hands you can create a recipe channel. Food is always a popular topic online and an awesome recipe never gets old!
14. Make money from food
Since we were just talking about food, here are 8 creative ways you can make money from food.
Most of these are online jobs for moms and don't cost you a lot to set up.
Starting a food blog is one of the ways and here is how you can earn from it on a budget.
15. Get paid for online research
These are side hustles that will pay you for completing short research tasks. You won't get make a full-time income with these, but you can make a few hundred dollars each month.
Vindale Research – You can earn up to $50 per survey you complete and can redeem it as cash via PayPal.
Sign up for free here and get $1 bonus to get you started.
Pinecone Research – Similar to Vindale Research, you answer a set of questionnaire and get paid points that you can redeem for cash. They take under 5 minutes to complete.
Once you sign up for these surveys you make sure you check your email to confirm, to be eligible for surveys right away.
16. One-on-One Coaching
If you are good at providing a personal service like SEO consultation, online fitness advice, or any such online coaching services you can charge your clients per hour.
Your coaching sessions can be via a phone call, a series of emails or a skype call.
17. Meal Planner
If you are good at meal planning you can begin a meal planning service. And because this is so much in demand, you can price yours a lot lesser than your competitors.
You can team up with other moms and start this business at home.
You can create meal plans that you send out weekly once someone signs up for your subscription.
18. Photography services
This might require you to leave your home, but quite flexible if you have someone to help with your kids for a few hours.
There are so many types of photography services you can provide from candid photography, newborn photography, and weddings.
Salary: An average photographer in America can earn $36,000/yr
19. Sell an online course
Just like selling an ebook, you can sell an e-course. This can include video tutorials to make it more interesting, this gives your reader an easy walk through.
Teachable is an online platform that you can use to sell your course. You can upload the contents of your course here and they will take care of payments and transactions.
Some course ideas are meal planning, photography, crafts or just teaching a new skill.
That's your 19 best stay at home mom jobs for you to begin your work from home career.
Here are extra ways to make over $200 a month in cash, and smart ways to earn FREE Amazon gift cards for doing almost nothing!
There you have it. 19 of the best jobs for stay at home moms with no experience. Which one of these are your favourite. Let us know in the comments below.
Click image to pin!