*This post may contain affiliate links. Please read the full disclosure here. 
If you are researching jobs for moms that stay at home, this legit list of stay at home jobs will be an eye-opener. As a work-at-home mom myself, I have compiled this list of flexible (scam free) jobs for stay-at-home moms that fit well with a busy family life.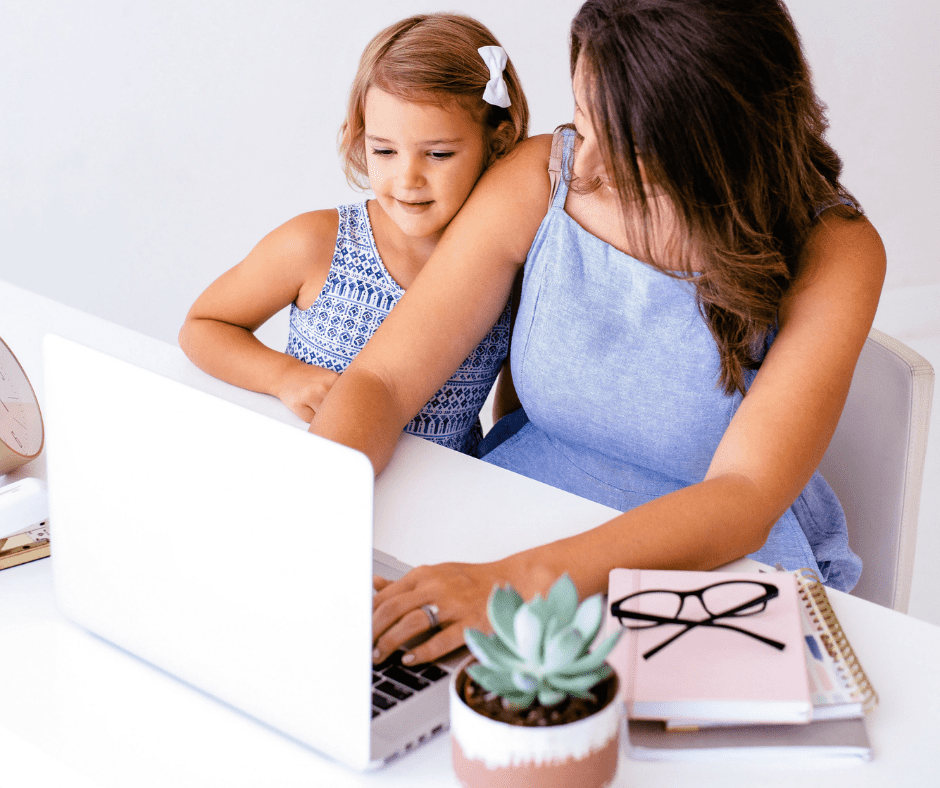 Stay at Home Jobs for Moms
While being a stay at home mom is a full-time job in itself, there are a number of flexible ways to start working from home.
Some of the best jobs for stay at home moms range from writing and content creation to online proofreading.
Stay at home mom jobs can be as unique and versatile as you want, so playing to your strengths is definitely the way to go.
If you are a social media guru, you may consider joining direct sales companies to sell products, such as vitamin supplements, or even essential oils.
Find you can easily manage more children than just your own?
Maybe take on the role of the neighbourhood babysitter.
Or if you fancy yourself a writer, then you can easily take up content creation, being hired to write articles and informational guides.
As you can see, stay at home online jobs can be rewarding and a great way to make some extra money while staying at home.
One of the most convenient things about working at home is that you can set your own hours. If you have multiple hours at a time to dedicate to an online job, you can work that way.
You can work as much or little as you want, whatever works best for you.
Overall, a flexible schedule and income opportunities, coupled with staying at home with your kids can make for a great job option.
No need to go back into the office when you can soak up every moment with your kids, while also making some income.
Jobs for Moms Working From Home
Before we get into the list of stay at home jobs for moms, I thought it would be nice for you to check out some ways moms are working from home full-time.
So if you are looking for some women business ideas, this options may be good to consider.
All the online business ideas listed below can be done remotely:
Where to Find Online Jobs for Stay at Home Moms?
Once you have decided on your career, the next step is to find work.
Further in this post, we will take a look at sites that offer remote jobs that are flexible for stay-at-home parents. But if you are looking for stay-at-home jobs jobs – in particular – here are a couple of sites to check out.
Before we begin this list of jobs for moms who stay at home, don't forget to check out #12 on this list to see how I make $4,000 every month as a work at home mom.
25 Stay At Home Jobs for Moms
1. Stay at Home Call Centre Jobs
This is one of the best places to begin for stay-at-home moms and dads.
The jobs are flexible and you do not require previous experience or qualifications to begin.
The only drawback you may encounter is that work is not available throughout the year. Nevertheless, you can apply to the following job openings and see if there are opportunities available.
2. Paid Online Research – up to $150/hr
A focus group is where you participate in online research and provide feedback. Your opinion will help a researcher with their work, and in return they pay up to $150 per hour.
Respondent is one such platform that connects you with researchers to help with their research work.
Once you sign up, you get access to a dashboard that list out studies relevant to you. Next, you will be allowed to schedule a suitable time to take the study which can be either a one-on-one video call or an online survey.
Also read: How to earn $300/study with Respondent
3. Scoping Jobs for Stay at Home Moms
This stay-at-home job involves editing courtroom files from home. Court reporters send electronic documents that will need to be checked for spellings and vocabulary.
As a scopist, you can work from anywhere, since you receive and return files via the internet.
Everything can be done from your home, as long as you have a good internet connection and a reliable computer to work on.
This post here is a detailed interview with expert scopist Linda Evenson, where you learn how to start this job from home.
Scopist Salary: $4,000 a month and over.
4. Typing Jobs for Moms who Stay at Home
This is one of the best at home jobs for moms.
Transcription jobs involve listening to a pre-recorded audio file and type out accurately what you hear. The main requirement of this well-paying work-at-home job is that you are a fast and accurate typist.
The types of files you may receive are doctors notes, research work, business meetings, university lectures or interviews.
There are three types of transcription jobs – General, Legal and Medical. While general is the best option for beginners, legal and medical transcription jobs pay more.
These online typing jobs are flexible because, you can work at your own pace either early in the morning, late at night or on the weekends – the choice is yours.
Salary: $45,000/year
Helpful Resources:
5. Loan Signing Agent
I recently came across this side hustle and I think it is one of the best jobs for working from home or to add a second income.
---
Get $5 for signing up with Swagbucks:
Make extra money by browsing the web, watching videos, playing online games and testing new products - clothing, food, cosmetics and more! Its free to join. Sign up for your chance to
get a $5 Swagbucks bonus.
---
As a loan signing agent you can earn between $75-$200 an appointment which usually lasts 30 minutes to an hour.
So what is a loan signing agent?
A notary loan signing agent is someone to walk the homeowner through their final paperwork and have them sign it. Anyone who purchases a new home or refinances their home, requires a signing agent to notarise the document.
This is a good stay at home job as you are able to build a business and have the opportunity to make quick money in a day.
So if you were to do just two loan signings a week for $150 each, that's $300 a week and $1,200 a month. The more loans you notarise the more money you make.
6. Bookkeeping Jobs for Moms who Stay at Home
This is one of the most lucrative, well paying at home jobs for moms online. Virtual bookkeepers can earn up to $60 an hour as a freelancer.
No accounting or finance degree is required to become a bookkeeper. An online bookkeeping training can help you find work and earn up to $10,000 an month.
Read our full interview with stay-at-home mom Cheyenne who earns a recurring $6,000 per month as a virtual bookkeeper with no previous experience. Also in the post is our interview with work from home dad Kevin who earns $8,000 per month in recurring income from his clients.
Online bookkeeping is a very lucrative work at home mom job. Check out this free online bookkeeping class that has made Cheyenne and Kevin well paying full time careers from home.
7. Customer Service Jobs for Moms
If you can manage a few quiet hours a day, you can work as a customer service representative from home.
Your main requirement would be a high-speed internet connection and a headset. Needless to say, having previous customer service experience comes with an advantage.
I have listed a few places you can apply. The job usually involves answering phone calls or an email chat agent.
8. Testing Websites
You can earn up to $15 for 20 minutes of your time in testing and reviewing websites online.
Many website owners require feedback regarding the overall appearance and user experience of their site. This is where you come in.
As a website tester, you will need to check the website and provide feedback usually in the form of a video call. This helps website owners fix issues and improve their site.
This is a well-paying side hustle if you are looking for quick money. No experience or qualification s required, but you do need to be fluent in English and have a PayPal account to be paid.
Worldwide Jobs Available:
9. Pinterest Virtual Assistant
This is another option to make money using Pinterest, by becoming a Pinterest virtual assistant.
Your job will be to help online businesses promote their products on Pinterest.
A few things that you will do is to set up a Pinterest account and create pin images to promote on the platform.
This highly sought after course will help you learn how to become a Pinterest VA and work from home. They also help you land clients so you can find work in your early days.
Salary: Between $35-$50 an hour
Helpful Resources:
Kristin Larsen's course is hugely popular that trains you to become a Pinterest VA. Enrollment is open only a few times a year but you can join the waitlist to be notified.
10. Virtual assistant Jobs for Moms
Just like a Pinterest VA, you can also work from home as a General Virtual Assistant.
A Virtual Assistant is someone that performs admin tasks from home. There are many services you can offer.
You can download this free list of services to offer as a virtual assistant.
Virtual assistants are in high demand as many business owners prefer to outsource most of their regular tasks, like reading and sending emails and promoting their business on social media.
11. Fashion Stylist
You can make either a full-time or part-time career as a fashion stylist from home.
You can either create your own online website to showcase your work or provide one-on-one styling advice for a more personalized option for clients.
If you are interested in pursuing a career in fashion, you can learn to become a fashion stylist with Cabi.
12. Make Money with A blog
I started blogging in 2018, hoping to make some money from it. Little did I know that it could start generating a passive income year after year.
The two main ways to make money with a blog is from affiliate marketing and advertisements placed on the blog.
I earn well over $100 a day blogging. Below is a screenshot of money earned from display advertising alone. So that's $100 x 30 days = $3,000 a month. Affiliate marketing is the second highest source of income and that adds an extra $1000 a month.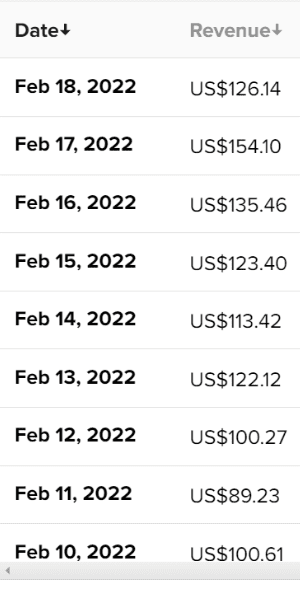 Anyone with a passion to write can start a blog. Here are a few other successful mom bloggers that you can check out for inspiration.
The real cost of starting a blog in 2022,
And that's it! You are ready to begin. So really it's just the website hosting that will cost you for the initial set up.
13. Write and earn
There are 3 ways you can get paid to write and earn,
Become a freelance writer and earn when working with clients.
Write for magazines and get paid per article that is published. ($50-$250 per post)
Begin your website own so you can promote your service as a freelance writer.
The flexibility of earning as a writer is perfect for stay at home parents. You can work when your kid's nap or during their playtime. I am an early riser, I get most of my online work done in the morning before the kids wake up. And during the day, I fine-tune my work.
Related posts you may like:
Make your first $1,000 as a freelance writer
Driver Delivery Jobs suitable for moms
14. Proofreading
If you are looking to create a sustainable long-term income, I would recommend this highly paid and in-demand work at home job.
With an income potential of $40,000/year this is one of the best jobs at home.
If you have eagles eyes to spot grammatical errors, then this is one job you must consider doing. As a proofreader, you can edit typos in books, blogs, resumes, cookbooks and much more.
I highly recommend you check out this FREE 76-minute workshop.
Amanda a stay-at-home mom of three, makes a part-time income from home as an online proofreader. Read her journey to making money as a proofreader.
You don't need any prior experience or a college degree to become a proofreader.
And best of all, you can work from anywhere in the world – definitely one of the best stay at home online jobs that pay well.
15. Pet Sitting Jobs at Home
Have you ever considered a pet sitting job at home?
If you are an animal lover, you will enjoy making a few extra dollars taking care of pets in your free time.
Rover is a popular website to find pet sitting jobs at home. You can also offer to provide doggy day care and dog walking services.
On average, pet sitters can make anywhere from $1,000 to $2,000 a month, depending on whether you want to pursue this full time or part time.
16. Online Teaching
Another flexible job opportunity for stay at home moms is online tutoring.
You don't need a fancy tutoring qualification or experience to begin.
A bachelors degree is a minimum requirement in most cases.
Here are 5 English tutoring companies that need you to teach English online. You will be given all the necessary study material to help you train Primary school kids.
Most of the sessions take anywhere between 30 minutes to an hour.
Salary – $14-$26 an hour.
17. Sell Online – Etsy
You might have bought Christmas crafts or handmade crafts on Etsy, but have you considered selling things yourself?
Join this massive creative marketplace where there are over 33 million buyers ready to purchase handmade jewellery, scarves, crafts, clothes or just anything you can make.
You can even sell printables to make a living on Etsy!
Once you join Etsy, you can list your product and will pay a little commission fee only when you make a sale.
Here are 3 things you need to decide before starting an Etsy store,
What you want to sell
Open an Etsy shop
Create your products
Stock up your store.
Promote – On social media (Pinterest is great)
Spread the word – with family and friends and ask them to share the good news.
Once you become an established Etsy seller bring in a steady income each month. Check out this list of things to sell on Etsy.
18. Sell Photos
You can make money from selling stock photos. This is a huge necessity for online business owners, including myself.
Stock photos are images that websites may use to beautify their content and make it more appealing to readers. You can create your own website and start selling your photos.
Your investment would be a good camera (or even a high-quality phone camera) and some props to make your photos stand out.
You can place a white foam board on your floor and line up some props to create a stunning photo.
Pixistock and IvoryMix are two of my favourite websites created by moms that sell amazing stock photos.
19. Start a YouTube channel
If you prefer being in front of the camera, instead of writing you can start your own YouTube channel.
You make money on a Youtube channel from ads that appear or affiliate products you promote.
As a stay at home mom, you can create a channel based on baby food, toddler life, parenting, fun kids crafts, or just lifestyle.
If you have more time on your hands you can create a recipe channel. Food is always a popular topic online and an awesome recipe never gets old!
20. Make money from food
Since we were just talking about food, here are 8 creative ways you can make money from food.
Most of these are online jobs for moms and don't cost you a lot to set up.
Starting a food blog is one of the ways and here is how you can earn from it on a budget.
21. Get paid for online research
These are side hustles that will pay you for completing short research tasks. You won't get make a full-time income with these, but you can make a few hundred dollars each month.
Vindale Research – You can earn up to $50 per survey you complete and can redeem it as cash via PayPal.
Sign up for free here and get $1 bonus to get you started.
Pinecone Research – Similar to Vindale Research, you answer a set of questionnaire and get paid points that you can redeem for cash. They take under 5 minutes to complete.
Once you sign up for these surveys you make sure you check your email to confirm, to be eligible for surveys right away.
22. One-on-One Coaching
If you are good at providing personal services like SEO consultation, online fitness advice, or any such online coaching services you can charge your clients per hour.
Your coaching sessions can be via a phone call, a series of emails or a skype call.
23. Meal Planner
If you are good at meal planning you can begin a meal planning service. And because this is so much in demand, you can price yours a lot lesser than your competitors.
You can team up with other moms and start this business at home.
You can create meal plans that you send out weekly once someone signs up for your subscription.
24. Photography services
This might require you to leave your home, but quite flexible if you have someone to help with your kids for a few hours.
There are so many types of photography services you can provide from candid photography, newborn photography, and weddings.
Salary: An average photographer in America can earn $36,000/year
25. Sell an online course
Just like selling an ebook, you can sell an e-course. This can include video tutorials to make it more interesting, this gives your reader an easy walkthrough.
Teachable is an online platform that you can use to sell your course.
You can upload the contents of your course here and they will take care of payments and transactions.
Some course ideas are meal planning, photography, crafts or just teaching a new skill.
How I Found a Job As a Stay At Home Mom
As a stay at home mom with little kids, I was once searching the internet for baby food recipes, when the owner of the blog claimed she was making a full-time income with her site.
Back then, I never considered blogging as a staying at home job.
After a lot of research I found out that there were so many mom bloggers earning 6 or 7 figure incomes with their blog!
Three years later I work from home with my blog which also makes me a full-time income. This site not only has SAHM jobs, but also flexible side hustles like editing jobs, passive income ideas, and side jobs to make an extra $100 a day.
Blogging is just one of the stay at home jobs out there, and in this post, we will go over a variety of other flexible jobs from home.
The truth is, apart from some online jobs that end up as a scam, there are still a good number of stay-at-home mom jobs that pay well. This can range from typing jobs for moms to online proofreading jobs.
Prior to blogging, the one big hurdle I had when looking for online work, was attending phone calls. It's not easy having little kids echo in the background while concentrating on the phone. If that's you, this list of 40 non-phone jobs will suit parents with little children.
Let's now take a look at some of the most popular online jobs for stay at home moms.
What are Good Stay at Home Jobs?
A good stay at home job is one that gives you the flexibility to work around your personal commitments.
Finding the best staying home jobs can be tricky.
To give you a little helping hand, if you are someone that is looking to start a new career, is worth checking out the Work-at-Home School by Caitlin Pyle.
It is an online training program that gives you access to a variety of different careers, from proofreading to transcription.
The Work-at-home school is perfect for beginners who want to start afresh, and unsure how to narrow down a career path.
What Type of Work Can I Do from Home?
Here are a few creative work from home ideas that you may not have considered. They are fun small business ideas that pay well.
Where Can I Find Stay at Home Jobs?
Below is a list of companies that allow you to work either temporary, permanent, full-time or part-time. It's a good idea to sign up with them to receive job alerts, so you can be notified when there is an opening.
Power to Fly – A job board that offers remote work in customer service, writing, data entry, finance, marketing and software engineering work from home jobs.
We Work Remotely – They offer jobs like graphic designing, freelance writing, copywriting, customer service and more. This website has over 2.5 million monthly visitors and only post online jobs.
Virtual Vocations – They have jobs suited for parents, military spouses, students or retirees looking for virtual jobs. To access their jobs, you can either sign up for their free account or their paid subscription that costs $15.99 a month, but gets you notified of new job openings before those on the free plan.
Intuit – They have remote jobs ranging from administrations, data entry, bookkeeping, marketing, engineering and more. They provide remote work for those living in the following countries – USA, Australia, Brazil, Canada, France, Germany, India, Israel, Mexico, Singapore and the UK. They have both onsite and offsite jobs available, so when you are searching for jobs click on the "locations" tab and select – Remote USA or Remote UK. This way the search results only show you remote work.
That's your 50 best stay at home mom jobs for you to begin your work from home career.
Here are extra ways to make over $200 a month in cash, and smart ways to earn FREE Amazon gift cards for doing almost nothing!
There you have it! The best work from home jobs for moms and dads with no experience.
Read Next: Best work from home jobs