*Last Updated January 11, 2022
Are you looking for small scale business idea with just your laptop? Enjoy the freedom to work from anywhere with these business ideas for women at home.
Women Business Ideas
Are you looking to swap your day job and start a successful home-based business?
As a mom to very young kids I chose to work from home in 2018.
I searched the internet for flexible small business ideas for women, that was easy to juggle with kids at home.
I love writing and knew blogging would be the perfect fit, so decided to give it a try.
As a full-time blogger, I am now able to contribute financially to my family while being a stay-at-home mom.
Blogging is just one way to do it. So, today we are going to take a look at over 27 women business ideas that you can do sitting at home with just your laptop and coffee!
Imagine being able to choose your own hours of work and indulge in the flexibility of a stay-at-home job.
*This post contains affiliate links. Disclosure here.
These business ideas for housewives are going to be a game-changer, and I will keep this list updated as I find new and legit ways to make money from home.
What is the best home business to start?
The first thing to do is to brainstorm some ideas on what type of home business would suit you.
Are you looking to create and sell your own products online?
Do you prefer selling other peoples product and earn a commission from it?
What are you passionate about? – Writing, proofreading, bookkeeping or do you prefer a creative side hustle like freelance illustration?
To break this down, we have a list of the most successful businesses for women so you can decide the right choice for you.
27 Women Business Ideas
1. Proofread Books
Enjoy crossword puzzles and word games?
If you have the knack for correcting grammar mistakes and picking out spelling errors this one is of the best work at home businesses for women.
As a proofreader, you get to correct errors on pre-written documents from your clients. It can be in the form of website content, blog posts, email newsletters, research papers, an e-book or a physical file/book.
Use your word skills to turn your passion to profit as a proofreader. Here is a free video workshop to help you understand more about this lucrative career that can pay up to $40,000 a year.
More details on how to become a proofreader in here.
2. Online Bookkeeping
Bookkeeping is a well paying business idea for ladies who enjoy working with numbers.
We interviewed Cheyenne, a stay-at-home mom who earns over $3,000 each month as an online bookkeeper without any previous experience in the field.
Unlike becoming an accountant, you don't need to have a college degree to become a bookkeeper. An online training like this free mini bookkeeping class that will help in understanding what it takes to become a virtual bookkeeper.
Freelance bookkeepers have the potential to earn up to $60 an hour.
3. Sell Digital Stickers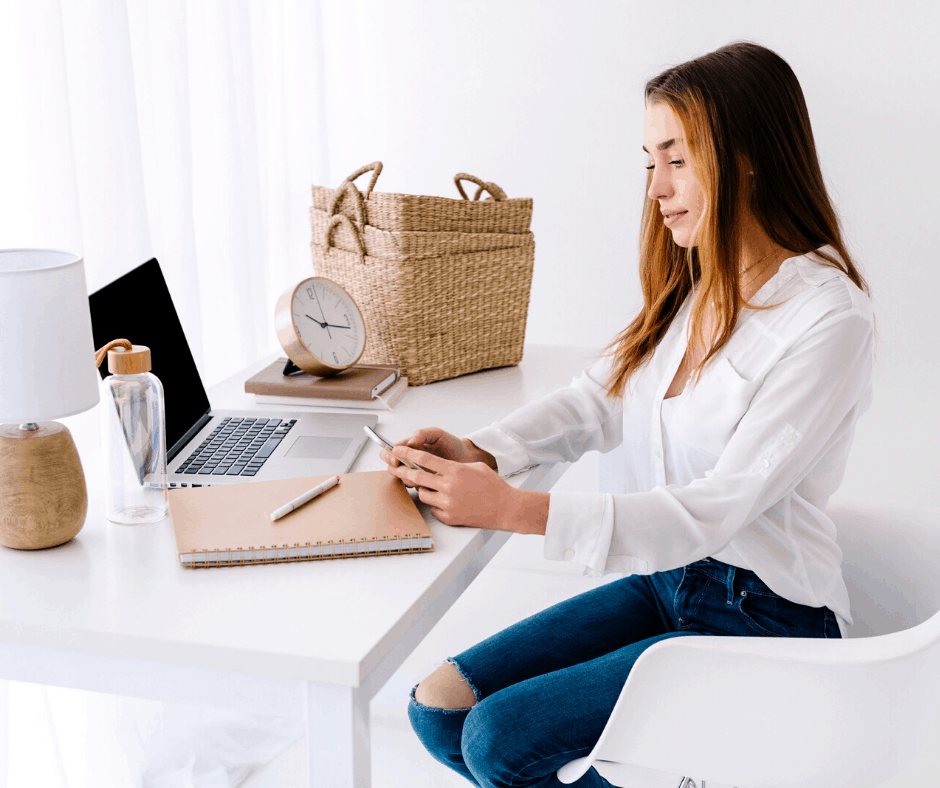 Almost everyone these days use a planner to stay on top of things. Those looking for paperless options go for digital planners.
A digital planner is not but an online planner that you can write your notes using an iPad or tablet. Many people buy these digital planners on Esty and other online stores.
Customers who use these digital planners often buy stickers, to make their planners look pretty and customised.
These digital stickers, can be shapes, picture frames, post-it notes, charms or washi tapes.
If you like to start a business at home selling digital stickers, you can check out Michelle's Digital Stickers course – which is perfect even for those who can't draw stick figures!
She teaches everything there is to know, from creating to selling digital stickers.
4. Dog Treat Business at Home
If you love baking, why not consider making dog treats and sell online for an extra $500 or $1000 a month?
Kristin ran her successful dog treat business for years and is not ready to teach others how to do the same with her online training Diva Dog Bakery.
No baking experience required; in the course, Kristin shares dog treats recipes that she personally developed and used.
Check out her free online workshop here, that teaches:
Why the homemade dog treat business is HOT and getting hotter every year

How to turn a dog treat bakery business into a side hustle pulling $500-$1,000 per month, or how to scale it into a 5-figure/year business

The best places to start a dog treat business, online or offline

How to price and sell your treats
Related:
5. Make Money On Instagram
Are you interested in making money on social media?
Do you enjoy posting videos and pictures on Instagram?
You can use social media to share products you used or tried to make money. Two important components to making this possible are, growing a loyal following and being honest and helpful with products you promote.
If you can nail these two then, you can make money on Instagram all year round. With a following of say 10,000 or 100,000, brands will reach out to you offering to pay you to do sponsored posts, by sharing their products to your readers.
If this sounds like something that interests you, check out this free Instagram masterclass. Learn what it takes to grow a following and promote products on Instagram.
---
Get $5 for signing up with Swagbucks:
Make extra money by watching videos, playing games on your phone and test new products - clothing, food, cosmetics and more! Its free to join. Get your
$5 Swagbucks bonus here.
---
6. Pinterest virtual assistant
As a Pinterest VA, you get to work with bloggers, online business owners and content creators that are looking to market their products using Pinterest.
For example, if there is an online jewellery store that is looking to promote products on Pinterest, you offer them services like opening up a new Pinterest account, creating pin images, organising Pinterest boards and pinning their content so they get more visibility.
You are assisting them in promoting their business.
As a Pinterest VA, you can earn between $18-$35 an hour, and if you move on to become a Pinterest manager you can charge more than $50 an hour depending on your experience.
This mom will show you how to become a Pinterest Virtual Assistant starting from scratch.
7. Tutor Online
If you have a bachelors degree and experience in babysitting, mentoring, coaching or teaching you can apply to be a tutor with VIPkid. It's an online tutoring company that allows you to teach primary school kids online.
It's fully flexible as you get to choose your own hours of work and can earn up to $22/hour.
In here are 5 other online tutoring opportunities for those ready to teach English to primary school kids.
8. Podcast Assistant
As a podcast assistant, you will help in scheduling appointments and responding to emails for each guest on the podcast.
You will give your guest an overview of the format and general information on how the show is run.
Other skills required are editing titles, description, and background music. Soundcheck and also write a blog post that goes in line with the podcast. There are trainings available to help with learning these skills. Download this free workbook to help you understand work as a Podcast VA better.
If you are interested in pursuing this as a career, here is a course that teaches you how to become a Podcast VA from scratch.
9. Rent on Airbnb
Airbnb is one of the largest platforms to place your home for rent – whether it's for the weekend or during the holidays. You are in full control, from setting the rates, house rules and availability.
Airbnb requires that guests provide contact information such as verified phone number and email address. You can also request guests to provide an ID or recommendations from other hosts. To keep your home and belongings safe they also cover each booking with $1M USD in property damage protection and another $1M USD in insurance against accidents.
Enter your location here and see how much you can earn renting your home with Airbnb.
I live in the UK and their rent calculator shows my earning potential to be over £3,500 a month.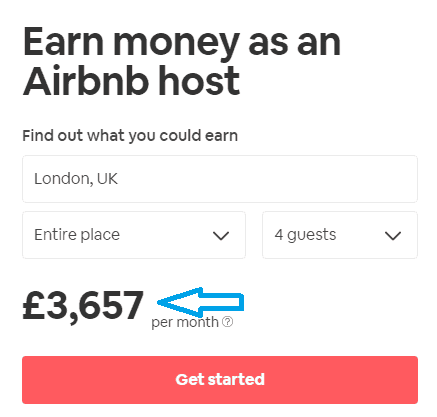 10. Deliver Food with DoorDash
While a delivery driver job can be demanding if you are delivering large parcels, food delivery might be the best alternative.
There is more than one reason why DoorDash is one of the best food delivery jobs.
You don't need a car to deliver. Instead, you can choose to use your bike or walk in some locations.
Get paid weekly
Choose your own hours – mornings, night or just weekends
It's free to sign up and you can join DoorDash using your email.
11. Online Business Ideas for Women
If you are good at making products like handmade goods and crafts, have you considered selling them for profit?
There are two ways you can do this.
– First set up an Etsy or Shopify store to sell your own products. You can sell anything handmade like scarves, jewellery or gifts. On Etsy, you can also sell printables like inspirational quotes.
– Another way to do this is to have a blog or a website. With your own website, you can write content as well as create your own online store on the same platform. Selling digital products like ebooks or online courses is a good idea if you want to avoid the hassle of dealing with package and delivery.
12. Freelance writing business
If you don't want to start your own website and write content, you can choose to become a freelance writer.
As a freelance writer, you can choose the type of work you want depending on the niche and the rate of pay. As a beginner, its a good idea to write for a magazine where to can get paid up to $200 per post.
Here are 16 websites that are accepting writers in various fields even as a beginner.
If you are looking to take on client work and write for websites or online businesses I highly recommend this free training.
The training has been created by Holly Johnson who makes over $200,000 a year as a freelance writer. Learn how you can turn your passion for writing into a six-figure business.
13. Cake business
You can begin your very own cake business from home. There's always a need for people to buy customised cakes – birthdays, weddings, Christmas or a family event.
If you enjoy baking, combine this with some cake decorating skills and you have a flexible side hustle to begin.
You might need to check with local authorities about the health and safety rules with beginning a home-based cake business.
14. Sell Stock Photos Online
There are many ways you can earn as a photographer. You can create and sell stock photos on your website, offer newborn or birthday photography services in your area, and also sell photos on big platforms like iStock and Shutterstock.
Almost every business needs stock photos to promote their content – so there is always work available.
Don't worry, it's not necessary that you take a course or earn a degree to become a professional photographer. You can try online classes like Skillshare (free 2-month trial) to learn photography from home at your own pace.
And if you have an interest in becoming a food stylist/photographer, this affordable guide will teach you how to take stunning food photos that sell!
14. Coaching from Home
Provide one-on-one coaching, like in fitness, business/finance, health and well-being, cooking or sewing.
Depending on your niche you will need to be certified especially if you are looking at health-related coaching. While certain fields like SEO consultation, blog audits or Pinterest assistance wouldn't require you to have qualifications.
Coaching you provide can be in the form of a skype call, email session or by creating a report of your audit and emailing it to your clients.
16. Interior designer
An interior designer or decorator is someone that designs homes or workplaces.
You can work either for a company or as a freelancer.
A formal qualification is not mandatory, but an associates degree would be needed. You can build your portfolio as a beginner by offering your services for a lesser than normal price. Showcase your work to your clients with before and after photos of your work to help them see your potential.
Here are two online beginners course to interior designing. And here is the other one.
17. Wedding/Event planner
If you are good at organising, you can consider becoming an event planner. You can plan events like weddings or parties by creating a vision for your project and work within the time-frame and budget of your clients.
The job will involve working with other contractors that will be part of the event – like catering and interior decorators.
Gaining experience can be in the form of volunteering or working as an intern. You can also do a few short courses to get a basic understanding of the skills needed.
Here is an online class to help you get started as a wedding planner.
18. Home staging
This is an interesting job if you enjoy decorating and tidying your home.
As a home stager, your job is to set up and decorate homes to sell. You will prepare houses for potential buyers to view. If you like to put your decorating skills to use, this might be the perfect job for you.
When the property market is high you have more chances of finding work, and the best way to gain clients is by taking before and after photos of any of your previous work to display your talent and potential.
19. Personal stylist
A personal stylist is someone who helps give advice on fashion choices like clothes and shoes that are current and suits each individual.
Formal education is not necessary, but having a background in fashion, hairdressing or previous customer service experience can work in your advantage. As a personal stylist, you have the flexibility of working for yourself and from your own home.
20. Seller on eBay
Melissa and her husband have made over $133,000 a year selling thrift store products on eBay. They teach you how you can buy things from flea markets and sell it for a profitable price.
You learn everything from how to buy, sell and also handle packaging and delivering products.
This can turn out to be a great full-time business if you enjoy doing little DIY projects.
21. Teach an online course
If you like to create video tutorials instead of an ebook, you can build an online course. This gives readers an easy learning experience as they get to see you in action and learn everything through visual learning.
You can create a course on health and fitness (yoga/pilates), pottery, crafts, cooking techniques or recipes.
If you need more inspiration, jump on Amazon and see what are the top-selling books. If any of those topics interest you, create an original masterpiece and sell!
This online class will teach you how to create and sell an online course.
22. Graphic designing
For those that enjoy playing with colors and drawing, graphic designing will turn out to be a fantastic side hustle.
Here is a post I wrote on how a young freelancer started converting her pencil drawings into graphic designs and makes $4,000 a month from home.
As a beginner, you can try places like Fiverr to offer your graphic designing services.
Once you have gained some experience and people start to acknowledge your work, you can venture out into selling your service with your own website or with bigger companies.
Check out Skillshare's free trial to learn how to become an illustrator online.
23. Blogging
This should have been on the top of this list because this is what makes me money from home. When I started blogging I never imagined I'd make money from it.
This blog generates a full-time income from home each month and all I invested was a hosting company for under $100 and a theme ($89 – optional). You can also start with a free theme and move on to a paid one at a later stage.
Check out this post on mom bloggers making money with their websites.
If you have a passion to write, I'd say start a blog. The flexibility is incredible and you will love the income when your blog picks up momentum. Here's a tutorial on how you can start a blog and make money from it.
25. Virtual assistant
Being a virtual assistant is like an online personal secretary. Your hours of work can be as little as 5 hours a week to 40 a week.
As a VA you will perform admin roles like sending and receiving emails, keep track of clients work and create a calendar schedule for the week/month.
If you are looking for ideas and inspiration download this free list of 275+ services to offer as a virtual assistant.
And if you like more details on this topic, here is my interview with a millennial mom and expert virtual assistant, that's killing it in this field.
26. Personal trainer
As a personal trainer, you can either work for a fitness company or as a freelancer. You can choose to provide one-on-one fitness coaching for individuals or cater to smaller groups.
Education in this field is necessary and you will need to check what qualifications are available in your state.
You can also progress to be a yoga, pilates or children's instructor, so there is room to expand in your career.
27. Sell crafts
If you are a crafty person and enjoy making crafts as a hobby, there are over 40 items you can make at home and sell for profit. These are quite simple ideas and are also suitable for beginners.
What are the best businesses for stay at home moms?
Now that we have covered that long list of well-paying home business ideas.
Below are some successful moms that I had the privilege to interview on their transition from a stay at home mom to a work from home mom. Check them out!
Successful blogger Tracie Fobes makes money online not just from blogging, but also selling printables on her online store. Read the full interview here.
Jessica makes a full-time income from home with her Amazon FBA business.
Extra Money Making ideas
1. Earning money from online survey sites can be time-consuming, but there is one very popular and legit website that pays up to $50 a survey. I put Survey Junkie to test and was able to quickly earn $45 in PayPal cash. Survey Junkie is only available to those living in the US, Canada and Australia with over 9 million members making money from home.
2. Another way to get PayPal money or free gift cards is by using Swagbucks. Sign up for free and install this Swagbucks chrome extension to use for your internet search and get paid points. Redeem them for cash or gift cards at Amazon, Walmart, Target and thousand other retailers.
Here are more ways to make quick money from home.
Business Ideas for Women at Home