*This post may contain affiliate links. Please read the full disclosure here. 
Today I have with me Angela, a young and talented freelance illustrator who has started making a full-time income from home with her love for art.
She is here to show you her work and give you inside tips on how you can become an illustrator and make money from home.
Before we get to the interview, let's just brush up on a few details.
What is an illustrator?
In simple terms, it's an artist that can draw and bring the work to life.
Use your creative side to convert your pencil drawings into a visually attractive digital piece of work that can sell.
As an illustrator, you can use your drawings to create wedding invites, greeting cards, graphic illustrations for children's books or even ebook covers for authors. This one below is one of Angela's creations.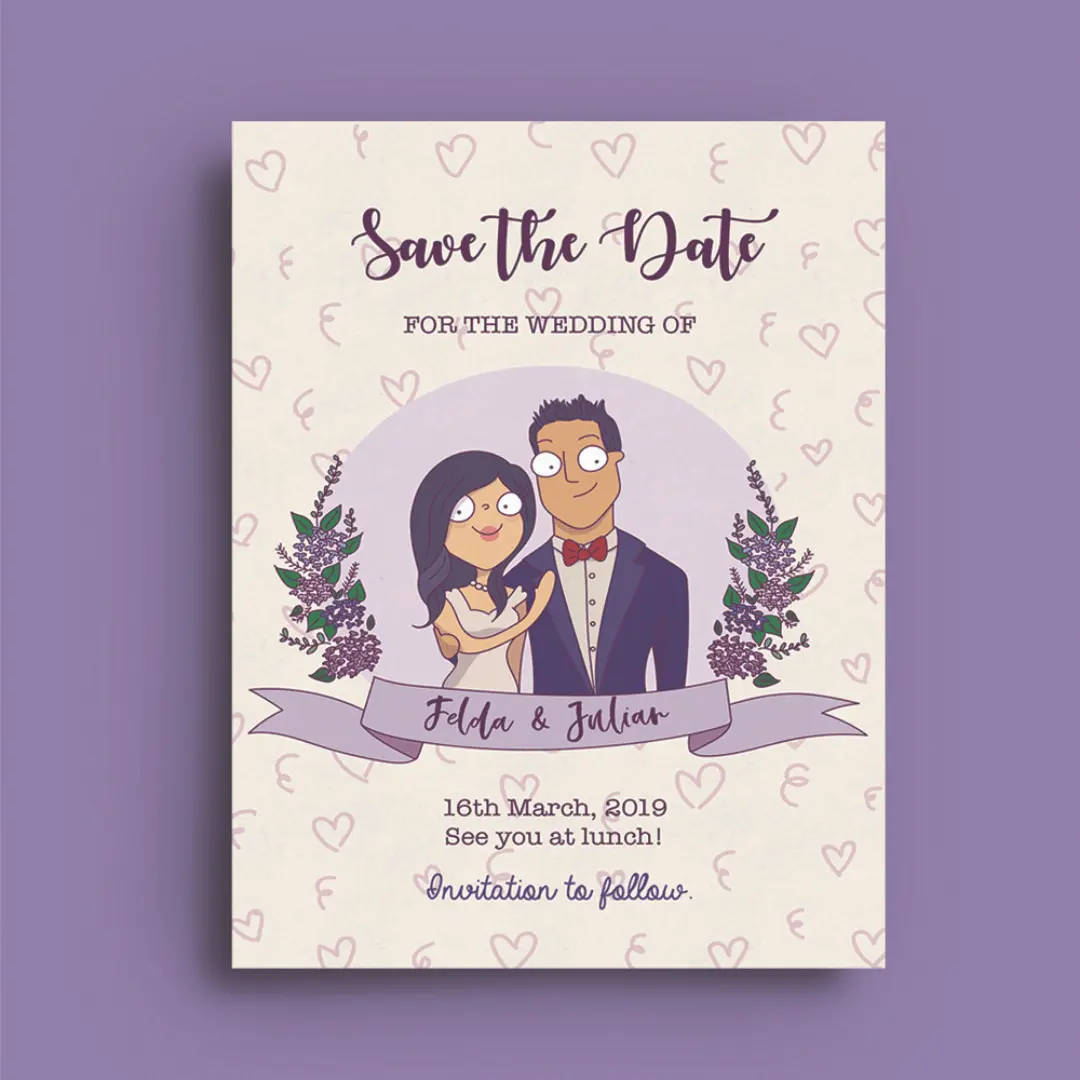 You can also create a family or couple portrait, or recreate any memory from customers that send you photos to illustrate.
So say a customers Mark and Lisa are getting married and want you to create a wedding invite, you can request for their photos and do a pencil draw up – and yes you can get as creative as you like!
Next using a little computer skill, you can turn that drawing into a digital image and play around with the colours and text to customise.
Your finished work will make you money!
Like the sound of that? Keep reading on how you can start this side hustle at home.
Note: Skillshare has a wide range of online classes that you can use to learn a new skill or craft. This includes drawing, painting, and illustrations too. You can use this coupon link to avail this Skillshare's free 14 day trial and check out their courses.

Ok, let's get straight to the interview.
1. Tell us about you and your work as a Freelance Illustrator.
My name is Angela Mary Vaz. I am a 26-year-old Illustrator, Comic Artist and Blogger. After I finished my Engineering, I did not want to leave my home to go out to work. I love staying indoors way too much!
So, my husband encouraged me to work from home and told me that we could make it work.
I started by helping him out with building websites and doing basic graphic designing.
In due time, I found that I seriously enjoyed working with women clients more because it allowed me to explore feminine designs. I started hand-drawing logos and then coloring them with Photoshop.
I've been drawing since I was 3. I just never knew that I could do something I loved for a living. I maintained a separate blog where I wrote about what I felt like and practiced my drawing skills by sharing little doodles and clipart.
Here is another one of Angela's digital illustrations.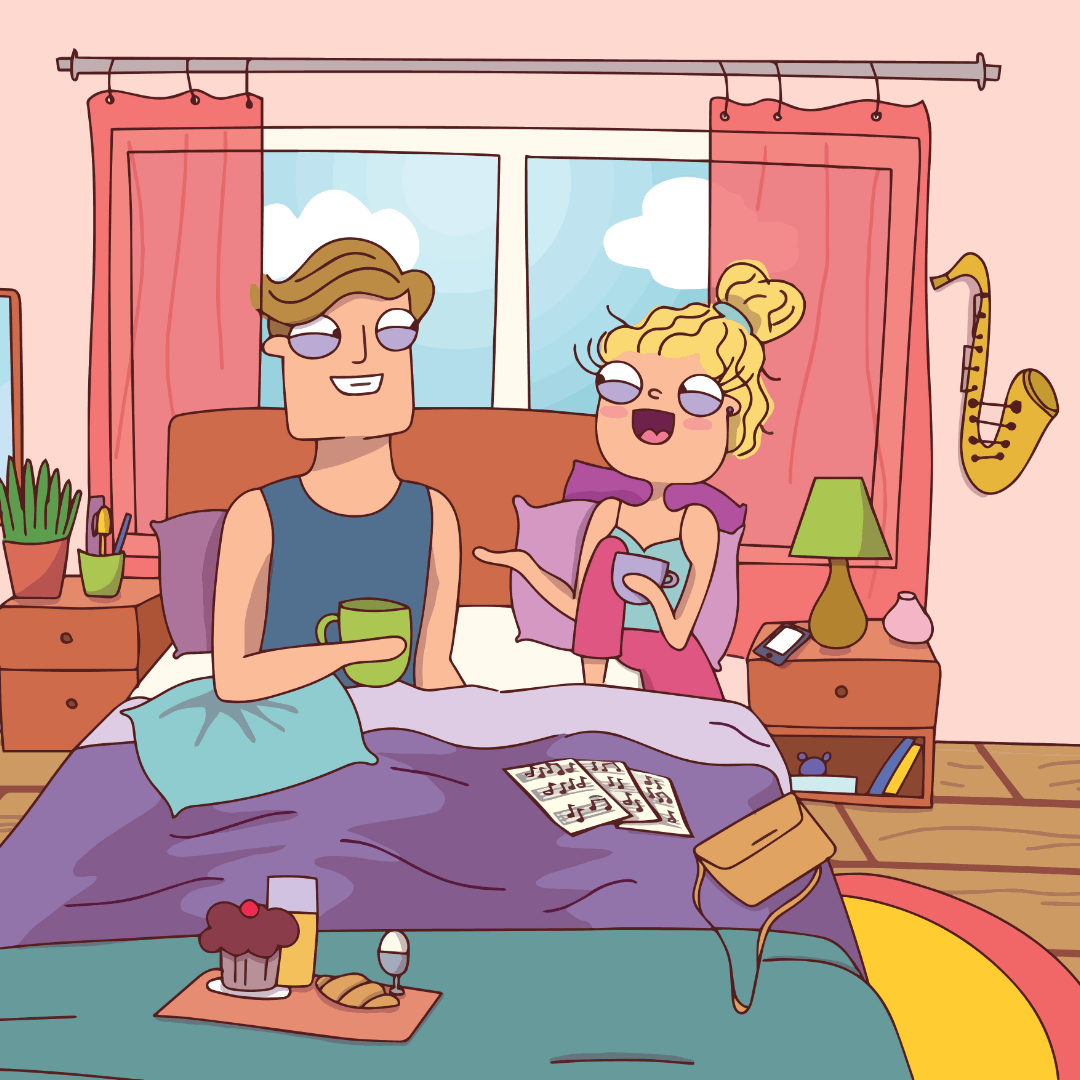 A woman saw my work on my Blog and asked me to hand-draw her as a cartoon. That's when I realized that I could do this for a living!
Over the span of 2 years, I was able to use Facebook Groups to get a lot of female clients who needed websites, logos, and business cards and illustrations. I used this to my advantage to not only earn a stable income but to improve my drawing skills.
I incorporated my illustrations on their business cards, websites and logos too!
2. How do you become an illustrator?
The key is to start somewhere, anywhere.
Once you have basic drawing skills and the love for learning, you're halfway there.
You also require Photoshop/Illustrator and a Graphic Tablet. Just by drawing a little every day, you can become an Illustrator in no time.
Additionally, you can watch a lot of online videos and courses to learn faster!
If however, you are still in high school and really want to be an Artist, then I would suggest taking an Art course or majoring in Art. As this can really move things along!

3. Can you become an illustrator without a degree?
We live in a day and age where practically anything is possible. And if you are passionate about drawing, you definitely do not need a degree to become an Illustrator.
4. Where can you find freelance illustrator jobs?
You can find work online if you have an online Portfolio.
You can also reach out to companies or people and approach them with your portfolio.
But most of the time, work finds us. By working on our own personal projects and uploading them on Behance or Instagram, we get discovered!
5. What is the salary of an illustrator?
This is a very subjective question.
It is important to know that being an Illustrator means you can earn money through a lot of ways such as freelancing, selling prints/merchandise with our art printed on it, selling digital work like clipart, stickers and planners.
Another option is freelancing work like illustrating for companies, creating ads, working on illustrations for magazines, or being a book illustrator.
Glassdoor shows the average salary of an illustrator to be $62,659/yr in the United States as of 6th January 2019.
6. How much do freelance illustrators make?
I am currently earning around $2000-$4000 a month. I've been illustrating for only 2 and a half years now so I have many dreams that I have still not yet fulfilled.
---
Get $5 for signing up with Swagbucks:
Make extra money by browsing the web, watching videos, playing online games and testing new products - clothing, food, cosmetics and more! Its free to join. Sign up for your chance to
get a $5 Swagbucks bonus.
---

7. How many hours a week do you work?
It really depends on my work and my personal life.
My husband and dogs come first. I love to enjoy life and at the same time learn new skills.
So, I work anywhere between 10-30 hours a week. This gives me plenty of time to read, take care of stray dogs, play the piano and go for long walks with my family.
8. What services can one offer as an illustrator?
I usually undertake single commissions. Because they're quick and easy.
Sometimes, I take on work by companies to create a certain number of Creatives. I also have a few regular clients/companies whom I work with monthly.
Aside from my services, I also make money selling digital products on my website.
Below are some of the services Angela provides on her blog.

9. How do you promote your work/services?
Earlier I used to depend solely on Instagram.
But that was such a bad decision because Social Media is unreliable as the algorithm is created in such a way that your engagement will decline as your followers increase. After touching 180K followers, I saw a steady decline in engagement.
I wasted no time in creating a website and a blog and now I use my website along with social media to promote my work.
10. What advice do you have for aspiring illustrators?
Becoming an Illustrator is as easy as you want it to be.

Once you have the passion to draw and earn money with your work, you have to make a plan.
Focus on not only getting clients but try and work on your own projects to improve your drawing skills.
Create goals and work towards making those happen. Carry a notebook wherever you go, so that you can draw any time, any day.
And becoming an Illustrator means that your work becomes extremely flexible.
You can sell art online or you can work for clients or do both. Being an Illustrator means that you can literally do anything you want.

You can draw characters that you've fallen in love with growing up. You can create a world of new and original art. And the best part is, you get to do it for a living!
You get to master a lot of skills just by freelancing and making money with your art.
Now it's your turn!
Ready to give this a try?
Are you looking beginners online classes to learn how to convert your pencil sketch into digital art? Take advantage of this free trial with Skillshare and choose any of the illustrator courses listed to suit your level.