*This post may contain affiliate links. Please read the full disclosure here. 
Today's post teaches you how to edit files at home and become a proofreader at home without a fancy degree.
These days there are a lot of people looking for a more flexible work-at-home options.
While most online jobs do not require much learning, there are some that do require a bit of effort.
Proofreading is one flexible side hustle that uses skills you already have, so you can start making money almost immediately.
If you are someone that is looking to start a work-at-home career, but can only contribute less than 20 hours a week, I have a stay-at-home mom that is going to show you how she's doing it as an online proofreader.
First, let us brush up on some proofreading basics.
♦ Learn how to become an online proofreader with this free proofreading workshop.
What is Proofreading?
Proofreading is the final stage of the editing process.
An editor and a proofreader have different tasks. The editor does the initial stage of detailed corrections and checks sentence flow, while a proofreader makes changes to the final draft.
A few things a proofreader needs to check are grammar and spelling errors.
So if you have an interest in correcting grammatical errors, spotting inconsistencies in sentence structure, formatting, and have an eye for detail, proofreading may be for you.
Proofreading Services
Lots and lots of online businesses require proofreading services.
With the growing digital era, there is a need for proofreading almost every type of content that goes online.
From ebooks, online courses, digital downloads, blog posts, resumes, and other marketing material.
This means more work for proofreaders, and you can do this work from home sitting on your couch.
Proofreader Salary
Wondering how much do proofreaders make?
According to the Bureau of Labour Statistics *(2019), a Proofreader's salary is an average of $37,550 and can go up to $61,480.
♦ Learn how to become an online proofreader with this free proofreading workshop.
How to become a proofreader?
It is not necessary to have a professional degree to become a proofreader, but what is essential is a good command of English and the right learning resource.
While you may receive short documents to proofread, you will also be required to proofread longer documents like books (which do pay better). This means having the ability to stay focused is necessary.
Now, where do you begin?
There are many online proofreading courses available on the internet, but one of the most popular one is Proofread Anywhere.
Who can become a proofreader?
Anyone with good grammar skills and who is looking to make extra money from home.
This is a flexible side hustle that suits busy stay-at-home parents, or those wanting to build extra money for retirement, like proofreader Nancy Laverty-Snider.
Here is what she had to say,
Looking forward and planning for retirement, I decided that I needed to find something to supplement my income when I was ready to give up my lifelong career.
I felt I would still need to be productive in some capacity.
Moving to another province to be closer to family was something to consider as well.
Would I be able to find a part-time job in another province? What were my options? What did I like to do?
I came across Caitlin Pyle's ad for Proofread Anywhere. I was intrigued: I listened to the presentation and was immediately excited. This was exactly what I wanted to do!
About a month after graduating, I found my first client on LinkedIn. She was a mutual professional of a relative of mine.
I have also found a couple of clients through Facebook, one was a mutual connection, and the other posted in a proofreaders' group that he was looking for proofreading assistance.
I work on Upwork as well, and in that platform, I have three clients that I developed relationships with while working on their projects, and they now send me a new contract when they have further work to complete.
I pick up all the work I need on Upwork to stay busy.
Yes, it is possible to work from home and make money!
Proofreading Course
Before paying for a course, or starting a new career, the first thing to do is get an overview of the course and the job description.
Caitlin Pyle has a popular online proofreading course called Proofread Anywhere with over 5,000 students that are now making money from home.
For those that are still unsure, she has created a free Proofreading workshop, that will give you a better insight.
Click here to check out the content of the course and further information on starting a career as a proofreader.
---
Get $5 for signing up with Swagbucks:
Make extra money by browsing the web, watching videos, playing online games and testing new products - clothing, food, cosmetics and more! Its free to join. Sign up for your chance to
get a $5 Swagbucks bonus.
---
Online Proofreading Jobs
Here are 25 websites where you can find online proofreading jobs that accept beginners.
Apart from the websites listed, you can also land clients through social media promotion and word of mouth.
Free Proofreading Tools
There are some free tools that will assist you in proofreading online content.
Whether it's emails, text files, or any digital documents. Once you register with them, it will automatically pick up grammatical mistakes as you type.
My favorite is Grammarly. I use it on my blog and has been tremendously helpful. It doesn't format sentence structure but picks up spelling mistakes. I have it installed on my desktop and it's free to use.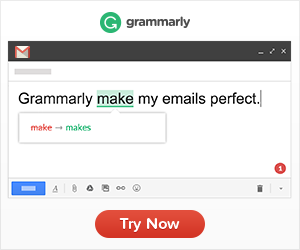 Now that we've covered a few basics, let us read about Amanda Miller, a student of the Proofread Anywhere course (and a stay-at-home mom) who tells us more about her journey into this new career.
Interview with Amanda Miller
1. Tell us a little about yourself and your proofreading journey.
My proofreading journey began in October of 2017.
I was a SAHM of three children, with no real training or skills beyond that.
After watching my husband work himself to the bone to take care of our household — he's a keeper! — while I took care of the kids, we both began feeling the weight of living paycheck to paycheck.
We decided to see what work-at-home options were out there!
We were beyond blessed to hear of Caitlin Pyle's
Proofread
Anywhere
course by word of mouth.
After reading numerous reviews and success stories, we took a leap of faith and dove right in!
I completed the course, began networking, and got my first client within the first month.
I've been able to contribute to my household AND watch my kids grow up! I'm a blessed mama.
2. How many hours a week do you work?
I work an average of 5-6 hours a day, 4 days a week.
3. How much do you make a month?
I currently average about
$1,000
a month.
It's been very flexible!
I'm able to run errands, go to school functions, have playdates, and even catch up on my favorite shows here and there!
5. What skills do you believe are required to become a proofreader?
You definitely need an eye for detail and a basic knowledge of grammar and spelling – and perhaps a touch of perfectionism.
6. How did you find out about the course?
My husband heard one of his coworkers talking about the course. She's also had great success with Proofread Anywhere.
7. How was the support you received?
I've received so much support and connected with a lot of wonderful people. If I ever have a question or concern, there are always numerous responses and many people willing to help!
8. How long after finishing the course did you start making money?
I got my first client one month following my completion of the course and was able to make back the cost of the course within the first three months.
9. Are there many jobs available for online proofreaders? How did you find clients?
From cookbooks to blogs to court transcripts, there are many, many, many avenues in which a second set of eyes can be beneficial.
I've connected with several of my clients through LinkedIn and Facebook, and they have since referred their friends and coworkers to me as well.
10. Any last words for those wanting to begin but are still finding it hard to decide if this is the right choice.
I've been proofreading for more than a year now, and it's been the best decision I could have made for my family.
Believe in yourself.
You CAN do it!
There you have it. Right from a student who has been there and done that.