*This post may contain affiliate links. Please read the full disclosure here. 
Vindale Research
One of the simplest ways to make money online is through paid online surveys.
You don't need experience or an investment to begin, and you pile up a few hundred dollars a month with this side hustle.
But unfortunately, this is not the case with all surveys sites, as some can lead to disappointment.
*This post may contain affiliate links. Disclosure here.
Today our topic of discussion is Vindale Research, and we are going to look at the following:
Is Vindale Research legit or a scam?
How do you login to Vindale Research?
What is their payment method?
What are the different ways you can earn with them?
First, the big question…
Is Vindale Research legit?
Yes, and it is one of the highest paying research sites in the market where you can earn up to $50 a survey.
Vindale Research sign up is free and you earn a $2 bonus to get started.
On signing up, you will be asked to fill in some personal information. Vindale Research has clearly stated that they will never share your personal information with anyone and all survey results will be kept anonymous
Vindale Research is not all about surveys, because they pay you for doing a variety of little tasks.
Later in this post, you will learn a few different ways to earn more with Vindale.
Is Vindale Research a scam?
They are a market research panel that began in 2005 in the US.
They have now expanded to the UK, Canada and Australia with over $5 million paid out to their members.
They have been rated 8 out of 10 with Trustpilot, and have 4-star reviews.
So, no they Vindale Research is not a scam, and you can visit their website to take a look at the reviews left by members that have made money from them.
Vindale Research Payment method
The minimum is $50 for payout. But since there are many high paying surveys, you can reach this amount in a few days.
Vindale Research offers just one payment method and that is by PayPal.
How much can you earn?
On average, $12-$15 an hour. You need to be on the lookout for the high paying surveys that can earn you $50 each. However, you will not receive a huge number of studies to participate in. So this is not something you can do as a full-time job. But is a great way to earn some extra money.
Here is one baby food study that pays $10 for 35 minutes.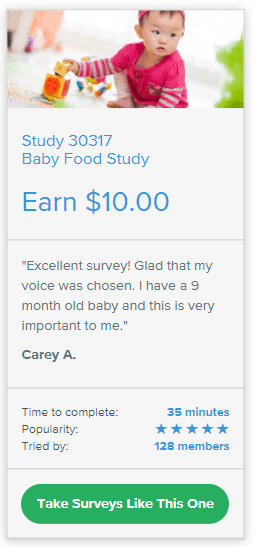 And a fast food survey that pays $3.50 for 17 minutes.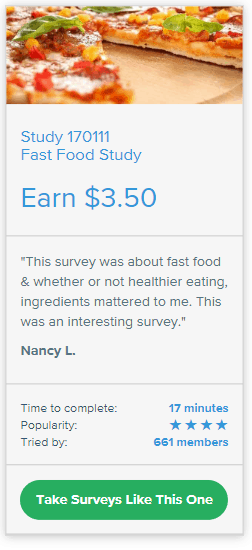 So you can decide which one suits you better and answer them accordingly.
Vindale Research Sign In
Vindale is currently only available to those living in the US, UK, Australia and Canada. They have a minimum age requirement of 18 years.
So if you fit the eligibility criteria you can Sign up here.
How can you make money with Vindale Research?
#1. Surveys
When you sign up, you are given a short set of questions to answer. These questions help in matching you to relevant surveys based on your demographics. This makes it interesting for you and relevant for them, so both parties benefit.
Survey Topics include health & beauty, fashion, shopping, travel, popular restaurants, home improvements and more.
Surveys can be done online using either your phone or a computer. You have higher earning potential with more specialized surveys, but on average you can over $10 for a 30-minute survey.
Bonus: Vindale Research also has a Job Centre that offers full-time, part-time, and even short-term opportunities for those living in the US only.
#2. Refer and Earn a $5 bonus
The next easiest way to making money is from referring friends to join.
You earn $5 for each referral and that money goes straight into your Vindale account. To be eligible for your referral bonus, the person you refer needs to complete just one survey that's worth $1.
You can access your referral link in the Vindale dashboard and share it with family and friends. This dashboard has an "account history" section to keep track of all your referral money.
Even if you are not up for surveys, you can make money just from referrals.
This means if 5 friends sign up, that's an instant $25 for you!
#3. Vindale Research Reward Codes
On their blog, and social media they will regularly post little rewards and when you find the answers to them, you can submit it on their site.
These answers are the reward codes. You only get access to these offers if you have signed up as a member.
---
Make extra money by browsing the web, watching videos, playing online games and testing new products - clothing, food, cosmetics and more! Its free to join. Sign up for your chance to
get a $5 Swagbucks bonus.
---
#4. Take a photo of your payment – $5
Another cool feature with Vindale Research is unlike any other survey company they pay you money to snap a picture of your payment.
When you cash-out your money either by check or PayPal, just take a photo of yourself and your payment to redeem a $5 cash bonus. A fun activity that's rewarding!
#5. Get Paid to Watch videos
That's right, get paid to play videos.
Just click the videos tab in the surveys page to begin viewing videos and giving feedback.
This is quite similar to Swagbucks, but I prefer this feature on Swagbucks as you can play the video and let it run in the background while you carry on with life. You don't need to provide any feedback like with Vindale.
And if you don't use Swagbucks yet, you are missing out. It is one of the most fun and free ways to make money. For instance, you earn money just for surfing the internet like you use Google. There's also surveys and cashback from popular retailers to make you the most money.
#6. Read Emails
Vindale Research pays you to read emails. This, however, can only make you $0.10 an email, but everything adds up right?
And there is nothing you need to do, other than opening up some paid promotional emails.
Inbox Dollars also pays you to read similar emails. If this interests you, can try Inbox Dollars or Inbox Pounds (if you live in the UK).
Ready to give Vindale Research a try? Visit here to begin earning.
Two other high Paying Survey sites I MUST mention:
1.Survey Junkie:
They are one of the biggest players in the market and one that is highly reputed and well paying. Survey Junkie has a high-class interface and they don't clutter your inbox with surveys. You can choose to do the high paying ones that can go up to $50 a survey.
2.Pinecone Research:
One big reason why many users like Pinecone Research is because they pay a flat fee of $3 per survey. Since they don't offer the low paying surveys, you will receive only a few surveys a week, but they are worth the time. You can only sign up through invite-only, and here is your unique link to the free sign up.
Final thoughts on Vindale Research:
Vindale Research is legit, and you can check them out here and see how much they are paying other members that are participating in their surveys and research panels.