*This post may contain affiliate links. Please read disclosure here.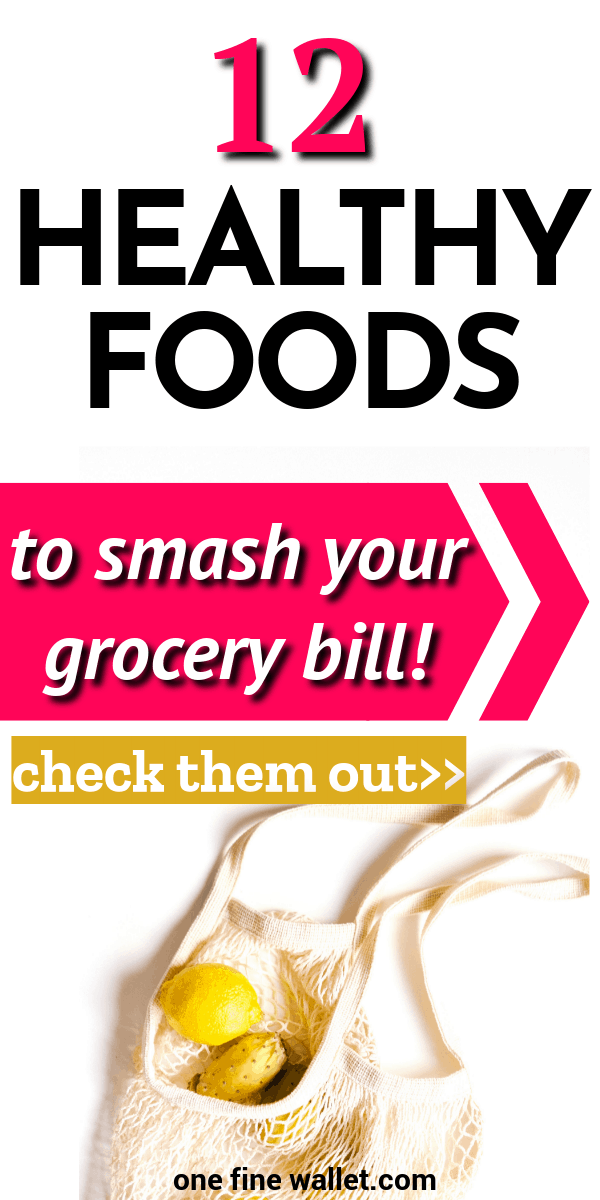 Sometimes grocery shopping might seem like emptying your wallet, whether you are a college student or if you are a large family. And it gets even worse when you want to search for healthy products in the shopping aisle – which usually turn out to be expensive.
We are a family of four, and with two kids under 3, there's diapers and other baby essentials that hike our shopping price.
So I had to sit down and organize our expenses to eliminate things we don't really need.  I came with this easy shopping list that has become our regular. Its a list of healthy foods that will help you get your clean meals and snacks sorted without any wastage.
Yes! No wastage – because these are a list of foods that have a longer shelf life, so you are not throwing away what you've bought.
When I swapped this shopping list to our old one, I found I saved over $200 a month in unnecessary expenses. We are talking over $2,000 a year!
So are you ready for this?
And I almost forgot, click here if you are looking for easy meal planning ideas for busy families on a budget, or click the image below.

Main meal
Root Veg
These are veggies that grow underground, like carrot, sweet potato, turnip, parsnips, and beets. These vegetables can keep longer, and you can decide which ones suit your family better when buying.
Meal ideas- Mash potato, roast root veggies, potato salad, sweet potato fries, baked potato, leek and potato soup, gratin, potato curry. You can also make a stew or a pot pie which can be an amazing comfort food in winter.
Lentils
These stay good for months. I prefer buying the dried lentils instead of the tinned ones. If you soak them in water for a couple of hours they tend to cook quicker. They are protein dense and are quite filling. Perfect for hungry kids in the house.
Meal ideas- Lentil soup, Lentil stew with your favorite veg or a lentil curry that go well with rice.
Eggs
Again another powerhouse of protein, this is an all-rounder. You can easily create a breakfast, lunch or dinner recipe with it.
Meal ideas- Poached eggs, pancakes or fried eggs for breakfast. Egg fried rice, omelette, frittata, quiche or an egg curry for your main.
Meat
You can go without this if you are feeling like having a vegetarian week. But if you do buy your choice of meat, make sure you only buy how much you will use. I sometimes overdo this and we end up having more meat than we need, and I am not a big fan of freezing meat to use later. Have a meal plan if it helps and adjust your quantity accordingly.
Meal ideas- From roast, grills, curries or burgers.
Oats
Oats again, have a long expiry when stored in a cool dry place. They make an excellent breakfast and are handy to have if you want to make some oatmeal muffins or oat biscuits for tea.
Meal ideas- Breakfast porridge, overnight oats, pancakes or even oat bars which make a healthy snack on the go.
Whole grains
This is a staple for us at every meal. We consume it in the form of rice or bread, so we buy this in bulk. This also reduces our food bill because smaller packaging costs a lot more than when we buy in bulk.
Meal ideas- Steamed brown rice with your favorite meat or veg, wholegrain pasta salad. If you love garlic (the way I do:) you can boil your rice with a couple of cloves and add a little butter to the cooked rice. This is a great side for your roast veggies or meat.
Beans
You can either choose canned beans or the dried ones. I find the dried variety cost a lot lesser than tinned beans, but you can buy whichever is more convenient for you.
Meal ideas- Beans and rice, chili, black bean soup, bean salad, veggie bean burger.
Flour
This can save you in times of crisis. If we are in a hurry or come home after a long day at work, the last thing is to work in the kitchen – again. Refined flour is not the healthiest. We make a lot of flatbreads at home, like naan bread or roti which we do with wholewheat flour. Other healthy flour options are almond flour and coconut flour.
Meal ideas- Naan pizza, wholewheat wraps.
Snack & Dessert
Bananas
One fruit that is available all year and available in almost any country. They are the healthiest and easiest fruit on the go and good for bouts of sugar cravings or hunger pangs. Keep in mind that if its summer, you need to make sure you are not buying them too ripe as they can go off real quick. But don't worry if you have a couple of overripe bananas – you can just freeze and blend to make a "nice cream" ( a healthy alternative to an ice cream).
Greek yogurt
I like to buy plain yogurt instead of the flavored ones because you can play around with the flavors. You can add a fruit or honey which are great natural sweeteners. Top it with some roasted nuts or granola for some added crunch and energy boost. They make a great snack and a lot better than any sugar-filled dessert.
Popcorn Kernels
A pack of popcorn kernels can stay for months. Just add some butter and toss the kernels on the stove top to make some homemade popcorn for the family. A fun crunchy snack that tastes even better when its warm and not out of a store bought pack.
Bag of nuts (your choice)
When its 3 pm every day, my mind is ready for a snack. It's like something I don't have control over -ha! The best option (instead of a bag of crisps) is a DIY trail mix. You can get super creative and throw in whatever you can get your hands on. Dried cranberries, raisins, apricots, figs, almonds, pistachios, walnuts, pecan nuts or even date fruit. And if you are confused on how to decide, look what's on sale and buy them. Mix them up together and put them in zip-lock pouches. I keep a few of the bags in the car, at home and in my handbag, as they can be really useful when out and about. Saves spending money on a snack bar right?
There you go. It might sound like simple ingredients, but they are a better option to expensive takeaways or pre-packed meals in the supermarket.
It can be hard to swap your routine habits. But give it a try for a week or so and once you see the amount you save, it will motivate you to stick with a budget-friendly grocery list.
Need Extra Cash into your PayPal account?
Join 

Survey Junkie

and earn up to

$50 a survey.

 
Use Swagbucks to surf the web, and earn PayPal cash. It's free to 

join Swagbucks,

 and once you confirm your email you get instant access.
--------------------------------------------------------