Swagbucks
Swagbucks is one of the most legit Get Paid To (GPT) sites to make money.
Today we are going to look at 7 best Swagbucks hacks to earn more using the Swagbucks App.
First, a little introduction if you are wondering – what is Swagbucks?
This is a rewards program that offers to pay you points for completing little tasks. The points you earn can be redeemed for PayPal cash or gift cards at popular retailers like Amazon, iTunes, Target, Walmart or Macy's.
*This post may contain affiliate links. Disclosure here.
Swagbucks sign up is free, and you can install a browser extension or choose to use their mobile app to suit your convenience.
Is Swagbucks Safe?
Swagbucks was launched in 2008 by Prodege LLC , that also owns MyPoints, ShopAtHome and InboxDollars. They have a total of 100+ million members that are earning from home.
Swagbucks has paid out over $350 million in rewards to its members. They have over 13,614 reviews on Trustpilot with a majority 4-star rating.
Now the big question.
How does Swagbucks work?
You would need to sign to get access to your dashboard, which shows you the many ways you can make or save money. Completing small tasks gives you points called SB.
There are many ways to earn Swagbucks or SB points which range from searching the web, daily surveys, watching videos, gaming or by using their site to avail cashback offers.
For every task completed you accumulate SB's.
You can choose to convert these SB's into cash or gift cards at any time.
How do you get the most money out of Swagbucks?
While there is more than one way to make money with Swagbucks, today we are going to look at how to earn the most Swagbucks. The reason I say this is because some tasks are time-consuming and only result in 1 SB. So I've compiled a list of ways to earn more with little effort from you.
How to earn 1000 Swagbucks a day?
Below are 7 of the fastest ways to earn money with Swagbucks. You can choose to do them daily or when you have extra time to spare.
Swag codes are a fun activity where you find a piece of text and insert it into the "Redeem Swag Code" section in your dashboard.

These Swag Codes are worth SB points. Codes are available on Swagbucks social media pages – Facebook, Twitter or Pinterest and is updated with a new code every day.
Here's a little trick: Installing the Swagbucks extension on your desktop will give you alerts when a new code is live.
The codes are case sensitive, so make sure you type them right, or you can copy and paste it.
When you refer friends and family to Swagbucks will earn you points. You get 300 SB when the person you refer earns 300 SB in their first month AND an extra 10% of their Swagbucks earning for as long as they have their Swagbucks account.
You can choose to invite people via email, Facebook or Twitter. Once you sign up, you get access to your dashboard that has a unique referral link to share.
Once you join Swagbucks, you can use their own search engine to gain SB points for your web search. In the example below I did a web search for "chocolate cookies" and I received 6SB points for doing so.

So instead of heading to your usual search engine while browsing the web, use Swagbucks for your queries and earn points in return. Its a bonus win here.
This is SwagButton is located on the left side of your dashboard.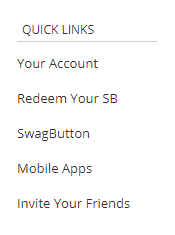 Installing this keeps you notified of any latest offers or cashback. This is the extension that can be added on to your desktop. It also alerts you of coupon codes that are available and automatically adds the coupon at the checkout.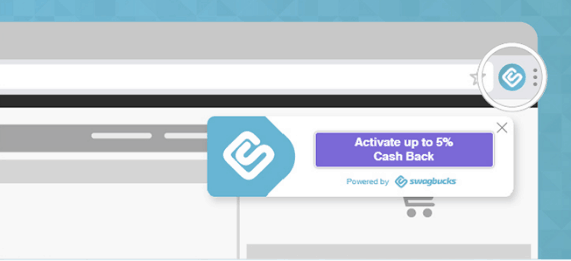 Earn 50 SB points just for installing the extension, and an extra 100 SB if the person you refer installs the SwagButton.
Gift cards come in handy whether it's for your best friends wedding or birthday. You can also choose to use a gift card to buy yourself a treat. Purchasing a gift card from Swagbucks not only lets you earn SB's but also gives you the opportunity to earn cashback.
You can view paid survey opportunities on the Swagbucks app on your Android or iPhone device. Most surveys pay around 200 SB's which is equal to $2. But they occasionally have longer surveys that are worth $50 a survey.
Discover is Swagbucks feature where you can earn SB just for signing up for a free trial. This is good for those that are interested in trying out new things.
Here's a look at a few sign up offers that can earn you SB's.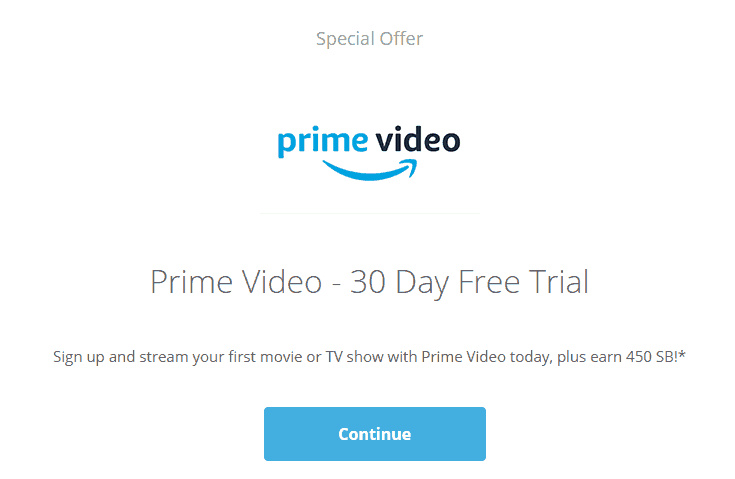 Signing up for a free trial with Amazon Prime video makes you eligible for 450 SB's. So if you are looking to join a subscription, do a quick search in your Swagbucks dashboard to see if there are any offers available in Discover. This way you benefit from a free trial and accumulate SB points.
From Groupon to Target, you'll be able to find a variety of coupons and cashback offers, when you use the shop option on the left sidebar.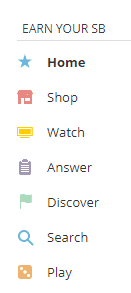 Here you not only see the shop option but all the other ways you can earn from Swagbucks – from search, discover and answer surveys.
Coupons can be found when you hit "shop". Below is an offer that was available for Groupon.

How to redeem SB?
SB can be redeemed for gift cards and PayPal cash. They have a huge list of gift cards from retailers you would normally use including Amazon, iTunes. Using Swagbucks is one of the legit ways to get Starbucks gift cards.
The minimum amount to redeem is $3, but you could donate to charity for as little as 5SB.
You can give Swagbucks a try here and get a free $5 Bonus.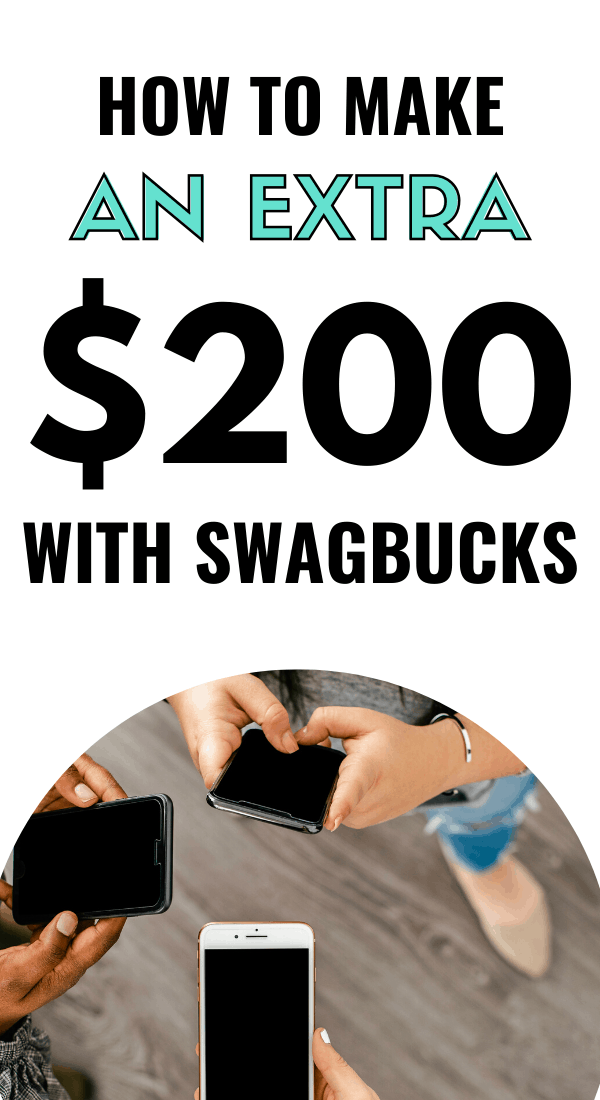 Swagbucks App
2 Popular Money Making Sites
Earn up to $50 each time you share your opinion about products and brands - available to those in the US, Canada and Australia. Join Survey Junkie here, it's free!
Take part in daily surveys worth up to $35 with Swagbucks.