Holidays mean fun, food, and family. But it also means a lot of additional expenses that can take a hit on the wallet. Some extra money would be great at this time, right? So instead of giving you job options, I am going to show you ways you can earn quick cash for short gigs.
Even if you work full-time, you can still do these side hustles over the weekend or after work to make you some holiday money.
Let's get straight to it.
*This post contains affiliate links. Please read disclosure here.
1. Declutter
This is the best way to make money. Why? Because you get rid of things you don't need, so you have more room in your home.
Need inspiration on what to sell?
You can sell your old smartphones on Gazelle, any old books on Bookscouter, clothes and shoes on ThredUp and LetGo.
You can also sell any brilliant photos you might have taken in the past on your smartphone too! There are apps like Foap, and websites like Alamy, and AdobeStock that pay you for them.
2. Freelance work
Freelancing is one of the easiest ways to earn quick money for short gigs. It's a great way to earn money on the side at any time of the year. You can be a freelance writer, freelance virtual assistant, or also a freelance Pinterest virtual assistant.
But you like to earn a quick $50 or $200, you can write for magazines and get paid per article.
Here are some places you can apply, even as a beginner writer>>
3. Babysitting
There are many moms and dads that work through the holidays and need childcare for their kids. It's also a busy time of the year for parents that need time to get events organized. Care.com and Sittercity are websites that you can apply for babysitting opportunities. You can also apply to be a pet sitter if that suits you better.
4. Bake
Love baking?
Best time to make money for your services. I have friends that love to bake, and they sell customized homemade cakes to family and friends. You can price it slightly lesser than what it would cost them if they would buy it at the shops. But make sure you price it according to how much you spend on the ingredients and the time and effort you've put in.
5. Gift Hampers
This is a hot cake when its the holidays, birthdays or valentines day. You can put together a He/She gift hamper and get creative with the packaging to make it more appealing. You can take photos of some of your work and share it with your friends at work or on social media. Again pricing it lower than what others charge, can give you higher chances of sales.
6. Wrap
Offer gift wrapping services to friends or even at work, where they might have to go through a lot of holiday presents to wrap and send out. If gift wrapping is something that interests you, you must give this a go. You get paid for something you love doing.
7. Sell Handmade
Handmade gifts are in-demand these days. Everyone wants to buy a homemade personalized gift to share. You can set an Etsy store to sell handmade jewelry, vintage goods, any scarves or knitted wear you can create.
An Etsy store is a well known handmade marketplace where you can list handmade goods for sale. You can sell Christmas greeting cards, personalized jewelry and other creative ideas you can think of.
8. Surveys
This is the easiest way you can make money. Just you, your phone and a few minutes of your time. There are some surveys that are intense and time-consuming. But I have narrowed it down to 7 of my favorite sites that are legit and can make you some easy money. Survey Junkie is top notch and also a highly recommended survey site to try.
9. Door Delivery
If you are free on the weekends you can try delivering food with Door Dash. You are allowed to use your vehicle to take you around and get the delivery done. Using the DoorDash app you can accept orders and get deliveries done.
You can check out Doordash here>>
10. Cashback
Cashback is the best way to earn money for the holidays. If you are a regular with online shopping, why not get cash back for shopping you are going to do. Here are some of the most popular cashback sites that house all the best brands that make it convenient.
Make the most of your time making and saving money before the holidays, so you can have a relaxing debt-free Christmas with your family.
Related posts you'll love: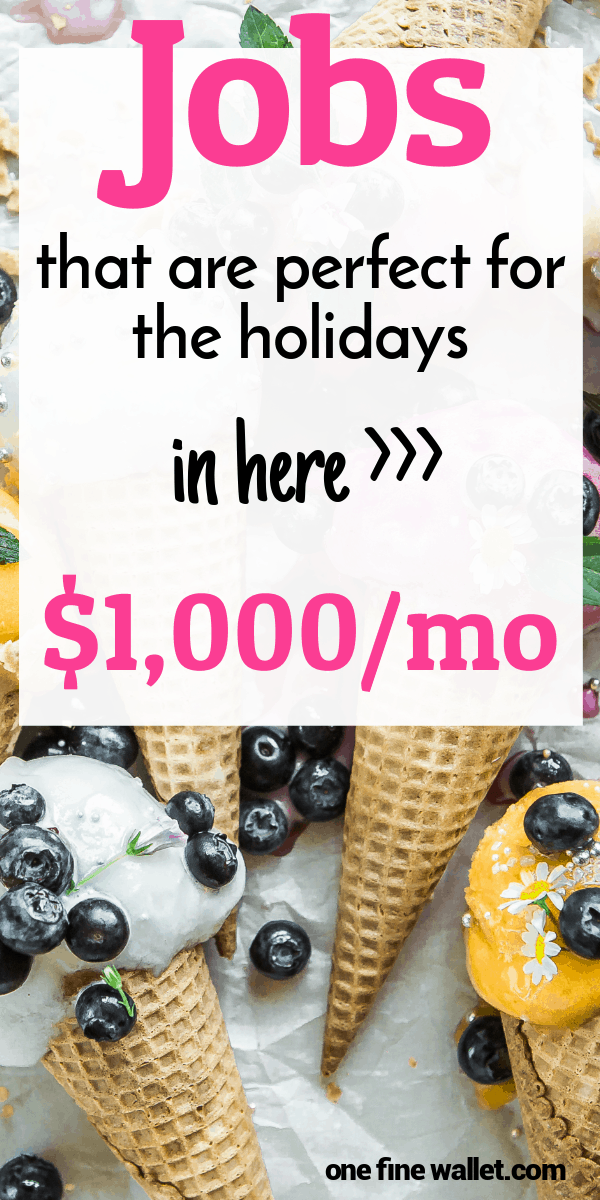 2 Popular Money Making Sites
Earn up to $50 each time you share your opinion about products and brands - available to those in the US, Canada and Australia. Join Survey Junkie here, it's free!
Take part in daily surveys worth up to $35 with Swagbucks.