*This post may contain affiliate links. Please read the full disclosure here. 
eBay Flipping – How Do You Begin Flea Market Flipping on eBay?
Let's first begin with what is flea market flipping?
It's when you buy an item for a low price at thrift stores or flea markets, and sell for a higher value.
If you haven't heard of the term before, it's about flipping flea market items for a profit, and one of the best places to sell your flea market finds is on eBay.
For example, you could buy an $8 door handle from a garage sale and resell it for a higher value, like $200.
And yes, there are people making a full-time income from home, selling things on eBay.
Husband and wife duo, Rob and Melissa have made over $133,000 in a year flipping thrift store products and are here to show you how to sell on eBay and other online platforms.
Flea Market Flips Before and After
These are just two items they have sold online. You can view more products they have flipped in here.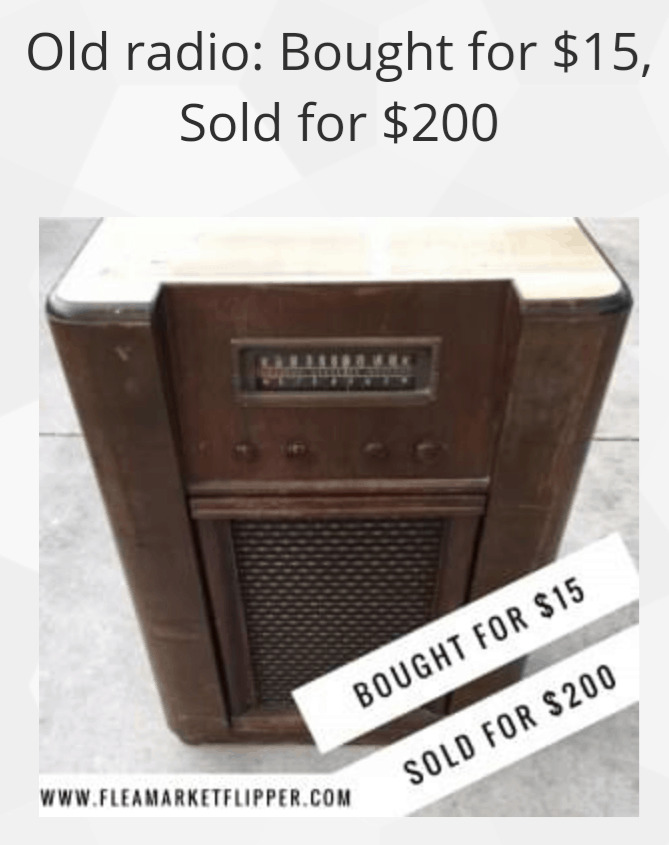 Image Credit: Flea Market Flipper
Did you have a hard time believing me when I previously mentioned that you could sell an $8 door handle for $200?
Then, take a look at this.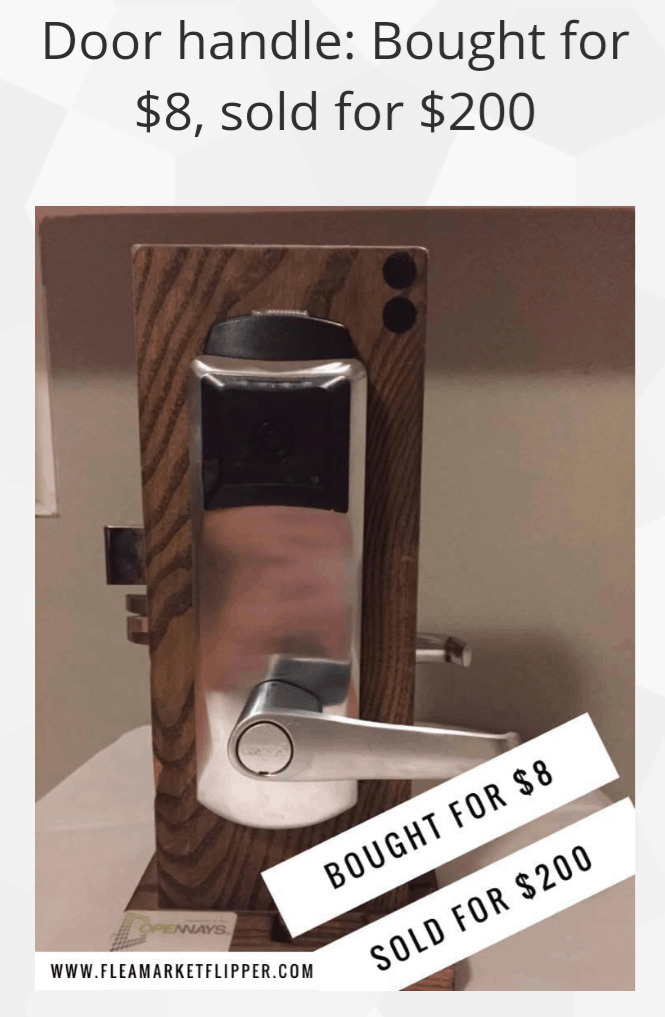 Image Credit: Flea Market Flipper
If this sounds like something you would be interested in trying, they have this free webinar that explains how you can turn items you buy from yard sales into a profitable income.
What sells best on eBay?
Lets look at some profitable things to sell on eBay. Items that can be sourced from flea markets, thrift stores or even things you don't need in your own homes.
Listed below are some of the easiest things to flip for profit.
Kids DVD's
Video games
Board games
Kids strollers
Diaper bags
Vintage or antique items
Sports gear
Furniture
Cookware
Tableware
Ladies handbags
Bikes
Clothing and accessories
Winter wear
Phone and phone accessories
For more details here's Rob to explain how you can get started flipping on eBay even as a beginner.
1. How did you start flipping things to sell on eBay?
Flipping is the art of finding things that nobody else sees value in and selling it for a profit.
(In plain English -Its turning trash into cash and I bet you like the sound of that!).
We do this every day. I actually started when I was 16 years old and would find old Nordic Tracks in the classified ads and resell them on eBay for a $200-$300 profit.
22 years later we sell a lot more than just Nordic Tracks.
2. Can anyone start flipping or do you need a particular skill?
One thing I love about this profession is that it doesn't take any special education.
I never was great at school barely scraped by to finish High School.
There are skills involved to find, buy, and resell, but they are skills that almost anyone can acquire.
3. Where do you promote your products?
85% of our sales come from eBay. The other 15% comes from Facebook Marketplace, Craigslist, and OfferUp.
4. How much do you need to invest in a product to sell?
You can invest as much or as little as you want. We typically tell people to start at $20-$50, but you can also find some great items for FREE.
I am actually in the middle of a flipping challenge this year.
I found an item out of the trash, flipped it for $50, then bought another item, flipped it for $190, and just bought the next item that could potentially sell for $1,500!
I'm excited to see where we can be at the end of the year coming from an item that someone threw away.
5. How much money can you make from flea market flipping (as a beginner)?
This all depends on how much time they are willing to put into it.
When you are learning and applying new skills, there can be a little bit of a learning curve.
That said, it's not crazy for a beginner to make $200 – $1,000 in a month if they work at it a bit.
How to Get Started with Flea Market Flipping?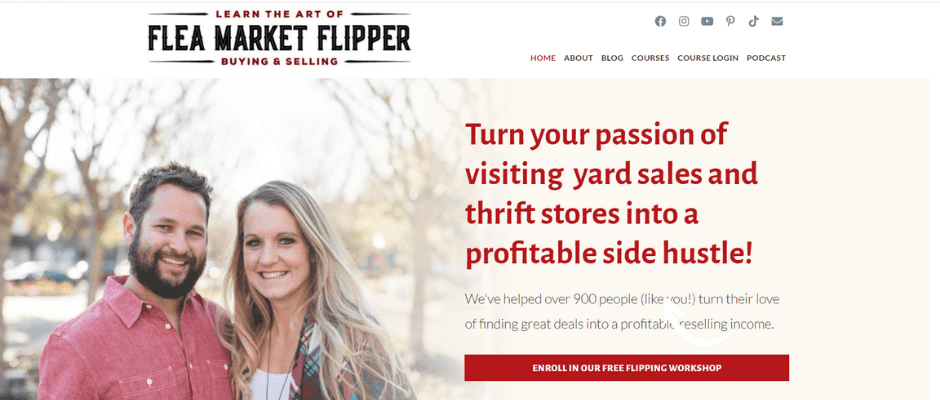 They have created an online course called the Flipper University that guides you through all the details from start to finish.
Learn all that's involved in selling for a higher price margin and tips on making a it a profitable business.
Some of what they teach include, where to find best items to flip, how to become a top rated seller, how to prep and post the items (for the lowest cost), how to sell on social marketplaces and a lot more.
They added a lot of content with text, pictures, and videos. We also split it up into sections.
Is this right for you?
The best way to find out is to check out their free webinar to see if this is something that you would be interested in doing, to make money from home.
They have been teaching hundreds of students how to sell online, whether small things or big pieces of furniture.
This gig can earn you some extra cash or build it into a full-time business as they have.
You can start by flipping small things worth $5 or $10 and slowly make your way up. Ready to give this a try?
Read Next: How to Flip Money