*This post may contain affiliate links. Please read the full disclosure here. 
Freelance Writing
Thinking about breaking into freelance writing?
You are not alone.
More and more people are turning to freelance writing to explore their passions and share their knowledge and expertise with the public.
According to the U.S. Bureau of Labor, in the next 10 years, the number of freelance writers will remain relatively unchanged. That means that because there won't be a spike in new writers that flood the market, there's more opportunity for you to book work and make freelance writing a full-time living for yourself!
Did you know that by the year 2020, nearly 50% of the U.S. population will be freelancers or contractors?
Mind-boggling, isn't it?
And, you could be one of them!
In this beginner's guide to freelance writing, we'll give you the full scoop!
Keep reading to learn about what freelance writing is, how to become a freelance writer, finding remote freelance writing jobs, different types of freelance writers including ghostwriters, and more!
Let's get started.
*This post may contain affiliate links. Disclosure here.
What is Freelance Writing?
First, let's start with the definition of freelance writing.
A freelance writer is a writer that works on a self-employed basis. You may work with one or more clients, as an independent contractor, not an employee.
This is an important distinction because you'll have more opportunities afforded to you as a freelance writer, compared to being employed.
Take a look at some of the advantages and disadvantages of freelance writers compared to being employed as a writer (employee).
Advantages of Being a Freelance Writer
Freedom

Flexibility

Work independently

Pick who you want to work with/work for

Pick your rate/salary

Unlimited income potential

Design your own schedule
Disadvantages of Being a Freelance Writer
Inconsistent/unstable work

No benefits

Always looking for work

Work/life balance difficulty
Advantages of Being a W2 Employed Writer
Stability

Consistent pay/work hours

Benefits
Disadvantages of Being a W2 Employed Writer
Structured work environment

Deadline driven

Micromanagement

Set hours

Set working wage
You can see that there are pros and cons to both, being a freelance writer and being a W2 employed writer.
Aside from this, there are many different kinds of writers (more on this below) including different professional titles and differing levels of income.
If you love being challenged and like the excitement of working for yourself, setting your rates, designing your dream schedule and other perks that come along with being an independent contractor, then freelancing as a writer maybe just for you!
Take a look at some of the different writer titles you may come across:
Copywriter

Blog writer

Author

Ghostwriter

Product description writer

Blogger

SEO Writer

Content strategist

Content creator
These titles can be used interchangeably.
So, a bunch of differing professional titles that can mean the same thing.
It's like how a salesperson at a retail store can be called a sales associate, retail salesperson, cashier, sales concierge, sales consultant, etc.
Keep this in mind when looking at freelance writing positions. This part can be confusing for new writers.
Now that we've covered a bit on what a freelance writer is, this next section covers how you can get started becoming a freelance writer.
How to Become a Freelance Writer?
Holly Johnson is a professional blogger and columnist who has written for popular publications like Lending Tree, and U.S. News and World Report Travel. If you are serious about diving into this field to become a professional writer, I highly recommend her free training. She shares strategies that took her from $0 to $200,000 – writing!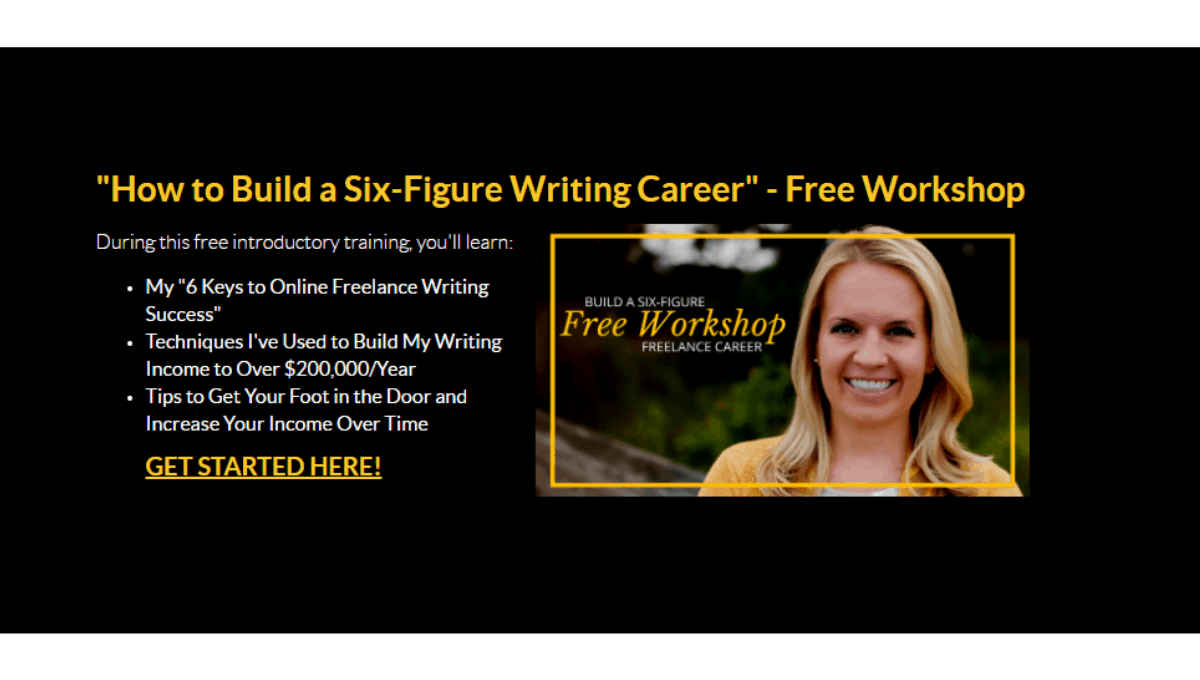 Now, let us take a look at some steps to get started and break into the industry:
Step 1: Evaluate your skills
Step 2: Determine what type of work you'll be taking on
Step 3: Give yourself a title and set a rate
Step 4: Get some HELP!
Step 5: Find clients
1. Evaluating Your Skills
First, evaluate your skills. This means taking a close look at your skillset to figure out what kind of jobs you can do as a freelance writer, and what jobs are not a good fit.
Here are some skills a typical freelance writer may have:
Experience authoring books

Writing product descriptions

SEO and keyword research

Sales page writing

Ghostwriting

Blogging
Once you determine your skills, you can move onto the next step, which sets you up for the type of work and clients you'll be managing.
2. Determining The Type of Work You'll Be Doing
This goes hand in hand with evaluating your skills.
For example, if you have knowledge and experience doing keyword research and SEO, you may decide to be an SEO writer.
SEO is not a skill that all writers have and it's a desirable skill to have so putting yourself into this niche can help you stand out as a writer and price your rates competitively.
Choose a niche:
Instead of being just another freelance writer, try to make yourself stand out in a niche.
---
Make extra money by browsing the web, watching videos, playing online games and testing new products - clothing, food, cosmetics and more! Its free to join. Sign up for your chance to
get a $5 Swagbucks bonus.
---
Pick a topic of interest that you like to write.
Whether its on parenting, finance, travel or health. You can also narrow this down a bit further. So if you are a yoga or pilates instructor by profession, you can write on just yoga-related topics.
The reason why it's important to choose a niche is because, over time you will be considered an expert in the field.
If you were to create your own freelance writer's website or build a LinkedIn profile, you can call yourself as an "expert yoga writer". So if someone is searching for a yoga writer on LinkedIn, you have more chances of landing that gig.
3. Giving Yourself a Title and Setting a Rate
Giving yourself a professional title means when you are speaking to clients, what will you call yourself?
Professional writer?Content writer?
SEO writer?
Think about this part in advance and this decision does not have to be permanent.
A lot of writers simply tailor their professional title to the job they are applying to.
For example, if you are interested in working with a client looking for product descriptions to be written for their e-commerce store, you might call yourself a Product Description Writer.
Make sense?
Then, set your rate!
Don't stress out on this part, too much.
For the most part, your clients will already have a budget in mind. You can choose to accept or negotiate that budget. Easy.
You can do a little preliminary research, looking at what writers similar to you, are charging for work.
Places to Spy On Other Writers
First, social media is a great place, brewing with writers. Join some writer groups and use the search function to see what other writers are charging.
Next, online freelance job banks like Upwork are the perfect places to spy on writers. Freelancers have their rates posted clearly. You can read their experience, background, look at former projects, and really get a good behind-the-scenes look at your competitors and their rates.
4. Get Some Help!
To become a successful freelance writer, there's more to it that just being able to write.
From promoting your work and services to landing high paying clients you might need help understanding how the industry works.
Next is to make use of some free writing tools, like Grammarly that checks for misspelt errors while you type.
If you are serious about becoming a successful writer, it's important that your writing is close to perfection. It's a bonus if you can produce SEO friendly articles that are well proofread.
Online courses like Proofread Anywhere will not only make you a well-versed writer but also give you an additional career as a proofreader. As an online proofreader, you can choose to correct grammatical errors on ebooks, blogs, social media marketing or even cookbooks.
5. Finding Clients
Lastly, when you're ready to find freelance writing jobs online, this is what you'll do.
Now, up until this point, you've decided you want to become a freelance writer. You have looked closely at your skillset, decided what type of writing jobs you want to pursue, along with giving yourself a professional title and setting a rate.
Bring on the clients!
You can find clients for writing projects in a variety of places, online and in-person.
Job banks (like

Indeed

)

Freelance job portals (like Upwork, Guru, etc.)

Social media (like LinkedIn)

Writing job boards (like

MediaBistro

)

Referrals/word of mouth

Networking events

Cold pitching

Warm pitching
Don't miss reading this to learn how these 10 moms find writing jobs online.
Freelance Writer Salary
This might be a burning question for you.
How much do freelance writers make?
According to ZipRecruiter, the average salary you can make a month in the United States is $5,317, with a range between $2,292 to $6,125.
Freelance Writing Jobs
Finding freelance writing jobs isn't as hard as you think.
One of the perks of freelancing is that you have a lot of control. You get to pick what freelance writing gigs you want to take, how many clients you want to work with, how much work you'll take on during a given month, and more.
Newbie Writer? Where do you begin?
As a beginner writer, you can offer to do guest posts on other blogs and websites. This will help you build up your portfolio as a writer.
Here are some companies with online writing jobs:
iWriter
Working Nomads
Contenta
Guru
We Work Remotely
Intuit
Virtual Vocations
These are some of the best remote freelance writing jobs available.
What is a Ghost Writer?
You may have heard the term ghostwriter and wondered what it was. Well, a ghostwriter is a writer that does not take credit for their work.
Writers are either bylined or a ghostwriter.
If bylined, that means that their writing is connected to them. Their name is listed as the author.
A ghostwriter is a writer that does not have their writing tied to them. Their client may take credit for their writing. The ghostwriter assumes no credit for the writing.
Working as a ghostwriter can pay very well and you will get to work with a variety of different clients who are looking for ghostwriters to author books, write sales page copy, write ad copy, and more.
How to Become a Ghostwriter?
Becoming a ghostwriter means that you'll be working ghostwriting jobs.
You can find these jobs in any of the places mentioned above, for finding clients.
No specialized knowledge, expertise, background, or education is required.
Final thoughts on Freelance Writing
You might now have a clearer understanding of becoming a freelance writer and getting freelance writing gigs.
Remote freelance writing might finally give you the freedom and independence that you are looking for. This is one of the most flexible online careers and can be considered the most rewarding stay at home mom job.
What's next?
Check out Holly's free training.
Here's what you'll learn:
6 keys to online freelance writing success
Techniques to build a $200,000/yr writing career
Tips to get started as a beginner and grow your income
Stop spinning your wheels and take action.