Believe it or not, there are over a hundred online jobs from home that pay well.
While some can be time-consuming there are a few side hustles that can easily accumulate a few hundred dollars a month.
You can be a stay at home mom or a dad looking for ways to increase your income without leaving your home.
In fact, you can also be a college student looking for extra money-making ideas to pay for your college fees.
Regardless of your situation, this post is going to show you a few odd job apps that pay a decent amount of money.
If $600 -$2,000 a month sound good to you, read on.
*This post may contain affiliate links. Disclosure here.
Odd Job Apps
1. HealthyWage
The first on the list is HealthyWage.
While this isn't a real job, this app pays you real cash!
HealthyWage is a personal weight loss challenge, that pays you to lose weight. The prize money depends on a few factors like, how much weight you want to lose, length of the challenge you want to participate, and body measurements.
If you are wondering why I have included this to the list, its because you can get paid up to $10,000 if you complete the challenge successfully.
They have a prize calculator where you can see how much you are eligible to earn. The first step after signing up is to place a bet. This can be as little as $6 a month for the period of your challenge. If you reach your weight loss goal, you will get your prize money, which is usually two or three times the amount you invested.
Read our full HealthyWage review here.
2.Respondent App – $300
An online research study group that pays up to $300 a study.
They are looking for professionals, parents or students to sign up with them, so you can help researchers with their work. You can choose to help in the form of online surveys or video calls.
The longer the study, the higher your pay – which can go up to $140/hour.
To join Respondent you can sign up here using your LinkedIn or Facebook login for verification.
Once signed up, you will be notified by email when there is a new study available or you can log in to your Respondent dashboard anytime to view opportunities.
Respondent Review post.
3. Swagbucks
This is one of the best rewards sites around. You earn points for doing the little things, and these points can be redeemed for PayPal cash or gift cards.
There is more than one way to earn with Swagbucks, and a few of them are listed below.
Get paid to search the web. As simple as that. Once you sign up with Swagbucks, you can use this website instead of Yahoo and Google to browse the web. Using Swagbucks for your internet searches gives you points.
Opportunity to take part in daily surveys, with some paying as high as $35/survey.
Earn cashback points when you shop online at select retailers.
Read other ways to earn with Swagbucks here.
4. Scan and Earn
Shopkick is a free app for iPhone and Android users that help you earn points called "kicks" for scanning barcodes while you shop. And no, you don't need to buy the product you scanned.
This is a fun little side hustle for stay-at-home moms looking to earn. Once you sign into the Shopkick app, it will let you know which stores and products can be scanned for kicks.
Sign up for Shopkick here for iOS users and Android users.
Redeem these points for gift cards at Walmart, Target and many more retailers.
Shopkick Review post.
Another way to make money grocery shopping is with Rakuten. This is one of the highest paying cashback apps that give you PayPal cash. Rakuten is legit and is free to join.
5. Survey Junkie
One of the most legit survey apps that pay up to $50 a survey. Survey Junkie can be used by those that are 13 years and over, this makes it great for teenagers that are interested in making money from home.
You will need to have a PayPal account as you can redeem cash once you reach their minimum threshold of $10. This app is currently available to only those living in the US, Canada and Australia.
Full Survey Junkie Review.
6. TaskRabbit
This is an online marketplace where you get paid to do freelance work. You will find work ranging from gardening, pet sitting, cleaning, event planning or being a personal assistant.
Once you have signed up, you can use their app to search and accept gigs. You get your payment on completion of the job.
TaskRabbit is only available to those living in the US and the UK.
7. AirTasker
Similar to TaskRabbit, Airtasker available to those living in Australia and Ireland.
Search for a task using the app and make a price offer. Once the poster is happy to proceed with you, you can get the job done, and money is deposited into your Tasker account immediately after you have finished the work.
According to their website, you have the potential to earn up to £2,900 a month with Airtasker.
Airtasker review article here.
8. Get Paid to Walk Apps
Yes, there are apps available that pay users to walk. Most of them work on a point-based system when you redeem the points for cash or gift cards.
These apps work by tracking your steps through your smartphone.
Here are 18 apps that pay you to walk.
9. Honey App

The Honey app is a free browser extension that automatically finds coupons when you shop online. Although this isn't a job app, it can save you some money while you shop. It takes away the hassle of having to look up coupon codes each time we shop.
They have over 10,000,000 members that are using the Honey app to save money.
How does this app work?
First, you will need to install the Honey app and shop online as you normally would. Once you head to the online checkout, this app will automatically give you a coupon code with the biggest savings to use.
They have thousands of retailers you can choose from including eBay, BestBuy and Macy's.
10. Job Spotter
Jobs Spotter is a fun and engaging odd job app. When you walk around your neighbourhood and see a hiring sign, you can snap a picture of it and submit it to this app.
The more photos you send, the more points you earn. Accumulated points can be redeemed for Amazon gift cards.
11. Neilsen Computer & Mobile Panel
This app pays you rewards just for installing the apps and letting it run on your phone or desktop. They are a research company that is interested in analysing internet trends.
In return for downloading the Nielsen app, they pay up to $50 a year on each mobile device that has the app running. You also stand a chance to win up to $10,000 in rewards each month.
Another app that works similarly to Neilsen Digital is SlideJoy.
12. Postmates
This is a popular delivery service that works well with any busy lifestyle.
With the Postmates app, you get to deliver groceries, food from restaurants, or alcohol – and you don't have to use a car. Yes, you can just use your bike to deliver and get paid each week.
It's free to sign up and you can do so right here.
Once you join, you get a free delivery bag and a prepaid card to begin delivering in your city.
Here are some other delivery driver jobs that are flexible and work well as side jobs.
13. EasyShift App
The EasyShift app is available for those living in the US and the UK.  Once you download the app you will be shown little tasks that will earn you PayPal cash.
Tasks are fun and easy, like taking photos of products, checking for prices, and reviewing deals and discounts.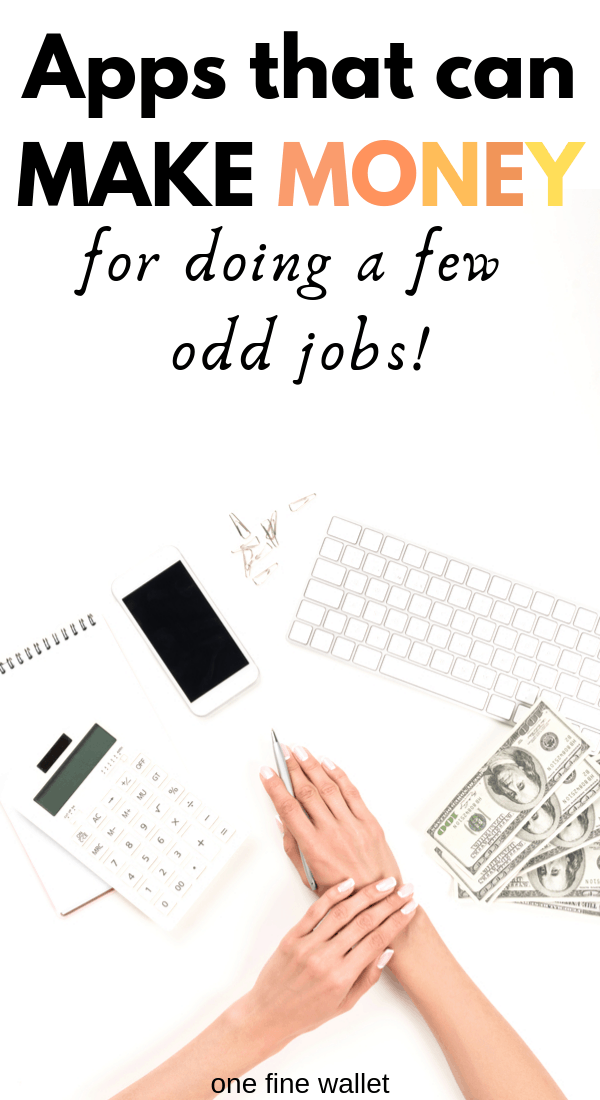 5 Best Apps to Save Money:
Top 5 Ways to Make Money from Home: