*This post may contain affiliate links. Please read the full disclosure here. 
*This post may contain affiliate links. Please read full disclosure for details.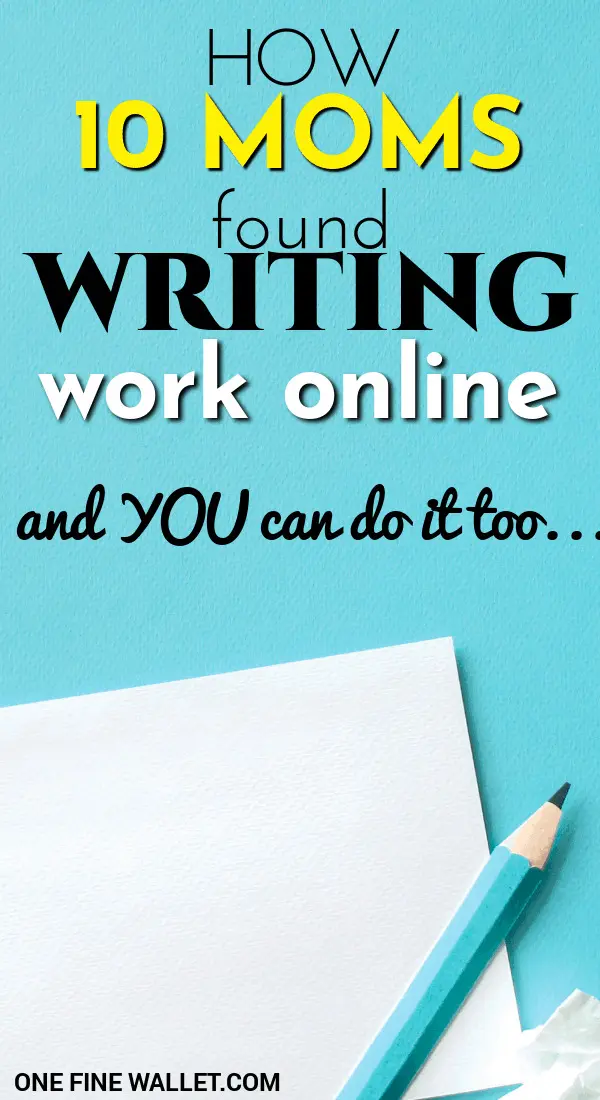 Everyone wants their dream job to be flexible, and its even better if its a job you truly enjoy. I love to write and the flexibility blogging gives me. But it does require you to invest in building your own website, which costs less than $4/month and is a great way to promote your services.
But another option is to become a freelance writer and make money for articles you write.
Today I am going to show you how to start and find freelance writing jobs even if you are a beginner with no experience. There are so many moms and dads out there that are nailing freelance writing gigs around their busy lifestyle.
So if you are ready to give this a try, let me fill you in with some details to help you better.
Remember as a freelance writer you can work from anywhere in the world and earn money even from your couch while the kids are playing or sleeping!
How to become a freelance writer?
You don't need skills or experience to become a freelance writer. But if you are seriously looking to get into the business and need someone to assist you along the way then Gina Horkey is the right person for it. She has been teaching hundreds of students to become successful freelance writers and some of them have started making money while working through her course.
This course will teach you the foundation /basics, how to find paying jobs, understand the writing business, how to write pitches, how to build your writer's website, promote it and grow your business from home.
This might sound overwhelming to some, but there are a lot of people out there that are successful at earning money writing.
How to find freelance writing jobs?
Here are some amazing women that have started making money as a freelance writer. They have also given suggestions below on places you can find writing jobs online.
When did you make money?
I started making money as a freelance writer almost right away. It took me about a year to work my way up to making $1,500 to $3,000 per month but it wasn't until I decided to scale my side hustle into a full-time business that I began making a six-figure income from freelancing consistently.
Where do you find jobs?
There are lots of job boards freelance writers can use to find work, ProBlogger is a good one and I personally like JournalismJobs.com and Indeed.com, but cold pitching is a very effective way to start building your client list as a new freelancer. Decide what your niche is and who your target is, then research businesses in that niche that could benefit from your services and start reaching out to them directly to see if they need help.
When did you make money?
In less than a month! I totaled approx. $800 a month and you can read about 8 things I did in my first month, here. It has only grown from there!
Where do you find jobs?
A lot depends on your niche. For B2B writing, LinkedIn and Twitter work well. For a lot of writers, Facebook has worked too (not for me!). If you are starting out, look at freelance job boards like ProBlogger or BloggingPro. Once you have built a decent portfolio, start cold emailing
your potential clients.
When did you make money?
I was very fortunate in that I was able to land a few recurring writing gigs very quickly. I would say that it depends on what's out there when you start applying. I also had to apply to at least 5 companies for every gig I got.
Where do you find jobs?
I'm a huge fan of the "Binders" series of Facebook groups. Editors from major publications and content management firms post in these groups request for writers constantly. There are a number of groups, all broken down by the type of writing.
When did you make money?
I made money within a month or two of becoming a freelance writer. I had my first client within a month. And I still write for them. I hit $500 per month consistently within 6 months of starting as a freelance writer. Which is more impressive when you realize I only write at most 10 hours per week.
Where do you find jobs?
The best way to find freelance writing jobs that are worth your time is through networking. Get in Facebook groups where your potential clients might be and start offering help and getting to know people. Eventually, there will be opportunities to offer your skills.
I've found clients on Craigslist, Upwork, and job boards. All of which can be full of scams or super low paying jobs. But if you're willing to sift through the ads, there are often good leads there. Hold out for those.
When did you make money?
I had a unique start and was offered a paid writing job through a friend of the family while I was working a full-time job and not really even looking. The pay was very very low, but it got me on the path. I replaced my income and quit my day job about 9 months later.
Where do you find jobs?
My best sources of new work by far have been networking and exposure. Friends and clients recommend me, and about half of my work has come from people seeing my work online in various places and reaching out to me to ask if I can do something similar for them. I also found some good work via the Problogger job board and (believe it or not) Craigslist.
Did you have previous experience?
The only "experience" I really have is that I enjoy writing and was always fairly good at it in school. I used to tutor others in writing in college, but that's about the extent of my experience. So, I feel like you really just need to be confident in your abilities and be able to "prove" it in the work that you provide.
Where do you find jobs?
Since I don't necessarily seek JUST writing jobs, I've found Facebook to be a wonderful place to find work in the field. That's where all of my income has come from thus far – just networking and plugging away at job opportunities I see in the VA groups I'm in. (I am a VA as well as a content provider, so I started VA work with a company before branching out on my own.)
When did you make money?
Roughly a month!
Where do you find jobs?
The best place to find freelance writing jobs that are worth your time. Researching small businesses and sending pitch emails to those you could do blog writing for or a monthly newsletter is a great way to find consistent writing jobs.
Where do you find jobs?
There are literally so many freelance writing websites out there! If you are just getting started, there are some that offer lower pay but can give you some great experience while grooming you for those higher paying clients. In my opinion, it really matters where you are in your freelance writing journey. When I need money fast, though, I still go back to those sites that got me started (I never close any accounts just in case the need comes up. At the end of the day though, you can really find great paying clients anywhere as long as you are willing to put in the effort as well as know your worth. Even on those lower paying sites, I have some direct clients that pay me well above the open order fees. It all comes with time and practice but putting yourself out there is the only way to do it! And never be afraid to ask for more because there are tons of clients willing to pay others to write for them. I made almost $30k writing freelance online last year so I am proof that it is possible!
When did you make money?
I was quite fortunate to see money coming in within a month of applying for freelance writing gigs. I think my university blog definitely helped me to secure those early jobs!
Where do you find jobs?
I know a lot of people look down on Upwork, but it's a quick and easy way to build your freelance writing portfolio in the beginning. Then, once you advance, you can use the samples you created with clients on Upwork to apply for higher-paying gigs through job boards like ProBlogger or to pitch to companies via LinkedIn.
When did you make money?
I started pitching my services and landed my first writing gig within a week. It took me a few months of hard work to start seeing steady income though. And it's a little different for each person, so don't get discouraged! It's easy to compare and feel like you're not good enough, but in reality, we all just grow and shine at different times.
Where do you find jobs?
I personally find my writing gigs in business Facebook groups and through word of mouth, but I have found occasional gigs through "Freelance Writing Gigs". It's also a good idea to optimize your website content so that people can find you on their own and contact you directly through your own website.
A few other ways to find freelance work
#1. Get paid to write – Here is a list of websites that will pay you to write posts. You just need to apply and can get paid up to $200 per post. They usually pay you through Paypal. These websites are great even if you are a beginner.
#2 Flexjobs – This is a great place to search for remote, part-time, flexible and freelancing jobs. Flexjobs has been around for over 10 years and has been helping people find jobs to suit a busy lifestyle. Once you register with them you have access to their database full of home based jobs. It costs less than $50 a year but is well worth your money and you can cancel at any time.
Pin me for later:)