*This post may contain affiliate links. Please read the full disclosure here. 
Honey App
Who doesn't like a nice coupon code that will chop money off a shopping bill?
Discount codes work as a great money-saving tool. But it can be hectic trying to find a valid coupon to use each time you shop.
I always end up researching a good number of websites before I finally find the right one.
To beat the stress out of coupon finding, today we are going to talk about a free app that will do the job for you – automatically.
It's called the Honey app.
This free browser extension will automatically scan the internet to find the best coupon codes and applies it at your online checkout, saving you time and money!
This is a great way for moms like myself to save on everyday essentials, whether it's diapers or the kid's toys. And it's not just good for moms, you can save money on pizza or when booking travel.
By installing the free extension you are saving money each time you shop online.
They have over 10 million members worldwide, and 141,565 Chrome Store reviews with an outstanding 5-star rating.
Let's take a closer look at the Honey discount app to learn more about its features.
What is the Honey App Extension?

Honey is a free browser extension that automatically finds you coupon codes online.
It's a free and convenient way to save money by finding you the latest coupons and deals in the market.
While clipping coupons work well, it can be time-consuming and there are times we forget to use them.
With the Honey coupon extension, it's different. You get access to active coupons that show up when you proceed to the online checkout which works as a good reminder to use them.
Three reasons why I think the Honey shopping app is useful.
The obvious first reason – finding coupon codes in automation
Droplist – An additional feature that notifies you when there is a price drop
Finds you the best price on Amazon
How does the Honey Coupon App Work?
You begin by downloading the Honey extension for Chrome, Safari, Firefox, Edge or Opera.
Once the browser extension is active, you shop online as you normally would.
After you've added your items to the shopping basket and head to the online checkout, you will be shown a list of the best coupon deals.
Choose the one you find works the best and complete your purchase.
Download Honey App
While the Honey app works well with Chrome, Firefox, Safari, Edge or Opera, below is a short tutorial on how you download the Honey app using Chrome.
Step One – Download the Honey App
First, click here to install.
Next, you will see the prompt to add to Chrome

Step Two – Install Honey Coupon App
When you click on it you will see a pop up that reads, Honey can read and change all your data on the websites that you visit. This just means Honey has access to prompting you with relevant coupon codes and deals. So you can go ahead and click "add extension".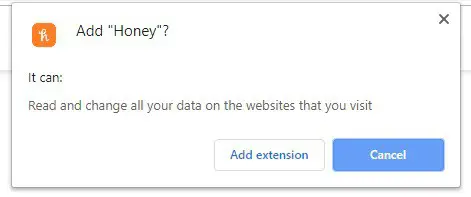 That's it, you are all set.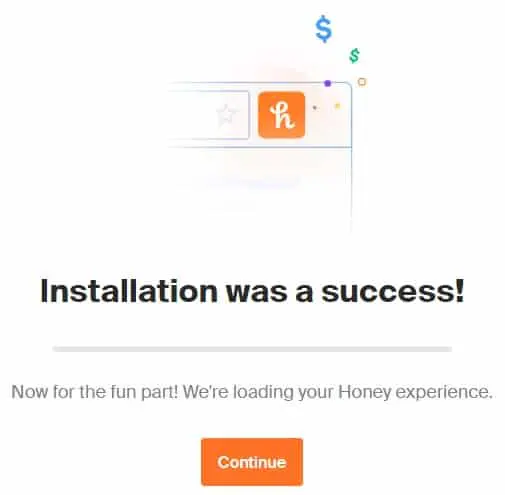 Honey Chrome Extension
If you use a Chrome browser like myself, you will now notice that the Honey extension icon appears as a browser extension on your screen.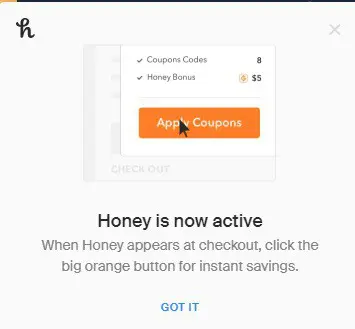 Now you can go to your favourite online store and give the Honey app a try.
You will notice the little Honey icon that will show you the best price. You can choose the code you want to use and apply it at the online checkout.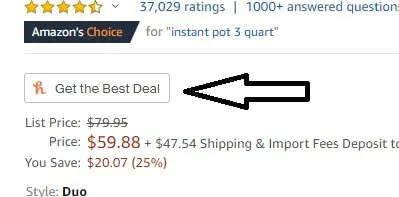 Honey Shopping App
Two standout features of the app (apart from finding coupon codes) are the Honey Gold and Droplist. Let's take a look at what these features offer.
Honey Gold:
After you install the Honey app, along with being able to view coupon codes, you can also earn reward points called "Gold". See image below, notice it says you can earn – Gold after purchase. This means buying this product also makes you eligible for Honey Gold (points).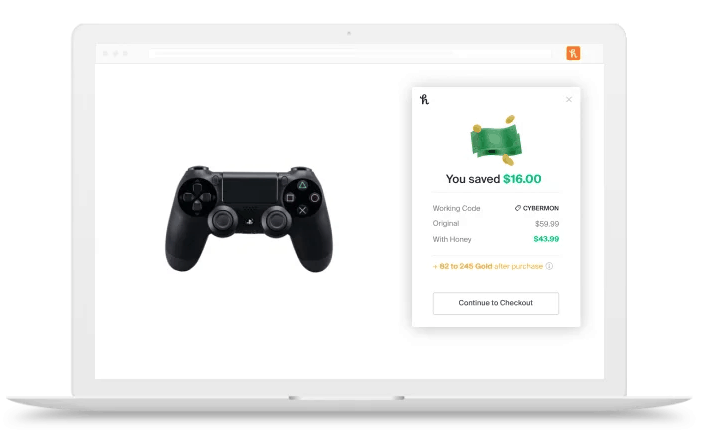 Your gold (points) can be accumulated to cash out as gift cards from a number of retailers including Amazon, Macy's, Walmart, Target and Sephora. I've earned 1,550 gold points so far and can choose one of the following gift cards to redeem my points.
The math is 1,000 GOLD = $10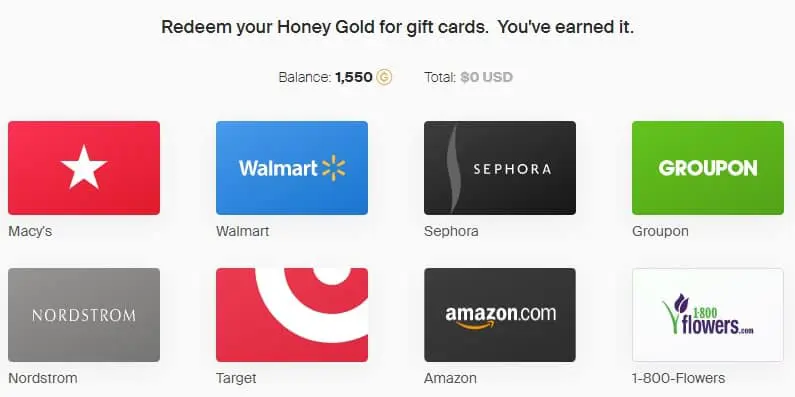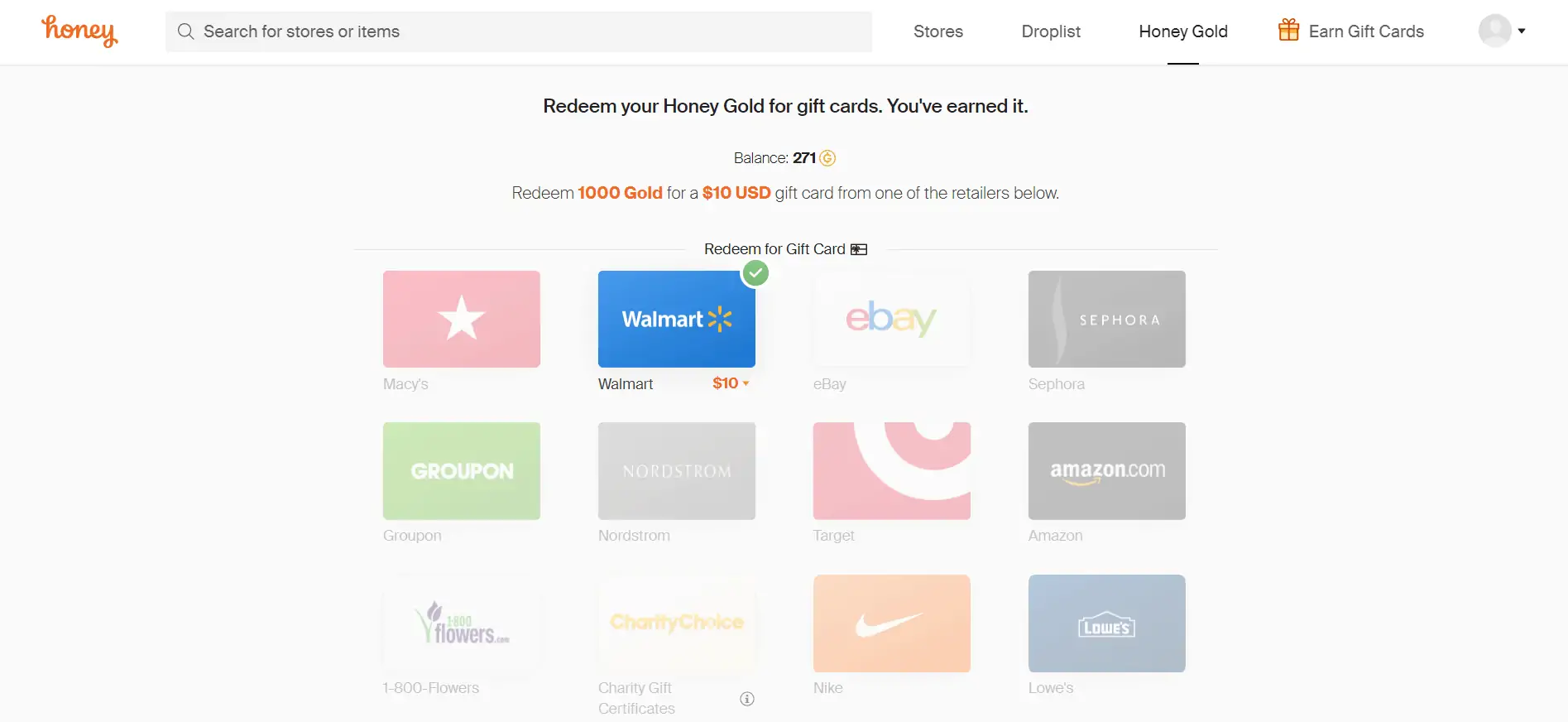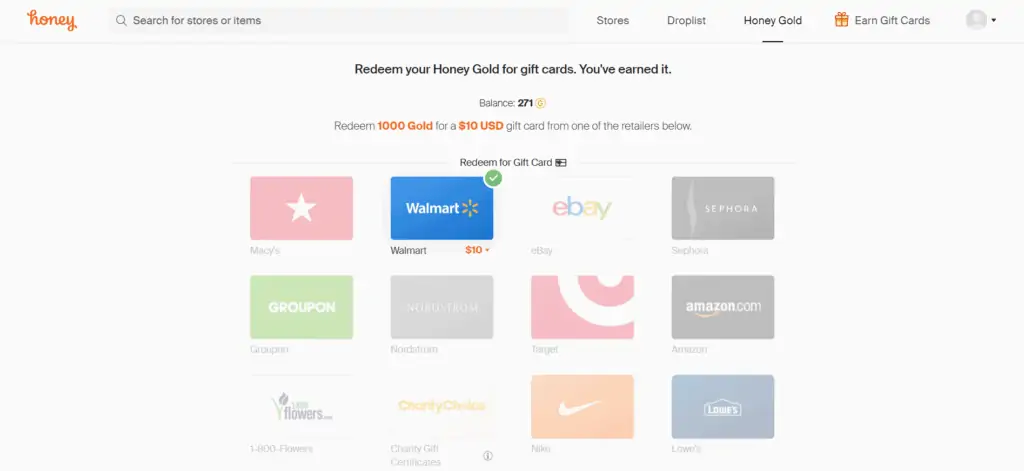 ---
Make extra money by browsing the web, watching videos, playing online games and testing new products - clothing, food, cosmetics and more! Its free to join. Sign up for your chance to
get a $5 Swagbucks bonus.
---
How this works is the Honey app makes a small commission if they sell the product which they share with you as Honey Gold points.
You have nothing to lose but plenty to gain with Honey extension – you are getting coupon codes and gold points as a bonus!
How much I made with the Honey Chrome Extension?
I use the Honey Chrome extension each time I shop online.
Honey Gold Review
In total I made over 9,000 Honey Gold points in the past 18 months shopping online and recommending the Honey extension to friends.
Since the Honey app also has a refer a friend program, you can earn an additional 500 points for each friend that joins Honey.
Once you effortlessly accumulate your points, you can redeem them for gift cards.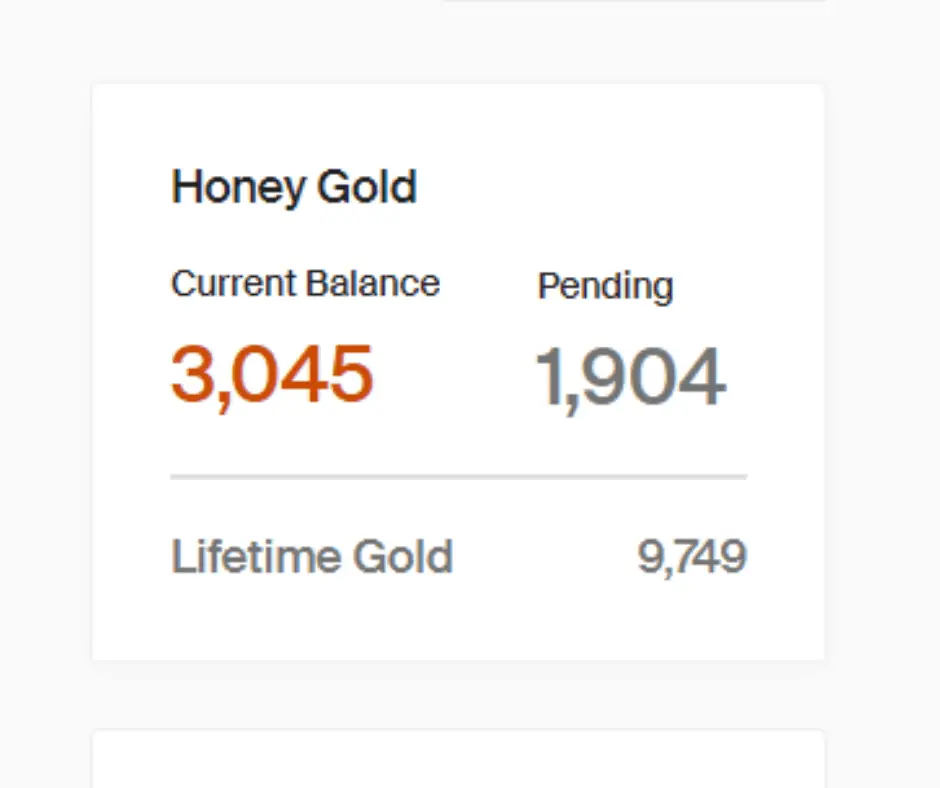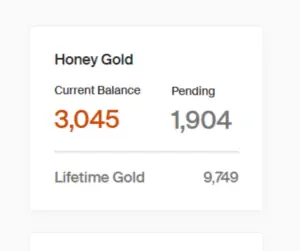 Now that I have a balance of 3,045 points I can redeem it for a free Amazon gift card!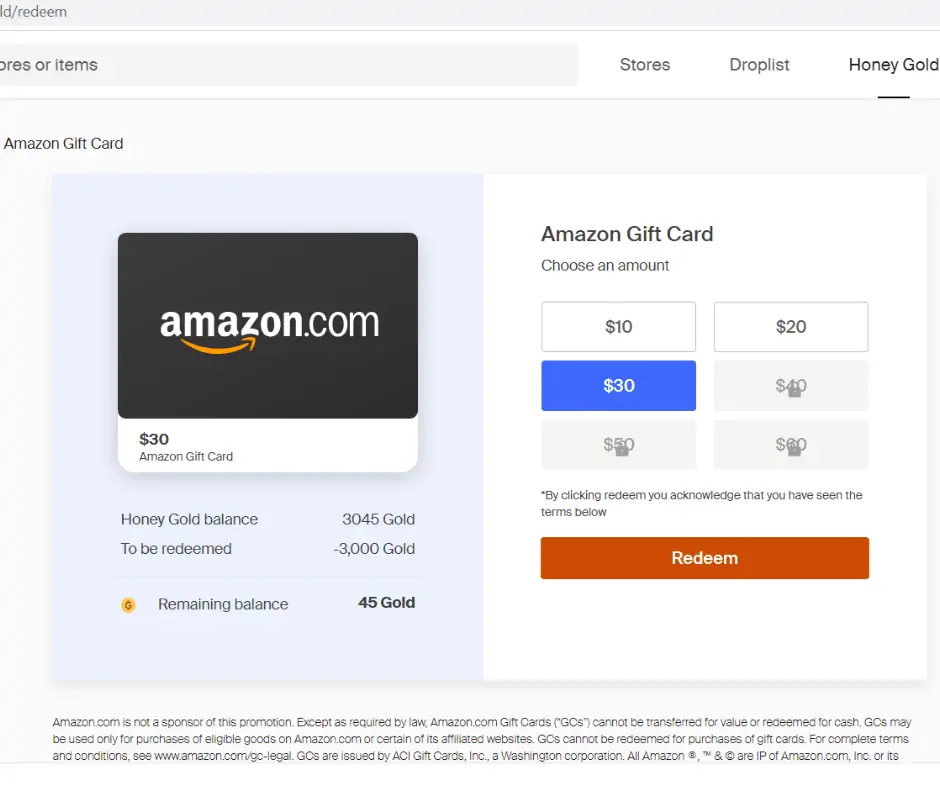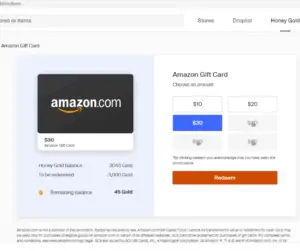 Droplist
Another money-saving feature is Droplist.
It's like an automated reminder that lets you know when there is a price drop on a product you choose.
Let me demonstrate with an example.
Say I was to buy diapers on Amazon, once I have the Honey app installed I can see two Honey icons that show up.
One near the product price which gives you the coupon codes. And the other "h+ save" icon that shows up on the product image.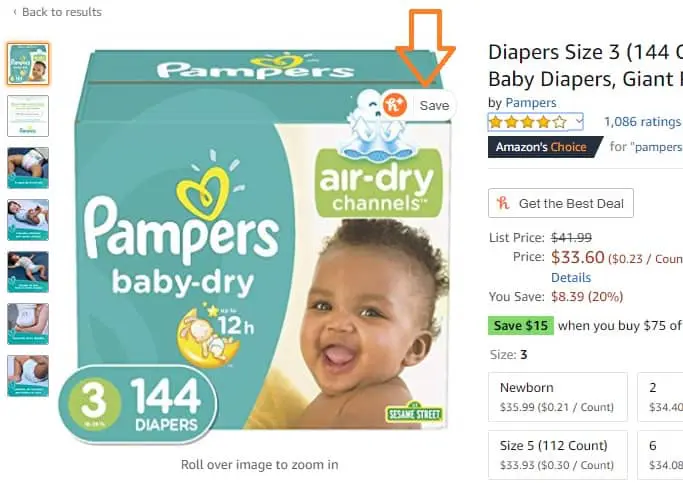 The h+ icon on the image is the droplist icon to keep track of price reductions.
Clicking on the icon will show you information like how many days you want to keep track of the price change and at what per cent off. Once you've done that click on "select options to droplist".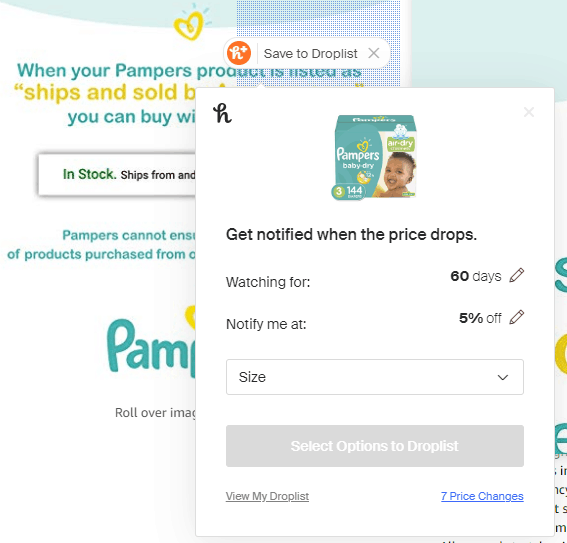 You will be emailed when the price drops. Alternatively, you can use login to your Honey dashboard to see for price changes yourself.
What bigger expense than diapers for a new mom, right? This is such a money-saving tool each time we shop.
And it's not just diapers, you can use the droplist to buy everyday products for a cheaper price with the Honey discount app. You can also bulk up your order and stock up to make the best of the coupons.
Honey App for Amazon
Apart from using Honey to find coupon codes, or using the Droplist feature, there are more ways to gain with the Honey App for your Amazon shopping.
Here are some features worth mentioning:
Get notified of shopping delays
View price history to see how a price on the product has been changing over the last 30/60/120 days
Find the best seller
Is the Honey App safe?
The Honey Coupon app has over 10+ million users worldwide, and have saved their members over $1 billion on their online shopping.
They have been featured on TIME, Business Insider, The New York Times and Buzz Feed.
Honey has partnered with over 40,000+ of online retailers like Macy's, J. Crew, Lowe's, Adidas, Stubhub, Ulta, Target, Sephora, Nike, Target, and Pizza Hut.
Join Honey App
If you are ready to give this a try, you can download the free Honey Extension here.
Pros and Cons of Honey App
Pros of Honey App
Automatically applies live and active code to your online checkout
Offer a Honey referral program to make extra money
Honey is a free app
Provides discounts on food, travel and retail
Cons of Honey App
The only downside of Honey app is that it is not available globally and only restricted to US, UK, AU, CA, DE, FR, IT, NL, IN, and ES members
Final thoughts on the Honey Extension
Does Honey work?
In the past year, using Honey extension has saved me money by applying discount codes automatically when I shop. This way I avoid paying the full price – and I don't need to wait for Black Friday or boxing day for a discount!
If you are a regular online shopper, the Honey app is a good option to save you a few dollars.
Honey App Alternatives
If you are looking for additional ways to save money, here are some other apps to try.
1. My Points
This is a popular rewards site that not only gives you cashback when you shop with them but also find you online coupons. They have partnered with hundreds of retailers including Best Buys, Walmart, Macy's, Target and Kohls.
Use this link to get yourself a free $10 Visa card when you shop with MyPoints.
2. Trim
This app saves you money on your monthly bills.
A free tool that will analyse your billing accounts to look up recurring subscriptions. It will then either cancel subscriptions or negotiate bills to find you the best price.
Check out the Trim app and see if you can reduce your monthly bills.
Hope you found this Honey.com review useful. If you have saved money with the Honey coupon extension, let us know in the comments below.