*This post may contain affiliate links. Please read the full disclosure here.
Ever wondered if you can make money on YouTube?
Almost everyone uses YouTube to check out tutorials, recipes and even programs for kids. This means you have an active audience already available, now the question is are you ready to monetize with this side hustle?
While there are many YouTubers already making money from it, you can also take advantage of this platform and make money from it.
If you enjoy being in front of the camera and have basic editing skills, starting a YouTube channel is a breeze.
And the best part is, its free to start one. That's right no investment needed!
To help you understand all the basics of making money on YouTube, I have someone to explain how he makes money with his YouTube channel.
Theodore started a YouTube channel Practical Psychology, to explain psychological concepts in easy-to-understand terms with entertaining animations. He earns a full-time income and is here to explain how people make money on YouTube.
*This post contains affiliate links. Please read disclosure here.
1. Courses
Selling courses that I have spent a lot of time researching and creating are the majority of my income. Without specific numbers, I average over 5 figures per month just from course sales.
Right now, I have 5 official courses, one of which took me 7 full months to create and launch. The cool thing about selling a course is that you can put a ton of work up front, and then your income is only limited by the amount of marketing you do.
As the number of course creators rises, students are getting smarter about which courses to buy, which means you'll need to have testimonials and a decent following to start. I recommend not creating a course until you can commit a whole month to outline, creating, and uploading the content.
When you start, it doesn't have to be a huge library, but you should strive for high-quality content. My refund rate is less than 5 per cent, and I attribute this to listening to my audience and creating content that they want.
Another method of income that is related to courses is memberships. I have a membership that costs $17/month to join but has a ton of benefits I won't list here. It's much easier to get someone to commit to that price subscription than to a few hundred dollars for a course.
When looking at totals, I earn more money from my membership program than my courses.
2. Adsense
Honestly, Adsense is one of the most reliable income sources I have. A lot of people freaked out when the "apocalypse" happened, but since my channel is in the education niche, advertisers in this sector didn't really care. In fact, I didn't see any dip in earnings.
You earn money when you place an advertisement before your video and a viewer watches it. On average, I earn $3.5 for every 1,000 views and using a tool called social blade, you can see exactly how many views I have in the past 30 days: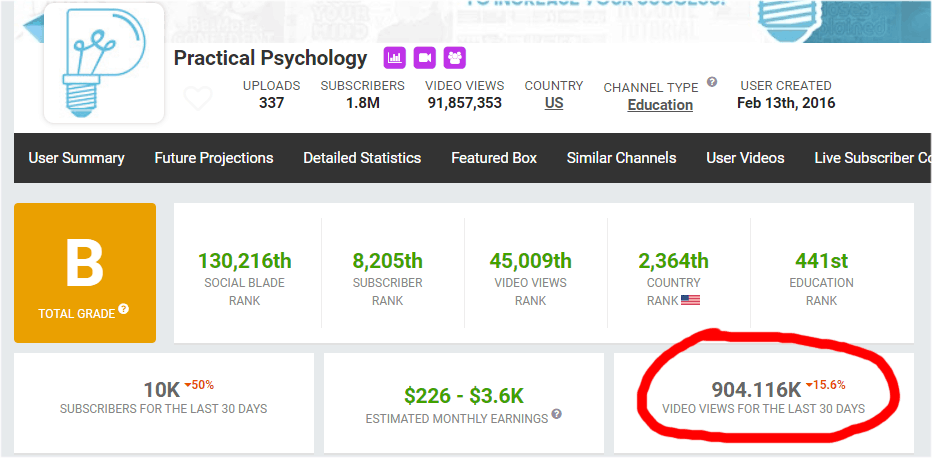 3. Affiliate Marketing
Affiliate marketing is a broad term because you can sell all kinds of stuff.
For example, I'm partnered with Amazon and I can send someone to a link to check out a book I recommend. Let's say they also have a $2,000 camera in their cart and they buy after clicking that link, I'll actually get a share of the book and the camera.
I've also sold other Youtuber's courses as well. A friend has a course on growing your Youtube channel, and I earned over $1000 from one video just adding a link to it.
4. Sponsorships
It's not difficult to get sponsorships if you have the views. There are brand partners that do searches for creators and then they will reach out with an offer. I've done a few sponsorships, and they all feel like "free money" to me.
I don't do anything different when I create a video other than mention them for 30-60 seconds and put a link in the description.
A fair warning though, I get pitched probably once a day for sponsorships, and I have only accepted 3 companies. Why? Because I care about my reputation and only want to recommend brands that I know my viewers will love.
5. Turn videos into blog posts
I actually turn some of my videos into articles and have been posting them on my website. There are all kinds of things you can monetize a website with, but the main is third party advertisements.
For example, I have a personality test that I ask my subscribers to take. It gives them great value because it's fun and give them useful info about themselves. It cost me about $500 to develop this plugin, the most time-consuming part was writing up a description of how I wanted it to work for a project on Upwork.
I earn money on the ads quiz-takers see on that page, and then I also collect their email address. In fact, I can use their email address to market my courses to them.
This is a super-secret analytic, but about 50% of my course sales come from visitors who came from an email, not a Youtube video. They used to say one email subscriber was worth $1 per month, however, this statistic is a little high for me because of the fact that everyone who takes the personality quiz isn't exactly my prime audience.
Here's the growing traffic of my blog, all from turning videos I create into webpages:

6. eBooks
I've written a few eBooks, but I wrote them 2 years ago. Nevertheless, I am still earning money from them. Note that these aren't full-length books, these are 20,000 words max. In fact, you earn money two-fold this way:
You earn a commission if you get someone to sign up for a free Kindle Premium trial

You earn money when someone reads your eBook (even if they're doing it on a free trial)
It's a great way to earn passive income, just recommend a viewer to try a free Kindle Premium subscription, and use it to view your eBook.
If you're serious about making passive income on Youtube, my best advice is to not give up.
It took me 8 months to make my first $100.
Now, I've turned it into a full-time business that supports me and a few other freelancers.