*This post may contain affiliate links. Please read the full disclosure here. 
Do you keep hearing people bragging about working from home making thousands per month teaching English online to students?
Interested in starting your own side hustle and want to learn more about this opportunity?
You'll be happy to hear that VIPKid is a legit company that connects teachers with Chinese students wanting to learn English.
Keep reading while we share a full review of everything you will want to know about VIPKid.
*This post may contain affiliate links. Disclosure here.
What is VIPKid?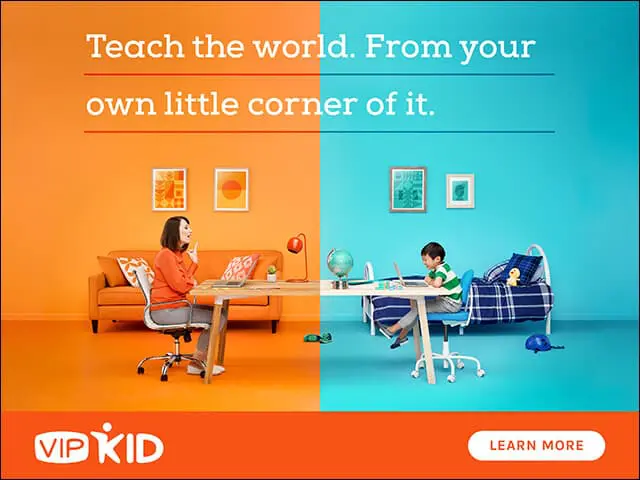 VIPKid is an online ESL company based in China, helping Chinese students learn English. As an ESL Teacher, you will be working online from home, teaching English to students in China.
You teach kids age 4 to 12 in a one-on-one online classroom setting.
This is a great gig for you if you love teaching others and have a desire to work from home and make real money (up to thousands per month), making a real difference in the lives of kids.
VIPKid offers fully immersive one-on-one English language instruction provided online by highly qualified teachers, embracing a flipped-classroom approach to foster creativity and critical thinking skills.
Is VIPKid legit?
VIPKid is a legit opportunity.
As an ESL teacher with VIPKid, you'll get a chance to work a part-time flexible schedule working from home.
Here are what some of the teachers are saying about working for them (from VIPKid):
"VIPKid has allowed me to have the best of both worlds – I'm a stay at home mom and a teacher!"-Hilary
"The best part of VIPKid is that I can work from the comfort of my own home, wearing pyjama pants, and do something that I love."-Ebony
"I joined VIPKid because I needed a flexible way to contribute to our household income."-Katy
What is VIPKid's pay?
Teachers earn up to $22/hour working when and where they want! Your classes are 25 minutes long and you make between $7 to $9 per class, which equals up to $22/hour in pay.
Payments are made via direct deposit on the 1st and 15th of the month.
You sign a minimum 6-month contract and have the option to work as much or as little as you'd like.

In addition to the competitive pay, other perks include:
Set your own schedule

No time commitment or minimum hours required

Teach one-on-one

No lesson planning required
How do taxes work?
You will be working for VIPKid as an independent contractor, not an employee so you will be responsible for taxes and required to submit a W9.
What are the VIPKid requirements?
In order to become a teacher, you do not have to speak Chinese but you do need to meet these requirements:
Bachelor's degree in any field

Current U.S. or Canadian resident

Any experience with children such as teaching, mentoring, coaching, tutoring, babysitting, etc.

Access to a computer with reliable, fast internet speed with a webcam & microphone
Become a VIPKid Teacher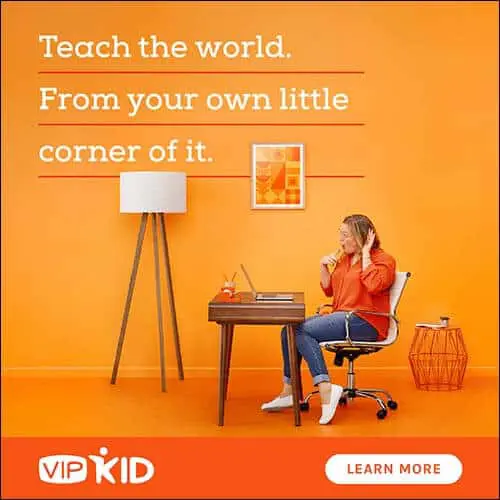 The application process is simple:
Sign up to create an account

Review some information and do a short demo lesson

Get access to additional information and support

Do a mock class with a current teacher (they'll help prep you for the real thing)

Sign your contract and start teaching
You will love that your online classroom is one-on-one so you can expect to have the full attention of the student. The curriculum has already been designed so no need to prepare your own lesson plan.
You will prepare for class by reviewing the materials provided, beforehand, and they will be available in the teacher portal online 6 to 12 hours in advance.
You will not need to interact or talk with parents.
You will have new students, not the same ones for various classes.
Classes take place online on VIPKid's online portal.
For scheduling, teachers are required to provide their weekly availability one month in advance and teacher schedules are sent out to students every Saturday at 10 am Beijing time.
What's the Interview Process Like?
The interview happens via VIPKid's online portal.
Once you book your interview, on interview day you can enter the classroom one hour before to test your equipment.
Testing your equipment beforehand is pretty important because you'll want everything to be functional during your demo.
The interview and demo and important, as they will help determine if you're a good fit for the job.
During this, you're going to show you how to shine, demonstrating how well you can explain activities, work with them to guide them to the right answers, your teaching skills and time management abilities.
Two Ways to Interview
Book an interview

Record an interview
Booking an interview means you'll pick a time slot from the calendar and join one of VIPKid's recruiters for a 30-min session where you show your skills.
---
Make extra money by browsing the web, watching videos, playing online games and testing new products - clothing, food, cosmetics and more! Its free to join. Sign up for your chance to
get a $5 Swagbucks bonus.
---
Recording an interview means you will record your own lesson, then send to a recruiter for evaluation.
Best Practices for Acing the Interview
Teach from a good, comfortable location with good lighting

Practice demo lessons in PowerPoint

Make sure you have a strong internet connection
You can also review their Applicant Performance Indicators from their most successful VIPKid teachers.
Common ESL Techniques

VIPKid Techniques

Professionalism

Teaching practices, and more!
VIPKid Props
Props are tools you can use to become a more effective teacher. While they're not required by VIPKid, they certainly add to the overall experience and have many benefits like:
Helping students form connections in their learning

Create a quality learning environment

Encourage learning and make learning fun
Some examples of props:
Flashcards

Character printables
Props are a big topic of discussion among VIPKid teachers. They even have a super active Facebook group to interact with fellow teachers, learn, connect, and get ideas.
VIPKid Login and Hours of Work
One of the best parts of working as a VIPKid teacher is that you get to pick when you want to work.
VIPKid does recommend that you are available at least 7.5 hours during their peak times.
The most requested times tend to be (Beijing time): Monday through Friday 6pm to 9pm and Saturday-Sunday 9am-9pm
How to Make $1,700/Mo Working for VIPKid
Most teachers say they earn around $20/hour, though you can make up to $22/hour with bonuses.
You get the flexibility to pick when you work and where you work.
There's actually no limit on how much a teacher can teach so the stories you might have heard of teachers making $1,200 or $1,700 per month can be true!
Final Thoughts on Working with VIPkid
What do you think?
To learn more about becoming a VIPKid teacher, learn more about the process and getting started here.