*This post may contain affiliate links. Please read the full disclosure here. 
How to Create Printables to Sell
Are you looking for creative ways to make money online?
If you enjoy playing with colours and fonts, this is one side hustle you'll love. It's to do with making printables to sell for profit.
Everything has gone digital these days – from digital planners to digital invites. This means there is a customer base ready to buy digital products – products that you could sell!
A quick search on Pinterest or Etsy will show you how popular these products are – and you can certainly join the bandwagon to make a passive income for yourself.
The great thing about selling printables is that you don't need to worry about shipping or holding stock.
With everything done online, you enjoy the freedom to work around your family life without hindering personal commitments.
Here is an example:
So if you were to sell a meal planner, you will only create one file and put it up for sale. Once your customers make a purchase they get instant access to download that file. A meal planner is just one idea. Below is a list of other printables you can create and sell in your online store.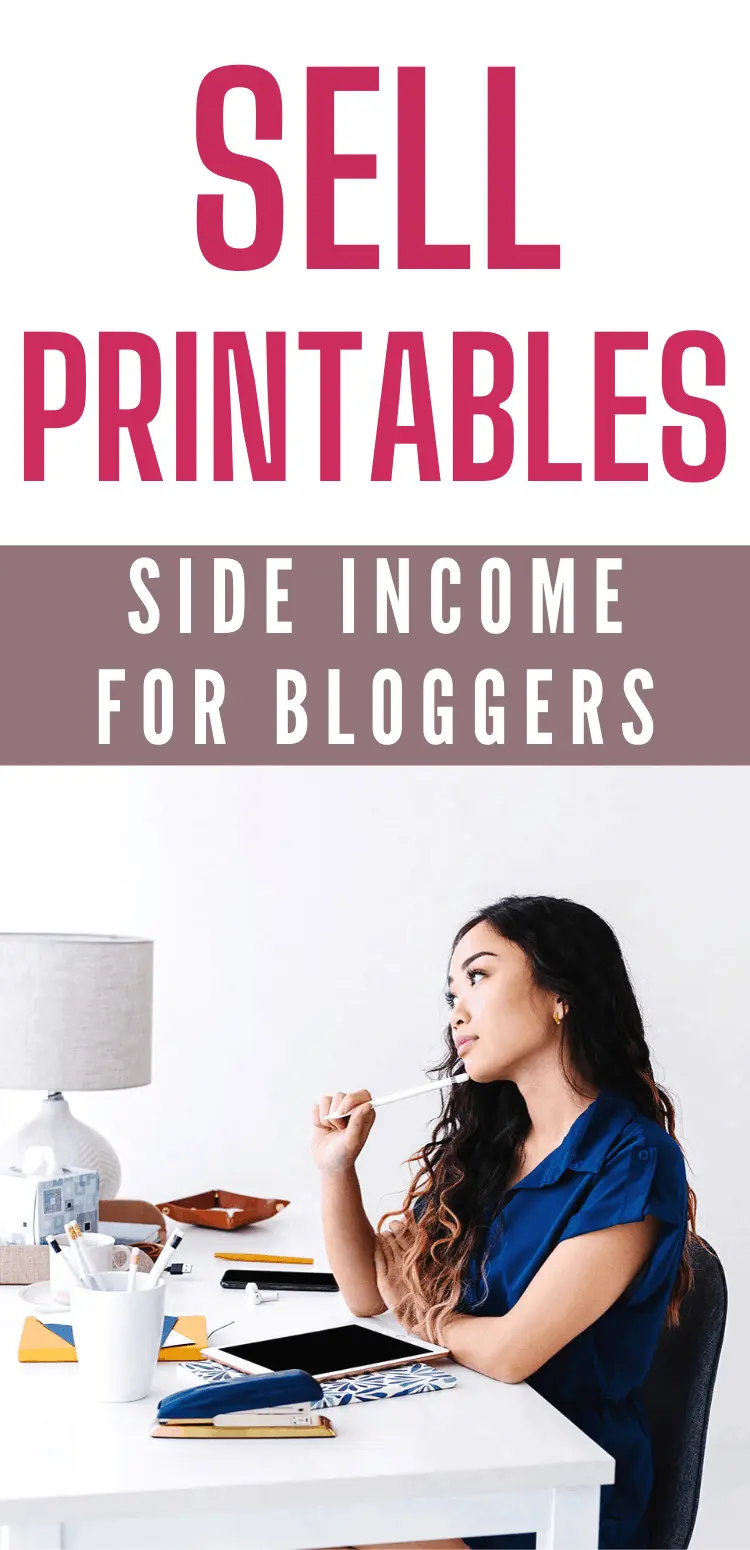 What are printables?
Printables are downloadable digital files that can be printed for use at home.
So instead of going to a store and buying invitations, posters or wall art, you can buy them online as a digital product and download them multiple times.
Whether you are a blogger looking for a way to make an extra income, or just someone looking for a side hustle, making printables to sell is a low-cost business idea.
When I became a stay-at-home mom, blogging was my passion and that's the career path I chose. Had I known about creating printables to sell back then, I would have definitely given it a shot! I might still give this a go someday.
Its a fun and creative side job, giving you the flexibility to work around your schedule.
What digital products sell the best?
Let us first take a look at some printables that you can make and sell. There are a ton of ideas to choose from, to help create your first printable. Here are some of the printables that sell best.
Calendars
Posters
Wall art decor
Inspirational quotes
Scripture cards
Bible verse wall art
Greeting cards
Zodiac sign printables
Planners – daily/weekly
Weight loss trackers
Checklists
Colouring Pages – Mandala colouring for adults
Colouring sheets for kids
Date cards
Games/activity sheets for events – wedding/birthdays/baby shower
Gift tags
Home decor
Worksheets
Spreadsheets
SVG files
How do you design printables?
There are many free and paid online platforms to create your printables to sell.
Canva is a free platform that allows you to design almost anything. Canva's paid option is called Canva Pro, which is $10.99 a month and I use it to create graphics for my blog.
As a beginner, Canva's free version is a good place to start and you can check it out right here.
Learning Canva does not require any special designing skills. Like everything, it might take a few days to get the hang of it, but once you do its a breeze.
As a blogger, you most likely use Canva for your graphics, so creating printables will be fairly easy.
But don't worry if you haven't used this platform before. In my opinion, you'd probably only need a couple of days to understand how it works. With practice, you'll pick up speed and get faster at creating digital downloads.
How do I make Printables to Sell?
If you are interested in this side hustle and would like to know more about how to make printables to sell, here is an exclusive interview with Tracie Fobes.
With over 10 years of blogging experience, Tracie has been very helpful in sharing her knowledge with other aspiring bloggers. Alongside blogging, she has her own successful online store where she sells digital downloads.
In today's post, Tracie is going to share with us how you can start your own home-based business, selling printables!
1. Hi Tracie, please tell us a little about yourself and how you decided to sell printables online?
I started my first blog in January 2009. Within my first year, I was making more than $2,000 a month – which shocked and amazed me!
That growth continued, and I was well into the five-figure a month range when I received an email that changed it all.
It was Amazon. They told me that I was selling too much and they were not within their profit margins. As a result, they were cutting my affiliate rates. That dropped my income by 75% – in a few weeks. My business was falling apart. Not because of Amazon but rather due to the fact I had not properly diversified.
I began looking for additional income options.
I had an envelope template that was doing well and decided to improve the style and then offer it for sale for $2.99. The first day I added it to my site, I had a sale. I realized the importance of printable products.
I continued creating additional items for my readers and developed a store. My pageviews and overall income grew. It grew so much that I was able to sell that site for six figures in 2019.
Now, I want to teach and empower others to do the same.
2. What kind of printables sell the best?
The best printable is the one that solves your reader's problem.
For some, it is an EBook. For others, binder systems and others sell workbooks or templates. You need to know what your reader needs and create it for them. That is where you find success.
3. How much money can you make selling printables?
The sky is the limit! I have had months where I've made five figures – just from printables!! One of my students made $600 in her first launch that spanned 4 days.
4. Is this a suitable side hustle for someone with no designing experience? Is this flexible for stay-at-home parents?
Yes – it is! There are all sorts of design templates you can use if you want.
Or, you can take a course and learn how to create something awesome. The reality is that it does not need to be overly designed with a ton of colours and fancy graphics. It needs to solve a problem for your reader.
5. How do I sell digital printables?
The simplest way to do this is to create a site through someone like SendOwl.
---
Make extra money by browsing the web, watching videos, playing online games and testing new products - clothing, food, cosmetics and more! Its free to join. Sign up for your chance to
get a $5 Swagbucks bonus.
---
They will house the printable and collect payment. You use a link on your website, and people buy that way. Once you have several items, you can create a store using something like Shopify.
Many branch into Etsy, but that can be more difficult due to high competition and forced lower pricing (for that same reason).
6. Can you please tell us about your course – Product Perfection?
When I created this course, I thought of the blogger who knew nothing about printables. The course covers:
– Why printables are smart
– The reasons why you can do this
– How to know what to create
– The way to make printables that sell
– Perfect pricing
– Where and how how to sell
– Legal issue
– Marketing strategies and ideas
Tracie's Printable course: Product Perfection
The Product Perfection course is broken up into easy-to-follow modules.
It includes some videos, but everything is in text form. If you need to learn how to use a platform – you will find screenshots and step-by-step instructions.
By the time you complete the course, you will know exactly what to do and be on your way to creating your very first product.
If you know Adobe and have sold before, then this is not the course for you.
However, if you know nothing and feel that you have nothing to sell, no one will ever buy from you, or a desire to find another income stream, then it is the perfect course for you!