*This post may contain affiliate links. Please read the full disclosure here.
Make Digital Stickers
Are you looking for a fun and creative side hustle?
Here's one passive income idea you probably never heard of!
It's by selling digital stickers online. You can make your own digital stickers to sell from the comfort of your home and sell them online.
Wondering what are digital stickers?
Digital stickers are nothing but online stickers that are used for digital planners.
These stickers can be basic shapes, clip arts, post-it notes, washi tapes, word stickers, picture frames and more.
Customers who own digital planners buy digital stickers to customise their planners.
To help learn about this side hustle we have Michelle with us today.
Michelle went from selling printables and digital planners online to earning over $7,000 in 6 months by adding digital stickers (like the ones in the image below) to her online store.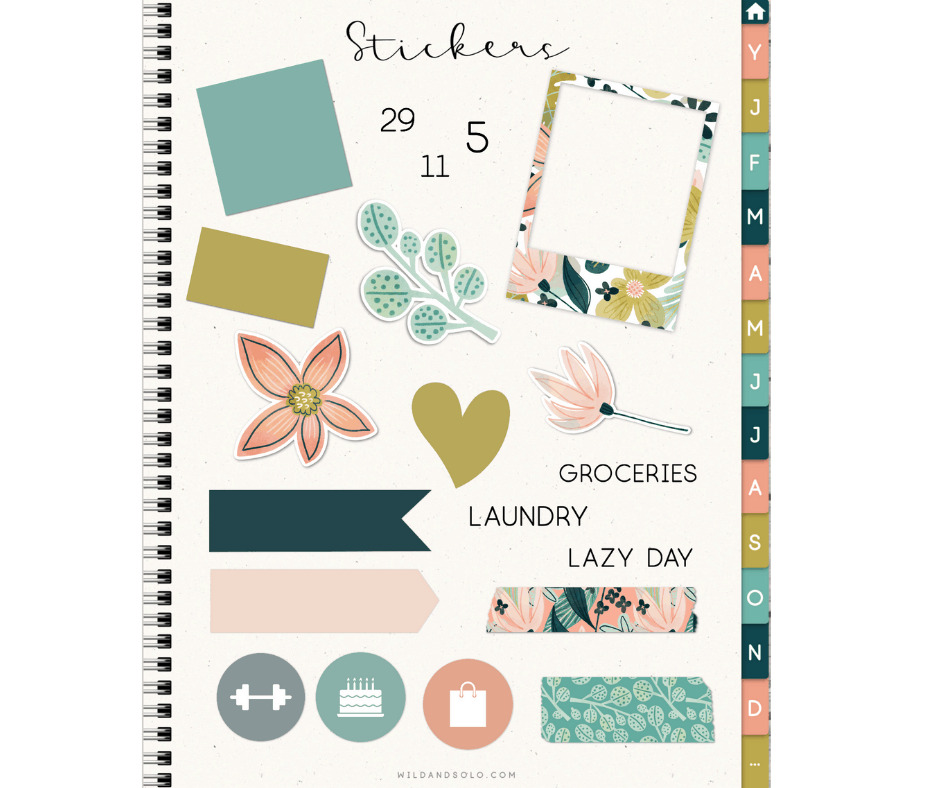 After the success of her online business, she is here to share with us how anyone with an interest in this side hustle, can create digital stickers from scratch and sell them online.
So if you are wondering if this side hustle is just for skilled artists, the answer is no!
According to Michelle, this is a creative gig even for those who cannot create stick figures!
Let's get on to the interview and see what Michelle has to say.
Sell Stickers on Etsy
1.Hi Michelle, can you introduce yourself?
Hey! I'm Michelle Simpkin from Scarborough, Canada.
I'm the person behind Wild & Solo, where I create digital planners for the wild-hearted. I also show entrepreneurs how to create digital stickers with zero design skills.
2. What are digital stickers?
Digital stickers are basically PNG files with a transparent background.
They are used with digital planners (which are hyperlinked planner PDFs that you can use on your tablet and write in like a paper planner using a stylus).
You know all the fun you can have decorating your paper planner with stickers?
You can do the same thing with digital planners but without having to lug around a ton of stuff!
Below are some examples of digital stickers Michelle has shared with us.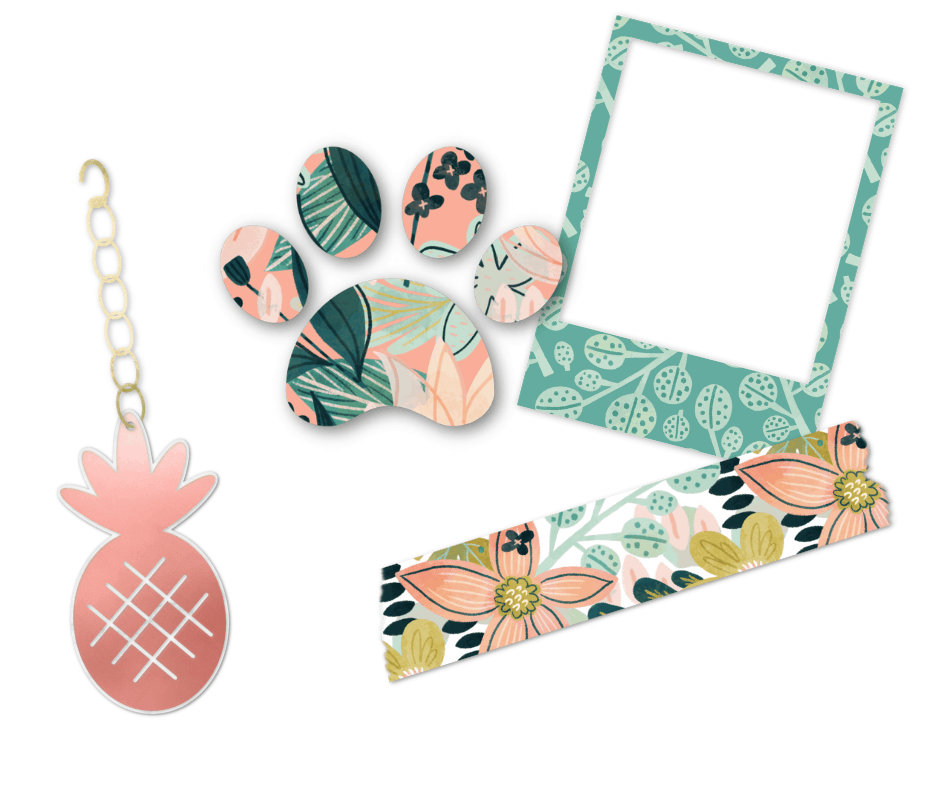 3. Can you make money from digital stickers?
Since digital stickers are passive income (you make it once and sell it again and again without any extra work), there is no limit on what you can make.
It's the best feeling when you wake up in the morning and see all the sales that have come in while you've been sleeping.
4. How can you make stickers online?
To make stickers online, you will need one software that you feel comfortable using (or are willing to learn) that can create a PNG file with a transparent background.
Some online tools that you can use to make digital stickers are:
Canva Pro
PicMonkey
Apple Keynote
InDesign
Procreate, etc.
Then you can buy clip art, textures, and patterns from online marketplaces, like Creative Market, to style up your stickers or you can use the free elements that are already included in whatever software you're using.
You can find a way to create digital stickers that fit within your budget.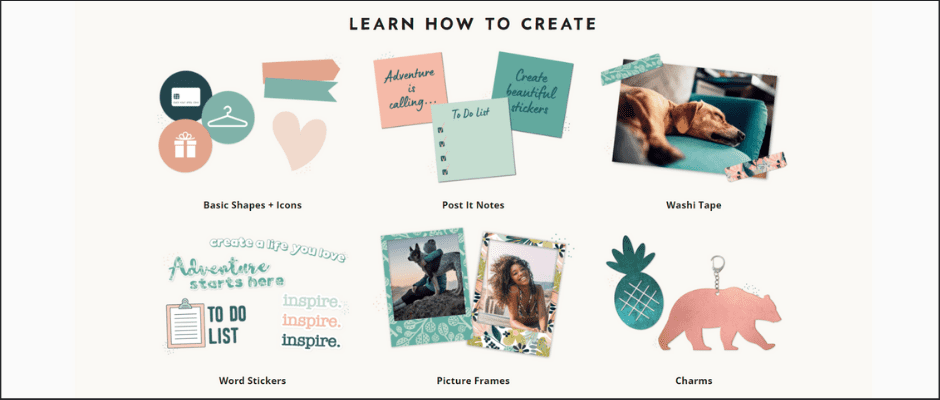 5. How many hours a week do you need to work? How long does it take to create digital stickers?
If you're starting up your shop, it does take a bit of work (which is normal) but once that's done, we'll create systems and hacks to easily and quickly create new digital stickers.
In my course, I also include digital sticker templates (for Canva Pro and Apple Keynote) so students can quickly get stickers up into their shops without a lot of work.
You could have hundreds of stickers ready within an hour or so.
6. Please tell us about your course. Is this suitable for non-artists?
The Creating Digital Stickers course is perfect for people who have zero design skills.
I created this course because I was tired of googling how to make digital stickers and all the videos were showing how to draw my own stickers. Well, I suck at drawing!
I wanted a fun and easy way to create digital stickers without needing to draw or have a background in graphic design.
The course takes you all the way from finding inspiration to creating your stickers (using Canva Pro, PicMonkey, or Apple Keynote) to packaging and marketing your stickers in your shop.
I show you all my hacks to get everything done as quickly and efficiently as possible.
Plus I include sticker templates (for Canva Pro and Apple Keynote) so you can get started making stickers instantly.
7. How to make money selling stickers on Etsy?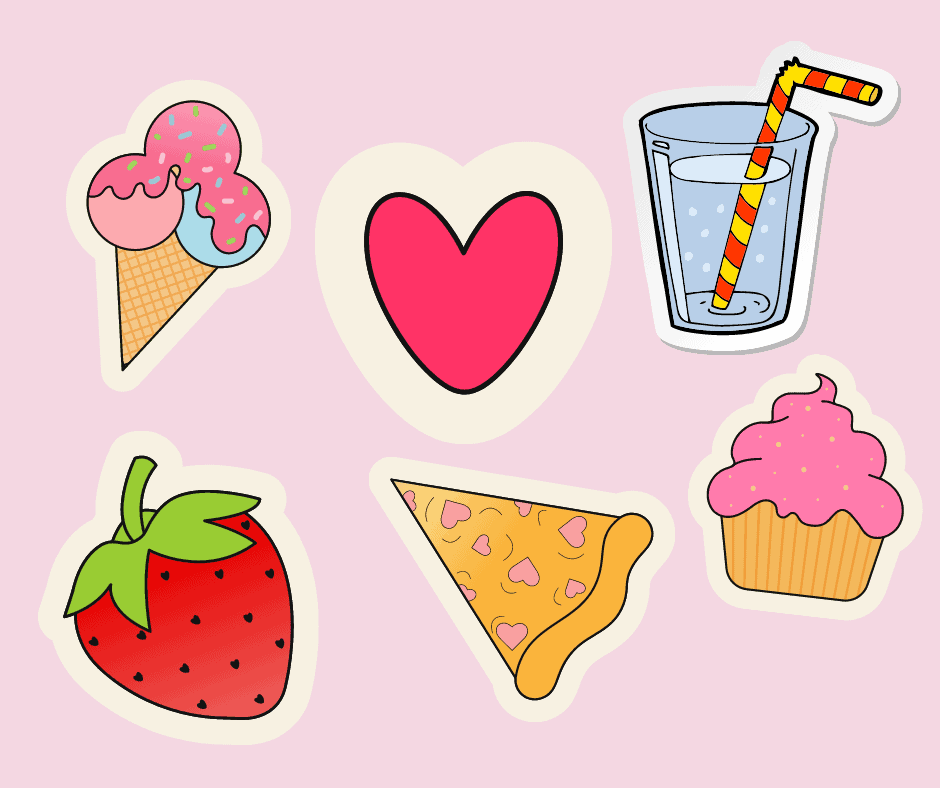 ---
Get $5 for signing up with Swagbucks:
Make extra money by watching videos, playing games on your phone and test new products - clothing, food, cosmetics and more! Its free to join. Get your
$5 Swagbucks bonus here.
---
I personally market my stickers in my Etsy shop and using Pinterest.
You can sell your digital stickers wherever you can sell digital downloads – your website, in an Etsy shop, using Gumroad, Shopify, etc.
If you don't have your own shop yet, it's super easy and affordable to set up an Etsy shop.
Plus Etsy will bring you some traffic so you don't have all the pressure on yourself to bring traffic to your shop.
8. Any last words of advice for those interested in this side-hustle?
Templates are everything.
Whether you buy them or create them yourself, sticker templates will help you save so much time and effort that you could be using on other things.
Finally, launch and tweak.
Don't overanalyze, over-research, or overthink things. Create your stickers and put them up in your shop. You can always tweak them later.
How to make stickers to sell?
Check out Michelle's course right here to see if this is a side hustle that interests you.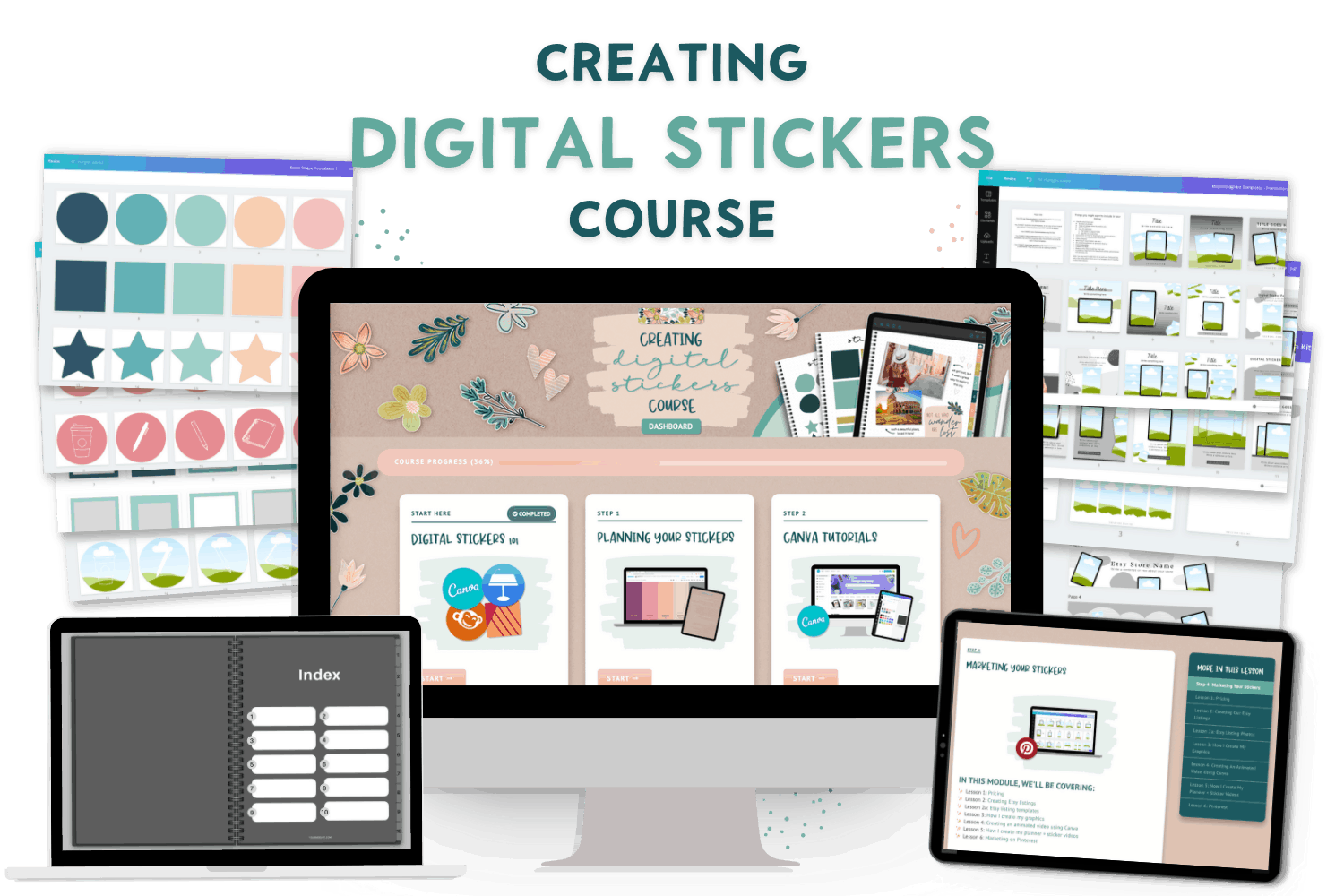 When you purchase the course, you'll get:
Tutorials for

Canva Pro (desktop + iPad)

Apple Keynote (desktop + iPad)

Affinity Publisher (desktop)

PicMonkey (desktop + iPad)

A huge selection of templates

10 digital sticker templates that creates over 400 stickers (for Canva Pro and Apple Keynote. Affinity Publisher templates are coming soon!)

Digital sticker book templates – both portrait and landscape versions

Etsy shop banners templates

Etsy listing photo templates

Pinterest templates

Branded sticker sheet templates

Color palette templates

Links PDF template (for when your files are too big for Etsy and you need a workaround. Tutorial for this method is included)

Idea kit (keep everything organized and in one place)
You will learn how to:
Create beautiful, fun digital stickers like:

Post it notes

Washi tape

Word and quote stickers

Basic shapes

Charms

Widgets

Picture frames

Creating stickers with clip art while respecting the designer

Turn your own photos into digital stickers

Package up your digital stickers so your customers are happy (and keep coming back for more!)

Set up your digital stickers in Etsy, then market your digital stickers in a way that embraces who you are
You get lifetime access to Michelle's course and access to any new content that's added.
Plus, unlimited commercial use license for the digital sticker templates and digital sticker book templates.