Telemedicine: How to Work From Home Doing Remote Medical Jobs
What is Telemedicine?
Telemedicine(Remote Medicine) is the diagnosis and treatment of people remotely using advanced technology.
Traditionally, we've been used to walking into a doctor's office or a hospital for treatment. You won't have to any more!
A few weeks back, I fell sick and couldn't go to my GP due to the Covid-19 restrictions. I was so used to seeing my doctor in person, that I was very sceptical about the GP's choice of treatment when they told me that I would be consulted over video.
My first experience of telemedicine was surprisingly very good. The doctor asked me a series of questions and assured me that their diagnosis is accurate. They issued a prescription to my nearest pharmacy, and I picked it up. As simple as that!
Not just me, many people – especially the elderly and people living in remote locations are opting for telemedicine, simply due to convenience.
According to Global Market Insights, the global telemedicine(remote medicine) market size is to surpass $175 Billion by 2026. Research studies also suggest that there will be a considerable increase in chronic diseases around the world and that will skyrocket the demand for telemedicine.
**This post may contain affiliate links. Disclosure here.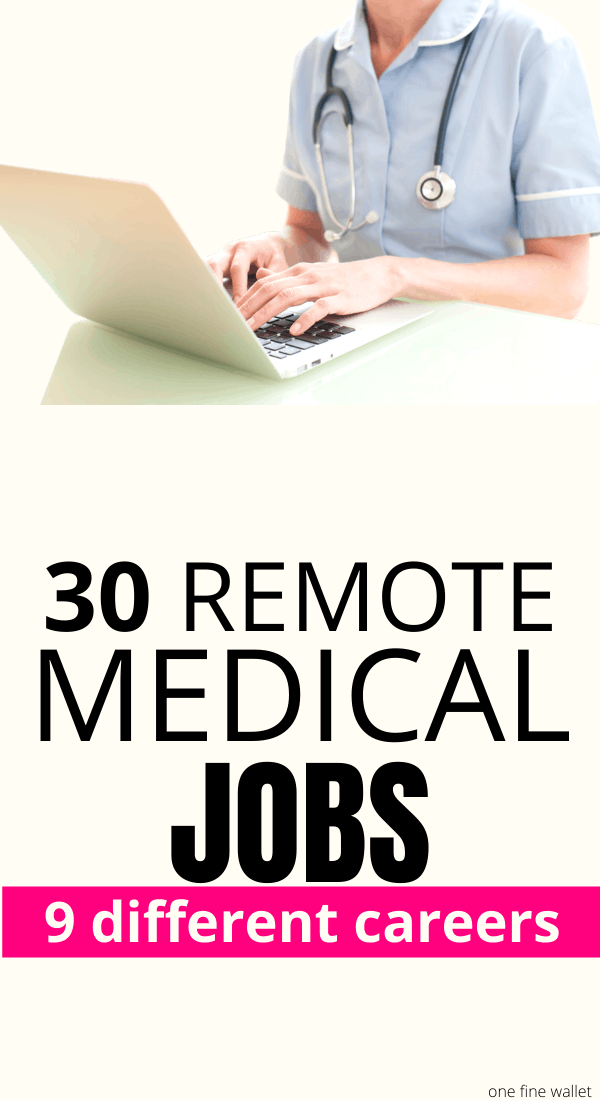 Telemedicine Jobs
There are opportunities for physicians, registered nurses, nurse practitioners, allied health professionals in telemedicine. It's a great choice to pursue remote medicine because you can save money by reducing transportation costs or even take it up as a weekend job for some extra money.
Telemedicine Job description
1. Remote Physician Jobs
Many physicians now have the opportunity to work remotely for a diverse array of healthcare needs. Some available specialities for remote working are telepsychiatry, teleradiology, teleneurology, etc.
Telemed companies such as Teledoc, MeMD, iCliniq hire physicians as permanent employees or on a contract basis.
Physicians can also apply to be medical writers – a job that can be easily done from home. You can approach telemed companies, pharmaceutical companies, and medical education providers to explore this remote writing job.
2. Pharmacists
Pharmacists can now work from home and work closely with patients to administer their prescriptions and help them find the best discount deals.
Companies to look out for are Humana, Walgreens, or Express Scripts.
3. Scientists/Clinicians
If you are a medical scientist exploring remote work, you can become a Medical Science Liaison(MSL). As an MSL, you will provide clinical and scientific information to healthcare providers. If you are a clinician with a Ph.D., MD, PharmDs qualification, you are a good fit for this remote medical job too.
4. Remote Nursing Jobs
The majority of remote medical jobs are nurse-based jobs. If you are from a nursing background, you can become a Telephone Triage Nurse. In this role, you will speak with patients on the phone and advise them based on their request/query.
You can also become a Clinical Nurse Informatics Specialist. They are responsible for creating improved workflows for medical staff members by using their knowledge in both healthcare and technology.
If you are interested in teaching, you could work from home as a Nurse Educator. Apart from teaching, you will be responsible for student evaluation, feedback, and curriculum planning.
To bridge the gap between legal consultants and medical professionals, companies need the help of Legal Nurse Consultants. You must have a license to work and an expert in legal terminology and understanding medical malpractice.
5. Online Therapists
If you want to work remotely as a therapist, explore Talkspace where you will work with many employers and educational organizations to provide affordable therapy.
You can also look into Etherapy – an online platform that specializes in the delivery of psychological therapies using live videos.
6. Dietician
There are several freelance jobs you can do if you are a qualified specialist in Nutrition and Dietetics. You can even offer your services on freelancing websites such as Toptal, Upwork, Guru, Freelancer, etc.
7. Medical Call Centre Agent
With your medical background, you can become call centre agents with companies such as Aetna, Carenet, Citra Health Solutions, Centene, Fonemed Telemedicine, Humana, United Health, etc. You will have to be qualified as a Registered Nurse(RN), Licensed Practical Nurse (LPN), Health Professional, or Triage Nurse to do these jobs.
8. Remote Medical Coding Jobs
Medical coders play a very important role in categorizing medical diagnoses, supplies, procedures, and services by CODES for billing purposes. If you want to become a medical coder, you must have some/any of these qualifications;
Registered Health Information Administrator (RHIA)

Registered Health Information Technician(RHIT)

Certified Coding Specialist(CCS)

Certified Professional Coder (CPC)
9. Remote Medical Transcription Jobs
If you have amazing typing skills and have a medical/healthcare background, then you can consider applying for a medical transcriptionist job. As a medical transcriptionist, you will translate video/audio recordings from doctors or any medical professional into written reports.
You must be familiar with operating Microsoft Word, have good typing skills, and great listening skills. You must know how to use relevant software applications. Apart from having a keen eye to spot errors in reports, you will also review and edit transcribed reports for spelling, grammar, and clarity.
10. Telemedicine Companies Hiring
Telemed companies hire from various sectors – Clinical, Operations, Sales, Technology, Marketing, Risk and Compliance, Consulting, Finance Management, Business Analytics, etc.
To explore remote medical jobs, try searching with these keywords – "Work From Home Medical", "Remote Medical", "Virtual Medicine", "Telemedicine" or "Telehealth".
Top Telemed Companies that hire healthcare professionals from these sectors are:
Final thoughts on Remote Medical Jobs
With the global pandemic spreading worldwide, the need for healthcare professionals on the rise.
Furthermore, due to social distancing and self-isolation measures, people are unable to access medical facilities easily. For them, telemedicine is a boon. Remote medical workers can bring life-saving services to people in these unprecedented times. Advancements in smartphones will drive the telemedicine market in the future, enabling the majority of the population to have medical care with a tap of a button.
Guest blogger:
Sneha Sadasivan is a Freelance Writer who lives in the UK with her husband and two children. When she is not typing away at her laptop or trying out spicy South-Indian recipes, she is busy scanning the internet for remote work ideas. She is the creator of Bloggrit and you can connect with her here.
2 Popular Money Making Sites
Earn up to $50 each time you share your opinion about products and brands - available to those in the US, Canada and Australia. Join Survey Junkie here, it's free!
Take part in daily surveys worth up to $35 with Swagbucks.