*This post may contain affiliate links. Please read the full disclosure here. 
If you're looking for a lucrative, easy-to-start side hustle, I'm excited to share information about online book arbitrage with you.
It works the same way as flipping and other arbitrage models work. You find books to resell for high profits on Amazon.
It can be difficult and time-consuming to do this on your own but, there's a shortcut you can take with Zen Arbitrage. And that's what I'll be sharing with you, in this Zen Arbitrage review.
Zen Arbitrage is a simple online tool that scans Amazon for cheap books, that you can relist and sell at a higher price. So you buy for a low price and sell for a higher price and keep the profits. It's really that simple.
Instead of sitting on the Amazon website all day searching for the right book to sell – Zen Arbitrage can help you find one.
There is no need for inventory and you can do this at home with just a laptop or a tablet.
And the best part is, the online book arbitrage business can be done from any part of the world!
*This post may contain affiliate links. Disclosure here.
What is Online Book Arbitrage?
This is basically, making money flipping books online.
Online book arbitrage means you buy a cheap book and sell it for a higher price. The profit you make is yours to keep.
Today, book arbitrage is a flourishing market, and there are tons of opportunity to earn an income reselling books.
To help simplify this process, Peter Valley, an Amazon author and seller with over 10 years of experience in the field has built Zen Arbitrage. He built this tool, so anyone can run an Amazon business from anywhere in the world.
100% virtual business
Run it from any part of the world
No need to touch any inventory!
What is Zen Arbitrage?
It's an online software that helps make finding and reselling books on Amazon easy and less time-consuming. The concept is simple. Buy low, sell high, rinse and repeat.
With no inventory and no experience, you can start your own book arbitrage business. This tool is an invaluable resource that helps you save time and make more money in your arbitrage business.
This is how it works…
How to use Zen Arbitrage?
First, you source books for cheap. Then, resell on Amazon. And, make a profit doing this practice. That's it!
1. Finding Cheap Books
Sourcing books at a low price is at the heart of this business. If you don't find books low priced enough to resell for a high profit, this isn't going to work.
It can be challenging to find the right books to resell but Zen Arbitrage does all the heavy lifting for you, automating this process so it's practically hands-off for you.
2. Listing Books at a Higher Price
Next, you will list books at a higher price. Zen Arbitrage assists with this as well, helping you competitively price your books to sell fast at the highest possible price.
3. Make a Profit
Then, you make a profit. If you want to see how this goes in process, check out this live demo of how the user makes $140 in just 5 minutes!
Does Zen Arbitrage work?
Yes! The live demo shared above shows the process from start to finish, with 7 books in 3 minutes, profiting nearly $150!
With Zen Arbitrage, you get:
A complete system

100% web-based system (no download required)

The opportunity to start a business with no experience required (and no Amazon experience required)

The ability to work from home and earn unlimited income with book arbitrage

A simple-to-use tool with all the resources at your fingertips
You get it all: the tools, the training, and the automation.
Is Zen Arbitrage legit?
Students are making thousands of dollars per month with Zen Arbitrage.
One look at their testimonials page and you will find some earning as high as $60,000 or $80,000 a month. Yes, you read those numbers right.
This is a well-paying side hustle that has limitless earning potential – even as a beginner.
Here's a quick look at screenshots from Zen Arbitrage's testimonial page.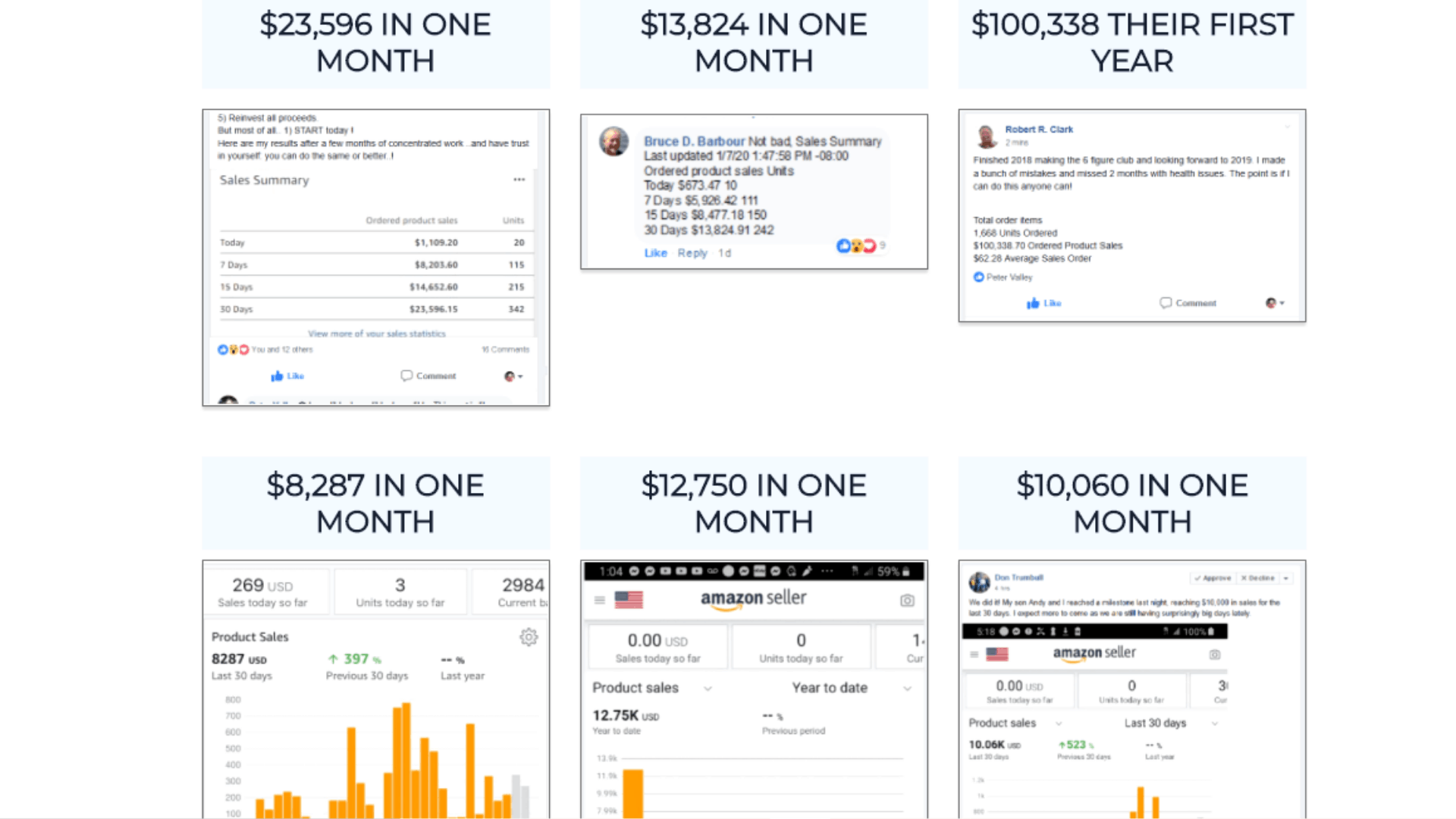 Now if you are thinking – these numbers look great, but what would be the income potential for beginners who are just starting out with Zen Arbitrage?
Below is a snapshot of what people are earning their very first month.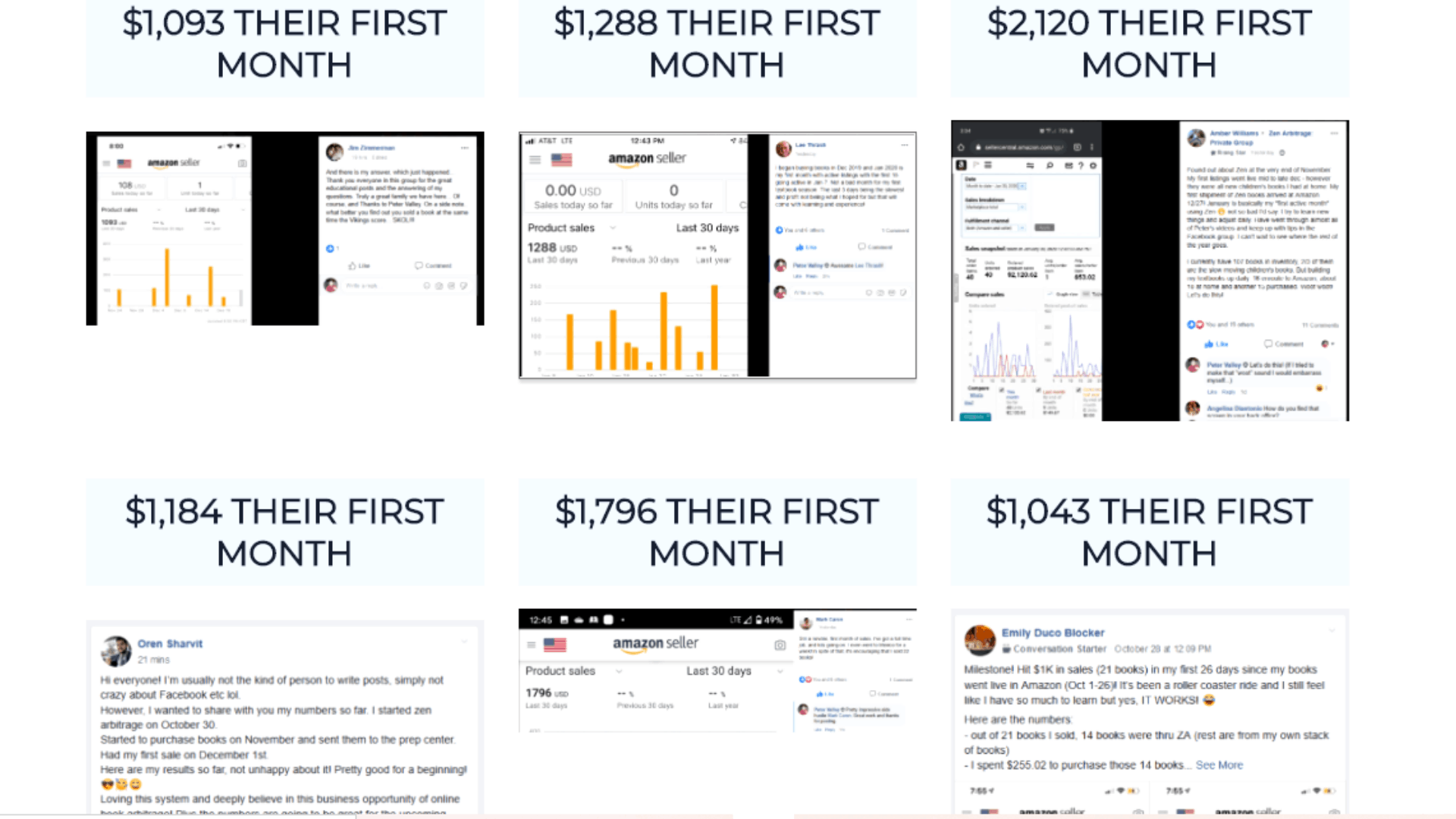 Check out more testimonials on this page and see what others have to say.
Common Questions about Zen Arbitrage
Here are some common questions about Zen Arbitrage and the process for beginning a book arbitrage business.
1. Do I need to be an experienced Amazon seller?
No, not at all. This business works for people with no Amazon experience at all. If you've never sold on Amazon, you can still succeed and Zen Arbitrage has got you covered.
2. What's required to start?
To get started, you'll only need a few minutes of your time, which will be dedicated to the signup process. You will also need an Amazon seller account.
Zen Arbitrage has everything included so no additional tools, software or resources will be needed to get started.
3. How much training is required?
Zen Arbitrage is perfect for all experience levels.
---
Get $5 for signing up with Swagbucks:
Make extra money by browsing the web, watching videos, playing online games and testing new products - clothing, food, cosmetics and more! Its free to join. Sign up for your chance to
get a $5 Swagbucks bonus.
---
For existing Amazon sellers, you will get started with their 15-minute training video. New sellers will begin with the 90-minute training video. From there, you will find an additional 50+ videos you can review at your leisure (optional).
4. Can this be done in any country?
Yes! You can be anywhere in the world.
5. How fast can I get started?
You can get started in minutes, literally. Here is an overview of the process:
Here are the steps:
Sign up for your Zen Arbitrage free trial (you get unlimited full access)

Sign up for an Amazon account (if you're not an existing seller)

Watch one training video

Get started
Free Zen Arbitrage Book – *Limited time offer*
If you want to learn more about Zen Arbitrage for free, you can get this 100-page book, "Online Book Arbitrage – The Complete Guide to Sourcing Books in Your Pajamas" (that retails at $47) for FREE.
Here's what the book contains;
> Advanced search hacks – Take book arbitrage to the next level.
> The top 7 ways to make money – These are the Top 7 things I've learned doing this for over 3 years.
> How to spot profitable books – Exactly what clues to look for (there are 6 of them).
> Examining Amazon's "Advanced Search" feature – How to utilize this for maximum profits.
> How to choose quality search terms – And which ones to avoid.
> The 3 tools of online book arbitrage – These are all FREE, and will greatly streamline the process.
> Q&A transcripts from my webinars & private group – Seen by few, these are uncensored Q&A's on the secrets of online book arbitrage.
> How I Figured All This Stuff Out – The history of "online book arbitrage."
> A "live" search where I make $60 in 5 minutes – I walk you through it, step-by-step (And I'll mail a video of this search to show its real.)
> Why books are uniquely suited for online arbitrage – We're not choosing books at random. There's a science to this.
> The only two ways you can screw this up – Avoid these two things, and you can't lose.
> Interviews with Amazon sellers – Two practitioners of online book arbitrage share their secrets
And much more!
Final Word on Zen Arbitrage
This concludes our review of Zen Arbitrage.
If you're looking for a flexible side hustle opportunity with high-income potential, book arbitrage fits the bill and Zen Arbitrage can help automate the process for you.
You'll enjoy freedom and independence, the flexibility to create your dream schedule working as much or as little as you'd like, be location-independent while becoming up to (or more than) a six-figure entrepreneur!
That's the kind of business opportunity I can get excited about.