*This post may contain affiliate links. Please read disclosure here.
Having a baby is an exciting time for everyone: the parents, the grandparents, other relatives and friends. In all the eagerness, it's easy (for everyone) to get carried away with purchasing baby products. Whether you need them or not, shiny, new items are suddenly tempting and irresistible.
The hype surrounding certain "must-have" products doesn't help either. If we believed every advertisement and fell for every slogan, we'd fill our homes with infant gear and break the bank in the process.
With this in mind, we've got some tips on how you can save money on essential baby products.
While certain things are worth splurging on, we urge you to think twice before filling your shopping cart with what you think you and baby cannot live without.
Think First, Shop Second
Baby budget
10 Ways to Save Money on Essential Baby Products
1.
Buy for Now
Buying a winter coat because it's on sale doesn't save you a penny if baby outgrows it before the cold weather hits.
Be smart about out-of-season purchases; don't be swayed by sales unless you're sure you'll wind up using what you buy.
2. Bulk Up (Sometimes)
For certain essentials, buying in bulk makes sense.
Things like diapers, onesies, burp cloths, and formula are definitely cheaper if you get more than one at a time. If you're stocking up on anything perishable (like formula or food), double-check that it won't expire before you use it up.
Remember to use a cashback site if you choose to shop online. Swagbucks is one of the most reliable online cashback sites to earn money back from your shopping.
3.
Swap Stuff
No doubt there are other moms in your community looking to save a buck.
Check out local parenting boards (online and otherwise) for clothing/toy/furniture swaps happening near you. If you don't see anything coming up, consider hosting a swap of your own!
4. Double (or Triple) Up
For the larger items like cribs, changing tables, or high chairs, shop for ones that serve multi-purposes.
There are cribs that become daybeds and then desks and chairs, changing tables that work double-time as dressers, highchairs that convert to booster seats.
While these versatile items are bound to cost more than traditional models, they are probably worth the investment.
5. Return or
Re-Gift
Holding on to a gift you know you're never going to use doesn't make much sense. 
Instead, if you have a gift receipt, return the item for cash or swap it for something you'll actually use. If you don't have a receipt, consider giving it as a gift to someone who will appreciate it.
6.
Borrow It
Do you have your eye on something (a car seat, a baby carrier, a play pen etc.) but aren't sure you if you want to make the investment?
Ask around to see if you can borrow the item from someone. When it comes to the pricier pieces, it's worth the effort to give them a trial run before committing.
7.
Sample It
Don't be shy! Ask your paediatrician for samples of formula, shampoos, lotions etc. Trust us that you won't be the only one who's hoping to score freebies.
8. Play Locally
Public libraries are more than just places to house books. Often you'll find a children's room filled with age-appropriate toys and playmates!
What's more, many libraries are proud to offer group classes (music or reading times) or movies for young kids. An inside playground (perfect for a rainy day) is a lively option for you and your little one that's absolutely free!
9.
Stock Up
Not everyone is able (or willing) to create a nutritious meal from scratch; however, we're willing to bet that even the busiest moms can manage to steam, puree and freeze vegetables to use as baby food.
Check out baby food websites for step-by-step instructions on how to whip up a batch of homemade veggies that will save you money and time on your next shopping trip.
10
. Clip and Save
If you've never used coupons before, now is the time!
The cost of certain essentials like diapers and formula quickly adds up. In turn, it's worth it to scope out store newsletters for coupons and to scan for deals online. Be sure to read the fine print that may include restrictions and dates of expiration.
Two helpful tools to help save money on baby items WITHOUT couponing is the Drop app and the Honey browser extension.
Drop is a phone app that connects to your bank account, and each time you shop you get awarded points redeemable for gift cards at popular stores like Target and Walmart. Check out the Drop app here.
Next, is the Honey app. Its a free browser extension that will automatically add the latest and active coupon codes to your online checkout. This lessens the trouble you go about searching for coupon codes online. Check out all the details in our Honey App review here.
Shop with Thought
It feels good to buy new products, especially in celebration of a special event like bringing a new baby home. But after picking out and purchasing something new, oftentimes the high wears off and we're left with an empty feeling and an item we don't really need.
You can avoid this conundrum by becoming a smarter, more thoughtful shopper. What we mean is, instead of making impulsive purchases, slow down and consider your options. For example, check out what's available on sale or see if you could save by buying something in bulk. When you do the work to save money on essential baby products, you'll appreciate them all the more.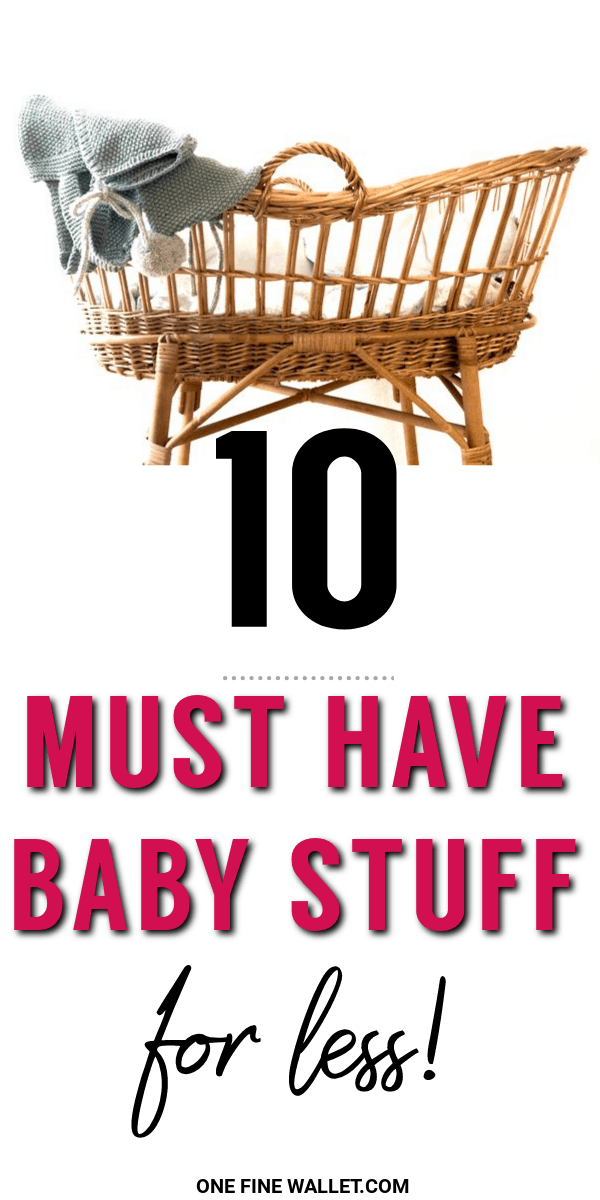 Samara Kamanecka
Guest Blogger
Samara Kamenecka is a VA specializing in SEO and writing, living in Madrid. When she's not chained to her desk working, she likes to explore the city with her boyfriend, their two kids, and their dog. You can find her blogging over at www.tinyfry.com.
2 Popular Money Making Sites
Earn up to $50 each time you share your opinion about products and brands - available to those in the US, Canada and Australia. Join Survey Junkie here, it's free!
Take part in daily surveys worth up to $35 with Swagbucks.