*This post might contain affiliate links. Please read full disclosure here.
Learn how to start a bullet journal as a beginner
Get organized in no time!
Are you trying to be more organized and productive? Have you been looking for an organizational system better suited for YOUR needs? Do you like a pen and paper planning system?
If you answered "Yes" to these questions, you may want to carry on reading! Because in this guide, I will explain in depth what the Bullet Journal is, who it's for, how it works, and everything else you need to know to start using this versatile organizational system!
What is a bullet journal?
The Bullet Journal is an organizational system that uses a blank notebook and a pen. It is "the analog system for the digital age" – from the official website.
The system was invented by Ryder Carroll, a digital product designer from New York. It is a minimalist but efficient way to write something down quickly and effectively.
The system includes different types of pages, or "modules" as they are called, to include in your Bullet Journal, and a legend. All these put together in a blank notebook with (usually) dotted pages give you a Bullet Journal.
But, really, your Bullet Journal can be anything you want.
Since it's creation, the Bullet Journal has grown in popularity and has taken off on its own. Now, you not only see the traditional Bullet Journals: people have adapted the legend to better fit their needs, they have added pages they wanted, they have decorated it to differ from the minimalist style, etc. If you look on Pinterest or Instagram, you'll find many different styles of pages, from simple black and white to watercolors.
But the main idea remains: get organized in no time with pen and paper.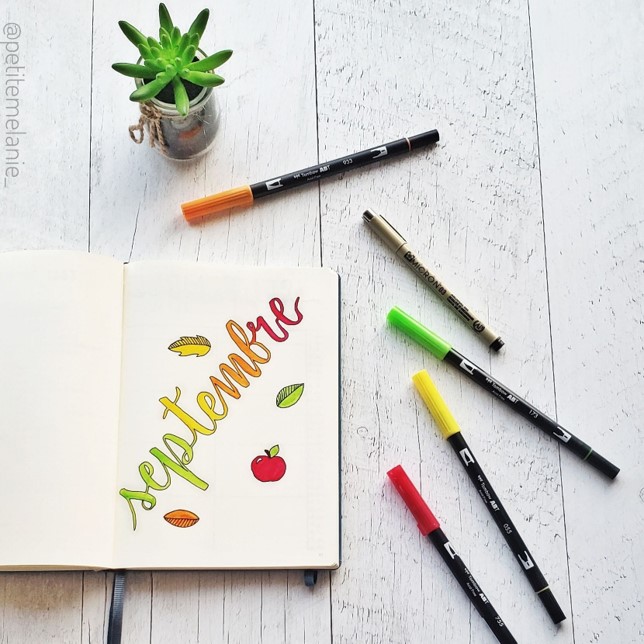 Legend: A cover page I did for the month of September. Not at all mandatory, but I was inspired and I love using new media to decorate my Bullet Journal.
Who is it for?
Do you like to write lists? Do you use an agenda or planner? Do you write everything down, or at least, try to? Do you have a bad memory and tend to forget things? Do you love all things stationery? Are you artistic? Do you use to write in a diary? Are you busy, pretty busy, super busy?
Most importantly, do you want to be organized?
If you answered yes to one or more of those questions, then the Bullet Journal may be for you!
Where do I start?
Now, to start Bullet Journaling, you're going to need an actual journal.
However, I always, always, recommend to first use a notebook and a pen you have laying around at home. Don't go out and buy what you think you need right away, because you first need to figure out 1: if you're going to like the Bullet Journal system and 2: if you're going to stick to it.
How does it work?
Now, the most important part: How does the system work? What is the system?
There are two parts to the Bullet Journal system: the legend and the modules.
The legend
First, let me introduce: the legend or key. This is really what the whole Bullet Journal system is about. The inventor likes to call it "rapid logging", and there's a reason for that: the key is straight to the point and meant to be quick and efficient.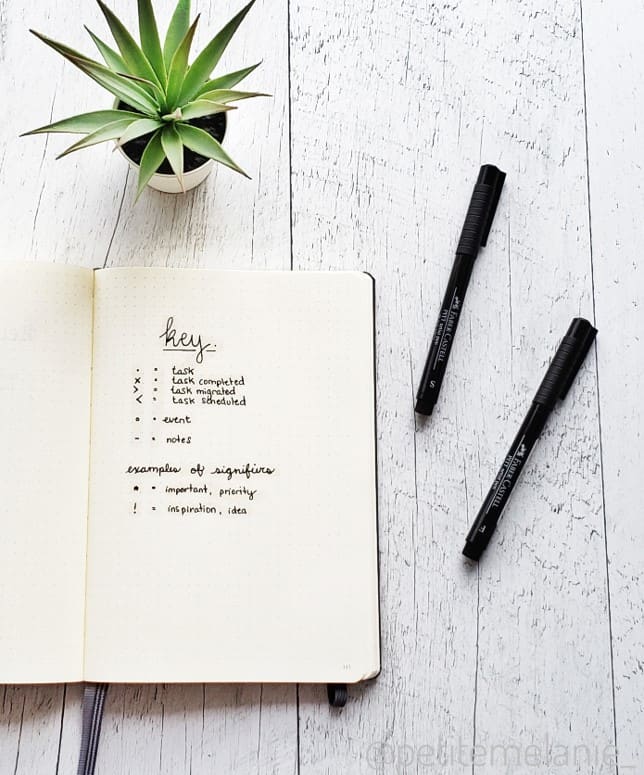 Legend: the key system, invented by Ryder Carrol. 
Tasks are marked down by a dot, or a bullet point (hence, Bullet Journal). Once they are completed, you cross them off with an 'X' through the dot.
If you have scheduled the task, you add an arrowhead pointing to the left: for example, if you had a task to "call dentist" and you have scheduled a dentist appointment, you would use the arrowhead pointing left. The arrowhead pointing right means you, for example, you did not complete a task, but you wrote it in your to-do list for next week.
Little circles (○) are for events, such as work shifts, appointments, supper with friends, etc. And finally, (-) dashes are for notes, when you want to remember something for later.
Modules
On to modules, the second important part of the Bullet Journal system.
To maximize organization, the Bullet Journal is divided into sections called "modules". I won't go too much into details about modules, but I will show you the four most important ones to get you started!
The first thing you need when you start a Bullet Journal is an index. I told you a little bit farther up why I like notebooks that already have an index included, and this is why! It's super important in the Bullet Journal method that you can go back and easily find important information in order to be organized. As such, an index and numbered pages are a must.
Next, we have what we call the Future Log. The future log is used to write down events or due dates far into the future. You can do a Future Log for six or twelve months, according to your needs.
Next, we have the Monthly Log. This is where you write down an overview of your month, such as appointments, events, etc. 
Now here's the Monthly Log I did for the month of September, in my Bullet Journal. It's not very minimalist but this is how I like it in my Bullet Journal. You will eventually find your own style too.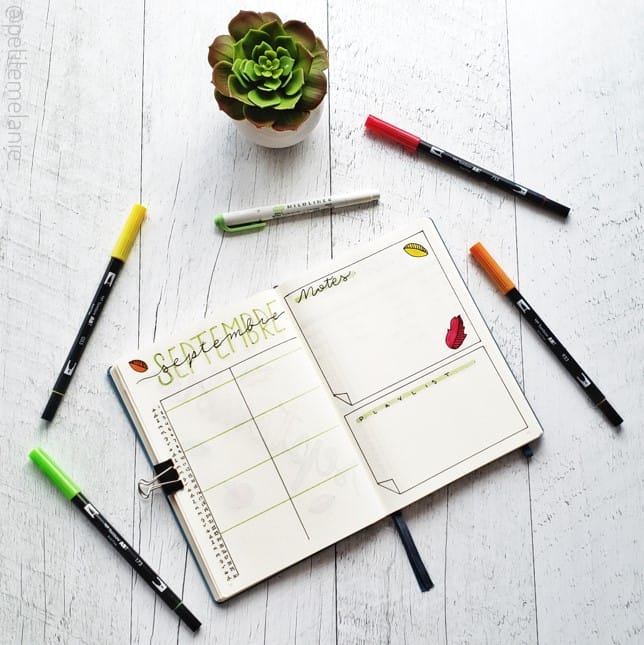 Legend: My Monthly log in my Bullet Journal for September. I also use the vertical system, though I separate my events in two: work and leisure (hence the line in the middle). I have a section called "Notes" for things I need to write down and "Playlist" because I like to keep track of the music I listened to during the month.
The important thing is you can get a picture of the month ahead, which plays a big role in being organized.
Finally, we have the Daily log. The Daily log is what you refer to, day-to-day. It's your to-do list, your planner, your notepad, anything you need during the day. Ideally, your Daily log should be prepared the night before.
Of course, all these modules can be adapted to better fit your needs. In my case, I prefer to fit seven Daily logs into two pages, which gives me an overview of the whole week, like a regular weekly planner. I have come up with a design that allows me enough space for all seven days. Here are my Daily logs (or my
Weekly log
, as they are also called) of the week of August 6
th
to 12
th
.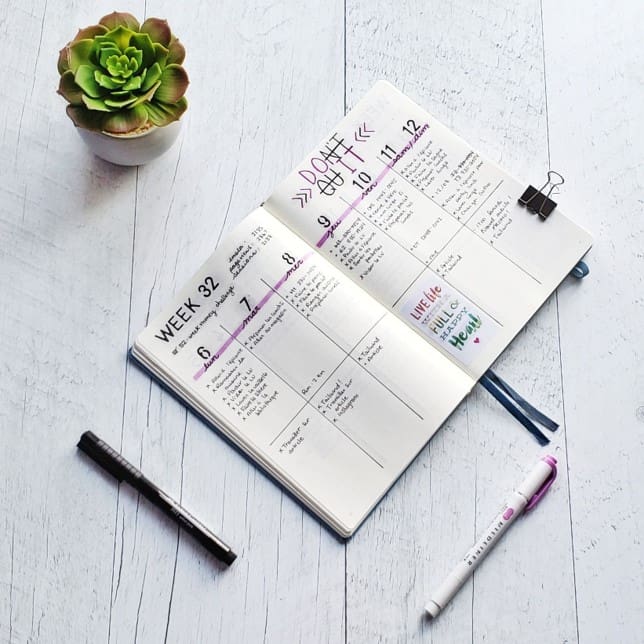 Legend: I write everything in six columns. I separate my blog tasks and events (below the line) from my other tasks.
Now, the beauty of the Bullet Journal system is how all those modules come together. For example, when you are setting up your Monthly logs, you should always check your Future log, to include the events you previously wrote for the month you are preparing for. Same thing when it comes to Daily logs with Monthly logs.
How does it save me time?
It might sound overwhelming to have to set up a whole planner/agenda/to-do list, but it can actually be super quick and efficient. If you really don't have time, keep it simple and minimalist, just like the inventor Ryder Carroll meant for it to be. Stick to the basics and get into a routine of taking two minutes to plan out your day, the night before or the morning of.
This really helps focus on what is important. When writing down your tasks for the day, you quickly figure out what is a priority and what is not. This is something that happens, without even meaning to.
Phew, that was a lot of information! You can check out Melanie's bullet journal kit here.
Hope this guide helped you understand more what the Bullet Journal system is, and how you, yourself, can start one. I hope you find what you were looking for in the Bullet Journal: I know I did! I've been Bullet Journaling for a year and a half, and not about to stop!
Pin for later:)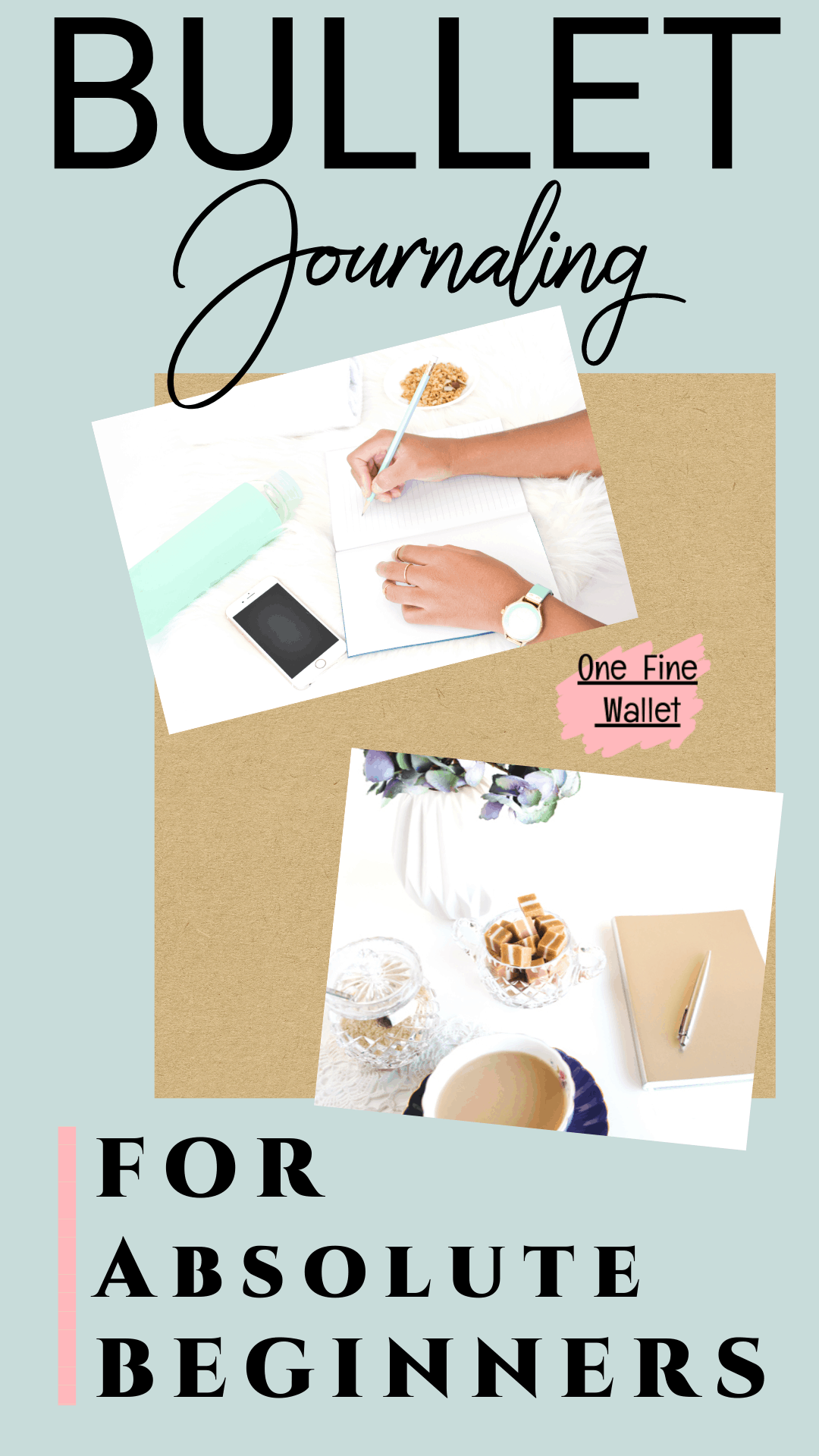 Melanie Dufour
Guest blogger
I started Bullet Journaling in March 2017, when I randomly came across this system on the internet. I was instantly intrigued and quickly came to adopt it. I launched my blog –
Petite

Melanie

,
in September 2017 because I wanted to share my passion and help others be organized just like the Bullet Journal helped me be super efficient.
2 Popular Money Making Sites
Earn up to $50 each time you share your opinion about products and brands - available to those in the US, Canada and Australia. Join Survey Junkie here, it's free!
Take part in daily surveys worth up to $35 with Swagbucks.