*This post may contain affiliate links. Please read the full disclosure here. 
*This post contains affiliate links. Please read full disclosure here.
As a modern mom, we are educated women who want the best for our kids. The best school, the best pediatrician, and most importantly, the best nutrition. But somewhere between hustling the kids to soccer practice and dance classes, picking up fresh vegetables at the grocery store gets knocked off the to-do list. That's where Meal Kits come in.
Fresh vegetables and other produce paired with delicious recipes are nutritious and most importantly a convenient way to serve a healthy meal for our busy family. But. Can Meal Kits fit into our budget? Yes, most defiantly! Meal Kits are a Frugal and Healthy way to feed your family.
Why choose meal kit or subscription boxes?
There are many benefits to choosing Meal Kits to feed your family. The number 1 reason to use Meal Kits is the convenience factor. How many times have you driven to a grocery store to find the product you're looking for is not in stock? Next, you load the kids back into the car and make your way to the next store. You're tired, frustrated and wasted gas just because you needed one ingredient for a meal. Talk about frustration! But relax, meal kits have you covered.
Meal kit benefits:
Stick to a budget – We always have a grocery shopping list but end up adding items that may be on sale or appeal to us. At check-out sticker, shock can occur and we go over budget. But Meal Kits actually help you stay on budget because you know exactly how much a meal kit will cost. No sticker shock!
Little food waste – Don't feel like eating leftover all week? If you're like my spouse, who doesn't like leftovers, then rejoice because Meal Kits are perfectly proportioned so you won't have a ton of leftovers.
Dietary control – Stick to your diet and customise your meals with ease when choosing your meal kit. It's easy to pick recipes from Diabetic, Low Carb, Paleo or Vegan.
Pleasure in Meal Planning – Planning meals takes time and effort by all parties. I usually asks my spouse what he wants to eat. The typical response is ..I don't know. But then when I throw out options, its No, No, or Nooo not that again. Sound familiar? But Meal Kits put the pleasure back into meal planning. You can both sit down and look at lovely pictures of meals together. Planning has never been more fun!
New Recipe Blame – Do you sometimes feel adventurous and find a recipe you want to try? You cook it and the rest of the family doesn't eat it only you? Not only are you the only one eating it but your only eating it because you feel obligated too because its the recipe you picked out and cooked. With Meal Kits you don't have to eat the food. No obligation. If you don't like the meal, just place the blame on the Meal Kit.
Opportunity to cook food you love – I love Indian food but I'm too scared to cook it at home. First, I have no ethnic food stores near me to get ingredients nor Indian restaurants:(. Recently, I used Blue Apron and picked an Indian Recipe dish of Indian spiced lentils with roasted cauliflower and naan. It was delicious! The Meal Kit gave me the opportunity to cook food that I love. As you can see, there are many benefits to choosing Meal Kits. Now, let's touch base on the Meal Kit Industry.
Celebrity Meal Plan Services
With the market demand of convenience by consumers, the Meal Kit Industry has exploded. Statista Statistics Portal estimated that by 2020, the meal kit industry will be generating about 10 billion dollars annually. With the growth of the industry, everyone wants a piece of the pie.
Celebrities are jumping on the Meal Kit bandwagon. Many have started their own Meal Kit companies.
Purple Carrot – Tom Brady, Quarterback of the New England Patriots, has partnered with TB12 Performance Meals. Meals are geared for higher protein with use of less soy and 100% plant-based. This Meal Kit is priced at $78 per week $13 per plate with 2 servings per meal 3 times a week.
22 days of nutrition – Beyonce Knowles' personal trainer, Marcos Borges, began this vegan meal kit service after Beyonce had such great success on the plan. No dairy, no eggs, and its plant-based living and eating. Both Beyonce and Jay-Z attest to the programs great benefits.
Marley Spoon – You can cook Marth Stewart's best recipes with Marley Spoon. The Meal Kit cooks under 30 minutes and has 10 meal options that you can choose up to 4 weeks in advance. In July of 2017, Marley Spoon launched Dinnerly, $5 per person Meal Kits for families.
Prepped – Kim Kardashian's BFF, Jonathan Cheban, has launched his own Meal Kit brand. It specializes in Heat and Eat Gourmet Meals delivered to you. There are no plans or commitments and you can order up to 20 meals a week. The kits specialize in a low card or paleo diets for single servings.
Saturated Market
The appeal for Meal Kits is in. Kits seem to wharf take out and are shifting consumers grocery budgets. Meal Kits are becoming a permanent item expense on the household budget. Precisely packaged with the correct quantities and alluring recipes, everyone wants to have their own. The market is saturated with Meal Kit Companies. Fast Company posted that there were nearly 170 Meal Kit companies globally.
Finding cheap meal plan delivery services:
So, with a saturated meal kit market means lots of advertising and competitiveness to lure you in. Take advantage of it! Below is a list of places to find Meal Kit Deals.
Groupon – The best deals I found for Meal Kits is Groupon. Enter in Meal Kits in Groupon Search box and a plethora of discounts to some good meal kit companies pop-up. You can get deals up to 51% off. NOTE: Use your Ebates additional discount on Groupon and get even more money back on your order.
Living Social – Has similar discounts like Groupon which change regularly. The great deal I found was with Gobble. You can get 1 week of Meals for two people ( 6 Meals Total) for $35. That's $5.30 per meal!! Plus, use your Ebates activation code and get cash back. Cha-Ching!
Ebates – With Ebates, you can get $20 off when you shop on Blue Apron. That will bring a meal for 2 people twice a week down to $7.50 per person. Ebates also has discounts for Plated and other Meal Kits.
My Subscription Addiction – Gives its own reviews on Meal Kit subscriptions and coupons available – only through their site. They have a large selection of Meal Kit brands to choose from.
The Meal Kit Review.Com – Has reviews of Meal Kits and coupons to use.
Facebook – Simply search Facebook for Meal Kits in the search bar. Scroll down and you will see Ads for many Meal Kits with discount codes that will be applied when you visit the site.
And Finally…
Subscribe! – You can always subscribe to a Meal Kit brand and not make a purchase. Believe me, they will email you promotion codes to use. Be strong and wait for the best offer. Competition is fierce between Meal Kit businesses because they know the educated consumer is going to try out a couple of Meal Kits before sticking to one.
Shop around and find the best deal! As a first-time subscriber, your going to get a great deal. Once you find a Meal Kit business you like, search for deals on Living Social, Groupon and Ebates.
Take advantage of this Meal Kit competing market. You'll be glad you did!
Click below to pin!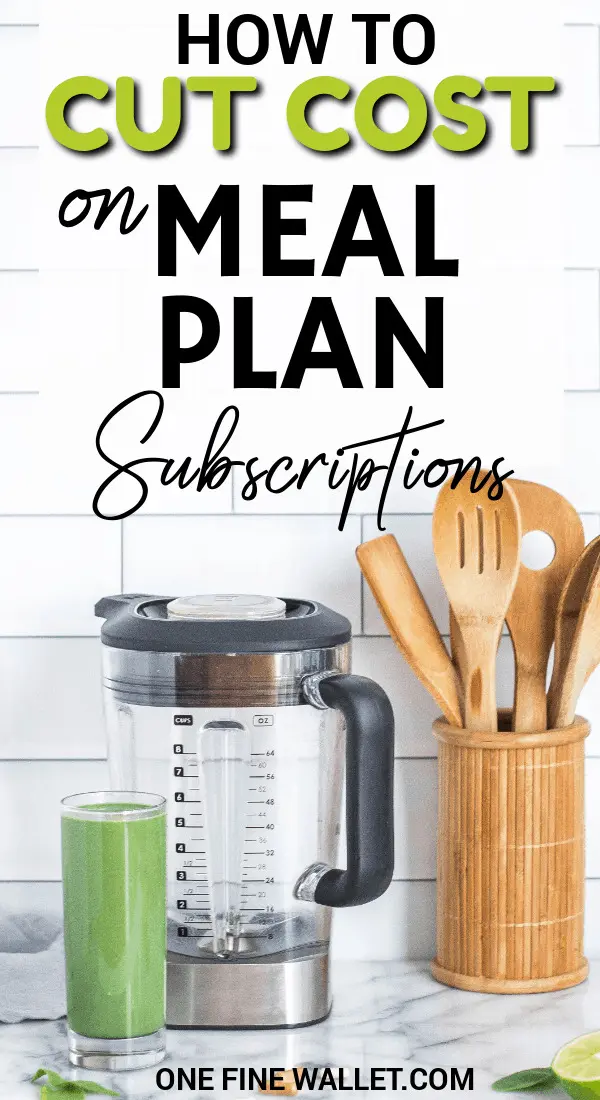 Michele Banares
Guest blogger
Michele Banares is the author of At home Livelihood, a lifestyle and blog entrepreneurship site. Michele has an undergrad degree in Political Science, Journalism and a Masters degree in Special Education. She has worked for over a decade in the nonprofit sector with the Georgia Center for Nonprofits and also the national nonprofit job board, Work for Good – formerly Opportunity Knocks.org. Becoming a momma, she became a teacher and is now a Blog Entrepreneur for the freedom, flexibility, and happiness it gives her in being with her family.