*This post may contain affiliate links. Please read the full disclosure here. 
Mail Rewards
If you read the news daily, you would definitely benefit from a club that provides you points, redeemable for cash, every time you purchase the paper.
What's better? A daily rewards club that also provides huge giveaways, free items, and dramatically discounted deals just for being part of their program?
If any of this sounds interesting to you, then you are probably a good candidate for the Daily Mail Rewards Club.
This article is not only going to tell you why you should get the Daily Mail, but also show how you can earn your rewards, and best yet, how to get the Daily Mail for free!
*This post may contain affiliate links. Disclosure here.
What is the Daily Mail Rewards Club?
The Daily Mail rewards club is a system set up to provide rewards points, prizes, and freebies to customers who receive the Daily Mail newspaper every day.
MyMail Nectar:
One of the biggest benefits of the rewards club is the ability to earn points that can add up to cash every time you purchase a paper.
These points are called Nectar points and you have the ability to earn up to 250 of them each month giving you 3000 points to trade in every year.
You can use these unique points to shop anywhere that takes the Nectar card. Some websites and stores will accept these points as cash on nearly any item you choose and others will provide a list of items that are available for customers using their earned points.
MailShop:
Another great thing provided through the Daily Mail Rewards Club is the MailShop, with tons of items you can purchase by redeeming your points, as well as earning cashback on your purchases.
You can also find great deals through the Daily Mail rewards club, like gift cards, discounted items, and so much more.
What is the Daily Mail Rewards Sign Up and Log In Process?
Before you can take advantage of loyalty points through the Daily Mail or the nectar points you can earn each day, you have to sign up for a daily mail account, then log in each day to apply your unique code and check your balance.
Daily Mail Rewards Log In
To sign up for an account you will first need to log onto the My Mail website's homepage and click the "Join My Mail" tab in the top right-hand corner of the page.


Next, under the "new user" space, enter your e-mail address and click submit.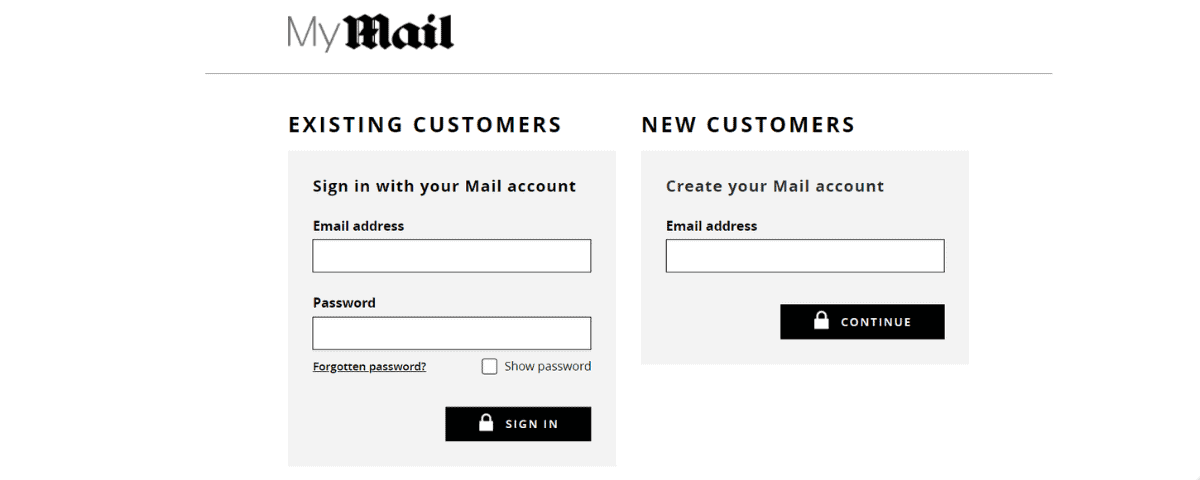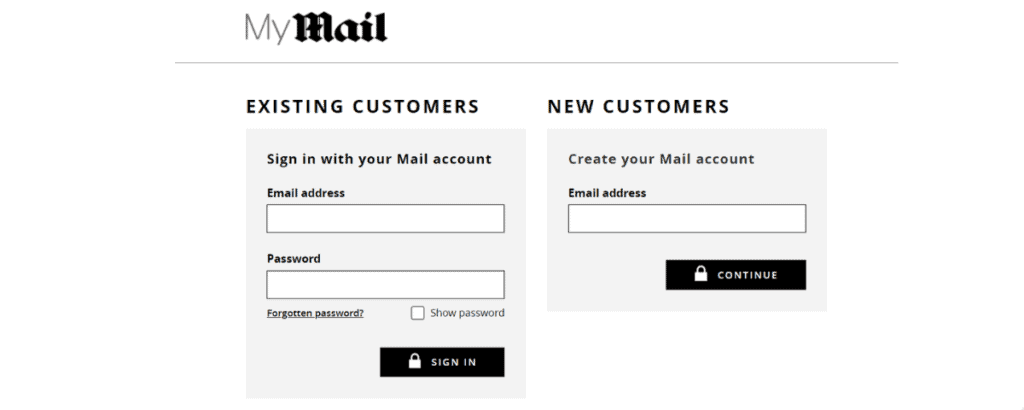 Next, you will be prompted to enter your full name, date of birth, e-mail address, the password you would like used for your My Mail account, your street address, and your phone number.
You will also be asked how you would like to be contacted; you can choose e-mail, phone, post, or text.
Then you will click the submit button, and your account is then ready to go.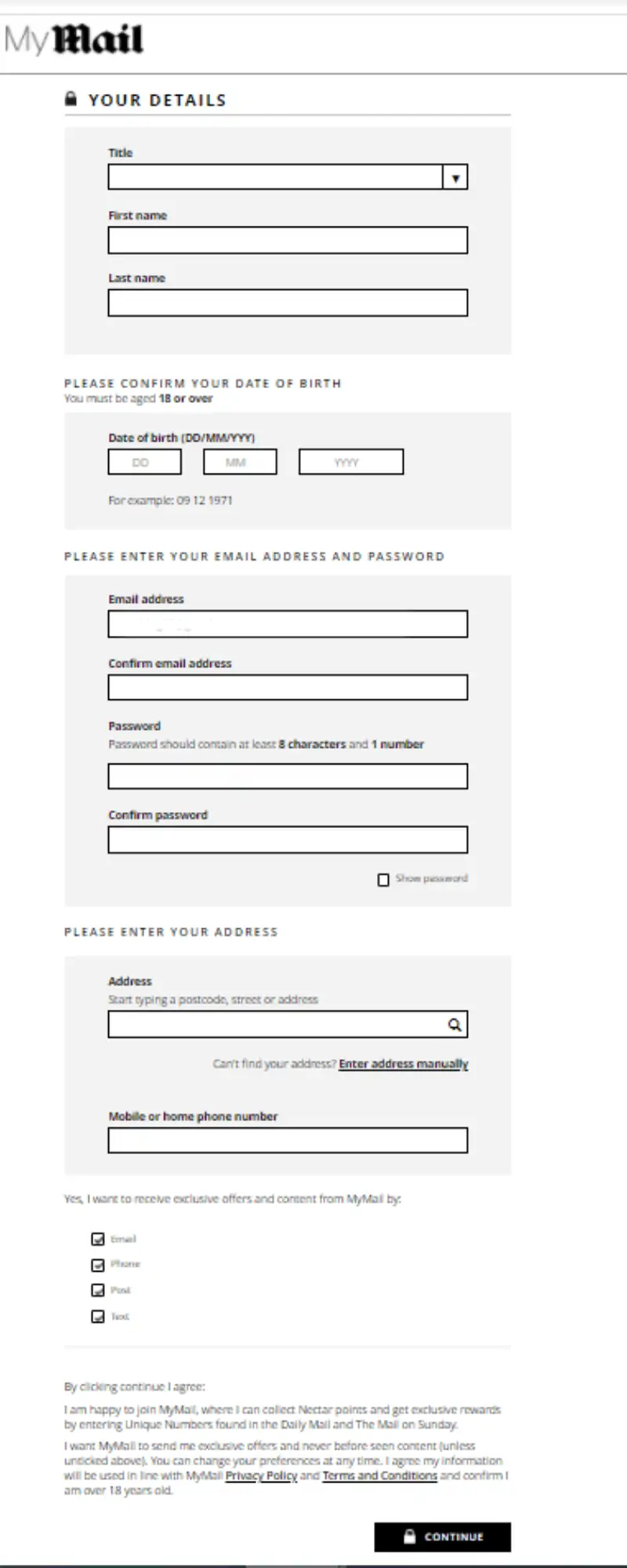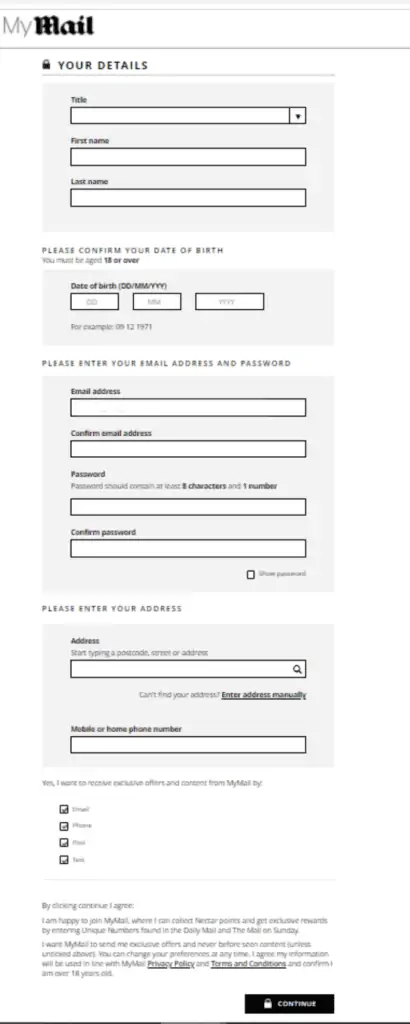 Now that your account is set up, you will need to connect your Nectar account to your My Mail account.
If you do not have a Nectar account yet, you can sign up for an account number through your My Mail account.
Now, you can easily log in whenever you want to check on your account; your daily mail rewards points or your nectar points.
Do You Read the Daily Mail Online?
If you are an e-reader and do not purchase the Daily Mail newspaper in "paper" form, no need to worry, you can still earn your Nectar rewards.
Since there is no way to locate a twelve-digit code off the back of a digital edition, you can expect to see your 50 Nectar points added to your account on the 21st of every month as long as your Daily Mail account is active and up to date.
This is actually a great option because you will not have to worry about losing your code or forgetting to enter it into your account before it expires.
How Can You Find the Daily Mail Unique Numbers?
It is really easy to locate your unique Daily Mail number.
It is going to be located every day on the back of the paper at the bottom of the page on the right-hand side, next to the sports.
This number will be a twelve-digit number, and it will change with each paper that comes out every day.
How Long Before My Code Expires?
Unfortunately, the unique code you are given by your My Mail paper doesn't last for very long.
You only have four days to enter your code into your account, or you will miss out on the opportunity to get those points.
Do the Mail Rewards Points Expire?
Daily Mail reward points do not expire. Actually, the longer you hold onto these points, the more they are worth.
However, if you do not use or log into your Daily Mail account for more than twelve months, your account is subject to be deactivated by the company, and your accumulated points will be lost.
What Happens if My Daily Mail Unique Number is Missing?
Things happen, and there are times where you may no longer have access to your unique numbers.
That is no problem here.
You can log onto the missing number system provided by the My Mail site to get your points added to your account.


To do this, you will need to have your paper in hand and be prepared to answer questions regarding information that can be found in that paper.
You will first be asked for the date of the paper you are missing the number for (note: you can only use this system for papers that are five days old or less.)
Then you will be asked a question regarding information in the paper, like what was the first story on the third page of the paper.
As long as you are able to answer the question correctly, you will be credited the points.
---
Make extra money by browsing the web, watching videos, playing online games and testing new products - clothing, food, cosmetics and more! Its free to join. Sign up for your chance to
get a $5 Swagbucks bonus.
---
My Mail Rewards
You have the ability to accrue up to 50 My Mail points every week, depending on the number of papers you buy.
Here is a breakdown;
For each weekday (Monday through Friday), you can earn 5 points
Saturdays papers are 10 points
Sundays papers are worth 15 points.
Those who choose to subscribe to the Ultimate pack can double those points for each day, giving you the ability to earn up to 100 points each week.
Where Can I Use My Nectar Points?
The Nectar Points you accumulate with the My Mail rewards system goes straight into your nectar account and can be used towards the same things you usually use them for.
The most popular places people tend to spend their Nectar Points are:
eBay
Argos
Sainsbury's
Caffe Nero
British Airways
Vue Cinemas
Sky
Esso
Nectar Hotels
Habitat
How Much Are Each Nectar Points Worth?
Like all other reward systems, it takes a lot of nectar points to make a decent amount of real money.
Value of Nectar Points:
1 point = 0.5 pence
2 points = 1 pence
100 points = 50 pence
200 points = £1
500 points = £2.50
1000 points = £5
5000 points = £25
Seeing as you can only technically reach 3000 Nectar Points in a single year, you are only able to earn £15 in real cash money each year.
Every little bit helps, right?
Well, you can actually double those points and your cash if you utilize the Nectar Double Up events offered a few times a year.
The most frequently seen time this offer is promoted is around Christmas time, which is the best time for doubling up on free cash.
Another way to increase those points is with the Nectar App.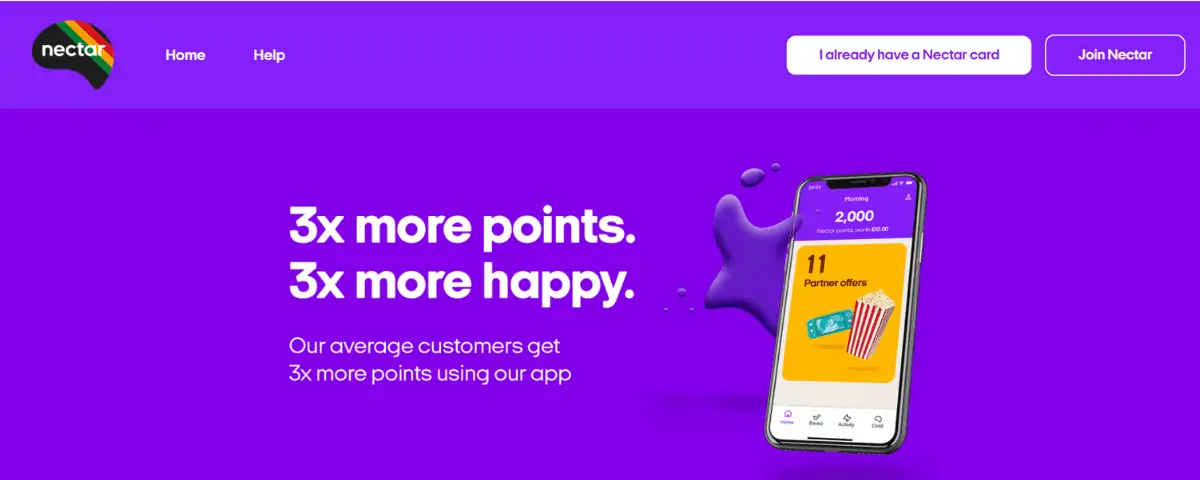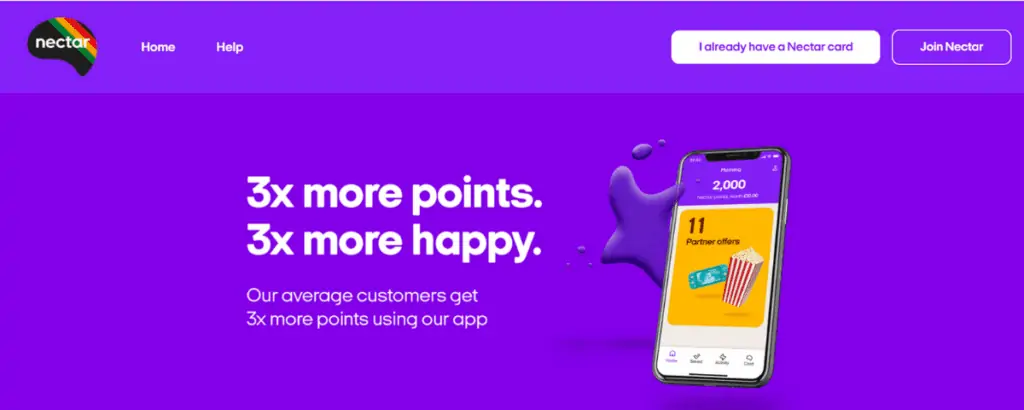 According to their site, to can earn three times more, using their Nectar app which is free to download.
My Mail Rewards: Is it worth it?
Using the My Mail rewards system is almost like getting free money for purchasing something you planned on picking up anyway, so why not use it to your advantage.
Although you aren't going to get tons of cashback, the little you are able to get is more than you originally had, and it is nice to have that little extra when you need it the most.
Plus, it doesn't take much time at all to set up an account, and even less to log on daily and enter your codes.
In our opinion, yes, we do feel the My Mail Rewards Club is more than worth it.
How Can I Earn More With the Daily Mail Rewards? (Cashback and Accumulate Bonus Points)
Having the opportunity to rack up points in order to turn it into cash is amazing.
However, that is not the only way you can earn with the Daily Mail Rewards.
When shopping through the Daily Mail online store, you can earn six points for every £1 that you spend.
If you tend to shop through the site often, these points can really start to add up.
You are also given a chance to enter contests that can lead to awesome vacations, as well as have access to amazing promotions, exclusive offers, and awesome freebies.
Cashback Credits
You have the opportunity to earn cashback credit on any purchase you make in the MailShop.
In order to use these credits, you will need to have an account with Quidco or TopCashBack, or even better yet, both.
With both of these sites, you can use your cashback bonus credits to purchase tons of different items, from beauty items to groceries and everything in between.
Accumulated Bonus Points
What could possibly be better than free cash from trading in bonus points? More free cash from letting those bonus points accumulate. The longer you save up your Daily Mail Rewards points, the larger the rewards offered become.
Benefits of The Daily Mail Rewards Club
As mentioned above, if you plan on reading the Daily Mail newspaper anyway, why not get rewarded for it.
Through the Daily Mail Rewards Club program, you are able to purchase items that you have been wanting to buy but are not interested in spending the money on.
It is easier to buy yourself something when the money is "extra."
You also have the opportunity to win the vacation of a lifetime or try out new diners that you would never have considered before.
Having access to a great newspaper that provides a beneficial rewards point system is a no-brainer.
Free Daily Mail Newspaper
At Waitrose, if you are a part of their MyWaitrose membership program, you can get yourself a free newspaper!
They run offers on various newspapers and as of writing this article, you can get the Daily Mail for free if your purchase is over £10.
Concluding this Daily Mail Rewards Article
We have outlined a ton of reasons and benefits of why you should consider signing up for the Daily Mail Reward Club, but no reason not to.
If you like rewards, free gift cards, and prizes just for reading the news, then this is the paper for you.