One of the easiest ways to make money on your phone is to earn money by watching videos.
You might be surprised but there are companies that offer to pay you gift cards or cash by PayPal for watching videos online.
While you won't be making a lot of money, it is still a worthwhile side hustle to consider, if an extra $100 a month sounds good to you.
The first few side hustles are easy and straightforward ways to earn money for watching videos. But the last ideas on the list include jobs that can be considered as a part-time gig.
This includes working as a transcriptionist or typing captions for YouTube videos. Along with this list are companies that offer these freelance jobs on a regular basis.
So let's begin today's post on how you can earn PayPal money by watching videos in your spare time.
*This post may contain affiliate links. Disclosure here.
Earn Money for Watching Videos
1. Prize Rebel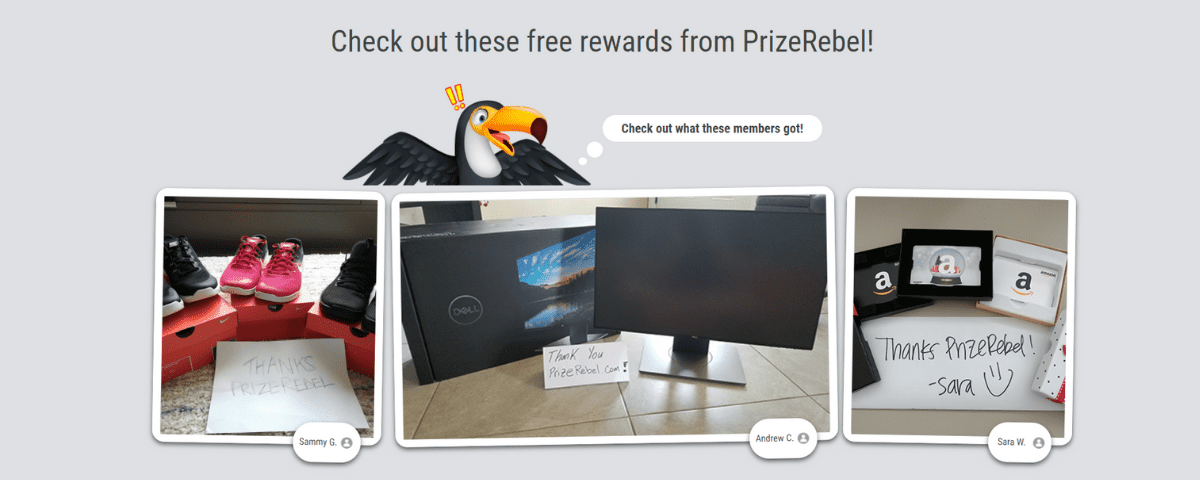 Launched in 2007, Prize Rebel is a get-paid-to rewards website where you can earn money for doing various mini tasks such as completing surveys, watching videos, and doing internet searches.
This platform offers a variety of surveys that are among the best paid on the internet.
They also offer the opportunity to get paid to watch short videos. While the points are minimal, it's a super-easy way to make a few extra dollars.
Membership is free, requiring only an email address or Facebook account to sign up.
Prize Rebel offers users a reward catalogue with more than 500 gift card options; if you prefer cash, you can redeem your points balance for PayPal deposits or a Visa prepaid gift card.
2. Swagbucks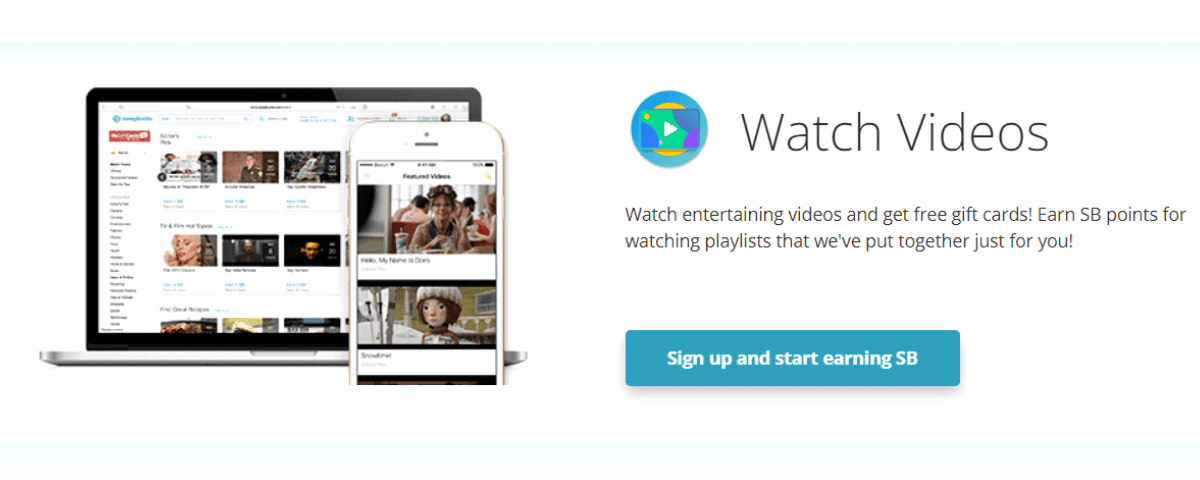 Swagbucks allows you to complete mini-tasks in return for "SB points," which you can convert into gift cards or cash.
With a rating of 4.3 out of 5.0 from over 23,500 Trustpilot reviews, Swagbucks is a tried and tested side hustle to earn you a few extra dollars.
You can get paid for watching videos, by allowing it to run in the background while you complete other tasks such as surveys; this way, you're earning two sets of points simultaneously.
To maximise the number of SB you obtain; complete the daily To-Do list, watch videos, surf the internet, play games, and install the Swag button.
This allows you to change your default browser to Swagbucks and earn passive points for internet searches.
They do not have a high withdrawal threshold, so you can withdraw from $1 onwards.
3. Earn Money with Watching Videos on iRazoo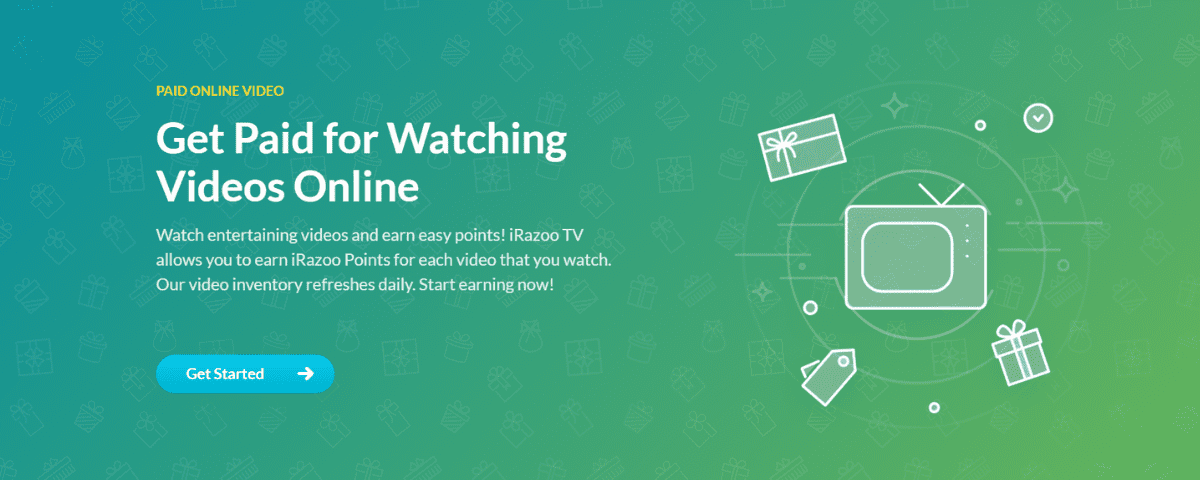 iRazoo is another get-paid-to site that offers payments in exchange for completing surveys, offers, and games.
They are the middle man between yourself and the marketing company.
The fastest way to earn money through iRazoo is through completing offers, which can pay up to 3000 points (or a $5 gift card).
Be sure that you read terms and conditions first, especially for offers that require you to enter your credit card details.
As with competing sites, videos are one of the lower-paid tasks, but they are worth doing because of the passive nature of the task.
And you can stream the videos while completing other tasks on the site, such as playing games or redeeming promo codes.
4. Inbox Dollars
It's free to become a member of Inbox Dollars, but you will need to earn a minimum of $15 before you can request a payment, with payment methods including PayPal, cheque, gift cards, or prepaid Visa.
Inbox Dollars also allows you to get paid to watch videos across multiple categories.
Before you click a video, you can see how much you will earn for viewing, from a few cents to numerous dollars, and you can watch as many videos as you like.
The more videos you watch, the more opportunities you will earn to complete virtual scratch cards that contain hidden cash prizes.
5. MyPoints
MyPoints sits among the most established of the get-paid-to sites, having had an online presence since 1996, and thousands of excellent reviews listed on Trustpilot.
To earn points, you'll need to watch complete playlists of videos, which you can do via your computer or the MyPoints mobile app.
Available on Android and iOS, this app allows you to watch videos anytime and anywhere.
Watching videos allows you to earn up to 500 points per day. The points vary in value depending on what redemption method you choose.
A unique feature of My Points is its partnership with United Airlines, which allows you to add accumulated points to your United MileagePlus account.
Alternative redemption methods include Paypal, Visa Prepay, or gift cards.
6. App Nana
App Nana is a platform that allows you to download and get paid to play games that pay to PayPal.
While many paid mobile game apps are only available for Android, App Nana is also available on IOS.
Another unique factor of this gaming app is that it allows you to watch videos for cash bonuses.
---
Get $5 for signing up with Swagbucks:
Make extra money by watching videos, playing games on your phone and test new products - clothing, food, cosmetics and more! Its free to join. Get your
$5 Swagbucks bonus here.
---
However, the videos are essentially ads and only pay around 5-10 Nanas (the average game pays a few thousand Nanas)
It's certainly not the fastest app to earn cash rewards, but if you enjoy gaming, it's a simple way to make extra dollars through doing something you love.
7. Ad Wallet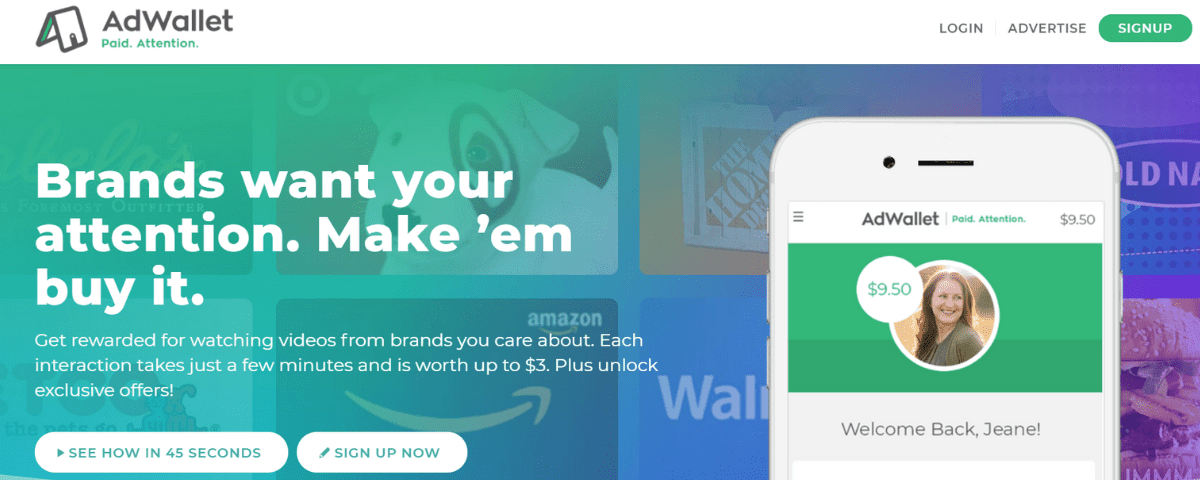 Basically you get paid for watching video ads.
Once you sign up with Ad Wallet, you will be sent personalised ads to watch based on your profile settings.
Cash out can be done once you reach a $10 threshold, and redeem it for a Mastercard prepaid card or choose from over 200 gift cards.
To sign up you will need to be 13 years or older with an active cell phone number and verified email address to join.
8. Fusion Cash
Fusion Cash is a hassle-free legit site, offering you the chance to earn money through a variety of methods. For example you can listen to music or get to watch videos to earn money.
Unlike other sites, Fusion Cash does not require you to stream entire playlists of videos; instead, it pays for every individual video you watch.
While this type of task pays a much lower hourly rate (each video adds an average of 1 to 2 cents to your account balance), it's worth noting that you can allow the videos to play while completing other tasks.
9. Earnably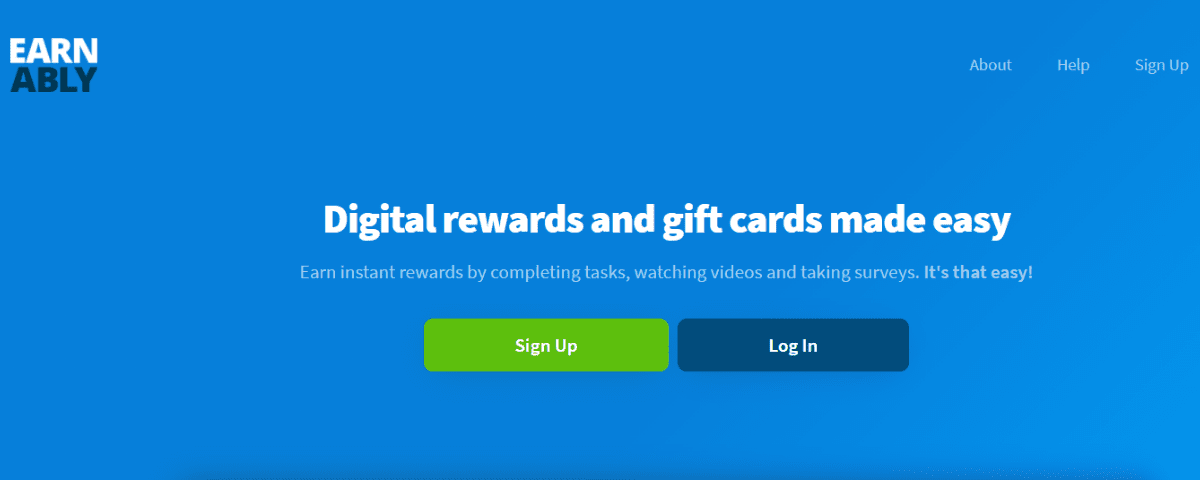 Earnably allows you to earn digital rewards or gift cards through completing offers, watching videos, or taking surveys.
A unique feature of Earnably is that it actively promotes referral and you can earn 10% of any income from your referrals.
Each point on Earnably equates to $0.01, and if you visit Earnably daily, you can earn rewards in as little as one to two hours.
The rewards are available in US dollars and GB pounds and range from $1 to $100.
Additionally, Earnably allows you to earn bonuses through referrals. While 50-100 referrals earn you a 3% bonus, more than 250 referrals will give you a 5% bonus.
Along with being a legitimate site to earn a few extra dollars, Earnably is an excellent platform for users who have a lot of friends or followers to cash in on their referrals.
10. SlideJoy
By downloading this app, you earn free rewards and cash just for unlocking your phone screen.
There's nothing more you need to do than have this app installed on your phone.
The only difference is that you will get to watch personalised video ads and latest news on your screen. If this sounds like something you are happy with, you can earn free gift cards and visa prepaid cards.
11. Viggle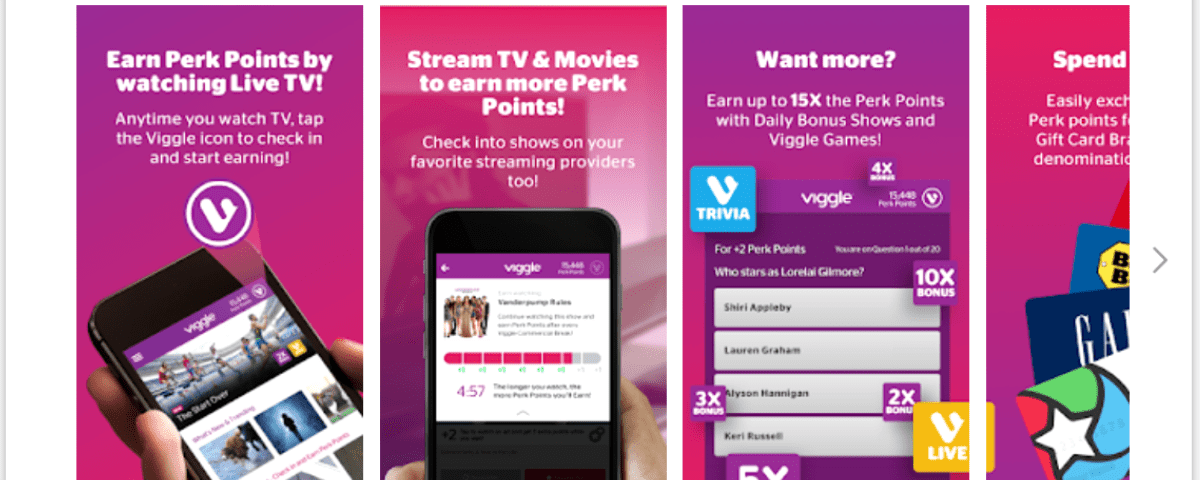 Viggle describes itself as a loyalty program that rewards its users for watching TV shows and listening to music.
Viggle makes money selling your data to advertisers by tracking what you watch and listen to, sharing a portion of their income with you.
Viggle is not a get-rich-quick scheme. You earn one point for every minute you check into a show, so for a half-hour show, you earn 30 points.
What's important to note is that you make 1 cent for 30 points. In other words, watching an hour of TV could earn you 2 cents.
If you watch a lot of TV, Viggle offers you something for doing absolutely nothing, but it's not enough to make any significant impact.
12. Quick Rewards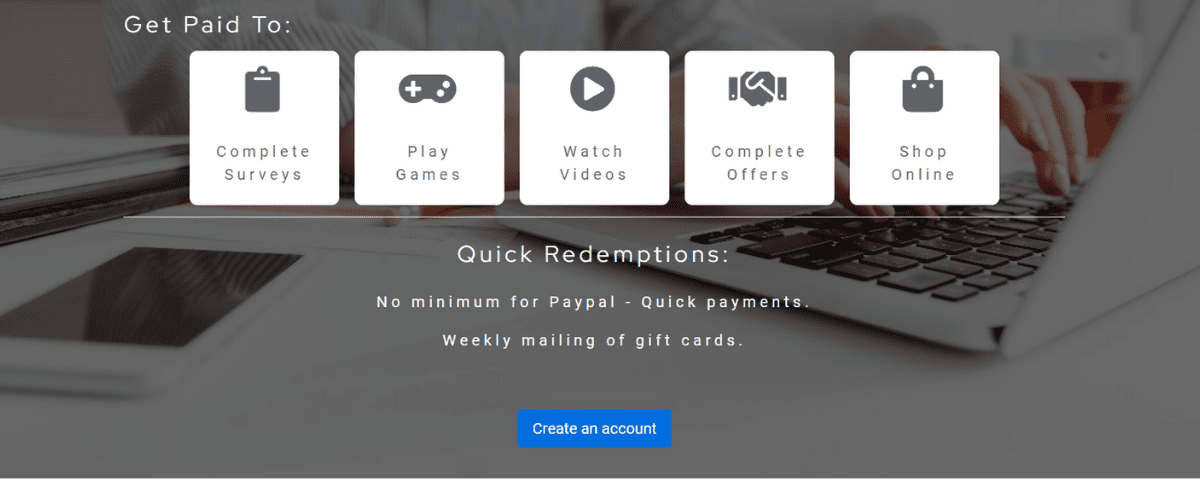 Quick Rewards is a get-paid-to site available for residents of Canada and the USA.
It's free to join, offers great customer support, pays within 24 hours of a request, and offers PayPal and gift cards as redemption methods.
Among various tasks such as paid offers and surveys, users can earn extra coins by watching videos.
Videos do not appear on your dashboard; instead, they are in the Daily Views section. They are simple to view and fun to watch.
13. Get Paid to Watch Movies as a Netflix Tagger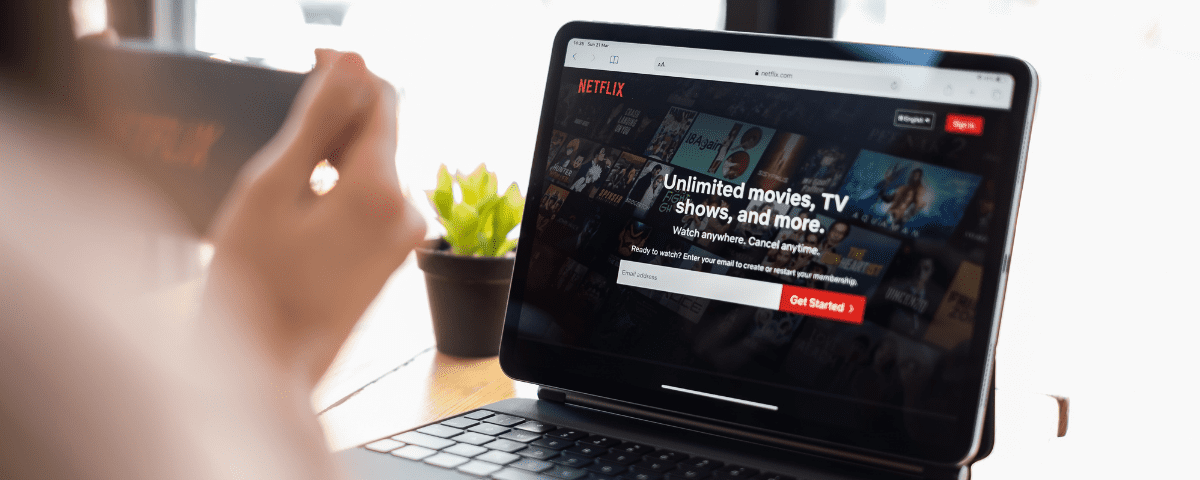 Becoming a Netflix tagger is a more challenging job to acquire but can offer full-time opportunities if you're lucky enough to find a job vacancy.
Netflix hires a small number of editorial analysts, also known as taggers, who work to tag content to appear in the correct categories.
Responsibilities of this job include watching, researching, rating, tagging, annotating, and writing analysis reports for movie and TV content.
If you love to binge-watch TV series and have skills in categorization, this could be the dream job for you!
Other ways to earn money by watching videos
14. Surveys
Get paid to complete questionnaires when you have a few minutes to spare. Online surveys can be done on a phone or a tablet, which makes it a convenient way to earn money on the go.
So next time you sit down to watch a movie, why not complete a few surveys at the same time.
Here are some short survey sites that pay well:
15. Translate subtitles for videos
Have you considered translating videos as a side hustle?
How does getting paid to watch YouTube videos sound?
Whether its for a YouTube channel, television series, documentaries or movies, if you are fluent in a language and wish to become a translator there are a number of freelance website you can apply.
Here are a few jobs boards to check out:
Freelancer
Translate.com
Indeed
These jobs either pay by the hour or per project and is a great way to earn money by watching videos as a translator.
16. Type video captions
Similar to online translation jobs, video captioning involves watching a video and typing captions for it – minus translation.
Adding subtitles to video improves user experience, and allows the audience to watch videos on the go even without their headphones!
Apart accepting freelance work from YouTubers, you can also check out the following websites for video captioning jobs.
Rev
Upwork
Fiverr
Freelancer
There you have it!
16 ways to make money watching videos.
While it isn't likely to pay any significant amount of money, earning PayPal money by watching videos is an easy way to top up your bank account each week.