*This post may contain affiliate links. Please read the full disclosure here.
I love blogging because I enjoy writing and this has helped me make an income from home.
While blogging is more of a full-time side hustle, having more than one way to make money from home diversifies your income.
For those on a budget, the best way to make money is, either from an online job or by doing a quick side hustle.
One of the quickest and easiest ways to build extra money from home is with surveys.
But having said that, not all survey sites are legit, and not all of them are going to make you a full-time income either.
In today's post, we are going to talk about the Survey Junkie app and answer some of your questions, like:
Is Survey Junkie Legit?

How does Survey Junkie work?

Survey Junkie Reviews and ratings

How to sign up? Survey Junkie login details
If you are looking for an easy way to make extra money on your lunch break, over the weekend or during your kid's nap time this is definitely an option to consider.
Survey Junkie requires a minimum of $5 to cashout.
Below is a little survey junkie review to help you understand how it works.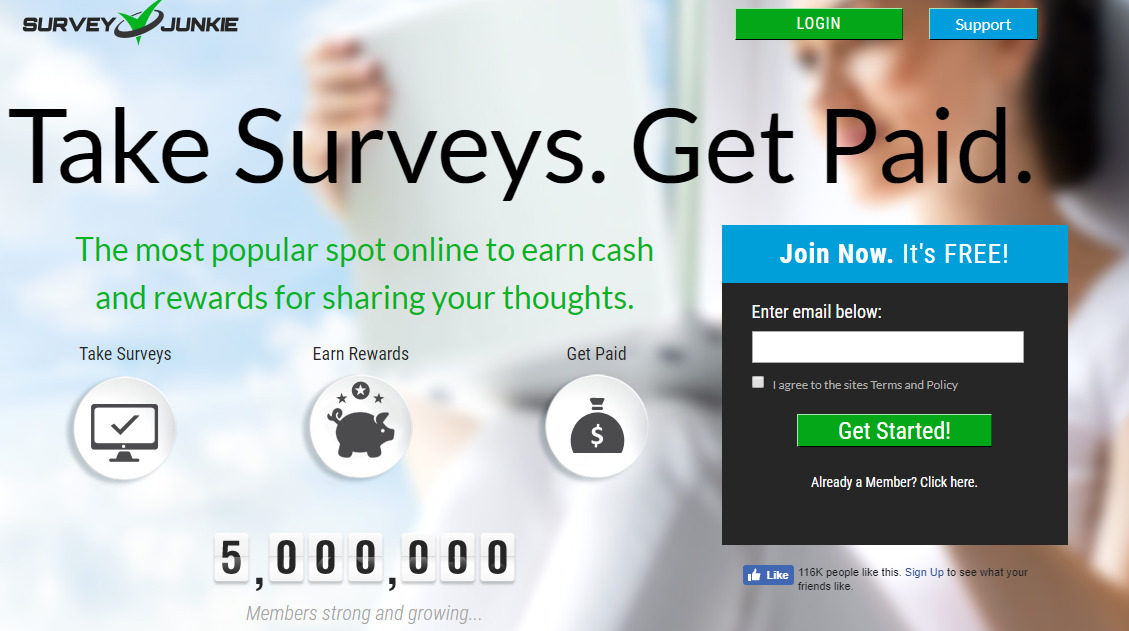 SURVEY JUNKIE REVIEW
How does Survey Junkie Work?
First you will need to sign up with them, which is free to join.
Next, they will send you an email confirmation. Once you verify their email you will begin receiving surveys in your inbox. Alternatively, you can choose to use your Survey Junkie login details to access their dashboard to view available surveys.
On completion of each survey, you get points that you accumulate to redeem for cash through PayPal or e-gift cards.
Surveys> points> cash/gift cards
So if you do not want to redeem your points for cash, you can use your points to get Amazon or Target gift cards. They have partnered with over
Here are 7 other ways you can own free Amazon gift cards.
Why do you get paid?
You get paid for sharing your opinions, which will help brands and companies understand what products are popular with the public, which helps them develop suitable products.
This means you are assisting them with their research.
Who can participate?
You can participate if you live in the US, Canada, and Australia.
And you must be 18 years and over to participate. If you have teenagers at home, this can help the kids make some extra cash online.
How to join? – Survey Junkie Login
The Survey Junkie app is free to join and you can sign up right here.
You can choose to use your laptop, desktop, tablet or smartphone to begin and complete surveys.
2 ways to access your surveys:
Check your emails for survey invitations. If you find one suitable you can begin taking them.
The next method is by heading to straight to your dashboard, which throught the Survey Junkie login page. In your dashboard you can see the list of surveys that are currently available. The expired surveys or the ones you've already completed will be removed from the list, and new ones are added.
Is Survey Junkie legit?
Survey Junkie has been given an A+ rating on the Better Business Bureau (BBB) website, with customers giving a majority of a 5-star rating.
They have also have over 34,000 reviews on Trustpilot from survey takers.

They also have over 20 million people that have joined survey junkie to make money from home.
How do you get paid?
You get paid points that are redeemable for cash through PayPal, bank transfers or e-gift cards from big brands like Amazon and Target.
While anyone can cash out using PayPal, the e-gift cards and bank transfers are currently available only to those in the US.
You need a minimum of $5 to cash out your points. You can choose to cash out immediately or wait to build up more points to cash out a larger sum of money.
How much can you earn on Survey Junkie?
This is one among the highest paying survey sites where the average survey payout is $.50-$3.00.
The shorter surveys are under 3 minutes.
So if you are wondering how much you can earn with Survey Junkie – its fair to say that completing just three surveys a day can earn you as much as $40 a month

Ready to give this a try?
If you are looking for more surveys to increase your chances of making money here is another list of 7 legitimate websites that also pay you for your opinion.