*This post may contain affiliate links. Please read the full disclosure here. 
To be frank, I wasn't very fond of my 9-5 job. I always knew I wanted to be my own boss.
I was a good academic writer (thanks to the law school) but was I a good online writer?
Probably, not.
Was becoming a freelance writer going to be difficult?
Yes.
But, I was ready to learn and put in all the hard work.
And, believe me, in my first month of becoming a freelance writer I earned over $500 in total! It may not be a huge number to many, but it was definitely a good start.
So, what did I do differently?
What strategies helped me land high paying clients right at the beginning of becoming a freelance writer?
In this post, I will take you step-by-step through each strategy which made leaving my full-time job and becoming a freelance writer worthwhile!
*This post contains affiliate links. Disclosure here.
Be sure to check out this free freelance writers training by Holly Johnson who earns a massive $200k income a year. She teaches all the inside tips on how you can make a full time income from home with freelance writing.
#1. Becoming a freelance writer NEEDS you to stop being desperate for anything
If you are aiming to become a successful freelance writer, you need to understand that you are running a business. You are in fact a solopreneur.
So, start treating yourself and your services as a "business".
Sounding abstract? Bear with me and I will explain it further!
Have you come across LinkedIn or Facebook job posts where a lot of people comment "interested", "email me at …." or post their entire history.
If you are one of these, (warning: I am going to be brutal), you are doing it all WRONG.
Such behaviour has only one impression on the minds of the clients: desperation!
And, that is not good for your business or your income.
Instead of this, send an email and introduce yourself politely. Tell them you are a freelance writer that can help them achieve their business goal.
Understood the difference between the two?
No?
In simple terms, change the way you look at freelance writing. It is your business and yours alone. You are working "with" companies and not "for" them anymore.
So, you talk about their requirements, draw a proposal, sign a contract, negotiate favourable terms and then, get to writing.
The first step I took towards becoming a freelance writer was to start saying NO to a lot of things businesses throw at you (like, we pay only pennies but you have to be Neil Patel!)
Related posts:
The best place to land your first work at home job
How to begin your freelance writing career and earn your first $1,000
Earn $20-$40 an hour as a virtual assistant with no experience
#2. Planned out my actions in advance
Just like any other business, your business needs a plan too!
How to do this?
Start by setting achievable and time-bound goals for yourself. For example, I am going to earn $1000 by the end of 4 months.
*Don't freak out* stalk other freelance writers and try to understand what are they doing that works for them. You can simply search "niche + freelance writer". We will get to freelance writing niches in a minute. Hold on to that!
Make a note of everything that you see in common or things you think is working for them. It could be anything – a website, a social media account, study their website, services they provide etc.
It's time to implement your notes.
So, in my research, I found a few things and implemented those.
#3. Selecting a freelance writing niche
Once you have done this research, you will notice that many writers have a niche. For example, they will market themselves as a technology writer, health and nutrition writer or a marketing writer.
A niche is your area of expertise or passion. But, what if you have none?
I had none! So, don't worry.
I liked reading about technology and my husband is an engineer (who was ready to help me), so I decided to market myself as a technology writer. (Really, not much thought went in there)
Let me make one thing absolutely clear.
Selecting a niche does not mean you deny work which isn't related to it. By all means, take the work you like and explore other niches.
The benefit of selecting a niche is the ease of marketing yourself to one type of clients. This works wonders if you are planning to cold call or email potential clients.
If you are not comfortable in choosing a niche, don't. Be a generalist writer! Experiment and experience before you decide what you want to specialize in.
---
Make extra money by browsing the web, watching videos, playing online games and testing new products - clothing, food, cosmetics and more! Its free to join. Sign up for your chance to
get a $5 Swagbucks bonus.
---
After a year of writing on technology, I realized I enjoyed writing marketing more. So, I market myself as a marketing writer now (even though I still take technology work!).
Your niche could also be a type of writing. So, you can be a blogger, white paper writer or a case study specialist.
Once you have selected a niche (or not), write at least 2-3 samples you can show to your potential clients. Just use word or pages and start writing on a topic of relevance.
#4. DIY-ed a service website to market myself
Becoming a freelance writer is easy, but landing high paying jobs and to be successful needs "marketing" yourself.
And, there is no better way of having an online presence than a writers website.
So, I created a WordPress website with a reliable hosting provider (the ONLY investment I had to make and I recommend you make it too!) and used a free theme to set up my website.
Make sure when your potential clients land on your website, they know what you can help them with.
So, make two things very clear.
What you can do for them: For example –

I help businesses drive traffic and grow a loyal set of audience (or) I help startups create great content.

What you have to offer – Blogs, whitepapers, emails etc.
#5. Aligned my social media
Include your website URL in all your social media accounts. Edit your description and mention you are a freelance writer.
Anybody who lands on your account should know what you do!
Don't go bonkers with all the social media platforms. Focus on 1 or 2. If you are going to be a B2B writer, LinkedIn and Twitter work fine but if you are into a B2C market, you should try Pinterest or Facebook.
Just focus on a maximum of 2 platforms! Otherwise, handling too many social sites can stress you out.
#6. Network. Network. Network!
If you are on LinkedIn, add a bunch of potential clients (this is where niche really helps!) or if its Twitter, follow companies you want to work with.
Engage. Read their content and add value. Comment on it. Make a conversation.
Your aim is to get on the radar.
Once you do, you can send them an email saying how you love their content and if they hire freelance writers.
*boom*
You will be surprised at how many of them will actually respond and hire you.
In short, have a strategy for each social media account.
#7. Searched the brains out of job boards
Getting your first break can be difficult.
But, job boards come in handy. I recommend using Freelance Writing, ProBlogger, and BloggingPro.
They have good jobs and most of them pay you decently well (I am talking, 10 cents a word and higher!)
I used to spend 1-2 hours every single day looking for a job and applying. One of the clients who agreed to pay me 10 cents a word was from one of these job boards.
#8. Said NO to low paying jobs
I understand it is very difficult to let go off a job or work at hand.
But, you need to do your cost-benefit analysis.
Is it better to take a $20 a post job and spend 3-4 hours writing that post
OR
Is it better to spend 3-4 hours finding a client which pays you $100 and up a post?
We both know which one is better!
There you go!
This is exactly what I did to earn over $500 in the first month of becoming a freelance writer.
If you are ready to begin your freelance writing career and make money online, Holly Johnson has a free workshop that gives you inside tips on her journey to becoming a six-figure freelance writer. You can check it out here.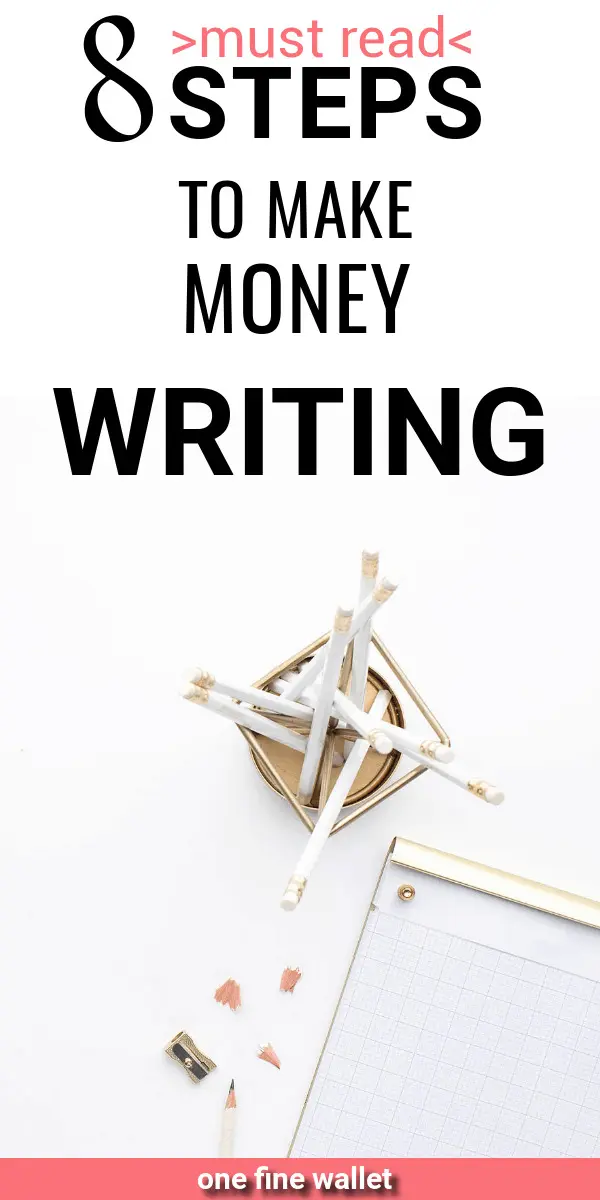 Guest Blogger Author Bio:
Chhavi is a professional marketing writer and a blogger at Mrs.Daaku studio. She writes about marketing topics, freelancing, and other work from home options.