*This post contains affiliate links to products I use and trust. This means I may make a commission at no extra cost to you when you make a purchase using my affiliate link.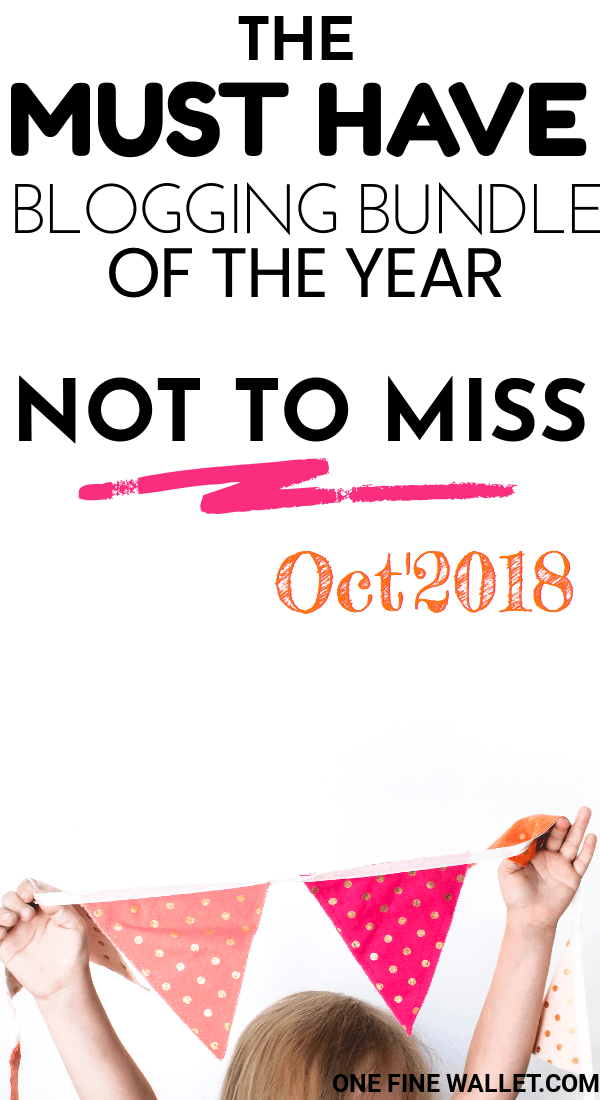 As a blogger, the biggest expense after paying for a good web-hosting is buying educational resources. You want to learn about starting a blog, staying organized, building traffic to a blog, ways of making money blogging, learning to use social media, how to increase productivity, affiliate marketing and so much more.
Then the Genius Bloggers Toolkit is all you need! It's for every blogger, new and advanced! Its also an amazing resource even if you havent started a blog, as there are some amazing ebooks like Suzi Whitford's blog by number ebook that teaches moms to start a blog from scratch even if you don't have a clue what blogging or making money.


But…
Unfortunately, it only happens twice a year. And the last one this year is in October 2018.
Whats so amazing about this toolkit?
You get $5,800 worth of blogging ebooks, courses, tools (like offers on Convertkit and Thinkific) all for just $97!
Yes! The total value of the bundle: 91 products, $5802.51 value
Bonuses: 6 digital bonuses, $487 value
This my friends are definitely worth the money! I have spent $80 on just ONE course an incredible number of times!
These are courses from the big names in the blogging industry, so you get value for your money and all the resources you need.
This list has got some awesome mom bloggers that make learning blogging easy. There's Monica Froese, Elna Cain, Jen Snyder, Lena Gott, Sarah Titus, and the awesome Carly Campbell, whose ebook on manual pinning strategy is also on the list below (She went from 0-200,000 pageviews with this manual schedule!).
Here are just some of my personal favorites:
Profitable Blogging For Beginners: The 4 Week Online Class by Tanya Peterson ($97.00)
Blog Traffic Bootcamp by Lena Gott ($37.00)
Demystifying SEO: A Blogger's Guide To Search Engine Traffic by Kim Six ($29.00)
Find Your Tribe Online: Find Your Readers, Grow Your Blog, and Have Fun Doing It! by Jen Snyder ($67.00)
Ready Set Blog for Traffic by Elna Cain ($45.00)
The She Approach To Boosting Your Blog Traffic by Ana Savuica ($25.00)
Traffic, Subscribers, Yours by Raelyn Tan ($197.00)
ACTIVATE: EBA Live Conference Video Package by Ruth Soukup/Elite Blog Academy ($297.00)
Pageviews from Pinterest: The 7-Step System to Skyrocket Your Blog Traffic (& Income!) in the Next 30 Days by Krista Dickson ($197.00)
Pinteresting Strategies: How I Went from 0-200K Page Views with Manual Pinning by Carly Campbell ($32.00)
Flipping Blogs for Profit by Jenn Leach ($27.00)
Monetize Your Blog With Freelance Writing: Learn How to Make $2K/month Using Your Blog Writing Skills! by Sagan Morrow ($39.00)
Brand Yourself Like A Creative Hustler by Steven Picanza ($397.00)
Launch It Right! Bundle: Plan Out and Execute your First Profitable Course or Digital Product Launch by Summer Tannhauser ($29.00)
Sign Up To Sold Course: 3 Proven Steps for Turning Strangers Into Customers by Caressa Thompson ($97.00)
ConvertKit Masterclass: The Exact Formula I Used to Grow My Email List to Over 14K in Under a Year by Monica Froese ($47.00)
List Building Mania: Build Your List, Save Time and Grow Your Business in 7 Days by Lindsay Maloney ($87.00)
Blogging Binder by Sarah Titus ($47.00)
Write, Publish & Market Your Kindle Book In 4 Weeks by Ling Wong ($97.00)
Get on the waiting list here>>
Don't miss out this year! If you are serious about starting and growing your blog, this Genius bloggers toolkit is definitely worth your money. Over $5,800 worth of tools for just $97!!
YES!! Its all in here for 98% off