*This post may contain affiliate links. Please read the full disclosure here. 
Fetch Rewards is a free grocery savings app that rewards you for scanning your shopping receipts.
The best part?
No couponing.
No surveys.
No scanning barcodes.
And no ads!
All you need to do is shop your everyday grocery, and scan the receipt using the free Fetch Rewards app.
Its that simple.
This post may contain affiliate links. Please read full disclosure here.
What is Fetch Rewards?
There are many apps that help save money on groceries when you shop at particular stores.
But, Fetch rewards works a little different.
It's not about where you shop, but its what you buy.
Fetch Rewards work with the brands of the products, not shopping retailers. This means you earn your points shopping at any grocery store!
If you regularly buy Cheerios or Ben & Jerry's, you will always get rewards points no matter where you shop for them.
As long as those products are listed with Fetch Rewards you earn!
Check out the entire list of products on Fetch Rewards.
So, yes, Fetch Rewards works anywhere you buy your groceries, and it also accepts receipts from corner shops, drugstores, liquor stores, and hardware stores.
You can start redeeming your rewards from as little as $3. The higher your shopping spend, the more points you'll earn.
The points you earn can be exchanged for e-gift cards from Target, Amazon, Kohl's, Sephora and hundreds more.
Is Fetch Rewards Legit?
The Fetch Rewards app has a 4.8-star rating on the Apps Store and a 4.4-star rating on Google Play. Just reading through the ratings and reviews left on the App store speaks for its legitimacy.
Since the app is free and simple to use there's not a lot to complain about – more to gain for everyday shoppers.
Just 2 seconds to scan your receipts give you points redeemable for free gift cards!
How old can receipts be for Fetch Rewards?
Fetch earns you points immediately after you've scanned your receipt.
The receipts that you submit need to be no older than 14 days from the date of purchase.
They allow you to scan up to 14 receipts in a 7 day period.
How does Fetch Rewards Work?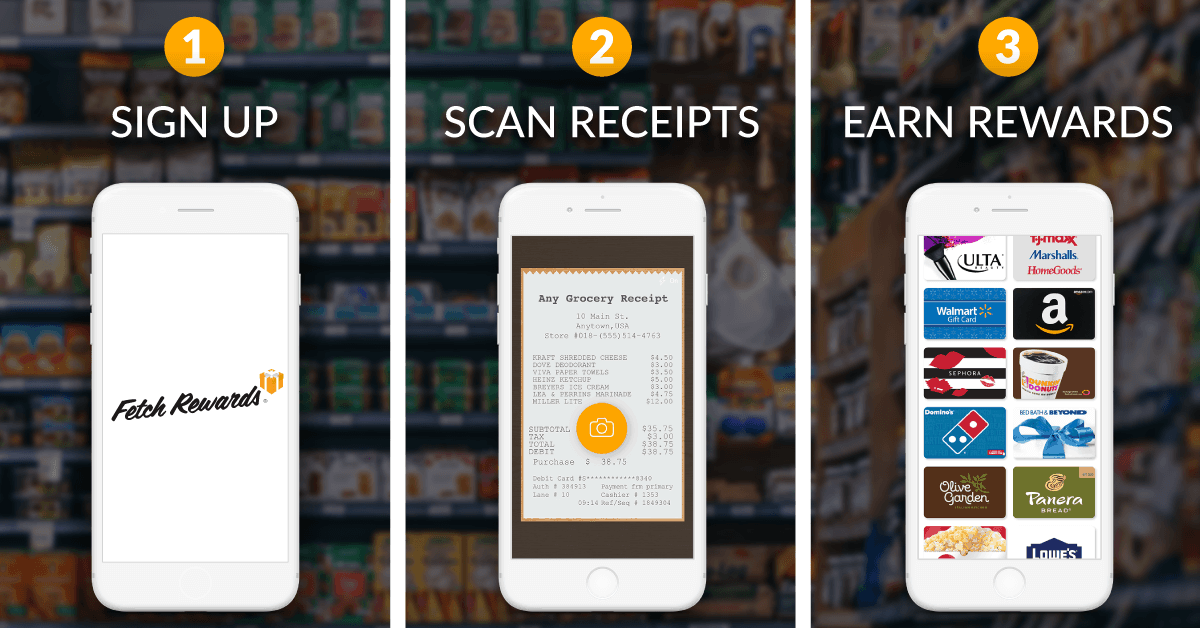 Here are 4 simple steps to use your Fetch Rewards app
Head to any store and complete your purchase
Take a photo and upload your shopping receipt using the app
Earn points immediately!
You can begin adding up your points each time you submit a shopping receipt.
What stores work with Fetch Rewards?
As mentioned above, it's not about where you shop, but what you shop.
Fetch rewards work by the brand of the product, not the store.
So you can get your rewards from ANY grocery store, supermarket, wholesalers, hardware stores, pet stores and convenience stores that are attached to most gas stations. However, these stores must be located in the United States or Puerto Rico.
You can shop for a variety of products. They include some of the categories listed below.
Baby
Baking
Beauty & Personal Care
Beer Wine Spirits
Beverages
Breakfast & Cereal
Canned Goods & Soups
Condiments & Sauces
Dairy
Deli
Frozen
Grocery
Health & Wellness
Household
Magazines
Snacks
How do I redeem Fetch Rewards?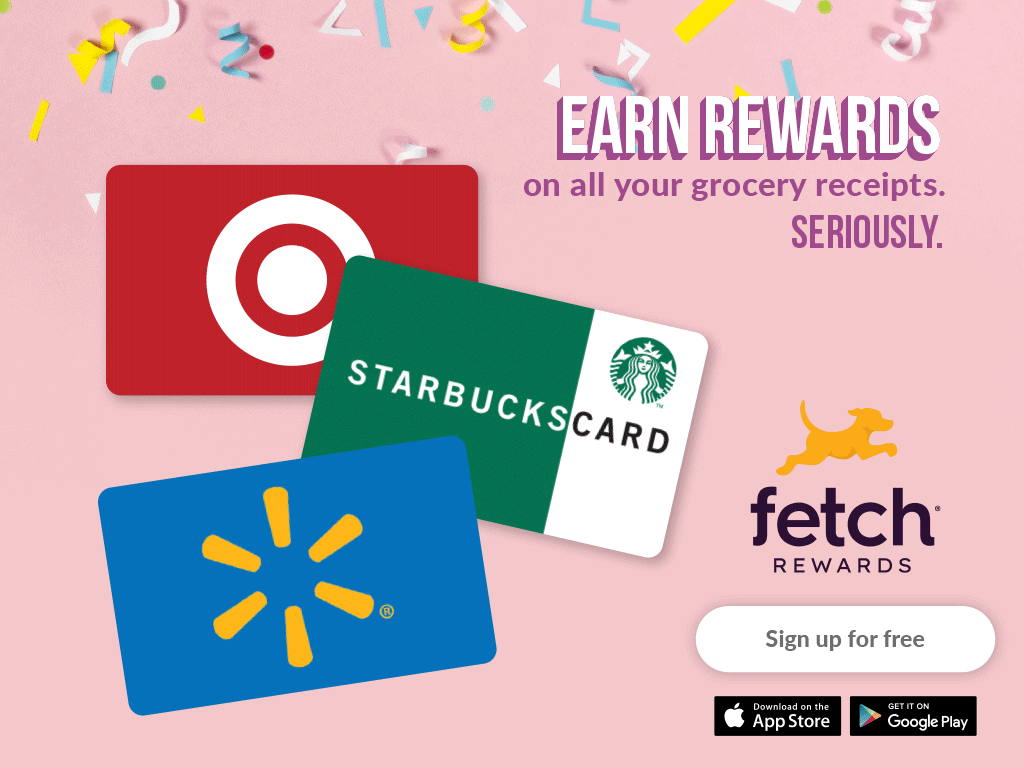 All the points you earn are redeemable for electronic gift cards. You can begin redeeming your points once you reach $3 or choose to accumulate for a larger priced gift card.
This means you get your rewards within seconds. No need to wait for it to arrive by post or wait a certain period of time to claim them.
Here are some gift cards you can choose from:
Sephora
Amazon
Macy's
Kohl's
Safeway
Target
WholeFoods Market
Bed, Bath & Beyond
Virtual Mastercard/Visa
Apple iTunes /Google PlayStore
Pet Supplies
Burger King
BJ's restaurants
TGI Friday's
Dunkin Donuts
Dominos Pizza
These are just a few to name. There are hundreds of other participating restaurants, and retailers to choose from while redeeming your gift cards.
Fetch Rewards Sign Up Bonus
If you purchase any of the Fetch Reward partner brands (and you most likely do), not scanning your receipt means you are throwing money away. Plus, the app is so easy to use and you get points within seconds.
Use Fetch and begin earning for your shopping habits!