*This post may contain affiliate links. Please read the full disclosure here. 
How to Become a Virtual Assistant
Working from home as a VA is one of the most flexible job options for stay-at-home parents.
As a virtual assistant, you will be performing admin tasks from your home.
Everything is done online and is not location dependent – so anyone can be a virtual assistant.
There are many online business owners that require help sorting out emails, responding to comments on social media, or sending out regular newsletters to subscribers. These admin tasks usually weigh down entrepreneurs, who then reach out to VA's for assistance.
It's not just big businesses that need virtual assistants, even bloggers and small business owners – and there are a good number of entrepreneurs.
Just a quick Facebook search for online business owners or blogger groups will show up with thousands of members in these groups. This converts to more work opportunity for virtual assistants. And, yes, you can join these groups to look out for work opportunities as a VA.
Once you learn how to become a virtual assistant, you can make anywhere between $25-$40 an hour. As always your rate of pay increases with experience.
I have with me Gina Horkey, a married, millennial mama to two precocious kiddos from Minnesota. Additionally, she's the founder of Horkey HandBook a website geared towards helping others find or become a standout virtual assistant.
Gina's background includes making a living as a professional writer, an online business marketing consultant and a decade of experience in the financial services industry.
She has a number of students that have started making money as a VA within a few weeks of completing her course.
I spoke to one of her new students, and this is what this young mom had to say,
I took Gina Horkey's 30 days or less to VA success, and by day 28 I already had 3 clients! It took me about a month to finish the course. On days where I had lots of time to spare, I'd spend a few hours soaking up the content. But usually, I'd dedicate 30 minutes to an hour towards learning. When I finished the course I got so many offers from potential clients and my first payment of
$200,
2 weeks after completing the course. Being a VA has been a wonderful way to bring in extra money every month for our little family –
Bre Lemon
I have also gathered a list of companies that offer Virtual assistant jobs and have listed them below. So yes, online VA's are still in demand and there is room for growth as a virtual assistant.
You can also choose to become a Pinterest virtual assistant or a Real Estate virtual assistant and double the chances of a higher income.
Are you ready to learn more?
Let's get straight to my interview with Gina Horkey.
Here are a few questions she answers to explain how you can become a virtual assistant with no experience in the field.
What is a Virtual Assistant?
A virtual assistant is really just anyone that trades task for pay working from anywhere.
Business owners, bloggers, real estate agents and various other entrepreneurs require virtual assistants to outsource their tasks. These remote jobs can range from managing emails, social media, follow up clients and more.
Virtual Assistant Services
There are a number of services you can provide as a Virtual Assistant. Here are a few:
Email management

Content creation

Bookkeeping

Graphic design

Social media marketing and promotion
You can also choose to offer personalised services for clients, and there are a huge number of services you can offer.
How much can a VA earn?
The average North American virtual assistant earns between $25-$40 per hour.
There are others that earn more than $100 per hour (including myself). Ultimately it comes down to being really good at what you do and finding clients that value what you're offering them.
The increase in pay comes with the increase in experience as always.
How much can I get paid as a beginner?
How quickly you start earning honestly depends on how quickly you start putting yourself out there for hire.
Many end up getting hired by their first client before they finish the course. Results will vary based on the amount the time spent, the action taken and the skill-set of each student.
Some students have the goal of bringing in a few hundred extra dollars each month, while others want to replace a six-figure salary.
Here are some testimonials from her Facebook group;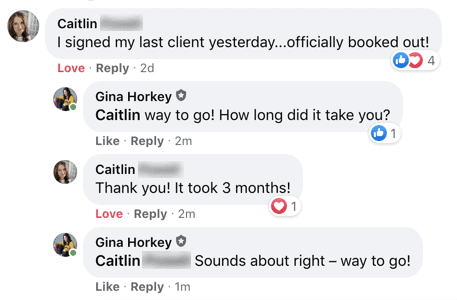 What equipment would you need to work at home?
You will need a computer (desktop or laptop, doesn't matter) and reliable internet.
Don't worry about having any fancy programs or applications – most clients will give you access to their cloud-based tools and software programs that you need to complete your work for them. (and we will teach you how to use it:)
How does a VA find clients?
We cover more than a half dozen prospecting methods in our training Fully Booked VA, but a few of our favorites are:
Using social media

In-person networking

Tapping into your natural market
Who is this course for?
While the course provides a great framework for you to plug yourself into, there's still work to be done on your part.
If you like to read all of the things, but don't really enjoy taking action, this system is NOT for you.
Point blank, you'll get results if you do what we tell you to. But if you think that all it takes to start a new business is spending a little bit of money to become a member (and not doing anything as a result), you're going to be sorely disappointed.
Last piece of advice…
You'll never know what you're capable of if you never try.
Don't think about what the worst-case scenario could be – instead think about what's the BEST POSSIBLE OUTCOME that can come from trying something new?
Why not YOU, why not NOW?
There you go!
If you are ready to learn how to become a virtual assistant with no experience, you can sign up for Gina's course below.
Here's what you'll get with the course:
We'd be honoured if you'd consider joining our training FullyBookedVA System.
This all-in-one system literally walks members through starting their new business, building a full client roster and scaling their income through specialization. It's perfect for newbies, but existing VAs have joined and moved their business to the next level as a result too.
Our VA Foundations courses covers everything from:
What services to offer and who to offer them to

How much to charge and where to find clients

How to effectively pitch clients, interview and onboard them

All things invoicing and contracts (including templates)

Working effectively with clients and efficiently in your business
In addition to that, you also gain access to:
VA certification

Weekly office hours, access to our team and your peers

Proprietary and non-proprietary client leads

5 skills courses to dip your toe into specialization

5 specialization tracks to help you achieve expert stats and command top-tier rates
Plus, much, much more!
Virtual assistant jobs from home
---
Get $5 for signing up with Swagbucks:
Make extra money by browsing the web, watching videos, playing online games and testing new products - clothing, food, cosmetics and more! Its free to join. Sign up for your chance to
get a $5 Swagbucks bonus.
---
If you are interested in more work from home jobs here are some more ways to make money online. And here's a post for those interested in stay-at-home jobs.
Virtual Assistant