The first question that comes to our mind when looking to start a new career is the investment or the registration fees involved to begin.
And then there are so many questions running in our heads.
Is it going to make us profitable? Is a legitimate work opportunity? Is worth the money (considering we invest)?
If these are your exact thoughts, let me show you some genuine ways you can make money from these online jobs without investment or registration fees.And you can do this from anywhere in the world.
These jobs are fully flexible, so you can choose if you want to work part time or full time hours.
Because you can work at your own pace, you can earn money online even as a student and easily balance your work and study.
The first two on the list is what I do and has grown my income substantially, as a stay at home mom with very little kids.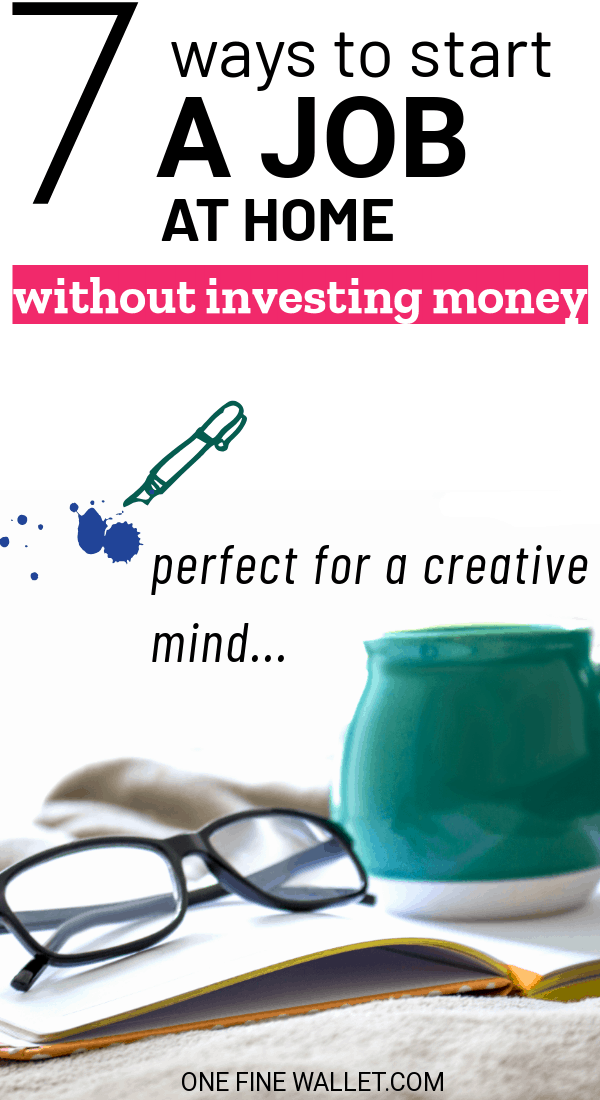 I have seven opportunities listed down below. If you need help learning or upgrading your skills I have also included trusted and helpful guides you may find useful.
So, let's get straight to it.
BLOGGING
It was only in 2017 that I realized you can make money from home blogging. So if you just found out too, you know you are not the only one! 🙂
To make money blogging, you need a passion to write and be able to spend at least 2 hours a day. I must say, this is my favorite way to make money online. You can start a blog investing in as little as $3.95 a month or go with free options to test and see if this is something that will suit you.
You can make money blogging through,
1. Ads that are inserted into your blog posts,
2. Affiliate links, and
3. By selling your own products. When I say commissions, it can be digital or non-digital.
Affiliate marketing is a process where you earn a percentage as a commission by promoting other people product. So say you write a review article or place a link to a text in your blog post to say for example a "hand blender" on Amazon when a reader clicks your link – goes to Amazon – buys the product – you make a commission! This is what is called affiliate marketing.
AFFILIATE MARKETING
Now that you know what affiliate marketing is, you must be wondering if you can you do this without a website or a blog.
Yes, you can. But you would need to see if the program will accept you if you don't own a website.
Here are two programs that will accept you,
How do I promote the products?
Once you sign up and get accepted, you can use your "special affiliate" links to start promoting fashion, books, electronics and anything that might suit your audience on the various social media platforms.
Here is a step by step tutorial with images that show you how you can promote these programs on Pinterest. I have made over $100 promoting a single product on Pinterest. Imagine how much more you can do with more than one!
FREELANCING
Becoming a freelancer is the most flexible way to earn an income. A freelancer is someone who provides a service and gets paid for it.
Your services can range from writing, photography, editing, online tutoring, web designing and more. Find what you are good at and promote your self. You can also start your own freelancing website/blog and promote yourself so clients can find you.
Fiverr is a good place to start promoting your service as a beginner. With experience, you can branch out and set your own rates.
If writing is your passion and you want to become a freelance writer, this will help you GET STARTED and earn your first $1,000 as a writer without experience!
VIRTUAL ASSISTANT
As the name goes, a virtual assistant is someone that assists companies/brands over the computer.
Small and large business don't have time to do daily tasks like checking their emails or promoting their business on social media. So they hire a virtual assistant to do these tasks.
There are hundreds of ways you can work as a virtual assistant. You can even get paid to be a Pinterest Virtual Assistant and companies will pay you to pin on Pinterest! How easy a job is that?
Salary – You can get paid $20 -$40 an hour and it increases with experience.
Want to learn how you can become a Virtual assistant –  here is a detailed post explaining how two moms did it!
YOUTUBE CHANNEL
Want to follow the likes of celebrities that shot to fame instantly on YouTube. I am someone that likes to hide behind a computer and blog-ha! But if you like to put yourself out there then like blogging, you get paid to have your own YouTube channel by ads and affiliate marketing. So its very similar to how you make money with a blog, only difference is you do a video instead of type out content.
The more viewers you have to your YouTube channel the more money you make from ads, and you have higher chances of making sales with products you promote.
The more views = the more income.
HIGH-PAYING SURVEYS
Surveys are the most common ways to earn a few extra dollars with least effort. True some of them can be time-consuming, but I have shortlisted just a few of my favorites here.
Free to join, and you are not strapped into any contract, so is a great way to make a few dollars for your opinion.
If you are wondering why would someone pay you to take a survey, the answer is simple. These are companies looking for help with their research.
Some of them make you money just for signing up!
SELL & EARN
You can sell as a business or as a hobby.
If you are looking to sell online, like on eBay and make a full-time income from it, I would recommend you read this post. Husband-wife duo, Rob and Melissa made $133,000 a year flipping things they found at thrift stores and turned it into a profit. Definitely, something to look into if you want to create a full-time income.
But if you are looking to earn a few extra dollars, then there's Bookscouter – for selling old books, Poshmark– for selling old clothes /shoes.
There you have it!
Rest assured these are genuine opportunities that have a potential to make you a full-time income depending on the amount of time you put in. For me, blogging has been the main source of income and me as a mom of two very little kids I only get to spend a couple of hours a day on my blog – yet find it to be profitable. If you are interested in starting your blog as a source of income, feel to send me a message and I'll be happy to help.
If you are a stay at home mom, here are some other flexible online jobs that might interest you.
– Online work for moms with babies
– New list of stay-at-home mom jobs 2019
Got any other questions you need answers? Leave them in the comments below.
Click below to pin!