*This post may contain affiliate links. Please read the full disclosure here. 
*Last Updated February 27, 2022
Online jobs from home without investment
Looking for online jobs without investment and registration fee?
Is it possible to find work from home jobs without investment?
Yes you can, and in today's post you will learn how to make money online without paying anything.
Investing money to start an online career might feel challenging especially if you are unsure you have made the right decision.
Most common questions that may worry you are:
Is it a legitimate work opportunity?
Is it worth the money (considering we invest)?
To filter this out, I have compiled a list of 50 jobs from home online without investment
They are fully flexible so you can choose if you want to work part-time or full-time hours.
These opportunities work well for stay-at-home parents and college students looking for online work.
*This post may contain affiliate links. Disclosure.
How to Earn Money Online Without Investment
If you are looking for some fast and easy money making ideas you can consider surveys, selling printables or simply playing games. There are actually a number of legit ways to make money on your phone.
Other online work from home without investment are, by becoming a loan signing agent, selling dog treats or even opening an online store to sell digital stickers.
If you are looking for more fun ways to make money check out this post.
Be sure to also check out these online jobs for students without investment – great for students looking to earn some extra cash.
Genuine Online Jobs without Registration Fee
1. Freelance Writing
Writing is one of the best work from home jobs without investment for beginners who want to start their online career.
With good language skills and an interest in researching topic ideas, you can certainly consider freelance writing. There are many bloggers and online business owners who outsource their content to freelance writers.
Here are a few companies that offer freelance writing work opportunities. Once you sign up to them you have the opportunity to take up work to suit your availability.
Online magazines are a good place to begin for new writers. You can submit a pitch by email or through their online form, and once they are happy and accept to publish your post – you get paid. Magazines can pay up to $500 per post.
Holly Johnson makes over $200,000 a year freelance writing. She has a free workshop that shares tips and tricks so you can make a six-figure income from home.
2. Online Proofreader
If you enjoy correcting grammatical errors, becoming an online proofreader is a well-paying job to consider.
As an online proofreader, you can edit ebooks, blogs or websites, files, and documents to check for spelling mistakes. As a proofreader, you receive and send files via the internet and have an income potential of $45,000 per year.
If you would like to explore this career further, the best place to start is this free 76-minute workshop that will cover the basics of becoming a proofreader from home.
This video workshop was created by Caitlin Pyle who has thought thousands of people to become successful online proofreaders.
Places to find online proofreading jobs without investment:
Babbletype
Get Editing
Writing Jobz
Edit Fast
Ubiqus on Demand
Check out the full list of online proofreading jobs that are currently hiring.
3. Online Bookkeeper
Online bookkeepers can earn up to $60 an hour freelancing.
If you are good with numbers, and mathematics is your favourite subject, this could be the right job for you.
Unlike becoming an accountant, an online bookkeepers do not require to hold a degree or a certification in the field – which is good news if you are eager to get started.
The job involves keeping track of payroll, monitoring cash flow and following up income and expenditure.
Cheyenne and Kevin, both stay-at-home parents now earn $3,000 and $8,000 a month without previous experience. You can read about how they became a bookkeeper here.
Here is a free online video tutorial that covers the basics into becoming a virtual bookkeeper.
4. Paid Focus Groups
Helping researchers with online research can help you earn money.
Respondent.io is one such company that pays you to answer questions in the form of surveys or a video call.
There is no registration fee or investment to begin working with Respondent. You sign up with your Facebook or LinkedIn login details for verification and can begin accepting work.
You can be a parent, student or a professional to apply. Earning potential can go up to $300/study and I have seen them pay no less than $30 for most surveys.
5. Online Market Research
Online market research companies pay participants to provide feedback about a new product that is about to hit the market.
Inbox Pays is one such site that provides paid offers and market research opportunities. Once you sign up, Inbox Pays matches you with relevant paid surveys based on your profile, which are either sent to by email, or you can log in to your Inbox Pays dashboard to view current opportunities.
---
Make extra money by browsing the web, watching videos, playing online games and testing new products - clothing, food, cosmetics and more! Its free to join. Sign up for your chance to
get a $5 Swagbucks bonus.
---
As for payment options, this is done by PayPal or a personal check to you sent by postal mail. There is no registration fees and you can cancel anytime.
6. Paid Product Testing
Product testing is a great way to make some extra cash and in some instances, even get to keep the product for free!
Product testers get the opportunity to try out sample-sized or full-sized products and give feedback to brands/companies. This helps them evaluate their products before they are launched.
While you won't make a lot of money as a product tester, it is a nice way to earn free gift cards or PayPal cash.
Below are a list of companies that offer paid product testing either in the form of online surveys or physical products mailed to you.
PinchMe
Daily Goodie Box
Bzz Agent
If you are looking for more product testing opportunities, check out these 18 sites that offer products for reviews.
7. Make Money on Instagram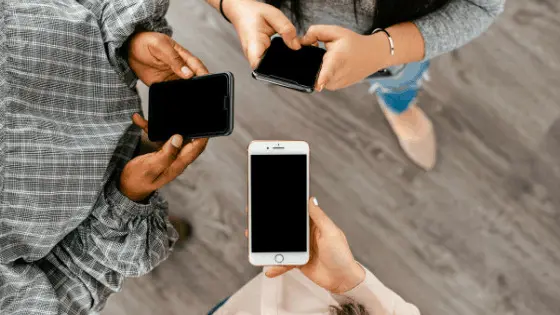 Social media is one of the most profitable platforms to make money online, whether its Facebook, Pinterest or Instagram.
Once you grow a loyal and engaged following on Instagram, you can make sales promoting affiliate products you love. Affiliate products are someone else's product you promote to make a commission. So say a keto ebook helped reach your diet goal, you can join to become an affiliate of that keto ebook.
On being accepted to the program you will get a special link that you can share. Create an Instagram post sharing videos or images on how the keto diet helped you, along with your special affiliate link to that book.
Alex Tooby grew her following to 10,000 in 3 months and then to 400,000 in less than 2 years, and she shares some of this knowledge in her free masterclass.
She is a well versed Instagram expert that teaches strategies on how you can make the best out of it.
8. Earn from Bonuses
There are a huge number of sites that offer bonuses with very little effort from your end.
This can be in the form of cashback or referral bonuses.
Swagbucks is on top of this list. There is more than one way to earn with this rewards site and the easiest being using their website to do your internet browsing. Points you earn can help you buy gift cards or PayPal cash.
Ebates ($5 bonus) – Is a website that offers both. Yes, a cashback and referral site that is the most popular one around. You get cashback by using them to shop online with Amazon, Walmart, and Target (and 1000+ brands).
Once you sign up for free, you receive a link which you can share with friends and earn $25 for each referral.
Topcashback – This is the most flexible cashback site available in the US. This you can avail cashback from over 4,400 retailers when you shop. With over 250,000 members and growing, you do not need to reach a minimum to be paid out.
It's free and simple to join.
Here is an additional list of over 14 ways you are eligible for free money.
9. Blog and Make Money
It was only in 2018 that I realized anyone can make money from home blogging. So if you just found out too, you know you are not the only one!
To make money blogging, you need a passion to write and be able to spend at least 2 hours a day. I must say, this is my favorite way to make money online. You can start a blog investing in as little as $3.95 a month or go with free options to test and see if this is something that will suit you.
You can make money blogging through,
1. Ads that are inserted into your blog posts,
2. Affiliate links, and
3. By selling your own products. When I say commissions, it can be digital or non-digital.
Affiliate marketing is a process where you earn a percentage as a commission by promoting other people product. So say you write a review article or place a link to a text in your blog post to say for example a "hand blender" on Amazon when a reader clicks your link – goes to Amazon – buys the product – you make a commission! This is what is called affiliate marketing.
10. Affiliate Marketing
Now that you know what affiliate marketing is, you must be wondering if you can do this without a website or a blog.
Yes, you can. But you would need to see if the program will accept you if you don't own a website.
Here are two programs that will accept you,
How do I promote the products?
Once you sign up and get accepted, you can use your "special affiliate" links to start promoting fashion, books, electronics and anything that might suit your audience on the various social media platforms.
Here is a step by step tutorial with images that show you how you can promote these programs on Pinterest. I have made over $100 promoting a single product on Pinterest. Imagine how much more you can do with more than one!
11. Freelance Work – Best online jobs without Investment
As a freelancer, your services can range from writing, photography, editing, online tutoring, web designing and more. Find what you are good at and promote your self. You can also start your own freelancing website/blog and promote yourself so clients can find you.
12. Virtual Assistant
As the name goes, a virtual assistant is someone that assists companies/brands remotely.
Small and large business don't have time to do daily tasks like checking their emails or promoting their business on social media. So they hire a virtual assistant to do it for them.
Salary – You can get paid $20 -$40 an hour and it increases with experience.
If you are interested in becoming a virtuals assistant here is a detailed post explaining how two moms did it.
Where to apply:
13. YouTube
Want to follow the likes of celebrities that shot to fame instantly on YouTube. I am someone that likes to hide behind a computer and blog-ha! But if you like to put yourself out there then like blogging, you get paid to have your own YouTube channel by ads and affiliate marketing. So its very similar to how you make money with a blog, the only difference is you do a video instead of type out content.
The more viewers you have to your YouTube channel the more money you make from ads, and you have higher chances of making sales with products you promote.
The more views = the more income.
14. Well Paying Surveys – Make Money Online for Free
Surveys are the most common ways to earn a few extra dollars with the least effort. True some of them can be time-consuming, but I have shortlisted ONLY the highest paying ones – upto $100 a survey.
Free to join, and you are not strapped into any contract, so is a great way to make at least $400 a month with them.
If you are wondering why would someone pay you to take a survey, the answer is simple. These are companies looking for help with their research.
If I had to choose just one of the sites to join, it has to be the hugely popular survey site Survey Junkie that has over $9 million users making money from home.
15. Online Data Entry Jobs without Investment
If you are a fast and accurate typist, online data entry jobs is a great beginner at-home job without investment.
This type of work can be done either online or offline, where you type information into a document. Sound knowledge of Microsoft Word/Excel is an advantage as these are where most documents are typed into.
To get started you will need,
A desktop or laptop
High-speed internet access
An ergonomic chair
Check out these websites that often post openings of data entry jobs .
16. Sell Things on eBay
You can sell as a business or as a hobby.
If you are looking to sell online, like on eBay and make a full-time income from it, I would recommend you read this post.
Husband-wife duo, Rob and Melissa made $133,000 a year flipping things they found at thrift stores and turned it into a profit. Definitely, something to look into if you want to create a full-time income.
But if you are looking to earn a few extra dollars, then there's Bookscouter – for selling old books, Poshmark– for selling old clothes /shoes.
Jobs Online Without Investment
There you have it. Some of the best work at home jobs without investment that prove to you that you can certainly make money online without paying anything.
Here are some other helpful work at home resources you may find useful:
– Online work for moms with babies
– New list of stay-at-home mom jobs
– $40,000 proofreading books and blogs
– 100 ways to make money from home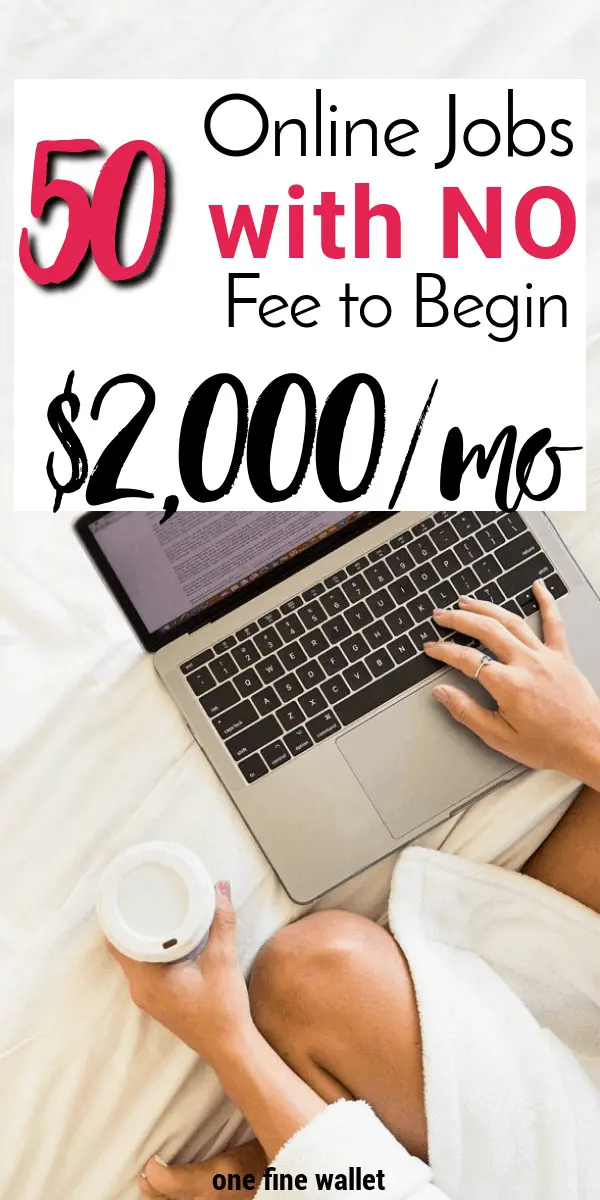 Online Jobs without Investment and Registration fee