*This post may contain affiliate links. Please read the full disclosure here. 
How cool would it be to get free stuff from Walmart?
Free Walmart gift cards are as good as cash.
You might be surprised that there are several ways to score free Walmart gift cards. Using the tips we share in this article, you'll be on your way to getting your free gift cards.
Don't forget to bookmark this article so you can come back and review it later.
*This post contains affiliate links. Please read disclosure here.
How Can I Save Money at Walmart?
1. Swagbucks
Swagbucks is a multifaceted site offering their users' unique ways to make money online through various activities like:
Taking surveys

Watching videos

Discovering stuff online

Playing games

Online shopping

And, more!
You will never get bored with Swagbucks.
Here's how you get started:
First, signup for free on Swagbucks. You get a free $5 signup bonus when you join the site.
Next, complete tasks online for money!
Then, get paid!
You'll have your pick of activities to do on Swagbucks to make money online, as shared above. You'll enjoy Swagbucks because opportunities to make money are abundant and you can participate at any time, 24/7.
For each task you complete, you'll earn Swagbucks points (SB), the platform's currency. Then, you can redeem your points for rewards, like Walmart gift cards!
And, that's exactly how it works!
Click here to learn more about Swagbucks.
2. MyPoints
MyPoints pays you to shop online! You can earn points by shopping at your favorite stores.
As a member, you get up to 40% back with every purchase at 2,000 top retailers, like Walmart and Amazon.
Once you join, you'll earn a free $10 bonus!
This site is similar to Swagbucks in that you'll get a chance to earn money for doing various tasks like watching videos and playing games.
It's really easy to accumulate points and then you can redeem your points for gifts to popular retailers like Walmart and more.
Sign up to MyPoints to claim your $10 bonus.
3. Survey Junkie
Survey Junkie is a popular survey website that helps you make money through survey-taking.
You'll get paid to share your honest opinion, helping companies improve products and services that they serve to the general public.
You take surveys and get paid in points, which you can redeem for PayPal cash or gift cards to places like Walmart.
Sign up to Survey Junkie here.
4. Ibotta
Ibotta is the way to save money on groceries.
There are many ways to save money but a favorite is using their receipt scanning app which applies your cashback straight to your Ibotta account.
Then, redeem that cashback for gift cards to favourite retailers, like Walmart.
Read more about how Ibotta can save you money and join here.
5. Fetch Rewards
This cashback app, Fetch Rewards will help you save money on your grocery shopping.
It's a super easy-to-use app that makes it fun to save money on your grocery purchases. All you do is scan your receipt using their free app and earn points for purchasing certain products.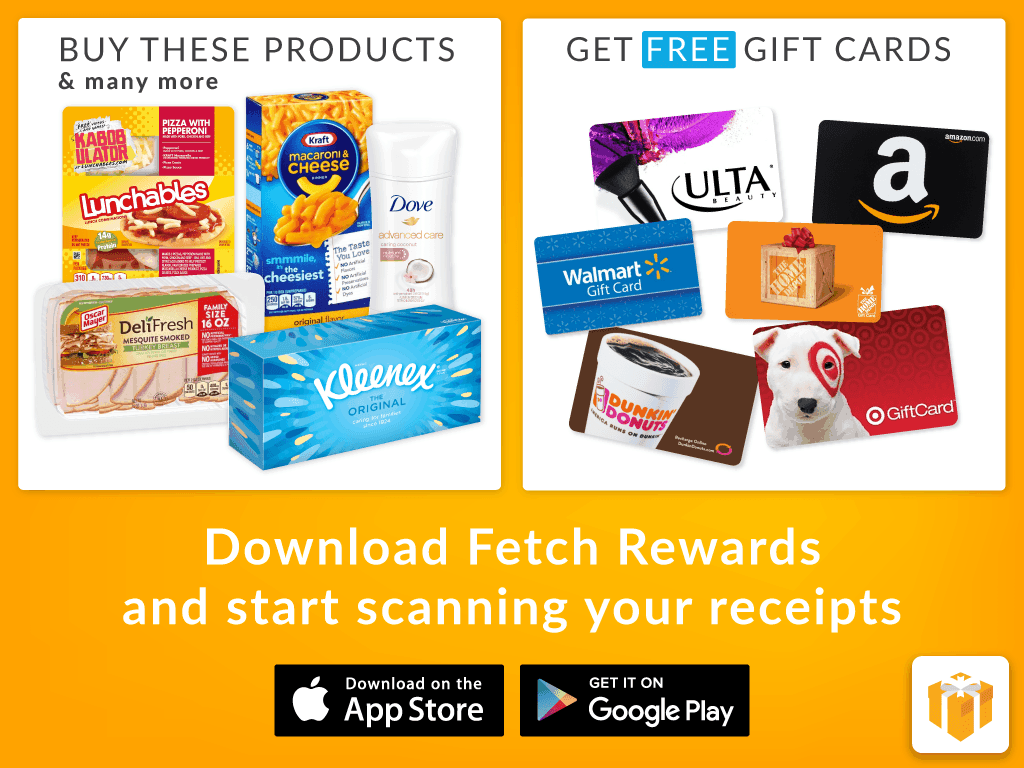 Then, you can redeem those points for rewards like a Walmart gift card!
Buying groceries is a given. Why not use Fetch Rewards alongside to save the most money?
Signup for free to Fetch Rewards.
6. Honey App
Honey App is a free cashback app that helps you get cashback on your online purchases.
You install the free browser extension and when you land on a participating site, you'll get a popup, alerting you of the savings you can land by shopping on that website.
They automatically search and find the best savings and coupon codes to save you money!
You also get the chance to earn Honey Gold, which is their reward currency and you can use this currency to redeem for gift cards, like free Walmart gift cards.
Grab the Honey App browser extension free right here.
---
Make extra money by browsing the web, watching videos, playing online games and testing new products - clothing, food, cosmetics and more! Its free to join. Sign up for your chance to
get a $5 Swagbucks bonus.
---
7. Rakuten
Rakuten (formerly Ebates) is a cashback website that is a must-do if you do any kind of online shopping.
You can install their browser extension and when you land on a participating retail website, you'll get a popup showing you how much cashback you can earn.
They partner with popular retailers like Best Buy, GoDaddy, and more.
The cashback applies to your Rakuten account and then you can redeem for PayPal cash, gift cards to Walmart, and other places.
They also have a very attractive referral program where you can refer friends and family, earning $25 for those who signup using your referral link!
Click here to join Rakuten for free and grab your $10 signup bonus!
Final Thoughts on Free Walmart Gift Cards
Now that we have gone over these 8 ways to land free Walmart gift cards, take some time to check out one or more of the methods we shared above.
Start by picking a few of the sites above and feel free to add more, as you'd like and you'll soon be on your way to getting your hands on a free Walmart gift card!
And while you're at it, check out this post we wrote on how to score free Starbucks too!
What do you think? Which website are you going to start with?