*This post may contain affiliate links. Please read the full disclosure here. 
KashKick is a rewards program that pays you PayPal cash for completing short tasks – get paid for your opinion with KashKick.
Quick Guide to the KashKick App
Nowadays we are all looking for ways to make a bit of extra cash.
KashKick is one such way to make a bit of extra PayPal cash.
This site matches businesses with participants who complete surveys, watch videos, play games and surf the web for cash.
They launched their KashKick app in 2021 and have so far proven to be a reliable source of extra income.
What is KashKick?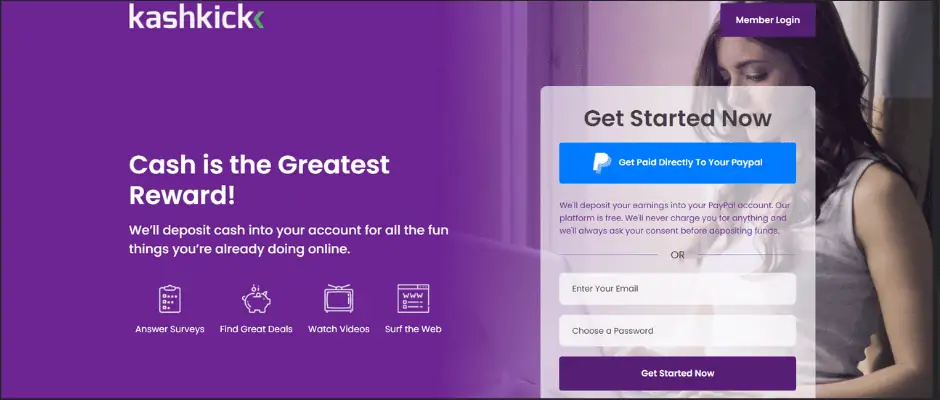 KashKick is a rewards website that pays you to complete various online activities including surveys, opinion polls, watching videos, reading emails, and playing video games.
They launched in 2016 and have recently released the KashKick app to make earning casual cash on the side even more user friendly.
Once you have signed up and completed your profile, you get paid small amounts of money for each task you complete.
These earnings add up and once you have crossed the minimum threshold your wage is released to a PayPal account.
How does KashKick work?
KashKick is free to use and even pays you $1 for completing your profile.
Once you're all set up the KashKick app will begin to match you with online tasks that pay you for your time.
Your KashKick profile is pretty detailed and takes into account several aspects of who you are as a person and your demographic.
From this, they will match you with surveys that are interesting and relevant to you and your lifestyle.
KashKick Referral Program
As well as opinion polls and surveys, you can also make money by signing up to rewards programs, reading subscription emails, and referring a friend.
For each new person you refer, you will be paid 25% of their earnings – so if they make $1, you will make $0.25. This is paid by KashKick, so your friend's earning won't be affected.
Each task has a set wage and takes between 5 and 15 minutes to complete.
Upon completion, this wage will go straight into your KashKick app wallet as real dollars to be withdrawn into your linked PayPal account.
How much does KashKick pay?
There is no set rate for paid tasks on the KashKick app, each job posting will vary in reward from as little as $0.20 up to $2.00.
You can make more money by focusing your energy on the Paid Offers available through KashKick, which can pay several dollars as well as rewards later down the line.
If you are okay with signing up to different subscription services then it's a good way to get more cash into your PayPal at the end of the month.
How much can you make on KashKick?
It's tricky to put an exact number on the amount of money you can make from the KashKick app.
In general, its estimated that a casual user of KashKick can make up to $50 per month, extending even higher if spend more time on the site or are more selective with the tasks they take on.
You won't get rich off KashKick, but it certainly doesn't hurt to have some extra cash in your pocket at the end of the month.
The launch of the app in 2021 allowed users to make money from their phone as opposed to a desktop computer.
It's easier than ever to earn some dollars while stuck in a waiting room or whenever you have a spare couple of hours.
If you are a smartphone gamer, then the KashKick app is a brilliant way of making money while you game.
Their most popular mobile games include Mafia City and Scrabble Go.
These tasks are quick and easy but add up over time, especially when you have access to them on your phone.
Related: Games that pay real money
Does KashKick really work?
Yes, KashKick does really work.
They stand out from other sites by paying their users in actual cash rather than a point or credit system.
Reviewers of the site highlight that it's not the kind of money to live off, but it's great for a few extra dollars in your pocket every month.
One of the best features of the KashKick app is how well it matches users with relevant tasks.
Available opportunities are well-tailored to appeal to you, your demographic, and lifestyle.
How does KashKick Payout?
Unlike other similar rewards websites, the KashKick's payout is straight into your PayPal account.
They've put in place a $10 minimum withdrawal threshold which must be met before funds are released to your PayPal.
This is consistent with other paid survey websites and your wage will begin to add up with increasing amounts of time spent logged on.
Once you've hit the $10 threshold you can expect deposits to your PayPal account every 2 weeks.
Is KashKick a Scam or a legit app?
Here's the question on everyone's lips – is this legit, or is it too good to be true?
KashKick is not a scam.
There are lots of similar platforms out there that perform badly with user satisfaction, customer support, and ease of cash withdrawal, but that's not the case with KashKick.
They earned a decent 3.2-star rating on Trustpilot in 2021 and to date there have been no scams associated with the KashKick app.
A big plus for many KashKick users is that you don't have to submit any banking information to the site.
All you need to get paid is an active and valid PayPal account and an email address.
---
Make extra money by browsing the web, watching videos, playing online games and testing new products - clothing, food, cosmetics and more! Its free to join. Sign up for your chance to
get a $5 Swagbucks bonus.
---
Is KashKick available worldwide?
It's widely reported that KashKick accepts users from the USA, Australia, Canada, and the UK but this is no longer the case.
Since 2021 they have updated their policy and currently only accept members from the USA.
Don't be tempted to try and use a VPN to gain access to the site as you will be banned.
As far as reward websites go, KashKick is a safe option.
They have a simple set-up, reliable payment procedure, and wide variety of personalized tasks to complete.
The KashKick app has made earning extra money even more convenient and generates great bonus income for its users.
Kashkick Pros and Cons
Let's take a quick look at some pros and cons of the KashKick app.
Pros:
Pays in PayPal cash rather than gift cards
Quick and easy to sign up
Wide range of money making opportunities other than just surveys
Requires only a minimum threshold of $10 to be paid out
Age requirement is 18, making it a good side hustle for teens
Cons
Common FAQ's on KashKick
1. Is KashKick available in the UK?
No, KashKick is not available in the UK. It is currently only available to those in the US.
2. How much can you earn from KashKick?
Kashkick surveys are usually around 10-20 minutes long and you can expect to earn up to $2 per task. Higher surveys may pay up to $10.
3. What is the minimum age requirement to join KashKick?
Participants need to be 18 years and older and live in the US.
4. How do I withdraw from Kashkick?
When you have reached a minimum of $10 in your KashKick account, you can withdraw the money by a verified US PayPal account.
KashKick Alternatives:
1. Swagbucks
One of the best alternatives to KashKick is Swagbucks. A popular rewards site that pays you for completing smalls tasks like completing daily polls and surveys, browsing the internet, playing games and watching videos.
You can also earn cashback when shopping with your favourite retailers through the Swagbucks website.
The best part about Swagbucks is that you only need to reach a minimum of $3 to start withdrawing your rewards by gift cards such as Target, PayPal and more.
2. Survey Junkie
Survey Junkie is a survey site that pays you to share your thoughts and opinion on brands, to help them improve their products and services.
If you are interested in making an extra $40 – $50 completing a few surveys a month, you could consider joining Survey Junkie. They have over six million members worldwide, who are earning extra cash via PayPal, from completing surveys from home.
Survey Junkie is currently open to members living in the US, UK, Canada and Australia.
KashKick Sign Up
♦ If you are interested in joining the KashKick app, you can sign up with KashKick here.