*Last Updated January 27, 2022
Games for Earning Money
Most of us have one or more games downloaded on our smartphones. It can be a fun way to keep entertained, or a relaxing way to beat boredom.
What if I tell you that you can actually play games for money?
That's right, how would you like to earn money on PayPal from playing games?
If you are looking to unwind with some games online, why not make it worth your while?
Today we're going to take a look at some of the best online games that pay real money when you win. Adding cash winnings to the equation definitely sweetens the experience, so let's take a look at what some of the best games out there have to offer.
*This post may contain affiliate links. Disclosure here.
What Game Pays the Most Real Money?
While many gaming apps reward you with gift cards , there are still a good number of games that pay real money – by PayPal.
These apps include Mistplay, Toluna, AppNana, Quick Rewards, Feature Points, Givling, Wealth Words, Lucktastic, Cash Pirate, and CashOut.
In addition to rewarding users for playing games, many of these games that pay real money also offer other money-making opportunities and rewards.
For example, Feature Points also pays users to take surveys, watch videos, and shop online.
So, if you are looking to earn money by playing games, these 21 games that pay instantly to PayPal are a great place to start!
So lets begin and take a look at these money making games to see how much each one can make you money.
*This post may contain affiliate links. Disclosure here.
21 Game apps that pay instantly to PayPal
Are you ready to play games for real money? Let's begin this list of online games that give you money!
Swagbucks is a popular rewards site that pays you to do a ton of different things like;
Watching videos
Browsing the internet
Completing daily polls and surveys
Coupons and cashback
And the best part is, you can earn money by playing games on Swagbucks!
Just a quick look at their website and you will see a number of games where you can win SB (Swagbucks) points. Some games are worth 500 SB's while others can go as high as 5000 SB's.
100 points = $1 dollar
You can earn SB points when you make in-game purchases through their partners at GSN, or play their free games for PayPal cash.
Minimum Payout:
You can cash out with as little as $3 in your Swagbucks account. This is one of the best ways to make extra cash daily.
Age Limit:
It is free to join Swagbucks and they allow teens 13 years and over to participate.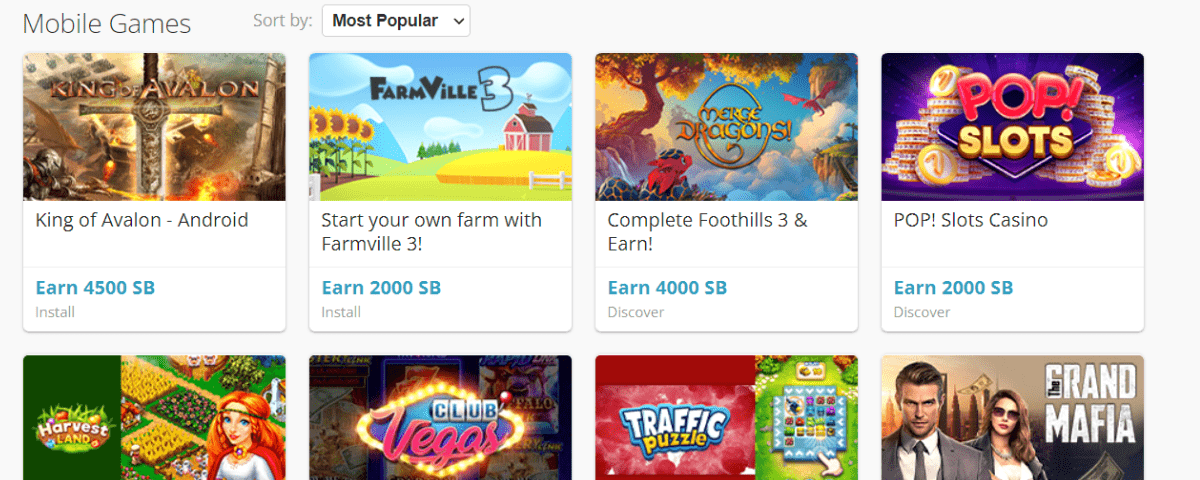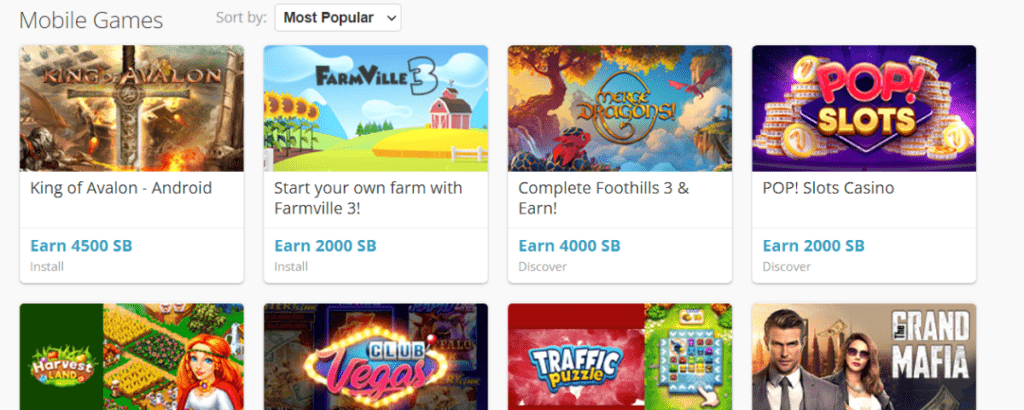 2. MyPoints
MyPoints which is also part of the Swagbucks group of rewards sites, pays you for completing little tasks.
So if you are looking to increase your chances of making playing games, you must give this a try. Again like Swagbucks, you can also earn for watching videos, completing surveys, shopping and playing games.
To top it all, they are one of the highest paying cashback sites that offer up to 40% back when you shop at Walmart, Best Buy, Amazon and 2,000 other retailers.
Get a $10 welcome bonus here when you sign up with MyPoints.
Make money playing games with MistPlay.
They offer over 65,000 games and is specifically for mobile gamers. Although only currently available for Android users, MistPlay promises an iOS app release soon.
About MistPlay:
After downloading the app. users set up a profile that enables the app to recommend games based on their interests.
The longer that users play, the more units they earn. Units are redeemable for rewards like PayPal cash and Visa and Amazon gift cards.
MistPlay game titles include Word Wars, Tile Connect, Family Farm, Tasty Town, and Tycoon Games.
Minimum Payout:
1,500 MistPlay Points (Approx. $5)
How Much You Can Make:
You can make a maximum of $50 per month by playing MistPlay.
4. KashKick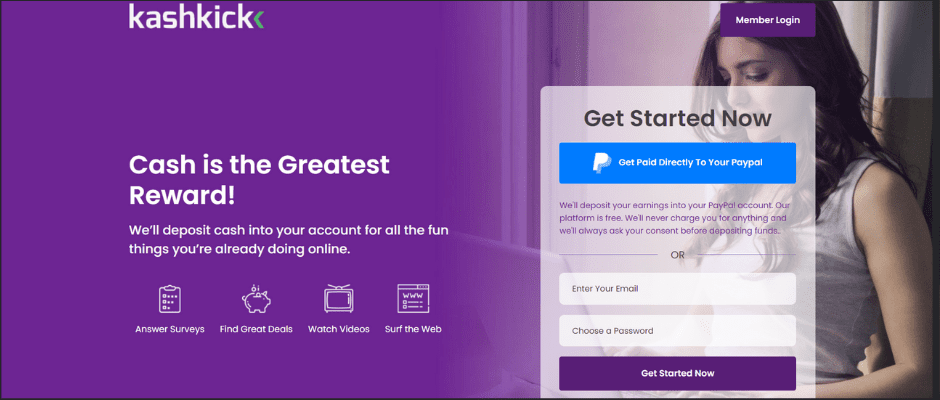 Kashkick is one of the best game apps that pay instantly to PayPal.
Apart from playing games for cash, Kashkick also allows you to earn by:
---
Get $5 for signing up with Swagbucks:
Make extra money by watching videos, playing games on your phone and test new products - clothing, food, cosmetics and more! Its free to join. Get your
$5 Swagbucks bonus here.
---
Answering surveys
Watching videos
Surfing the web
They have a low minimum threshold of $10 required to withdraw cash into your PayPal account.
Toluna is an iOS and Android app that offers games that payout to PayPal. Not only can you make money answering surveys, the app also features a spinning wheel and daily lotteries for a chance of instant rewards!
About Toluna:
After downloading the app. users register an account and begin answering survey questions. The more feedback users provide, the more points they earn. Points are redeemable for gift cards and PayPal payments.
Minimum Payout:
30,000 Points (Approx. $10)
How Much You Can Make:
Surveys pay between 15–50,000 points each with an average of 1,500 points.
AppNana offers points for watching videos and playing games that pay out to PayPal. The AppNana app is available for iOS and Android.
About AppNana:
After downloading the app. users sign up for an account, download game apps, and start playing.
The longer users play and the more videos they watch, the more points (or Nanas) they earn. Points are redeemable for paid apps, in-app purchases, gift cards, and PayPal payments.
AppNana game titles include Jewelish, Multisquare, Traffic, Fruita Crush, Hextris, and Taptastic Monsters.
Minimum Payout:
30,000 Nanas (Approx. $1)
How Much You Can Make:
Each game offers between 2,000 and 15,000 nanas, but users note that the more games they play, the fewer nanas they earn!
While this isn't a game that pays instantly into PayPal, it is definitely a fun way to earn some extra rewards.
Turn your everyday shopping and restaurant receipts into gift cards.
If you live in the US and have any restaurant or shopping receipts that are no older than 7 days, simply snap a photo of it using the Fetch Rewards app and start earning.
No pre-selecting offers, no scanning barcodes, no surveys, no ads – you scan your receipts and you'll earn points!
Related: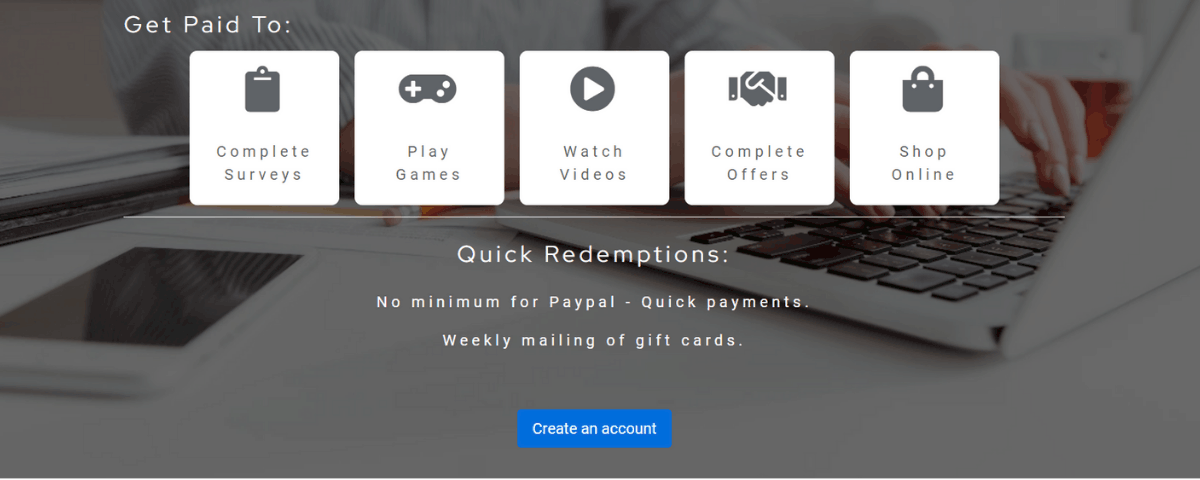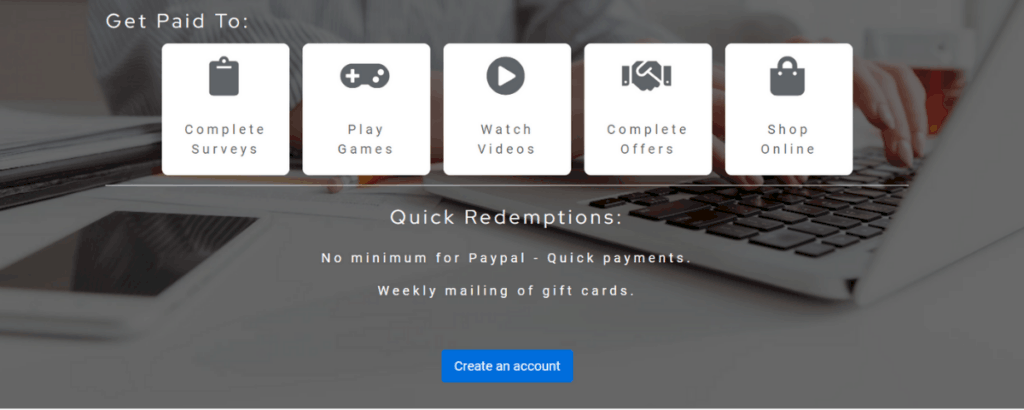 Quick Rewards pays users for taking surveys, playing games, watching videos, completing offers, and shopping online.
While Quick Rewards does not have an app., they have a mobile-optimized site and a desktop site.
About Quick Rewards:
Once users set up a profile on the Quick Rewards site, they can begin searching for their available opportunities through the dashboard. Each task pays in dollars – for example, surveys pay between 50c to $1.
Users can also earn tokens (redeemable for rewards) and QuickPoints (redeemable for cash.)
Quick Rewards game titles include the Trivia game and the Guess My Number game.
Minimum Payout:
How Much You Can Make:
Earnings depend on the activities done daily.
*Note There is a limit of three daily surveys per user.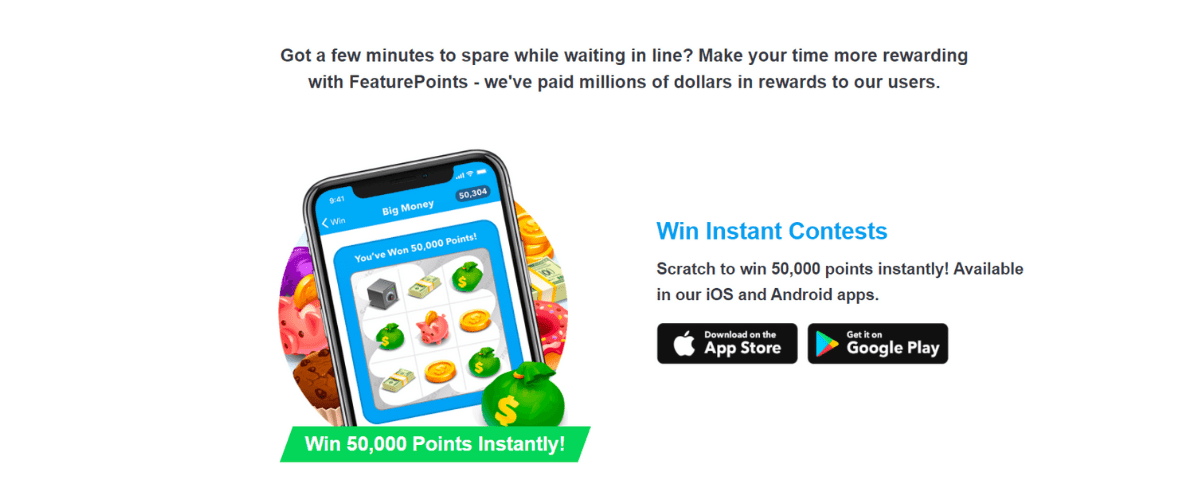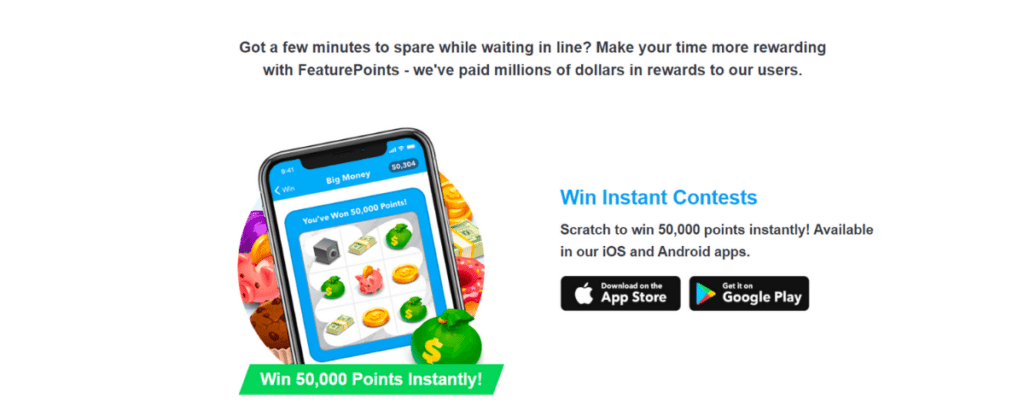 Feature Points offers redeemable points to users for downloading and playing games, taking surveys, and taking part in instant win contests.
The Feature Points app is available for iOS and Android, but some features are limited to Android users only.
About Feature Points:
Once users sign up for an account with Feature Points, they choose from downloadable apps, surveys, and instant win content opportunities.
Each completed task earns points that are redeemable for gift cards, PayPal payments, and cryptocurrency.
Feature Points games include Scratch to Win game cards.
Minimum Payout:
3,000 Points (Approx. $5)
How Much You Can Make:
You can make as much as $200 a month from referring friends or $20 – $30 from completing in-app opportunities.
Givling is a unique trivia crowdfunding game designed to crowdfund mortgage debt and student loans. The Givling app is available for iOS and Android.
About Givling:
After downloading the app. users set up a profile. Players may then purchase "Crowdfunding coins" to play trivia (which costs $0.50c + $0.30c processing fee per game) or directly crowdfunding a loan on the Givling platform.
Each player independently takes a trivia quiz and is teamed with two anonymous players who also take the quiz.
The team points are combined, and the team with the highest score weekly wins the weekly trivia award.
Top teams all receive "Givling Queue Points." Eventually, Queue points are totaled, and the player with the most points goes into "the funding box," and 90% of crowdfunding goes toward that players loan.
Givling also offers each player five free games daily that put them in the running to receive crowdfunding.
Minimum Payout:
How Much You Can Make:
Wealth Words specialize in daily puzzle games designed to "sharpen your brain." The Wealth Words app is available for both iOS and Android.
About Wealth Words:
After downloading the app. users set up an account with Wealth Words. Users then choose from a selection of word-based timed puzzles.
The app offers pay-to-play games (requiring $0.25c tokens) and free puzzles. The player that completes a pay-to-play puzzle in the fastest time wins the cash prize for that puzzle.
Wealth Words games include crossword games, story games, and poem games.
Minimum Payout:
*Prizes of $20 or more require players to upload two valid proof of identity documents.
How Much You Can Make:
Lucktastic are the ultimate PayPal cash games.
It has a variety of offers that include casino-type games, scratch cards, code-cracking tasks, and a daily spinning wheel. The Lucktastic app is available for iOS and Android.
About Lucktastic:
After downloading the app., users set up a profile and begin playing the free games and entering contests instantly.
Games award players with tokens redeemable for gift cards or PayPal payout or used for additional contest entries.
Loyal Lucktastic players also earn "crowns" that award membership in different tiers of the VIP program. Each level of the VIP program offers unique perks like added chances to win games.
Lucktastic game titles include Lucky 7's, Cash Lasso, Fall Fortune, and Break the Piggy Bank.
Minimum Payout:
$2.
The minimum redemption amount for store items is 30,000 tokens (equal to $5.)
How Much You Can Make:
Cash prize games typically award between $2 and $1,500. One scratch card even offers a $10,000 prize!
Cash Pirate Buzz offers users "coin" rewards in return for downloading and using or playing apps on their platform, taking surveys, and watching videos. The Cash Pirate app is available for iOS and Android.
About Cash Pirate Buzz:
After downloading the app. users set up a profile and are redirected to the member hub.
In the member hub, users see a range of offers they can complete for Cash Pirate coins. Cash Pirate coins are redeemable for gift cards, Facebook Money, and PayPal money.
Minimum Payout:
2,500 Points (Approx. $2.50)
How Much You Can Make:
The average user makes $5 to $10 a month.
Bananatic has scores of games and next to each game you will find a value that tells you how much you earn by gaming.
As far as variety, there's a little bit for everyone but let's talk about Bananas – because that's how you get paid!
Banana points, specifically, and not the fruit of course. By playing games, watching videos, or even taking surveys, you can collect Bananas which you can turn into paysafe cards, games, gift cards, and more.
If you feel like doing a little gaming and getting paid for it, then Bananatic might be just what the doctor ordered!
15. Pool Payday
Next on our list is Pool Payday, who tout themselves and the #1 pool game out there for earning yourself some cash!
Once you've registered, then there are two ways to play – turned-based or in real time – and if you fancy yourself a pool shark then you are in for a treat.
So, can you really get paid?
Yes indeed.
At any time that you want to collect your winnings, it is done using Skillz via Paypal and all it takes s a click.
Just be warned, online pool is highly addictive and you might just find yourself spending a lot of time here. They also are available in app form, so check it out and see Pool Payday for yourself.
16. Dominoes Gold
Feel like playing dominoes?
Well, there's an app for that! Dominoes Gold gives you the experience of playing the classic and you can hold it in the palm of your hand.
There are various play modes, such as competitive play against the computer alone or with a friend and tournament play is also on the menu.
Whether you feel like playing classic dominoes or favorites like 'Fives', Dominoes Gold has got you covered and you can take your winnings in prizes or in cash through Skillz.
17. Blackout Bingo
Another Skillz platform entry where you can get paid to play is Blackout Bingo.
This app works on Android, iPhone, and iPad people definitely win real money, with the biggest payout thus far being $14,000 in 2014!
Even if you don't have starting cash, you can still earn playing Blackout Bingo, all you need to do is get the app and register.
After you create your avatar, you'll be given the option to play some practice games so that you can see how it's played.
With boosts and multi-bingos happening all the time, this new take on classic Bingo is definitely one you'll spend a lot of time on.
So, check it out and see what you think. There's nothing quite like your first multi-Bingo, as you are about to see!
CashOut offers in-app coins to users for watching videos, playing games, downloading apps, and answering surveys. The CashOut app is currently only available for Android users.
About CashOut:
After downloading the app. users set up an account and see a catalog of tasks that reward in-app coins. Coins are redeemable for gift cards and PayPal cash payments.
Minimum Payout:
How Much You Can Make:
Tasks pay anywhere from $0.50 to $20 each.
Bonus: Other Ways to Earn Money for Games
Now that we've gone over some of our favorites, we thought we'd include a bonus section with 3 online play-for-cash games that definitely deserve honourable mention.
If our primary 4 didn't catch your interest, then be sure to check out these bonus games below. They're a great way to pass the time with games that pay real money!
With iRazoo, you've got all kinds of options for earning, all centralized into a single site.
With iRazoo you can earn money watching videos, completing surveys, completing offers, and playing games.
Each of these activities earns you points and these points give you a lot of options, such as cashing out directly through Paypal or receiving gift cards through places like iTunes and Amazon.
You've got a lot of games to choose from, as well, as iRazoo has teamed up with Arkadium to offer you with a wide selection.
Check out iRazoo when you've got a moment and give it a try. If you like games, then you are going to love iRazoo!
What do you get when you mix Blackjack and Solitaire? Only your next big addiction!
21Blitz is an app that lets you play this unique take on Blackjack and you can play practice matches until you feel ready, moving on next to head-to-head matches with your friends and even tournaments!
Did we mention that you could win up to $7000 in one of these tournaments?
If cards are your thing and you've got a soft spot for Blackjack then be sure to give 21Blitz a try. The mix of Solitaire with your favourite Blackjack strategies is something that you really have to experience to fully appreciate.
Just make sure that you've got a PayPal account so that you can cash out your winnings.
21. Solitaire Cube
Available only for iOS players, Solitaire is like the regular Solitaire that you are used to, but with a twist… game times have been sped up and you can play against other players!
Powered by Skillz, if your Solitaire game is good enough then you've got an option to cash out anytime that you like, but we imagine that you'll be spending a lot of time here.
Practice play is available for novices or go straight to the Pro League. Best of all, the app learns your prowess at the game and can match you with players at the same skill level across the world.
Solitaire Cube makes Solitaire exciting again, with the competition and speedy 5-minute games, so if you've got iOS then download the app now and see what modern day solitaire looks like.
Questions you may ask:
1. What apps pay you instantly through PayPal?
Swagbucks is one of the best apps from the list of money earning games listed above. The reason is that Swagbucks offers you the option to redeem your points from as little as $5. This means you can withdraw money frequently, which makes it a convenient way to make money fast.
2. What game apps pay real money instantly?
Apart from redeeming through PayPal, Swagbucks also offers the option to payout via gift cards. And other ways to redeem cash (apart from PayPal) is through Payoneer and Mastercard.
3. How can you get PayPal cash instantly?
While you can make money playing games, there are other options to make PayPal cash instantly.
For instance, Respondent.io is a paid research platform that allows you to take part in online surveys and focus groups, and pay PayPal cash on completion. This is a good way to make $100+ per study and is well worth your time.
4. How can you make money with PayPal for playing games?
Most apps allow you to build up points as you play games. The more games you play, the more points you earn.
Once you reach the required number of points, you can withdraw money through PayPal.
5. What games give you real money?
This list of game apps that pay instantly to PayPal, give you the opportunity to earn a few dollars and play the games you like. A fun way to make money while you watch TV!
Conclusion: Online Money Earning Games
When you download these 20 games that pay instantly to PayPal, keep in mind that they all require you to meet a minimum payout before you can cash out your winnings. So bulk up your earning before you cash out.
Whether playing as a pool shark, waxing strategy in a war-strategy game, or simply playing solitaire with a little more style, there's something for everyone on this list.
Be sure to check out the gems and download any of the apps that tickle your fancy.
After that, it's time for a little fun to give those other players a run for their money.
If you're gonna play, why not get paid, right?
Are you ready to play games for money?
Real Money Earning Games