*This post may contain affiliate links. Please read the full disclosure here.
Ways to Earn Money as a Kid
Getting kids to learn the importance of being independent is great to start at an early age.
It not only teaches them to be responsible but also helps them learn to use money wisely.
If you are a mom or a dad wondering – how can kids make money? Or if you are a kid looking for ways to make money, you will find this post useful.
These are not ideas only suited for older kids, I have also listed ways how a 12-year-old can make money.
Most of them are online jobs, with only a few that might require you to leave your home.
If you are a kid reading this, make sure to ask your parents before beginning. Since this is money related and involves online work, its always good to get your parents help and advice before getting started.
Ready to find out some minimal to no-investment ways to make money for kids?
*This post contains affiliate links. Please read disclosure here.
21 Ways Kids Earn Money
1. Sell crafts and decorations
One of the easiest ways to make money is to sell little DIY projects if you enjoy crafts. There are so many things you can make, from jewellery to decorative pieces and more.
Depending on the level of complexity you can price your crafts. It's always a good idea to price it lesser than what it might normally cost when its shop bought. This doubles your chances of selling.
Some ideas: Creative decorations for Christmas, Easter, Mothers day or Fathers day. Best way to make it more profitable is to provide personalised services. Like instead of selling a DIY Christmas globe – why not include a photo of them inside the bauble to make it more customised. Tutorial here.
2. Surf the internet – 13 years and over
Swagbucks is a popular site that pays you money for multiple reasons. Here are some ways to earn with Swagbucks.
Surf the internet using Swagbucks, instead of Google or Yahoo and gain points to redeem for cash.
Up to $35 for surveys
Watch videos like your favourite cooking show to earn
Earn cashback rewards
3. Survey Site for 13-year-olds
Survey Junkie is one of the most highly recommended survey site in the market. They have over 9 million users from the US, Canada and Australia that are making money from home.
They have a high earning potential of up to $50 a survey.
If you are 13 years and over, you can sign up here.
4. Teenager jobs – 16 year olds
Snagajob
– over 300,000 part-time and full-time job openings in America for teenagers. Most jobs I've viewed are for those over 16 years of age.
You can also try
Indeed
, I have found many job vacancies where teenagers can apply.
5. KidzEyes (6-12yr olds)
You might have heard of online surveys that can make you money from home. Most of these have age restrictions, but KidzEyes is one such survey platform for 6-12-year-olds living in the US.
You will need an adult to sign up for you and as you complete surveys you get to accumulate points that can be redeemed for a check.
6. Sell personalised greetings
Whether it's Christmas, New year, birthdays or Valentine's day, the one thing they all have in common are gifts! Everyone wants to surprise their friends and family with something unique. Bring out the artist in you to create that special moment that sells.
Cricut is a great place to find the tools to need to make your job less stressful. If you are looking for a cheaper alternative I highly recommend you check out Dollar Tree for your DIY projects (everything is $1).
7. Gift wrapping
You know there is going to be a lot of wrapping Christmas time. Offer this as a service to family and friends who might need help.
You can charge per unit. What this means is, you can charge per 10 gifts, 20 or 30.
8. Hairstyling
Whether it's for a party or a special occasion you can give friends and family an option to do their hair at a much cheaper price than the hairdressers.
9. Assistant Jobs
There are a lot of professions that need assistance. Helping tutor, teaching assistant classroom, cafe assistant, library assistant and beauty assistant are a few to name.
Some may need experience and qualification, so its good to enquire and see if they are ready to accept you.
10. After school care
When you are ready to work as a nanny or provide after-school care, KoruKids is the place to start. They accept student applications.
The application process involves a 3-minute application form, a phone interview and a boot camp, after which they will match you with a family near you.
11. Freelance – 13 year olds+
If you are looking a few quick side hustles, why not try Fiverr?
Once you join
Fiverr
, you can create a profile and list services you are ready to provide.
Here are some simple ideas- graphic designing, create pin images for Pinterest, logo creation, write for blogs and websites.
=> Check out
these websites
that pay $50-$200 to write per article. This is a great way to make money immediately.
12. Sell photos
Good at photography?
Websites like
shutterstock
and
istock
pay you money when you submit professional quality photos. But if you are a beginner at it, you can try
Fotolia
and
Foap
.
13. Sell books
Bookscouter
is a website that pays you money when you sell your old textbooks. They are a platform that sells secondhand books, so your old books can be used by someone else.
14. Start an Etsy store
Etsy
is a huge marketplace where once you join (which is free) you can sell handmade goods from jewellery, printables, scarves and so much more!
You will need to pay a listing fee of $0.20 and a 5% transaction fee when your product sells. This is a great option for those who are interested in building a career out of handmade crafts and ornaments.
15. For the love of animals
You can either do dog walking or pet sitting if you are good at handling animals.
Rover is one such platform that helps you find work. You get to set your own hours and price. There are 24×7 support and vet assistance.
You can also take care of dogs overnight – which can pay you two times higher.
16. Start a website or a YouTube channel
This is one of the most talked about work at home job option for almost any age group (and my favourite!).
I started this blog in 2018 and it now brings me steady money each month – all by working from home with two little kids. Whether you
start a blog
or a YouTube channel, the flexibility and the room for growth is incredible and I don't see it dying down any time soon.
There are many kids and teens that have their own blogs and YouTube channel and making an income from home. I highly recommend this option if you are good at writing or happy to be in front of the camera.
17. Face painting or portrait drawing
If you are good at face painting, you can do this at Fun Fairs, or outdoor markets to cater to a larger audience. Portrait painting can also make you money as this is a personal keepsake gift.
18. Summer camp
You can organise a little summer camp and have kids participate in treasure hunts. You can hold it over a couple of days or even have it run a week.
Set up activities based on the age of the kids. Get parents involved if the kids you are handling are too young to manage on your own.
19. Teach a craft
No one is ever too young to teach. If there is a craft you are really good at why not get paid to teach it to someone.
Bluprint
is an online platform that teaches you everything from cooking, sewing, and crafts. You can access the videos
here for free
. This may be of good help while teaching your skill to others.
20. Outdoor assistant
There are a few outdoor jobs you can do to make money.
Summer jobs: Mow the lawn, trim plants, grow veggies
Winter job: Shovel snow from the driveway, clear ice from car.
21. Run errands
You can do small chores like getting things from the grocery store or the laundrette and get paid for it, from family or friends that need help.
---
Get $5 for signing up with Swagbucks:
Make extra money by watching videos, playing games on your phone and test new products - clothing, food, cosmetics and more! Its free to join. Get your
$5 Swagbucks bonus here.
---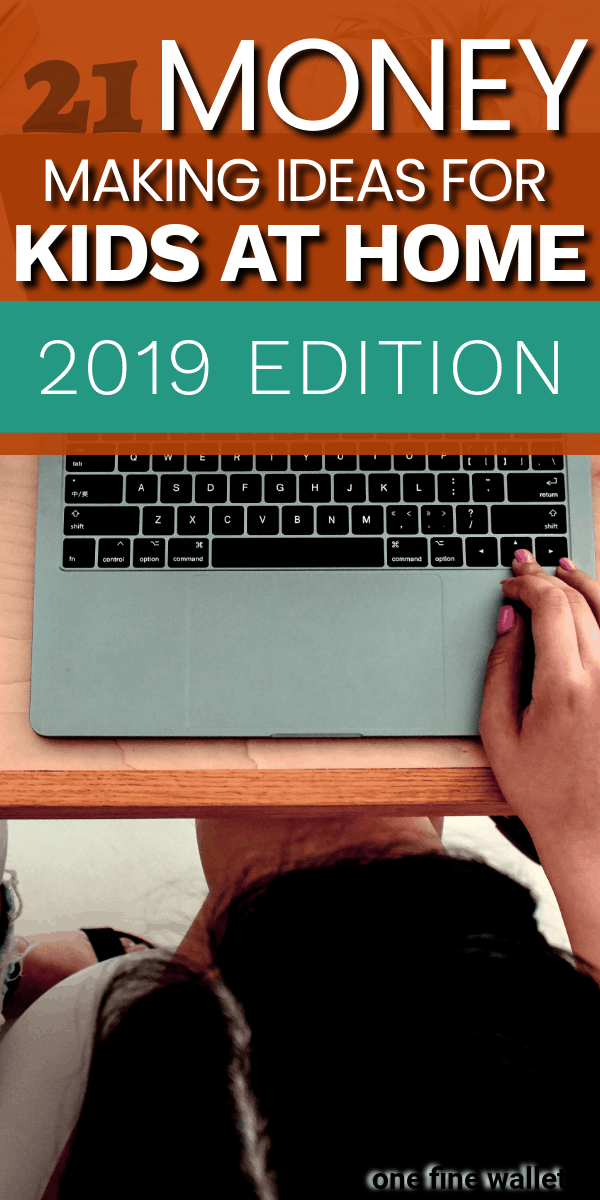 Kids Earn Money