*This post may contain affiliate links. Please read the full disclosure here. 
*This post contains affiliate links to products I use to grow my blog and believe would benefit you:)
I believe investing in your blog is essential. The two places where I strongly believe there can be no compromise is the hosting and your blog theme.
Why do I say that?
Hosting is the foundation of your blog. Imagine you wake up one morning to see your site not opening. Even worse, if you have a viral content and no one is able to read it! We definitely don't want to see that happen. I use and swear by Siteground, and I know most bloggers that are in the business to win it recommend them as a better option to Bluehost and others.
My site is run by the Divi theme from Elegant themes. If you know me by now I just love and can't stop bragging about how amazing they are. In all honesty, I'm by no means a techie person. I only used to use my computer for emails. So you can imagine what ran through my head when I had to create a website to blog! If you like to not spend a lot of time on coding or not so much of a "techie person" (like me) then this is a great option. Divi gives your website a very clean finish and it looks like you got it done by a professional! The best part is when you join them you can swap between any of the themes you like and are not stuck to one! And their themes are like "fill in the blanks" with your content. Great for busy moms!
Divi's premade theme templates, plugins, and list builders all come together when you buy their theme, that's something that you might otherwise have to pay for with other themes. (I told you I had to brag – ha!)
I have listed the tools I use for FREE, yes!! (except for the hosting and the theme)
Reliable web-hosting
Siteground is my favorite, for one too many reasons- excellent technical support round the clock, site loads fast, guru security, free back-ups, free website migration (if you are with a different host) and you never have a downtime! Can't get any better than this right? I've hosted two of my blogs with siteground, and you pay once a year so no need to worry about it every month.
Wordpress theme
I chose to go with a premium theme so my blog looked the part from day one. The Divi theme is what I use and it comes with a one-time payment. Why is it worth? You get a drag and drop visual builder, Monarch- social follow/share plugin, Bloom- list builder (create beautiful email subscription forms/pop-ups) and access to swap between any of their themes at any time for free.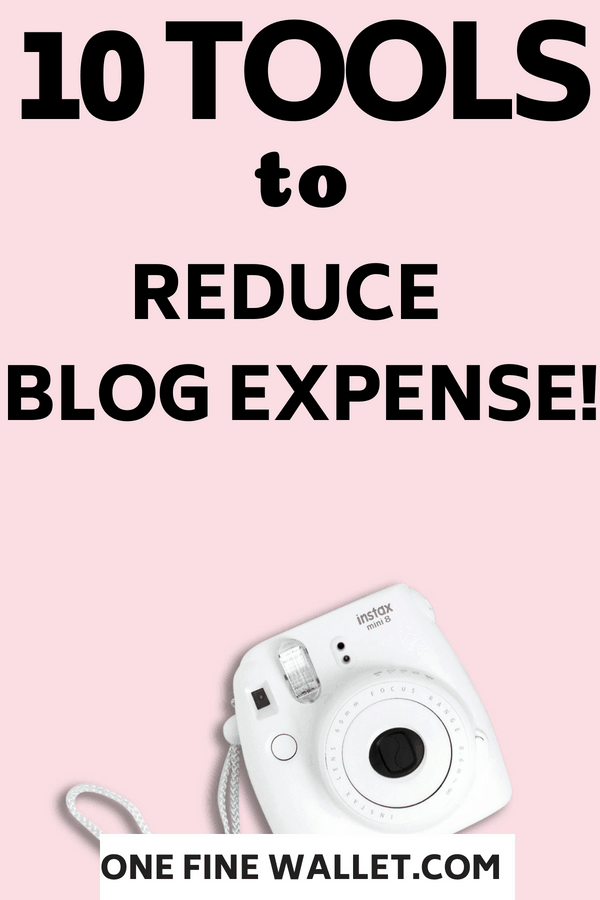 Email service provider
Growing your email list is important. But as a beginner blogger who is starting out, you wouldn't need to spend on a premium service like
Convertkit
(although if you are ready to invest this is the best one around). But a free beginner option is Mailerlite. It gives you most of the features you need to grow an audience. They've also got a great 24 x 7 online technical assistance. It's free to use upto a 1000 subscribers!
Write captivating headlines
The co-schedule headline analyzer is a site that helps you type in a title of your choice for your next blog post, and gives you suggestions on how to make it better. It gives you a score based on your title and options on how to improve it. Try to aim for a score higher than 70. Remember only if your titles are enticing no one will want to click through your content to read or share.
Correcting grammatical errors
If you haven't heard of Grammarly before, you will love it! It is a free tool that highlights grammatical errors when you are writing blog posts – punctuations, spellings and other little mistakes that we might miss while proofreading our post. Your errors will be highlighted with the corrections popping up like a drop-down below. You can make the changes with the click of a button! Best part… Its always free to use!
Create images for your blog
Images you create for your blog need to be sharp, bright and fit the right dimensions for your blog posts, logos, ebooks, printables and social media sharing. Canva is a free tool that is easy to use and does everything I mentioned. However, if you would like to take it to the next level
Picmonkey
offers a bit more advanced features at $33/year.
Create and sell an online course for free!
You might want to start selling your own products even at the beginning of your blogging career. Why not? If you can come up with a recipe ebook or an online course of your choice then Teachable offers a plan that is free to start. I believe they do take a small commission if you make a sale. But as a newbie, it's a good place to start before you decide to get on with the paid plans.
How to pin manually and not spend on schedulers
I'm sure you know how important Pinterest can be to grow your blog. I find it to be the biggest source of traffic to my site. I still pin manually along with
Tailwind
. But if you are a new blogger with a few posts, you can pin manually and
save the money
you spend on paid schedulers. Carly a mommy blogger gets over 200,000 pageviews every month by pinning manually. She documented her exact manual pinning strategies that can boost your traffic too!
Boardbooster alternative!
UPDATE: Boardbooster is not a recommended scheduling tool for pinning. Pinterest DOES NOT recommend bloggers use this tool. Instead suggests using tool that is Pinterest approved like tailwind. Read how you can use tailwind and get 100 pins to schedule for FREE!
increase pinterest followers!
Milotree is a tool that shows up as a non-intrusive little pop-up of your Pinterest board that allows your readers to follow you easily on Pinterest. This helps you grow your following faster with more genuine readers that will stay loyal to you longer. You get 3 months free using the link below. This is great when you are just starting to increase your social media numbers. You can try them out for 3 months and decide if its working out for you.
I would love to know if there are any free resources that you use for your blog. Share them in the comments below 🙂