*This post may contain affiliate links. Please read the full disclosure here. 
When I usually write my blog posts, I get it done and dusted in 30 minutes. But with this one, I don't know how to start or end.
Because I'm just super excited!
I did something different that increased traffic and income to my brand new blog.
After a lot of thought I started using Tailwind for my blog and looks like it's paying off..
*This post contains affiliate links. Please read disclosure here.
When I decided I wanted to blog to make money from home, I couldn't wait to become that blogger that made $2,000 a month blogging or reach over 100,000 pageviews a month. While I haven't got there just yet. Something exciting happened.
**November 2019 Update: I now make over $5,000 a month, with over 6,000-7,000 pageviews a day all with the help of Tailwind.

I started this blog in the middle of February 2018. As any new blogger, my page views were increasing at a slow pace – yea really slow. Swinging between 70 or 90 views a day, and that was mostly from sharing in Facebook groups. Anything over a hundred views a day made me happy.
I read a lot of big bloggers swear by Pinterest as their main source of traffic and income. So I decided to get serious about it. I stopped writing blog posts and started spending more time understanding and learning Pinterest. And when I finally figured it out, look what happened to my google analytics!
It jumped from averaging 100 pageviews a day to nearly 654 a day!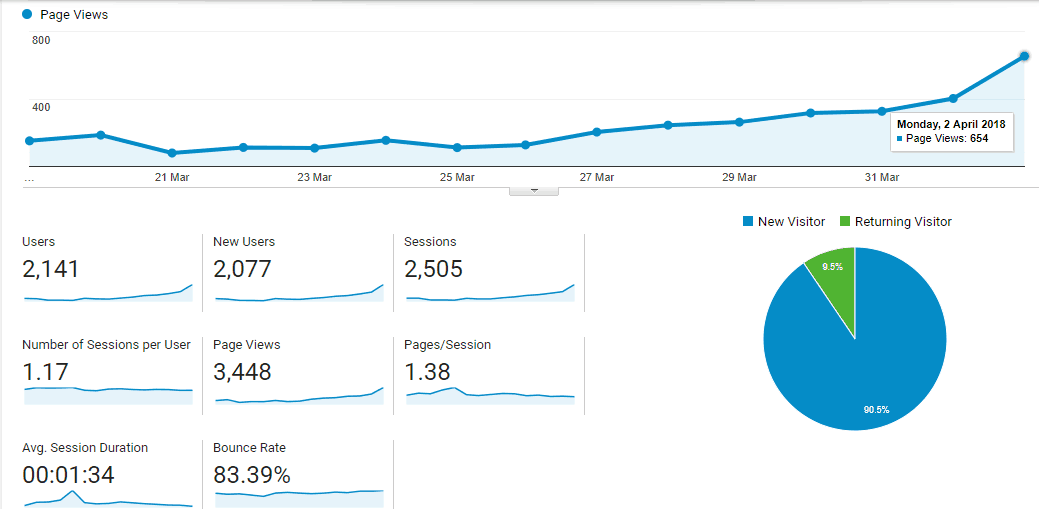 THIS BELOW IS THE START OF MY SECOND MONTH on this blog – 2-week stats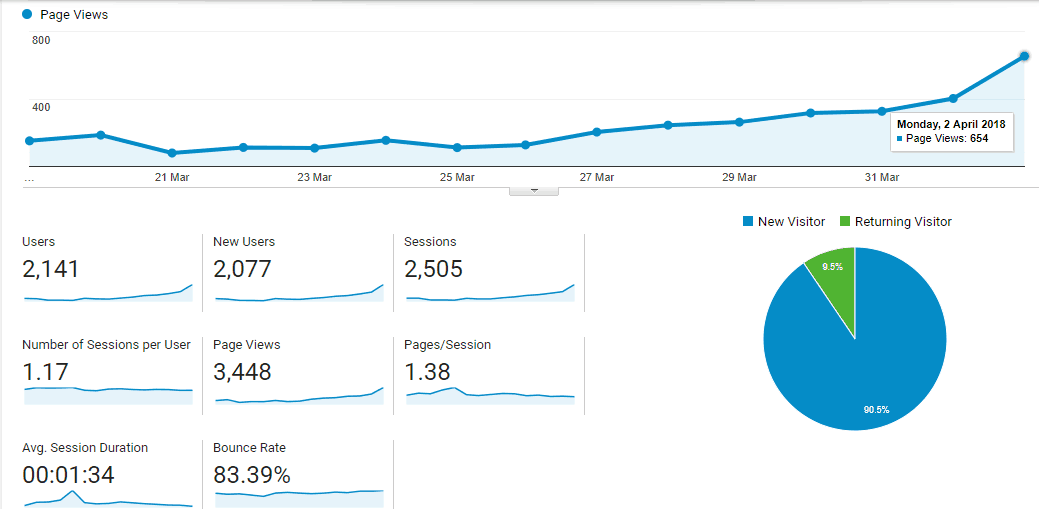 My page views were finally moving up and not staying in the plateau they used to be.
7 Months after using Tailwind: My blog pageviews are still going up.
November 2018
Blog pageviews – nearly 50,000

I pinned manually for the first couple of weeks of starting my blog. But now, I fully rely on Tailwind to schedule out my pins. Yes, I don't do manual pinning anymore.
How did I learn to use Pinterest and Tailwind:
I am a little embarrassed to say this, but I never really used Pinterest even to look up recipes.
I knew that was the BIGGEST source of traffic for bloggers and if I could learn it right I was confident I could increase my blog traffic too.
To be honest, most bloggers are great at writing content, but the problem lies in trying to market themselves on social media.
I must give credit to this incredible course Pinterest Ninja by Megan Johnson, where you learn the A-Z of Pinterest for bloggers – perfectly suited for new bloggers like myself. She also dives into more advanced strategies to use as your blog grows.
It has over 2 hours of video tutorials that make learning Pinterest easy. This helped me create a rock-solid Pinterest foundation.
I have in the past invested in a number of Pinterest ebooks and courses and this by far was the best! You can check out the modules of the course right here.
If you are not seeing traffic from Pinterest yet, I highly recommend you check out her course.
Megan has Tailwind tutorials in her course and I decided to follow her instructions to use TAILWIND!
This huge spike in traffic was a few of days after I joined tailwind!
My pageviews to my blog grew to over 600 a day
My Pinterest analytics went from 34.6k to 126.9k in a week.
And… $94 the next day. How? Because I was pinning at the right time when my followers were most active.
Two big sales. Just after tailwind. Coincidence? I'll leave this for you to answer 🙂
I'm excited that I'm witnessing great results after using tailwind on my new blog. Tailwind also publishes the Typical Results of Tailwind for Pinterest Members every year, so you can learn what the average growth rate looks like for their members.
Now, you must be wondering…
WHY DO I NEED TAILWIND WHEN I CAN PIN MANUALLY?
I live in the UK and I have the majority of my audience scattered in the US and Australia.
Using the Smart Scheduler, Tailwind showed me that my followers were the most active around 1 am – 4 am. Great… Here I was spending most of my time during the day pinning manually when there was average engagement.
Imagine if I had to wake up early to pin every morning- not happening! I've lost enough sleep with 2 little ones that are not past their diapering stage yet-ha!
Another reason is that I find I get good blog traffic from Pinterest on the weekends. It's nice to be able to automate work and not worry about blogging or social media at least a couple of days a week, right?
Sure there are other pinning schedulers available. But after going through many tutorials, I found Tailwind to be the easiest to follow and use.
---
Make extra money by browsing the web, watching videos, playing online games and testing new products - clothing, food, cosmetics and more! Its free to join. Sign up for your chance to
get a $5 Swagbucks bonus.
---
What made me feel confident about tailwind?
1. It is approved by Pinterest, so you know for sure they are reliable and understand Pinterest way better than I do!
2. Its got the smart scheduler. So your pins are being shared at times when your readers are most active. Which means your content will be shared more and reach a wider audience. (more on this later)
3. Tailwind also has something called tailwind tribes. (explained in more detail below).
4. Detailed analytics in the tailwind dashboard. When you are logged in to your tailwind account you will have this side tab.
You see the weekly summary and the tribes. Then you have the "publisher" section where it's all about scheduling your pins and "insights" which show you how your pins and boards are performing.
Let's talk about the publisher section.
This shows you the pins you've scheduled for the week. The pins that have been "published" in the past, and your "schedule", where tailwind automatically shows you time slots for you to pin.
If you go to YOUR WEEKLY PINNING SCHEDULE you will be prompted to choose how many times a day you want to schedule your pins, so tailwind can create a list of your time slots. As an example, the image below shows 5 times a day.
Once that's done, you will be directed to a page that shows these green time slots below, which tailwind suggests to be the best time to pin. And when you schedule your pins, it automatically fits into these time slots to be published. You can also customize these time slots by adding or deleting them.
Click on the blue "add time slot" if you want to add your own time. And click on the green time slots to delete them or edit them.
Pinning at the best times will mean more pageviews- more click-throughs- more traffic… Bingo!
Adding your pins is really easy. Just after you sign up, you will be prompted to add the tailwind chrome extension. You can add this by the click of a button. Once installed. It will look like this.
Alright then ready to learn how to use Tailwind? Let's schedule a pin, shall we?
Only 4 STEPS – READY?
To begin you will need to sign up below.
Great!
Make sure to add the chrome extension after you've signed up 🙂
1. Now, head over to your Pinterest account and choose any pin you want to schedule.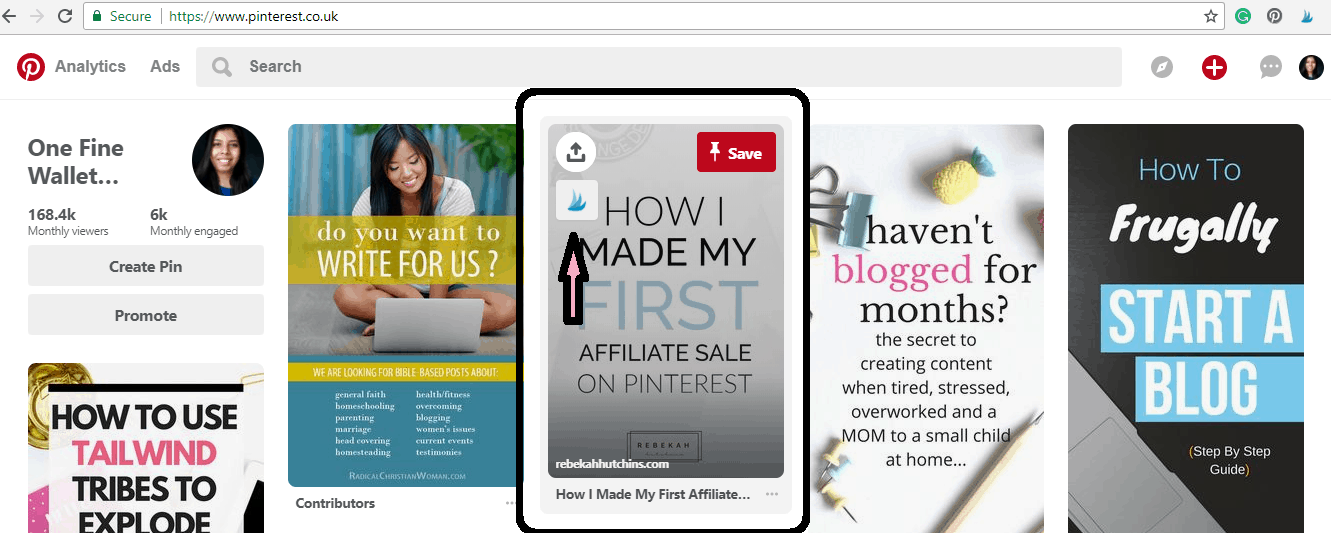 2. When you hover your mouse over any pin you will now see both the Pinterest "save" button (if you already have it installed) and the tailwind button. If you click on the red "save" button it will be pinned manually to Pinterest. But if you click on the "TAILWIND" button you will be taken to the following screen below.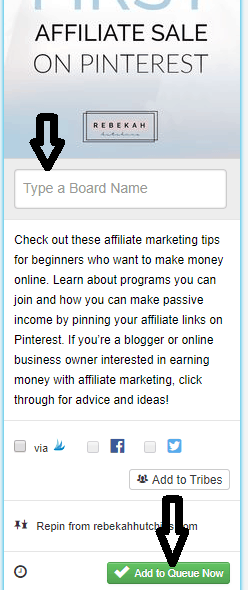 3. Type in the name of any of your own Pinterest board or group board you want to schedule it to. A list of all your boards will drop down for you to choose from.
4. Next click on the green button "add to queue now". This will directly take this pin to your tailwind account and fit into the time slots in the SMART SCHEDULER. Makes sense?
Repeat, and fill up your schedule will your pins.
I schedule a list of pins once a week. It's up to you if you want to schedule it any number of days in advance.
Feeling confident, now?
It's really as simple as adding your pins to Tailwind and letting tailwind pin it to the boards you have selected.
After the free trial, its best to get on the $9.99 a month on the yearly plan as this allows for unlimited pinning. And gives you a break from social media -ha!
If you do choose to pay monthly it costs $15/ month which is still great but you are limited to 400 pins a month.
Want to take it to the next level?
TAILWIND TRIBES
What are Tailwind tribes?
To make this simple. Tailwind tribes are just like "Pinterest group boards" and is FREE to use.
The only difference – "Tribes" are in your Tailwind dashboard, while "Pinterest group boards" are on your Pinterest account.
So you request to join a "tribe", just like you would to a group board.
But… tribes are super easy to join, so it's really helpful for new bloggers that don't have a large following or are not being accepted Pinterest group boards.
When you get accepted you can pin to the tribe. And others from the tribe will share it on their Pinterest account.
Why do I think tribes are better than Pinterest group boards?
Because tribes are highly monitored so everyone participates equally and you know you have more chances of your content being shared. Just like how a Pinterest group board states a few rules, most of the tribes state that you share one of your pins for every pin you share. So everyone wins!
Here's my post on how to use tailwind tribes, how to join a tribe and how to pin to a tribe. All explained step-by-step with images.
Tailwind is definitely something you want to try if you are looking to boost your views and tailwind tribes are a useful tool.
Don't let all your hard work go to waste. I know the time and effort that goes into every blog post. It's time to give that post the credit it deserves.
I saw results on the free plan!
Start scheduling your pins and see results as I did. Make the best out of Pinterest with Tailwind and let me know how things have worked out.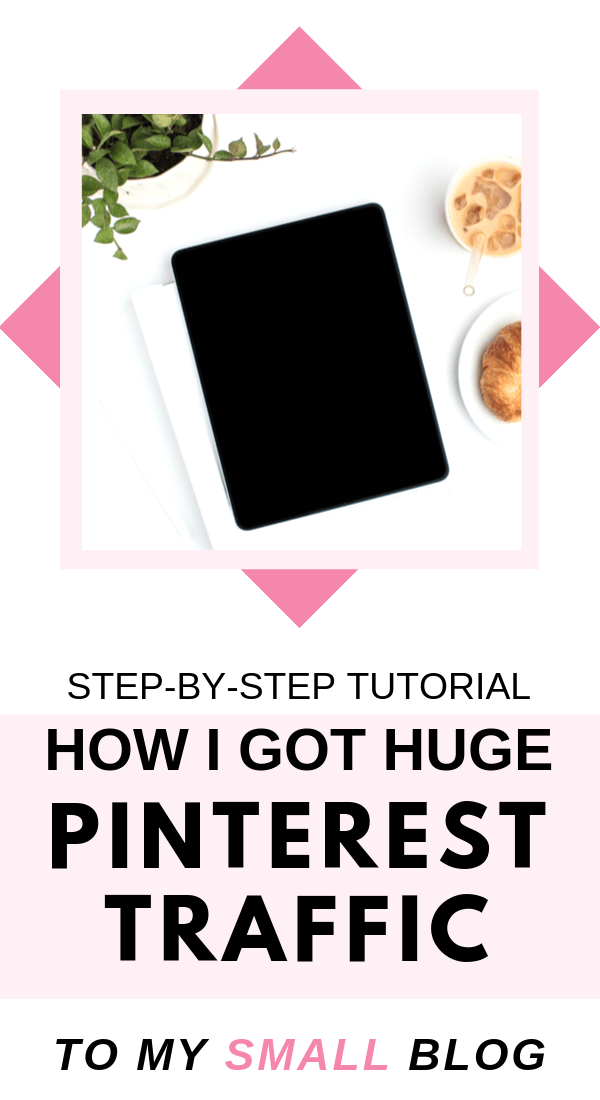 Tailwind app discount code
I am happy to announce that Tailwind is giving a special offer to my readers! If you sign up for the free trial using the links in the post and decide to upgrade to the paid plan, I will be happy to give you a 10% discount when you sign up for Tailwind's Plus plan!
Reach out to me and I will send you your coupon link!