*This post may contain affiliate links. Please read the full disclosure here. 
How to Get Free Products for Reviews?
There are a number of ways to get companies to send you products to review.
As a product reviewer, you either get paid for your reviews or get to keep them (the review products) for free! These companies are ready to reward you for providing feedback on new products before it hits the market.
You get free stuff for reviews on either sample-sized or full-sized products, along with subscriptions and digital software.
They will send you free products to test by mail and in most cases, you test the products and keep them for free. Some other companies however offer to pay you in cash or gift cards, instead of allowing you to keep the products you tested.
So today, we are going to take a look at 19 legit product testing sites that you can sign up for free.
How to get companies to send you products to review?
There are a few ways that you can receive free products for review.
While becoming an influencer is the best way to do it, that is a difficult route to go down.
Thankfully, there are review websites out there that will hand you free products in exchange for a review.
Some of these sites may not even require you to write anything. They just need you to test out their products.
On this page, we want to look at the companies that offer free products for review, that just about anybody can get signed up to.
19 Companies that Send Free Product for Review
1. Swagbucks
This multifaceted site pays you for doing tasks. There's a huge variety of things you can do so you'll never get bored.
They include getting paid to:
Take online surveys

Play games

Discover stuff online

Online shop and more!
So, you can try out mobile phone games and apps and get paid for it!
You can also earn through sharing your opinion for online surveys, online shopping, etc.
If that's not enough, you can even earn for browsing the internet and complete daily surveys worth up to $35 each. Join Swagbucks and start earning today!
2. PinchMe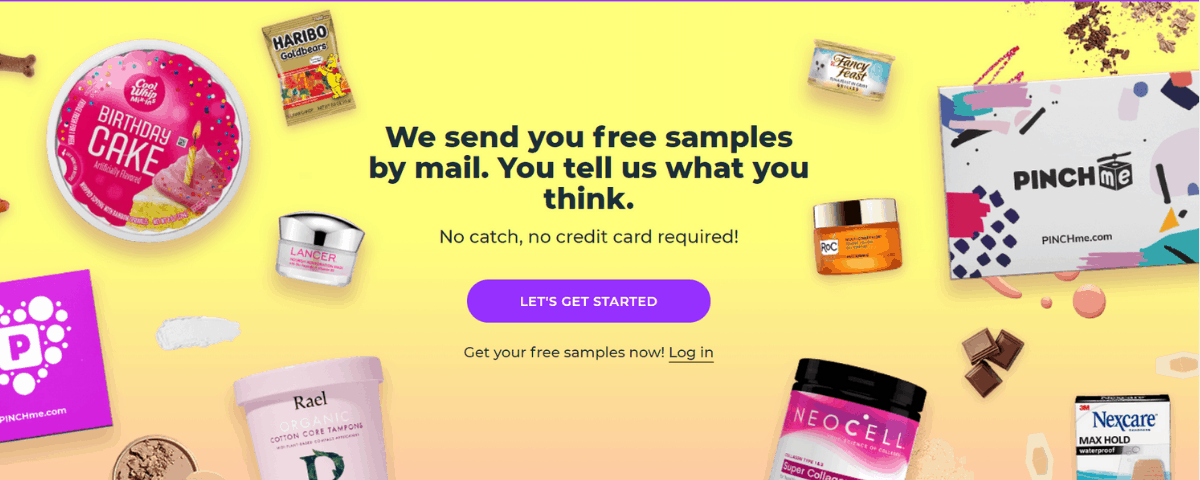 PinchMe is a product testing site available to use for those living in the US. It lets you try products from leading brands for free, you get free shipping for products mailed to you!
You get started by answering some questions about your lifestyle and household. Then, PinchMe matches you with brands and products to test.
While this site doesn't pay you cash like some of the others on the list, you can get paid in product and you will get the opportunity to try out some really cool and interesting products!
3. Home Testers Club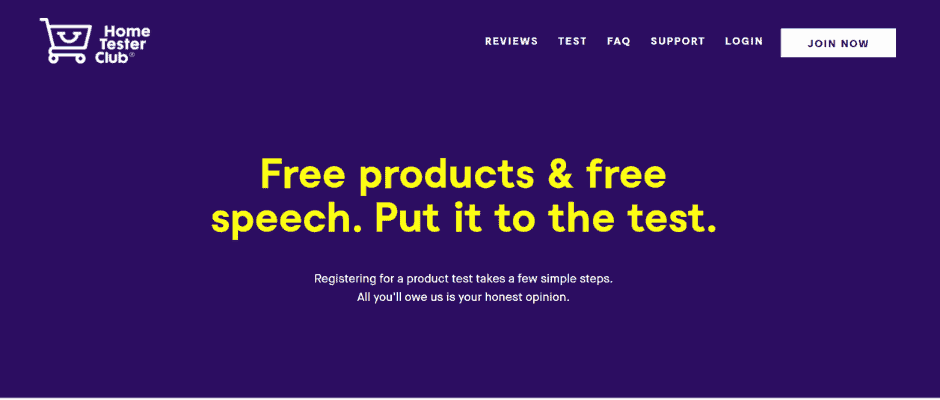 Home Testers Club is a free to join site that sends you free products for review.
On joining you get the opportunity to try out free samples sent to your doorstep. Your honest reviews help others by sharing your experience – both good and bad.
Home Testers Club is currently available in Australia, New Zealand, Brazil, Canada, China, France, India, Indonesia, Malaysia, Singapore, Philippines, Thailand, Hong Kong, Taiwan, Vietnam, Japan, South Africa, USA, UK, Italy, Spain, Portugal, Netherlands, Belgium, Germany, Switzerland and Mexico.
Once you sign up, check your inbox for regular updates on the latest product testing opportunities available.
4. Daily Goodie Box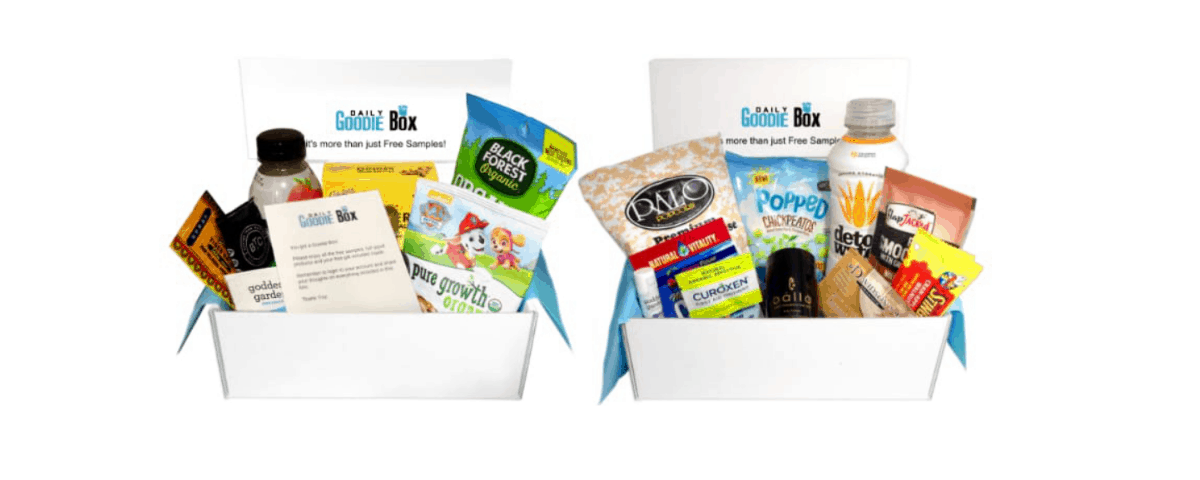 Daily Goodie Box is an awesome site for writing free product reviews.
If you head to Daily Goodie Box now, you can get your hands on a free gift box. There is absolutely no obligation to review anything inside of that box.
If you do start reviewing on Daily Goodie Box, then you can enjoy regular items being sent to your door.
This will normally be household products, food, etc.
There may even be the odd toy product targeted at children. Once you really get into the swing of things at Daily Goodie Box, they are not opposed to sending out appliances too.
5. Bzz Agent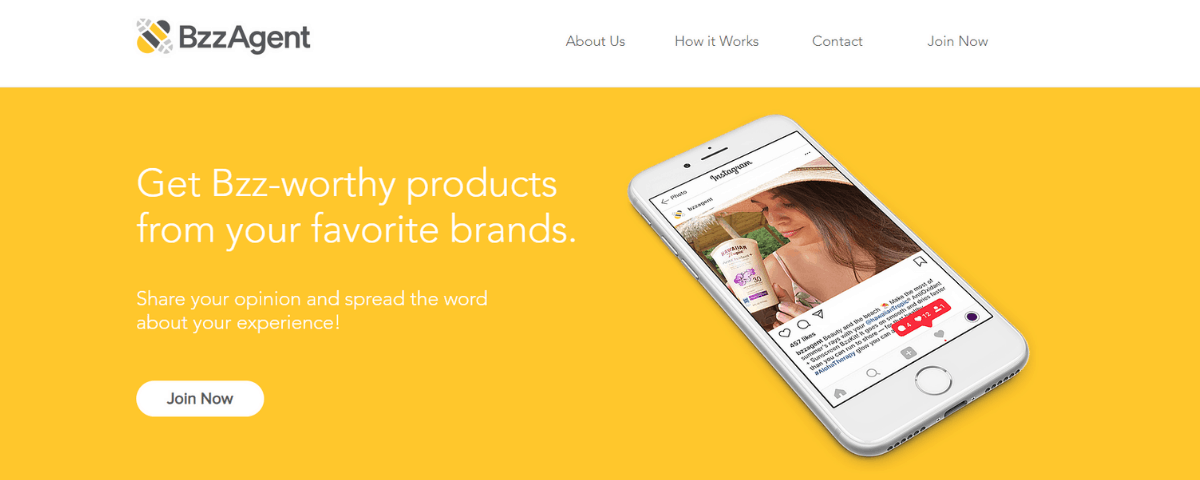 Bzz Agent has worked with some of the biggest brands in the business.
A decent focus of theirs is on bathroom hygiene products. This means that you may receive some free products from Gillette and Loreal, amongst other brands.
Bzz Agent also offers free products to review for pet owners.
The site will take you through an intense questionnaire when you get signed up.
This allows them to get to know you better. This ensures that they are going to be sending the right offers in your direction.
Whenever an offer appears, it will be sent to your email.
You can then confirm whether you wish to receive the product.
6. Pink Panel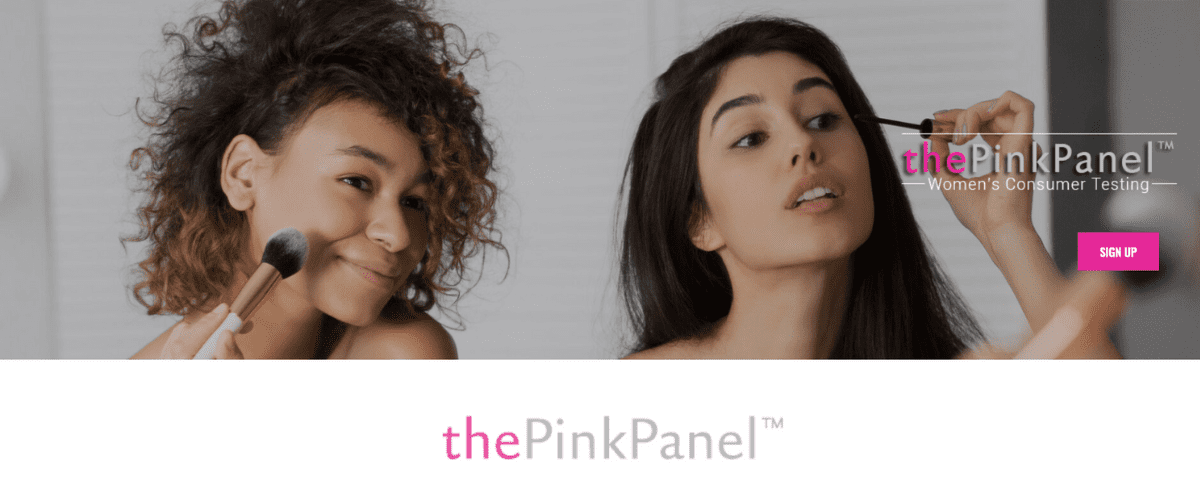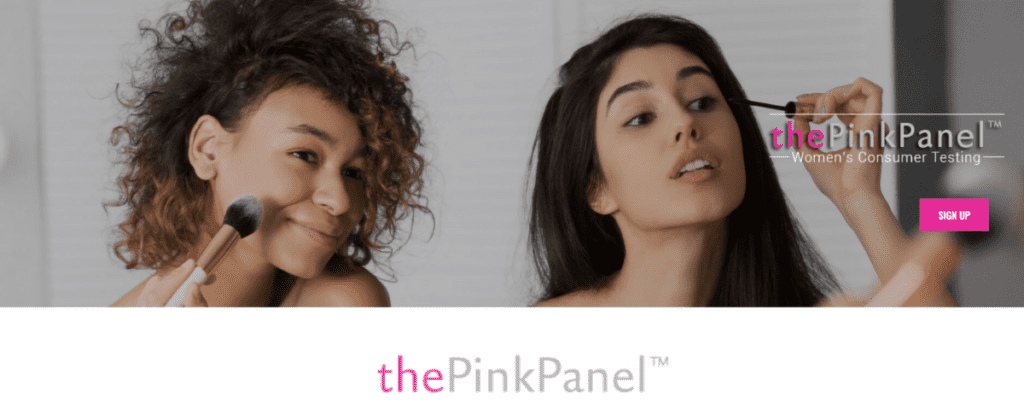 ---
Get $5 for signing up with Swagbucks:
Make extra money by browsing the web, watching videos, playing online games and testing new products - clothing, food, cosmetics and more! Its free to join. Sign up for your chance to
get a $5 Swagbucks bonus.
---
The Pink Panel is a site for female beauty products. They offer makeup and hair care products. At the time of writing, only women are allowed to receive their products.
Not only will you be able to keep any of the free products that are sent your way, but often you will get discount vouchers for makeup purchases included with the product.
This means that you could easily save up to $100 should you like what you end up receiving.
7. Influenster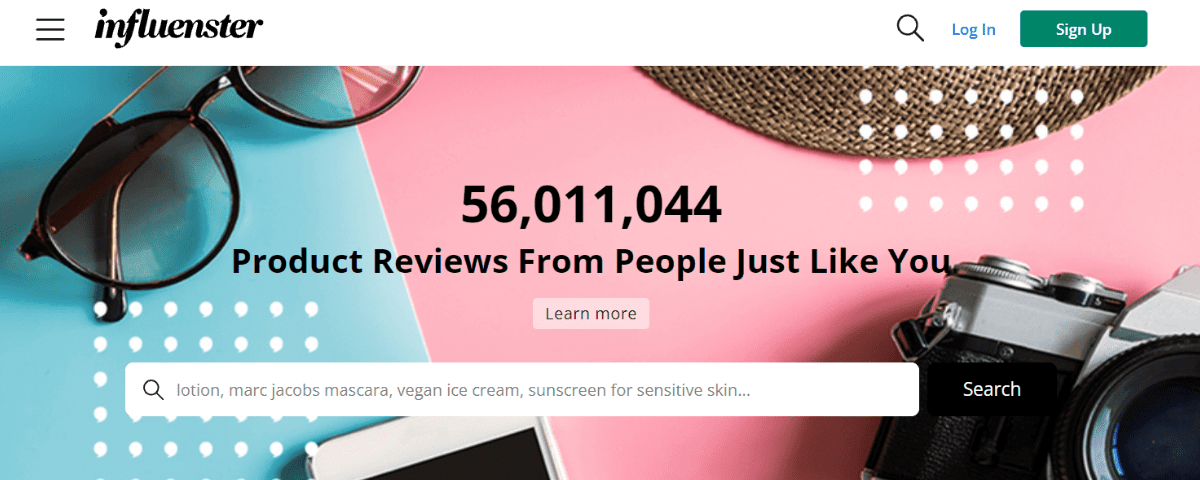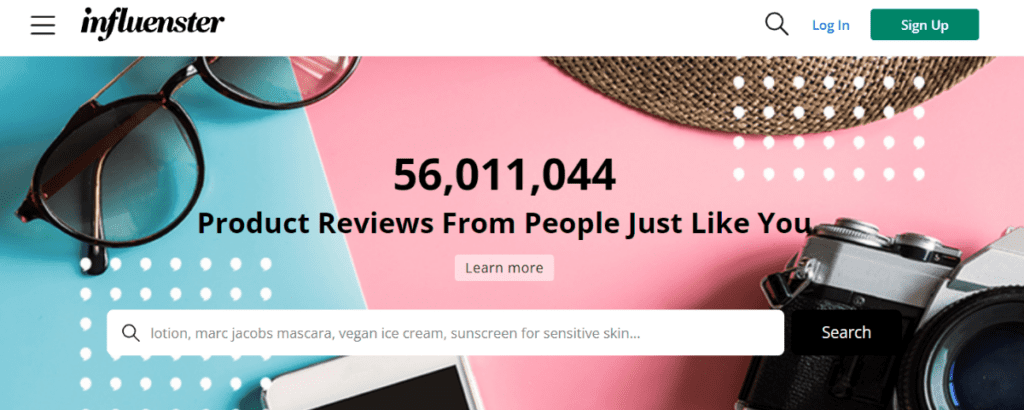 Influenster is one of the more unique sites so far.
This is because you won't be able to sign up to their free products directly. Instead, you will need to contribute to their community a little bit first.
The idea of Influenster is that you share reviews of products that you won with the other site users.
The more quality reviews you write, the more chance you have of being sent free products later on.
The great part about Influenster is that you will receive products that are highly catered to your likes. So, not only do you end up with awesome products for free, but you are probably going to like them too.
8. Survey Junkie

Survey Junkie is primarily a well-paying survey site that has pays up to $50 a survey.
They accept anyone who lives in the US, Canada and Australia to participate. They are free to sign up and the surveys are fairly short and simple to complete.
Occasionally they also offer you opportunities to get paid to test products and take part in focus groups to earn up to $150 an hour.
9. Branded Surveys


Branded surveys is a well know survey panel that pays you cash or gift cards for answering questions. In addition to this, they also offer to pay you to test products at home.
If you want to try product testing for cash, check out Branded Surveys.
10. Pinecone Research
Another online company that pays you to participate in product testing is Pinecone Research.
One of the main reasons I like this company is that they offer a flat rate for their online surveys and product testing.
If you are looking for ways to earn extra money, you can sign up with Pinecone Research here, and earn a $3 flat fee for both online surveys and product testing.
11. American Consumer Opinion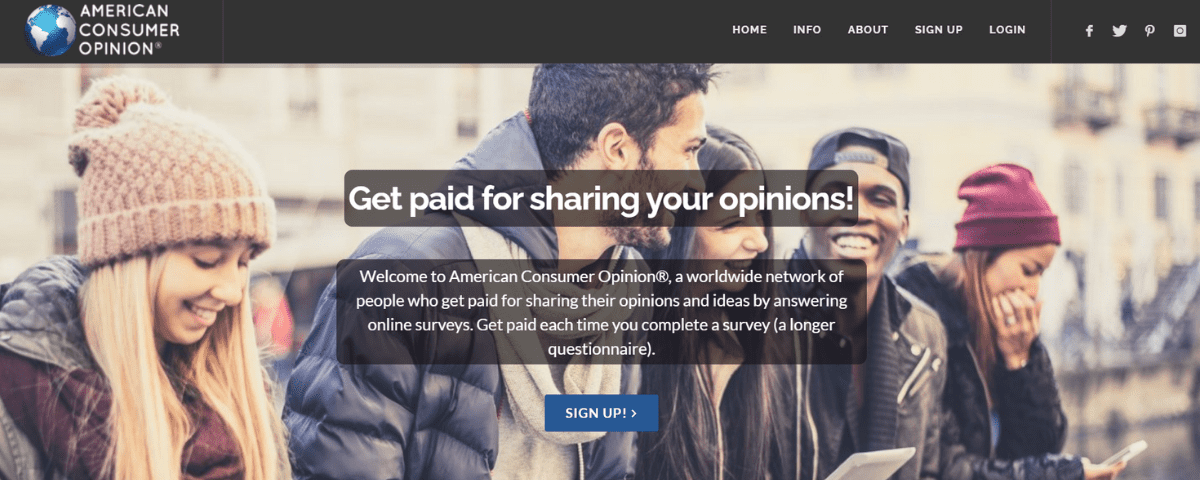 At American Consumer Opinion, you get to evaluate new products and ideas as well as give your feedback and opinion on existing products and packaging designs.
As a participant, you will help companies shape their decision on which products should hit the market and how to improve them.
They have paid out over $30,146,855 to their members so far.
American Consumer Opinion is available to a worldwide audience and you can sign up here. Payments are processed to you by PayPal.
12. Opinion Outpost
Opinion Outpost also offers product reviewer jobs. As a product tester you get paid to test products at home, that will be mailed to you.
The majority of the products for reviews, are of new products that are given to you by manufacturers before they are launched in the market.
They have over 2 million global users that get paid through PayPal or a virtual gift cards for, in home product testing.
13. Sample Hawk
Sample Hawk is a site dedicated to all sorts of offers.
This site is mostly a sample site. This means that you are not under any obligation to review most of the products that you receive. You will just receive them.
The site has a plethora of offers that you can take advantage of.
This includes food samples, beauty samples, etc. They also have a few coupons every so often too, and it is worth checking them out for that alone.
14. MomSelect
MomSelect is a site aimed purely at moms.
MomSelect requires that you are somewhat of an influencer when you sign up to their platform.
Although, don't worry. This doesn't mean that you need millions of followers on social media. A couple of hundred well-targeted followers will probably do.
MomSelect has worked with many toy brands. They have worked with Huggies. They have even worked with Walt Disney World.
If you are a mom, then this is a site that you are probably going to want to check out.
15. Prince to Consumer
Prince to Consumer is a site that pays you to take part in a clinical trial.
Participating in a trial as a product tester means you'll make money by testing out the latest cosmetics and products offered by the company.
You'll help researchers make products better for consumers and get paid immediately following the clinical trial.
16. JJ Friends and Neighbors
This is a consumer perception program brought to you by Johnson & Johnson.
After signing up, you will get invitations to join focus groups, product tests and more. When you get an invitation, you can review the details to decide if you'd like to join or not.
Product testing studies can include products like lash lengthening mascaras, dental floss and more.
You can also join:
Focus groups

Online surveys

Online discussions and panels

Consumer panels and,

Sensory panels
When you complete your study, you'll be compensated, usually via Prepaid Visa Card.
17. McCormick & Company Panel
You may be familiar with McCormick, as they are a popular food company that you may have seen in the spice aisles of your local grocery store.
They pay consumers to participate in their panels. You can make up to $15 per panel to share your opinion.
It can't get any better than that!
18. User Testing
How about getting paid up to $60 to complete a user test online?
With User Testing you get paid to test out a website or app.
You'll get instructions to complete your user test which will involve talking aloud as you navigate an app or website while recording your screen. It's super easy to do and this is a side hustle many people have been doing for a while.
They pay you via PayPal and you get the convenience of performing user tests right from home.
It's one of the easiest ways to make money from home and a great way to get paid to test products.
19. She Speaks
As you can probably guess from the name, this is another website that is aimed purely at women.
She Speaks is a massive review website. While there is no direct way to request free products from them, if you keep an eye out on their site (make sure you are registered), you may be sent free sample offers every so often.
You may find that your chances of receiving these free samples will increase if you spend time using their review system to talk about products that you already own.
Companies that offer free products for review
There you have it, 19 sites that offer free products for review.
They each have their own requirements to use, so we recommend that you check each of them out.
You could sign up for all of them if you want. Although, if you don't have much time available, this could be a lot of work.
These sites will require that you spend time checking out the products that they send. If you don't, you won't receive anything again.
How to Get Paid to Test Products
In most cases, you'll first register with the company websites and get more information from there, on the sign up process and information on how they pay you to test products.
On registration, you provide basic profile information like age and demographics. Make sure to fill them right so you only receive relevant product reviews that are of interest to you.
There are tons of reputable brands that offer opportunities to test products.
Why Would A Company Pay You To Test Products?
Well, consumer opinion is very valuable.
It's hard enough to get consumers to participate in panels or even share their opinion in a few questions for free.
So, companies incentivize panels and forums so they can get the honest feedback of real consumers.
They get the data they need for market research in order to make their company and products better for the general public.
Let's take a look at some of the best product testing sites.
Test Products for Amazon
Amazon Vine is Amazon's free product review program.
You can't just sign up to receive products from them, though. You will need to be selected.
The only way that you can get selected for the Amazon Vine program is to produce quality reviews on the site.
The more reviews you produce, and the more they are judged to be helpful, the more chance you have of getting into Amazon Vine.
The great part about Amazon Vine is that there are a ton of brands involved in it.
This means that no matter what your interests are or what products you enjoy the most are, there is probably a brand willing to send you free product once you make it into Vine.
Free Product Testing At Home
Product testing is a genuine side hustle and it's just what it sounds like, too.
You trade your time for money by testing products.
There are a ton of benefits people love about testing products for money, which include working from home, flexible schedule, competitive pay and other perks.
Generally speaking, you can't make a full-time income testing products, but it's still an awesome side hustle that usually involves you keeping the products you test!
While some of these brands will send you the products home, others will provide you with online surveys for products they are going to create.
For example, if they are going to create a new laundry detergent, you will get a questionnaire to fill out from a customers point of view. This will help companies come up with the best type of product to suit the consumers.
Why Would You Want to Get Paid to Test Products?
Well, first, you get paid to test products from home, most of the time.
That means you get the comfort and convenience of testing real products from home while making extra cash.
Sometimes you just want a little extra spending money. And, you're not up for starting a full-fledged part-time job to earn that money, so product testing is perfect!
Don't miss out on the product testing opportunities in our list above.
Are you ready to review products for free?