*This post may contain affiliate links. Please read the full disclosure here. 
Cheap Meals
If you are on a tight budget and looking to cook cheap meals, this post contains a 2-week meal plan along with recipes.
These healthy and easy dirt cheap recipes can come in handy as last-minute dinner ideas as well. Not only do they make use of products that have a long shelf life, but they also use minimal ingredients.
To help you along this healthy eating journey on a budget, I recommend you check out three resources that you'll find useful.
*This post contains affiliate links. Please read disclosure here.
The first is the Ibotta app.
A free app that offers one of the industry highest cashback for your online shopping.
So whether you shop at Walmart or any of their partnered retailers, you can get money back within 24-48 hours to use on your next purchase.
Read our full review of the Ibotta app here, or you can download the app here for free.
The next is Fetch Rewards.
Another free phone app that pays you back for snapping a picture of any shopping receipts.
The receipts must not be older than 7 days and from a store in the US. This will hardly take 30 seconds of your time and you can earn free gift cards for the points you earn.
You can try Fetch Rewards and get rewarded to shop.
Finally a $5 meal plan to make life easy.
That's right for $5 a month you are eating healthy home-cooked meals with ingredients that suit your budget.
Opt for this free 14-day trial to see if this meal plan suits you.
Instant Pot Mac and Cheese – Served 5 ways
Mac and Cheese is probably the first thing that comes to mind when we think about frugal dinners.
It uses simple ingredients, that's filling and doesn't take up too much of your cooking time.
This is an easy Instant Pot Mac and Cheese that kids and adults alike will love – and can be served 5 ways.
You can choose your mix in's – peas, ham, pesto or go traditional.
This classic homemade creamy, Cheesy macaroni and cheese can be made in an Instant Pot in less than 10 minutes.
Source: Recipes from a Pantry
Cheeseburger Pasta Skillet
Another family favourite for most of us is pasta. This cheeseburger pasta is a good last-minute dinner idea on busy nights.
Most of the ingredients are what you might already have in your pantry.
If you have some ground beef, pasta shells and 15 minutes to spare this will be ready on the dinner table in no time.
Source: House of Nash Eats
Easy Spaghetti Bolognese
If you are looking for a plant-based option, this easy vegan Spaghetti Bolognese is your answer.
This meat-free spaghetti bolognese uses lentils to give you a protein-packed meal.
Nothing screams cheap like lentils! A bag of dry lentils will last for months and can be used in soups, currys and salads.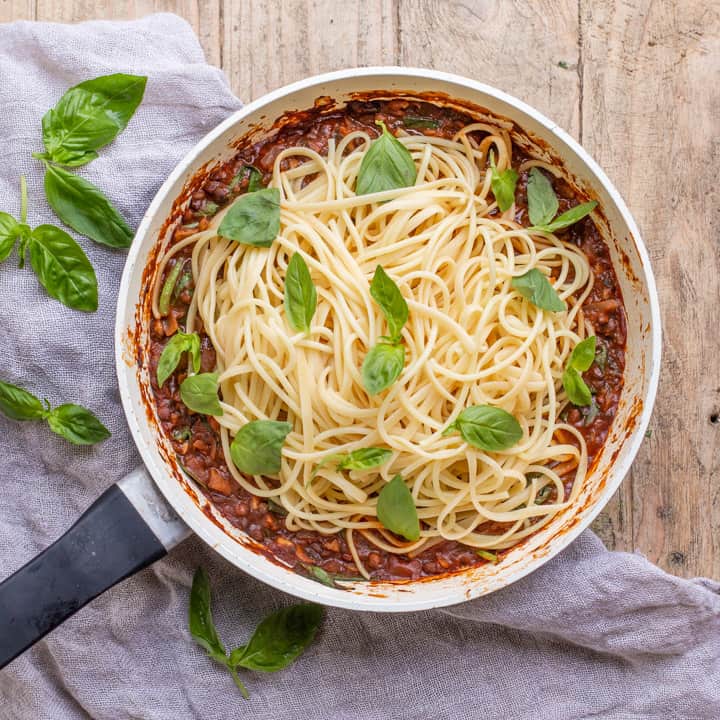 Source: Hedgecombers
Hearty Lentil Soup
Another lentil-based meal idea is this hearty lentil soup.
Dried lentils are the cheapest form of protein and you have a range of them to choose from.
There are red, brown or yellow lentils to give your meals a variety. Blend in your favourite vegetables to this soup and you have a hearty meal ready to go.
Source: The Rustic Foodie
Kale and Chickpea Soup
While Kale is a superfood, it is one of the least expensive items in the fresh food aisle.
Complement kale with a canned or dried chickpea, you can have a dirt-cheap meal on your table.
The only two ways I eat kale are as chips or in a soup, and this one is a must-try!
Source: The Kitchen Girl
Crockpot Potato Soup
One vegetable is an all-rounder is, you guessed it – potato.
---
Make extra money by browsing the web, watching videos, playing online games and testing new products - clothing, food, cosmetics and more! Its free to join. Sign up for your chance to
get a $5 Swagbucks bonus.
---
With just potatoes, onions and cheese, this is creamy dish is great for the winter months.
Potato and leek soup is great to make if you have both the ingredients. But if you are missing the leek, create a potato soup on its own and pair it with some dinner rolls.
Source: Kim and Kalee
Baked Eggs and Tortilla
A healthy and nutritious meal is this one with eggs, tortilla and some fresh produce.
It adds so much colour to the table that the whole family is bound to enjoy.
If you are someone that usually stocks up on these ingredients, then this can work as a last-minute cooking idea.
Source: Rachel Hartley Nutrition
Eggs Benedict Breakfast Braid
Another budget-friendly egg recipe is this traditional eggs benedict recipe with a twist.
While this is a great breakfast idea, it also works well as a last-minute cheap dinner, that uses very few ingredients and not a lot of preparation involved.
The best part is, you can keep the leftovers in the refrigerator for your breakfast the next morning, saving you time and money.
Source: Easy Budget Recipes
3-ingredient Chicken Taco
When I say 3 ingredients, it is just three ingredients.
If you can get your hands on some taco seasoning, salsa and chicken breast, you have this cheap meal done in no time.
Throw them in a crockpot and once cooked put them together with your choice of additional fillings to make your very own customised chicken taco. You can choose from lettuce, olives, avocadoes, tomatoes, cheese or black beans.
Source: Two Healthy Kitchens
Sweet Potato Tacos
This fresh and healthy vegan style taco recipe can be topped with your favourite veg.
Once you've chopped, seasoned and cooked your sweet potatoes, you can add this to the taco along with some avocados, lettuce, coriander and onions.
Again, no restrictions on how you would like to customised your taco!
Source: The Rustic Foodie
Loaded Sweet Potato Fries
If you prefer roasted sweet potato instead, try this loaded sweet potato fries. I love potatoes because they keep well for long.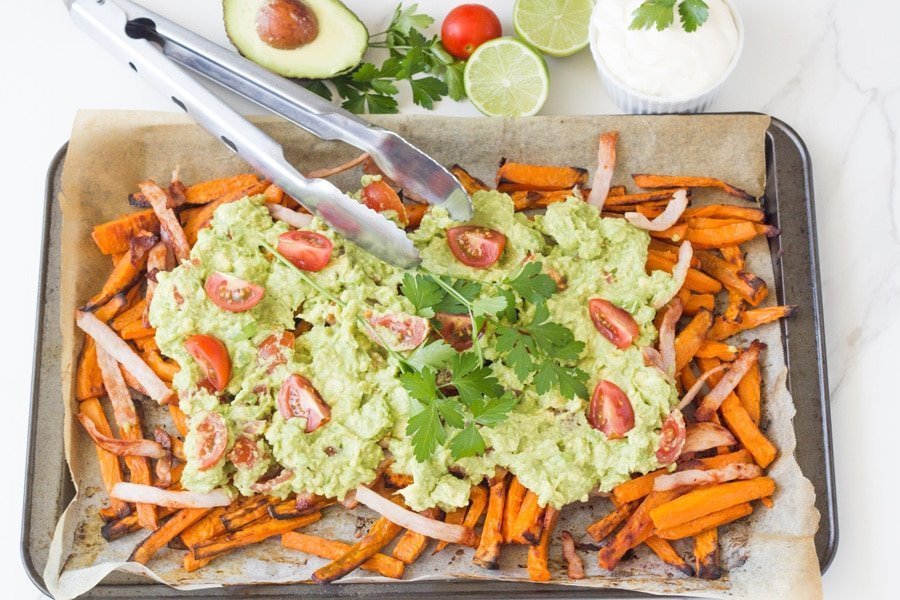 Source: Becomingness
Chicken Lettuce Wraps
Ground chicken lettuce wrap that is healthy, carb-free and easy to make.
Source: Stuff Matty Cooks
Butternut Squash Quinoa Salad
Looking for a holiday gluten-free side dish? This butternut squash quinoa salad with wilted kale might just be the answer.
Source: Frugal Nutrition
Pork Cauliflower fried rice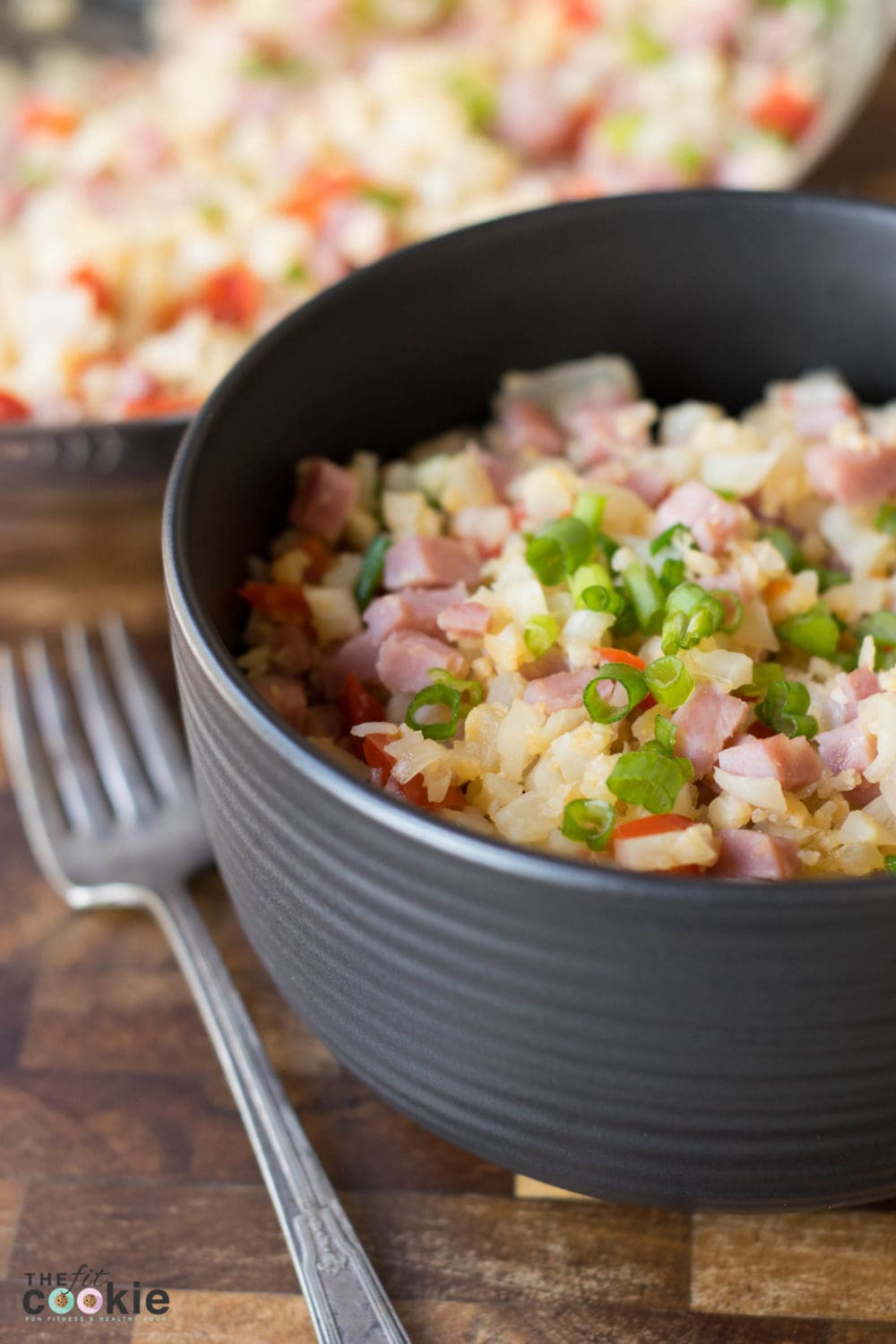 Source: The Fit Cookie