*This post may contain affiliate links. Please read the full disclosure here. 
*This post contains affiliate links. Please read disclosure.
Before I begin, take a quick look at my blog – the home page, related posts section below, the sidebar and the blog posts.
If you like what you see, you might enjoy using the Divi theme for your blog.
I have used the Divi theme on my blog from day one of blogging.
Not just giving a professional look to your site, the Divi theme has over 9 unique reasons why it might be the best option for your blog.
As a new blogger in 2018, I began my blog with this theme as it does not require you to have any technical or design skills.
Most of the blog theme templates are copy and paste.
Once you sign up for Elegant themes, you get access to all the layouts of the Divi theme and Extra themes.
Swapping between the themes is easy too – with just a click of a button you can choose between Divi and Extra theme.
Difference between Divi and Extra themes
Elegant themes are the company that offers both Divi and Extra themes.
The Divi theme gives your blog a neat professional look. It has a clean presentation and works well for craft, fashion, and food bloggers.
The Extra theme, on the other hand, gives your site a blog-style look. Take a look at my other website Stay At Home Habits for a look at the Extra theme. It's great for lifestyle bloggers who are interested in writing a wide range of topics.
Either way, you get to use both the themes when you make a purchase with Elegant themes.
Divi theme Review
Here's a little Divi review that details why I think it's the best WordPress blog theme for a business or a blog in any niche, because of its vast customizing features.
Elegant themes are a company that provides beautiful WordPress themes – the 2 most popular ones being the Divi theme and the Extra theme. So you get all the features listed below on both the themes.
Here are some quick reasons why a paid theme like DIVI is good for your blog or business:
It gives a professional look to your site and you will look experienced to new readers – an added bonus if you are a newbie.
Fully mobile responsive
Avoid the hassle to change from one theme to another if you chose to move from free to the paid theme later.
Your theme is SEO optimized – Google loves this!
A huge range of customized features that you might be restricted with a free theme.
Drag and drop visual builder
Don't need to learn any coding! This was my biggest fear, I was afraid I had to be a little tech-savvy to learn to set myself up. But with this theme, you just type your content out and drag and drop things around. Because Divi boasts of a "Visual builder" you make changes to your content as you write it on the face of your website and not on your WordPress dashboard. This makes customizing it quicker as you don't need to keep previewing your posts all the time!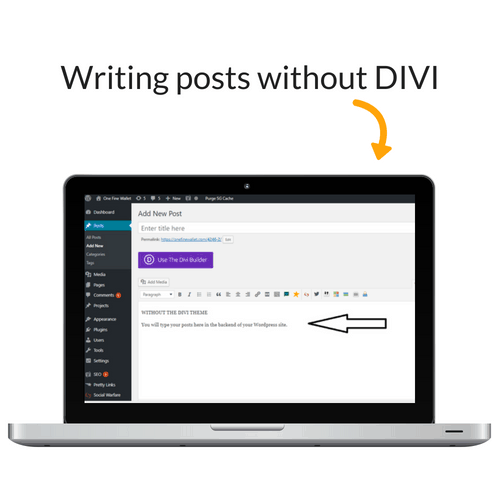 WITHOUT Divi: You type in the post in your WordPress dashboard – Save your content – preview your posts on your website – come back to WordPress dashboard and make changes again.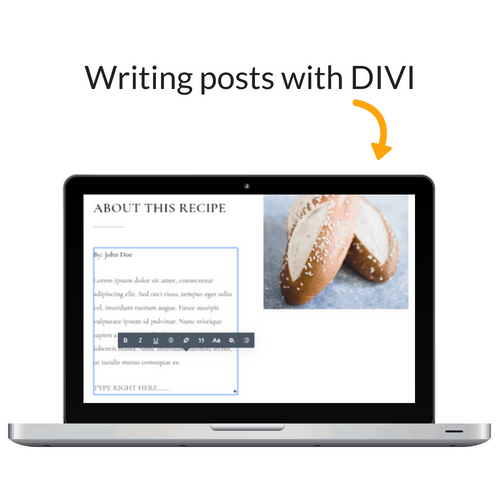 With the DIVI builder: You head straight to your website – type your posts – add and delete images – play around and customize your site right there!
A variety of Free premade layouts to choose from
You get free premade layouts uploaded regularly and you can use any of them for free. With most themes, you pay for ONE and you only use the one. Its different with Divi, you use any of their layouts. Their layouts are suitable for any niche.
Travel, fashion, food, finance, e-commerce are just a few to name.
As of 6th July 2018, there are 52 layouts you can pick and choose from and on the left, you see some of the categories listed.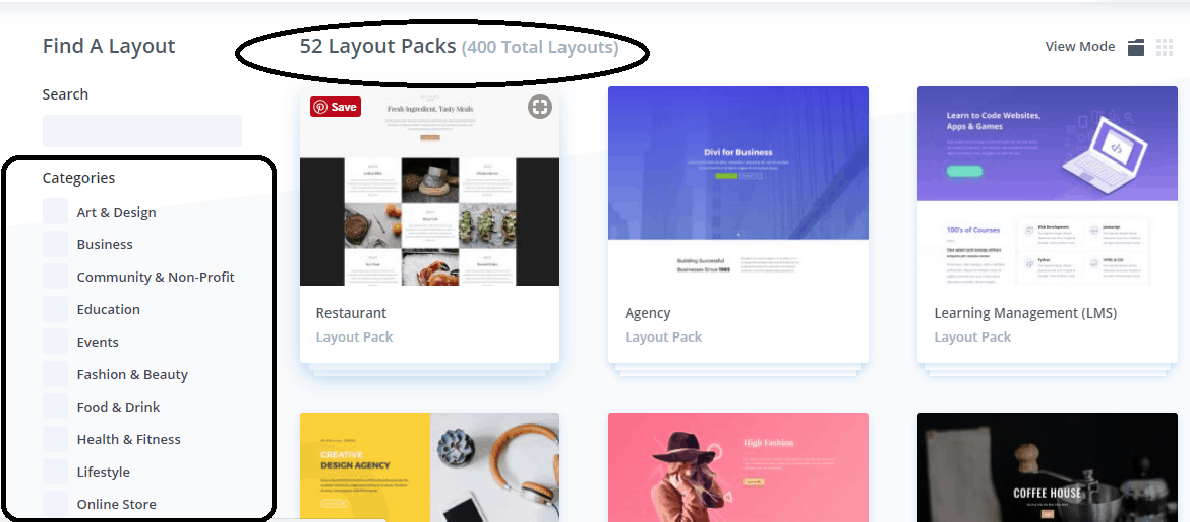 These layouts are great because it's like filling in the blanks if you don't like the work of customizing your own site.
Download layout – write your content – add your images – publish your posts!
You have hundreds of layouts for your home page, blog posts, about page, contact page and you are free to try them all out.
Free stock photos
When you download the free layouts they include some stock photos that you are free to use as an Elegant theme customer.
So you can use these images in your blog posts, or as your featured image. Instead of spending money on buying stock photos for your blog, you can use the ones that come with all of these layouts.
Amazing customer service
They have a customer support forum, where you can email them any of your questions and they usually reply back the same day. I remember the day I installed my theme. I didn't have a clue where to begin.
I watched a few video tutorials (all available on the Divi site) and then slowly built my site up.
I was sending emails almost every day to the customer service team and they were extremely helpful in helping me customize my site.
Copy and paste codes to customize
Their website has lots of documentation (tutorials) where they provide you with codes that you can just copy and paste to improve your website looks.
From customising your sidebars, creating unique homepages and blog posts designs to suit your brand.
Now, even though they offer copy and paste design layouts, you can further customise those templates to make them stand out.
Don't need to hire a web designer
With their A class customer service team that reply to your inquiry the same day, who needs to pay for a web designer right?
Every time I get stuck with trying to figure out the technology behind trying to customize my site, I just ask for help and they are quick to respond.
Don't need a related post plugin
I use the Extra theme, and if you scroll down and take a look at the end of this post you will see a related post section. Usually, you would need a plugin for this. You can make use of a free plugin, or take advantage of this premium plugin that comes free with this theme and look how neat it looks!
---
Make extra money by browsing the web, watching videos, playing online games and testing new products - clothing, food, cosmetics and more! Its free to join. Sign up for your chance to
get a $5 Swagbucks bonus.
---
Create opt-in forms for free!
Talking about plugins – they have a plugin called Bloom that you get access once you sign up to the theme.
You get 115 pre-made opt-in form templates to go with your style of branding.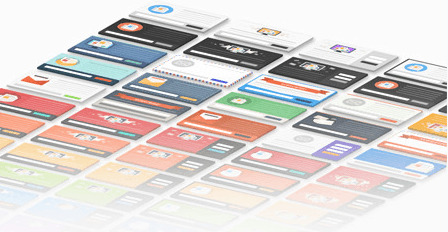 This is a FREE plugin for creating beautiful opt-in forms and lead generation. Normally bloggers pay a lot of money just to get a highly converting and elegant lead magnets. But with Divi, you get this free to use and is totally worth it!
No need to pay for a social share plugin
Monarch is another free plugin you get to use with this theme for your social media shares and follow buttons.

They are lightweight so your site still loads fast. You can change the shape and color of your social share buttons to suit your brand too!
This helps increase your share count and get more eyes on your blog.
How much does it cost?
Including all the bonuses and FREE plugins, it costs $89 a year or you can sign up for lifetime access of $249.
Either way, once you sign up you can get to use the theme on an UNLIMITED number of websites.
So say you want to create 2 blogs, you can use this theme on both of them by only PAYING ONCE!
Redeem a discount using the link below:
If you are ready to buy the Divi theme, I have a special discount you can avail clicking the link below.