*This post may contain affiliate links. Please read disclosure here.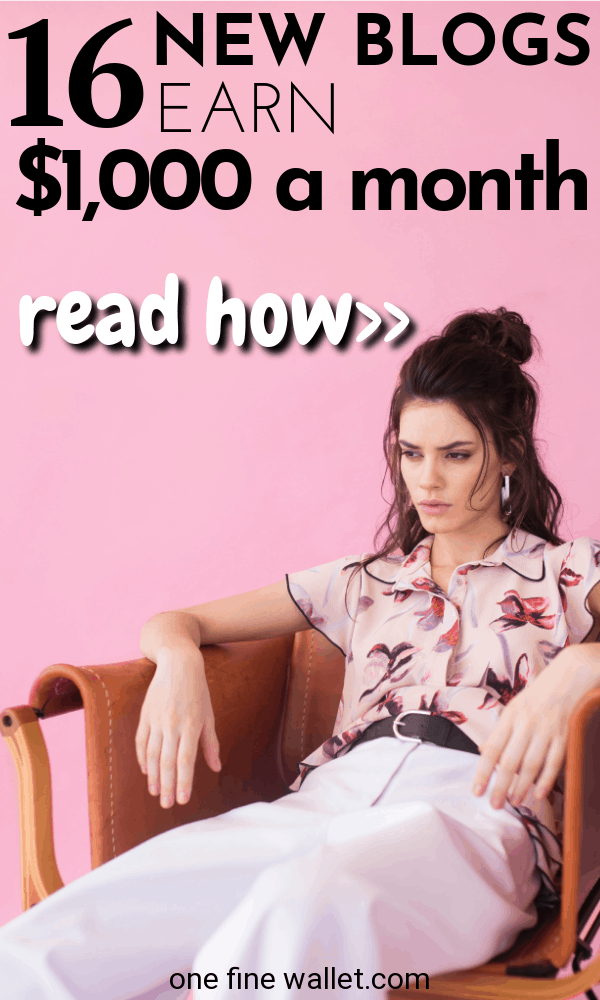 Most of us start a blog hoping to turn it into a business. But a few months down the lane, we sometimes lose HOPE.
Maybe because we are not getting as many visitors to our blog as we expected. Or those affiliate links are not converting into sales, and your ad income is just not moving past $10!
So today I have compiled a list of income reports from NEW BLOGGERS making over $1000 a month in their first year blogging. Take advantage of learning from these new blogs on how to make money blogging for beginners in any niche.
I honestly hope this motivates you. Don't be upset if you haven't made money on your blog after a year or so of blogging. It could be the smallest mistake you are making that is hurting your blog.
Learn how these bloggers are nailing it and see if this is something you could incorporate on your blog.
Brand new bloggers
1. This blog here talks about Walt Disney! From attractions to cruises to tickets and planning. It has made over $600 in the second-month blogging – Yes not $1,000 yet, but what a fantastic start!
2. A blog written by a nurse on stages of pregnancy, labor and postpartum. She has made $920 in one month and has been blogging for 5 months. The total income from her blog is $3000 so far. She blogs over at laborteen.com
3. Tried and true mom jobs by Whitney helps moms work from home. Whitney took 5 months to reach her first $1,000 and has since made $2,000 so far.
4. A bullet journalling blog that is all about time management and organizing. This blog has made $2700 in the fifth month of blogging and maintained at least $1500 each month since then.
5. A blog that teaches bloggers to learn the art of blogging and making money. Anastasia made first her $2000 in her 11th-month blogging. She made a jump from $650 average per month to $2000 as soon as was accepted to Mediavine – a high paying reputed ad company that accepts bloggers that have over 25k sessions in a month.
This is another blog in the same niche, at 10 months in and making $1,000+ every month!
6. A blog by two moms that have grown their blog to help moms on a journey through motherhood. The blog is now 11 months old and has made over $1000 in the 5th month and over $4000 in the 10th month.
7. Real Mom Recs made her first $1000 in month 10 of her mommy blog. She's now at month 14 and makes $2500/month.
8. A blog about surviving motherhood and earning an income blogging. Cate was making a steady $1k by the six-month mark. She is coming up on one year (end of July) and now makes between $4-5k  at Sweet and simple life.
9. Cleaning hacks and organizing your home is what Lindsay blogs about and made her first $1000+ month at 5 months into blogging! Her blog is 9 months old now and makes anywhere between $1,500-$2000/month. Most of my income comes from ads and affiliates
---
Need Extra Cash via PayPal?
Get paid cash from one of the highest paying and reliable websites - Survey Junkie.
Join 9 million others and get paid to do research HERE !
---
12. Here's a great way to make money from your blog – by opening an Etsy store! A blog about natural healing that makes money from her Etsy store, but gets most of her sales from her blog. Last month she made over $6000.
13. Ashley writes about a new mom and toddler life and made her first $1000 during my 9th month of blogging after being approved by an ad network and using Pinterest. She has made over $1000 every month since.
13. This here is a lifestyle blogger who made her first $1000 month in her 5th-month blogging and now makes almost $2700 a month and this lifestyle blogger that made over $1,000 in her 11th-month blogging. Here is her income report that gives you some details.
Bloggers rocking it in blogland!
14. Ben has taken it to the next level with a blog he started in October called Dollar sprout which makes him 10,000+/month!
15. Mad Creations hub is a blog that is only 4 months old and in the first month as a business, has made over 24k in sales. And in 11 months time has turned over 250k in total.
16. Chelsea made her first $1000 in month 2, now consistently make more than $10k each month on her 1-year-old beauty blog.
I know I did say "16 new blog income reports" – but this girl is incredible. Debbie has a blog about hardwood flooring that she started in 2011 but only began monetizing it in 2016. She now averages over 280k pageviews a month that brings in an income of $9,800/month. Debbie attributes her success to Pinterest and strongly believes in SEO and optimizing your site to rank in Google.
There you have it!
Yes, it is possible to make money blogging, and if you have heard from people that blogging can't make you money, or that it takes years before you see a potential income, then these new bloggers right here have proved them wrong!
Need a little more motivation?
This is my 5th-month blogging and as a mom of two kids that are not past their diapering stage, I ONLY spend 2 full hours on my blog every day. And I don't blog as much over the weekend – I enjoy spending time with my family and the kids hate it when mommy is near the computer. I LOVE working from home, but I wouldn't want that coming in the way of being a mommy first 🙂
For personal reasons, I don't publish my income reports. But with the few hours I spend every day, I make around $600 a month. Hoping to increase those numbers when the kids start school. More time for mama to work on her blog, right?
The only two resources that have got me this far is this Pinterest course and this traffic transformation course. Both are written by moms and that's why I love it even more. It's easy to understand and written in a very non-techie way with excellent examples and videos to make life easy.
SEO is something that I am working on now, and if I find the easiest resource, I will add that to my list here!
If you are stuck with anything blogging related or if you are a new blogger that needs a little help and motivation, send me an email and we can work together:)
Have you started making money on your blog? No matter how small it is, share your win in the comments below and let's motivate each other:)