*This post may contain affiliate links. Please read the full disclosure here.
*This post contains affiliate links. Please read disclosure here.
I started this blog exactly when Pinterest was going through a massive update in February 2018.
I read on social media about bloggers being confused that their Pinterest traffic was drastically reducing, or just being stagnant. There was just so much disappointment.
Can you imagine, here I am with my brand new blog, a super cool WordPress theme, my first awesome post ready to be published and I bought Megan's Pinterest course to learn all the ins and outs of Pinterest so that I can get all that amazing Pinterest traffic the other bloggers were getting. But instead, everyone was talking about an update and a drop in their Pinterest traffic.
I should have been devasted but I wasn't.
I put my head down writing blog posts and carefully understanding what Pinterest "expects" from bloggers and I created my very own Pinterest marketing strategy based on the current update and this Pinterest strategy still works for 2019.
This might surprise you, but, I never had a Pinterest slump, I never had a decrease in Pinterest views – in fact, my views were growing.
If you haven't started your own blog, you can head over here to get started, and if you have let's get your Pinterest game started!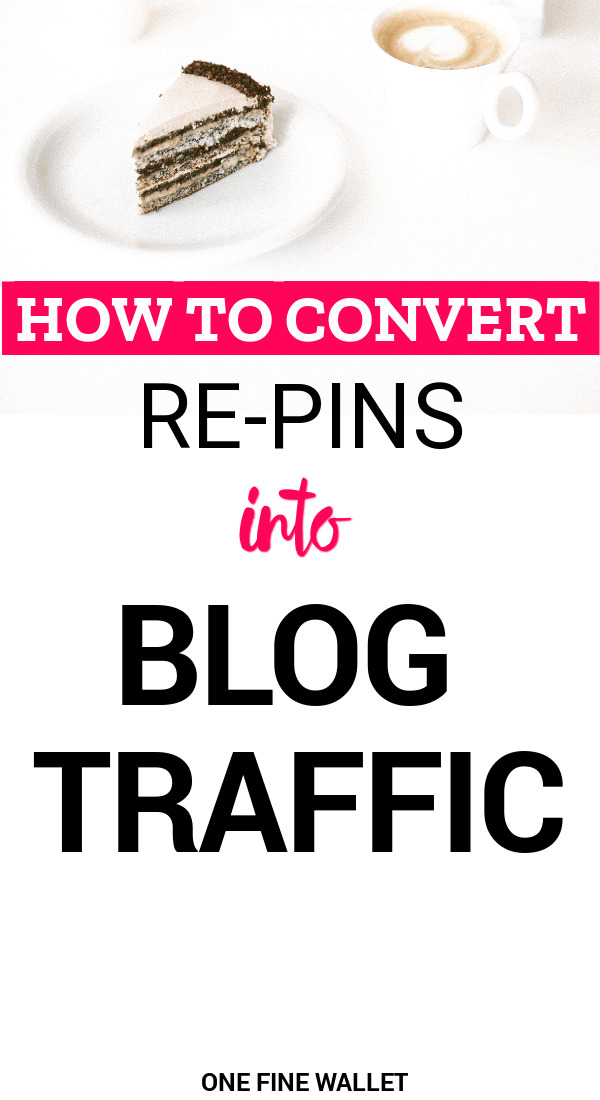 4 month Pinterest views since I started
Here is a look at my views on Pinterest in my first 4 months on this blog.
Started from ground zero in March and reached 760,072 views in June.

The initial boost in traffic I had was after I started using Tailwind on the 1st of April. I joined Tailwind for a free trial and when I saw it bringing in good traffic I went ahead and invested in it. Here is a detailed post on how I use tailwind to set up and schedule my pins.
My "new pins" went viral in June
Pinterest said they prefer new pins. So I created some new pins for old posts.
And here are some of those pins that had gone viral.




These are just some of the pins that brought me 300-1,400 visits from Pinterest.
I know it isn't easy to create new pins every day – I do at least 5 new pins each week and promote them.
Follow the steps below on how I did it, and you can see the same or even better results.
Pin sizing
First thing is sizing. Pinterest said 600 x 900px or in the ratio of 2:3.
I went with 600 x 1200 for my pins. This seems like a good size for my pins. And given enough room to create text overlays.
Pin Image
It's very important how your pin image looks.
Image 1: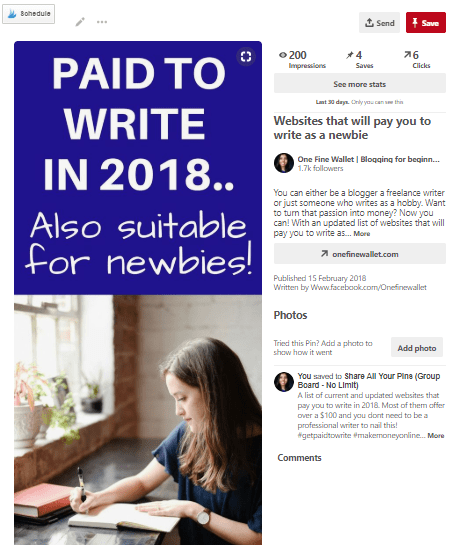 Image 2: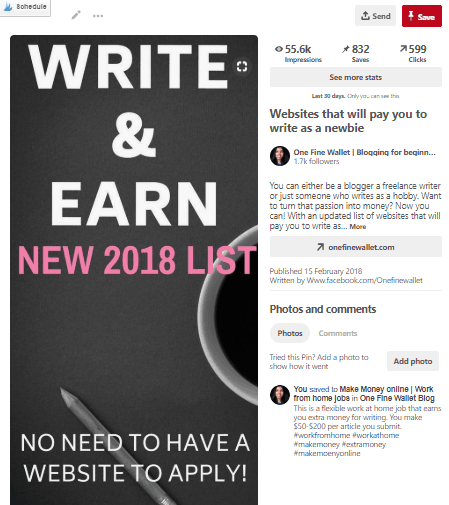 I created this post on the 15th of February 2018.
Image 1 was first created and hardly gained any traction. Notice on the right you see only 6 clicks and 4 visits.
Painful!
But just when I was about to give up on that post I went ahead and created image 2. And it went mini-viral!
To me both my pins look great, but one picked up more traffic than the other. So don't give up on a post just because you think your pin didn't do well. Its hard to understand what type of pin can go viral, so try creating a second and third pin image and test them out.
How do you test it out?
Spread pinning that pin for at least 7-10 days and see how it's doing before creating image 2. With all of my pins that went viral, it took at least a week for Pinterest to start showing it in their feed.
So don't lose hope if you have been pinning and sharing it for a week and nothing is happening. Some of my pins gain traction after 2 weeks – give it some time to see results.
How many new pins?
Since Pinterest has come out saying they like "fresh content", I create 3-5 new pins in total every week. Either a new pin for a new post or a new pin for an old post.
Some pins I upload straight into my Pinterest account, and some I insert into my blog post and then pin it from there. But if you are uploading it directly to Pinterest without inserting the pin image in your blog post, make sure you are saving that pin in your "Best of boards".
I publish a post. Where do I pin first?
Say I publish a new post on Monday, I pin it straight to a relevant board. For example, if its a "garden salad pizza recipe", I would pin it to my "pizza recipe board". I usually first pin it to one of my own personal boards, because I know I have written a well-keyworded description. This is important because, when you first pin the image to a board, it pulls the description from that board. It helps Pinterest understand the content of that pin.
And I also share that new pin to other relevant boards, say "vegetarian recipe board". Make sense?
The next day is when I share it to my own "best of blog" board.
---
Get $5 for signing up with Swagbucks:
Make extra money by watching videos, playing games on your phone and test new products - clothing, food, cosmetics and more! Its free to join. Get your
$5 Swagbucks bonus here.
---
Group boards – what you should know
As a new blogger, it's hard to get accepted into group boards. I am only a part of 25 group boards in total.
I decided to venture out and join tailwind tribes. This has contributed to a boost in my traffic, as most of my re-pins had come from big bloggers that use tribes.
Tailwind tribes are just like Pinterest group boards, you share your content and others might share yours. The only difference is that you need to sign up for tailwind to join tribes. Tribes are free to use unless you want to get on to their paid plans. I still am on their free plan:)
Learn how to use tailwind tribes here>>
And because I wasn't a part of a huge number of group boards I create MORE personal boards, to be able to spread sharing my content and others. This has actually worked in my favor because now I am sharing content to "relevant boards".
Most group boards may lack a keyworded description that shows Pinterest you are not pinning to relevant boards. I have to admit I am a part of some "share all group boards" – this is not helpful. I still am a part of those boards and continue to share my content there, but not as much as I used to. Instead, I share them on my personal boards.
If you are a new blogger and need to join group boards, try and join very specific ones. Otherwise, try and create specific niche related personal boards and start pinning to them.
Your pin images
I can't stress how important this step is.
You are capable of creating high-quality blog posts, but if you are not able to create stunning pin graphics no one is going to stop by and click your pin.
I have in the past been the queen of poor pin creation. And then I began to work on it till my click-throughs increased.
I use Picmonkey and I don't regret paying the $7. My pins standout in the Pinterest feed and I am able to get at least 500 visitors to my blog from each new pin I create.
It's all trial and error when it comes to blogging. Test out different pinning techniques and pin designs, when something gets more attention. REPLICATE IT!
Get your foundation right!
With all this said none of this will work if you haven't set up your Pinterest account right. I would highly recommend Megan Johnsons Pinterest course. Its super affordable (under $50) and is the only investment I made to learn Pinterest.
It teaches you how to get started, how to find keywords and where to place them, how to create that perfect pin so readers will click on it and visit your site, how to market your affiliate links to get more sales and lots more.
Pinterest works well if you know what you are doing with the platform. The reason I loved it so much was because it was step-by-step with easy examples and video tutorials – perfect for busy parents like me 🙂
This book has also helped me gain followers organically. I am at 1,700 followers and growing every day, after 4 months of blogging without any effort!
Update: 7 months blogging and my Pinterest has grown to over 3,600 organic followers – and I did nothing but set a sound foundation.
If you are looking for details on the latest Pinterest update I have explained it in more detail here.
And if you have any questions about Pinterest or need further help understanding how it works, send me an email or leave your questions in the comments below so I can help you out.