*This post may contain affiliate links. Please read the full disclosure here. 
*This post may contain affiliate links to products I use and trust. This means I may make a small commission if you purchase a product using my link below. So thank you!
You and I both know how so so frustrating it can be to boost traffic to a blog. New or old.
Sure experienced bloggers have created a presence in the internet world and have a loyal following that can help keep the momentum going.
But if you are a new blogger, that is trying to hit all the right notes in bringing readers to your blog, IT GETS EXHAUSTING!
You've tried Pinterest, you've shared your posts on Facebook groups, guest posted on other blogs, you're building your email subscriber list. Sure they are all contributing factors to blog traffic but.. it still seems like it's not enough!
I have put together a list of 6 lesser known ways to increase blog traffic as a new blogger that will escalate your views regardless of your niche. Ready for it?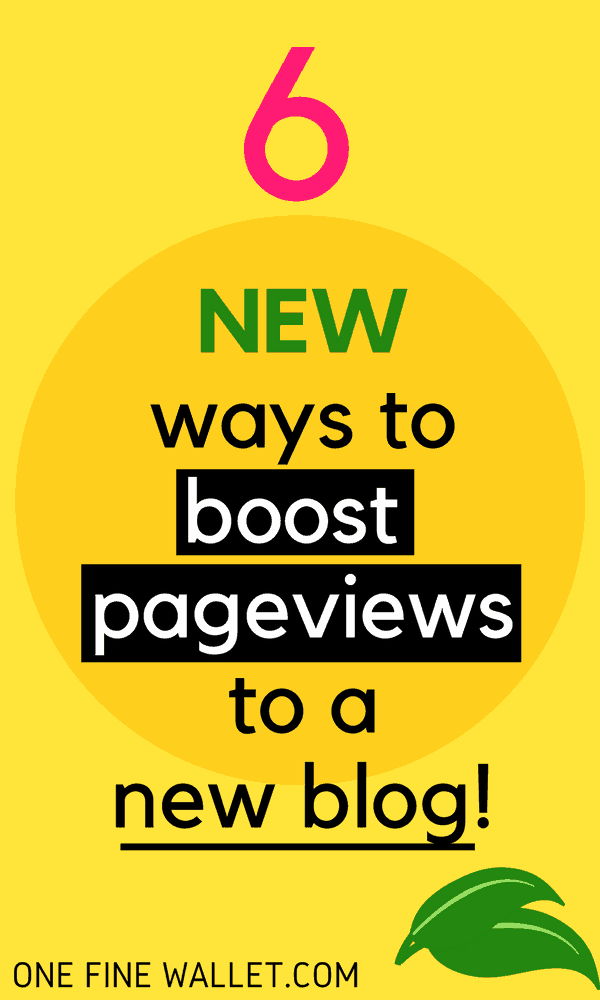 1. Tailwind tribes
When I started this blog I heard so much about "Pinterest" for blogging, that I was pouring my heart and soul trying to learn it. It is indeed the best platform to promote your blog regardless of what you write about. Food, fashion, lifestyle and even personal finance pins can take off really well. But tailwind tribes takes this to the next level. This is one of the best ways to gain views when you don't have a huge following on Pinterest. Tailwind tribes are perfect even if you just started your blog last week!
These tribes are free to use unless you want to jump on to their paid plans. I have a step-by-step post here explaining how to use this tool to drive traffic to a NEW BLOG! I went from 0 to 210,000 views on Pinterest in under 2 months of starting this blog while on the free plan. Definitely worth trying out!
2. Facebook group
No, I am not talking about joining a facebook group and sharing your content. I am talking starting your own Facebook group. Yes!
Why? When you start your own facebook group, you own it. You get to share what you want, post your content, share your products and engage your audience.
As the members of your Facebook grow, so will your page views, if you get them to actively participate. As the admin of the group, you can share your latest posts to the group wall and also direct readers to subscribe to your email list and promote your affiliate products! This is something on my to-do-list (hopefully soon :))
3. Maximise engagement
Take a second to head over to your blog and read one of your own blog posts.
Is the blog post you are reading well connected to another post of yours? Check if your posts are leading to another.
If a reader visits your blog to read about your "recipe for chocolate cake" let other recipe posts you've created be clearly visible to them. Make sure you have interlinked your post well, so they enjoy your content and become returning customers.
Here's how I do it.
Create a related posts section in the middle of my blog post
Popular posts at the end of my blog posts
Trending posts in my sidebar.
Showcase your talent. Promote your great content in every blog post.
Tip 1– Try using the Hello bar. It's a little static bar that sits on the top of every blog post. You sign up and provide your blog URL. Once you install it, it connects to your blog. You can use the bar to collect emails or to send them to another post on your blog and there are more options. This is a nice little tool to increase pageviews, and its free 🙂
Tip 2 – I would recommend having about 3-4 related posts in the middle of your post and at the end of it. I have seen a few bloggers place like 10 links in a row. I'm not quite sure if that's worked out for them, but when I see so many links I just skip past it, because that means too many to choose from for the reader. Try and keep it minimal and make them WANT TO CLICK on it, something like how I've done below.
Related posts:
Increase blog traffic using tailwind tribes, step by step tutorial with images
Learn how I made 2 posts go viral in my first-month blogging
4. Stumble upon
Have you tried this platform yet? I know most of us use Facebook, Pinterest, and Instagram , but your blog traffic is still not getting to where you want it to be? Branch out. Have you tried stumble upon? I have personally seen a sudden boost in traffic using stumble upon. Sometimes as high as 200 views in a day. Pinterest is still my favorite because a pin you once posted is still in circulation and might go viral anytime, or may you an affiliate sale 2 months later. But if you are looking for more ways of boost traffic on top of Pinterest, stumble upon is a must try.
5. Create more posts
I started this blog without a blog launch. I had 2 posts published, an about me page and the disclosure page set up. But I quickly got to work and started adding more posts to it. I started publishing one or two posts every week. I know that's not a lot, but I was strapped for time handling two little kids and a blog 🙂
I found the more posts I created, the more my traffic increased. With new content rolling out regularly, readers knew there would be something new every time they checked in to my blog.
When you have more content, readers STAY ON YOUR BLOG LONGER! They have more content to read and you have more content to share on social media. This gives your readers and your followers (no matter how small they are) variety!
6. Killer title
Two key areas that will help promote your blog are,
1. Email subscribers
2. Social media
But how do you be a hit in this department? How do you get more followers or readers to click on your content and read? How do you get your email subscribers to actually open that email you sent them?
By creating the best title for your blog post, and coming up with an incredible subject line for your email list. I have a free tool that will help you with this (yaas! I love all things free:)).
Co-schedule headline analyzer – for your blog post title.
Co-schedule email subject line tester – for your emails
How this works is you write any title of your choice in the search box and it will give you a score. Aim for a score more than 70, you can options below on what to do the get increase your score. Simple!
There you have it 6 ways to boost that traffic!
Know any other tricks that have worked on your blog? I would love to hear any of your ideas in the comments section below 🙂
---
Make extra money by browsing the web, watching videos, playing online games and testing new products - clothing, food, cosmetics and more! Its free to join. Sign up for your chance to
get a $5 Swagbucks bonus.
---
Pin me for later 🙂