*This post may contain affiliate links. Please read the full disclosure here. 
Make Money on Pinterest with Affiliate Links
Affiliate marketing is a great way for anyone to make money without actually creating your OWN product.
If you are a beginner, here are 3 easy steps on how to make money on Pinterest affiliate links – and you do not need a website to do this.
But if blogging is how you want to work from home, these are 4 steps to follow.
Published some super awesome blog posts- this was my pillar post
You're promoting it the best you can on social media.
You can make affiliate marketing work with or without a blog and I am going to teach you step-by-step.
I can remember the very first affiliate commission I made. I received an email that read the *Congratulations you have made a sale* it was an indescribable feeling!
From there it was no looking back. I started implementing new tricks to make affiliate marketing work, and Pinterest has been the best help.
Let me show you a strategy with an example of how you can start making those affiliate commissions too!
And it's by using affiliate pins on Pinterest!
Yes, Pinterest allows you to leave affiliate links on your pins following the steps I've listed out below.
Let me explain what this means, and how it works.
*This post contains affiliate links. Please read full disclosure here.
This is how you usually make an affiliate commission FROM A BLOG POST.
You place affiliate links within the body of your blog posts to products hoping that people will click on your link and make a purchase. Or you place affiliate banners in your sidebar or other suitable places within your blog post.
Right?
But, with AFFILIATE PINS, it's different. Its a shortcut to getting people to click through your "affiliate link" without you having to create an entire post on it or placing blog post links. And the best part is you don't need to be a blogger in that niche!
So you can be a food blogger and still promote products related to fashion! (more on this below) Isn't that great?
This is a great way for beginners that are looking make money in their early blogging days.
3 steps on how to do this. You first need to set up your Pinterest account to get started. Here's a guide that will help you.
Next,
You will need to create an image for that affiliate product to use on Pinterest ( a pinnable/ or a pin image)
Upload that image on Pinterest and in the URL given, place your affiliate link. So your PIN image and your AFFILIATE LINK are connected.
In the pin description, write a well-keyworded description of that product and, here's the IMPORTANT PART – disclose its an affiliate link. You use a hashtag and write #affiliatelink or #afflink or a plain text "affiliate link"
Don't worry if you didn't fully understand the steps listed above. I have a step-by-step example below. 2 things not to do
Etsy/Amazon affiliate links I believe don't allow you to use direct affiliate links on Pinterest. So do check with your affiliate owners if this is allowed. Although most of them do allow you to create affiliate pins, its always good to make sure 🙂
Don't use any link shortening tools to alter your affiliate links, I believe Pinterest doesn't allow for that.
Examples of affiliate links that can be used: Digital products like ebooks, online courses, links to your Shopify store (or any e-commerce website) are a few good ideas. The important thing is to get approved into these affiliate programs to start promoting.
3 Steps to Make Money on Pinterest with Affiliate Links
I am creating an affiliate pin for an ebook called Pinteresting strategies. I love this ebook because it teaches you how to create a schedule that you can use to manually pin to Pinterest. This strategy gets Carly over 200,000 views to her blog every month! I bought this book and I love it. It's definitely a good investment if you want to pin manually and not pay for schedulers like Tailwind.
Ok, let's start.
Step 1 : Create a pin image using picmonkey or canva. Save the image to your desktop.
Step 2 : Upload the image to Pinterest and place your affiliate link. For this, go to your Pinterest account. Click on the "red" plus sign on your Pinterest homepage. In the drop-down, you will see "upload image". Click on that and upload the image you saved to your desktop.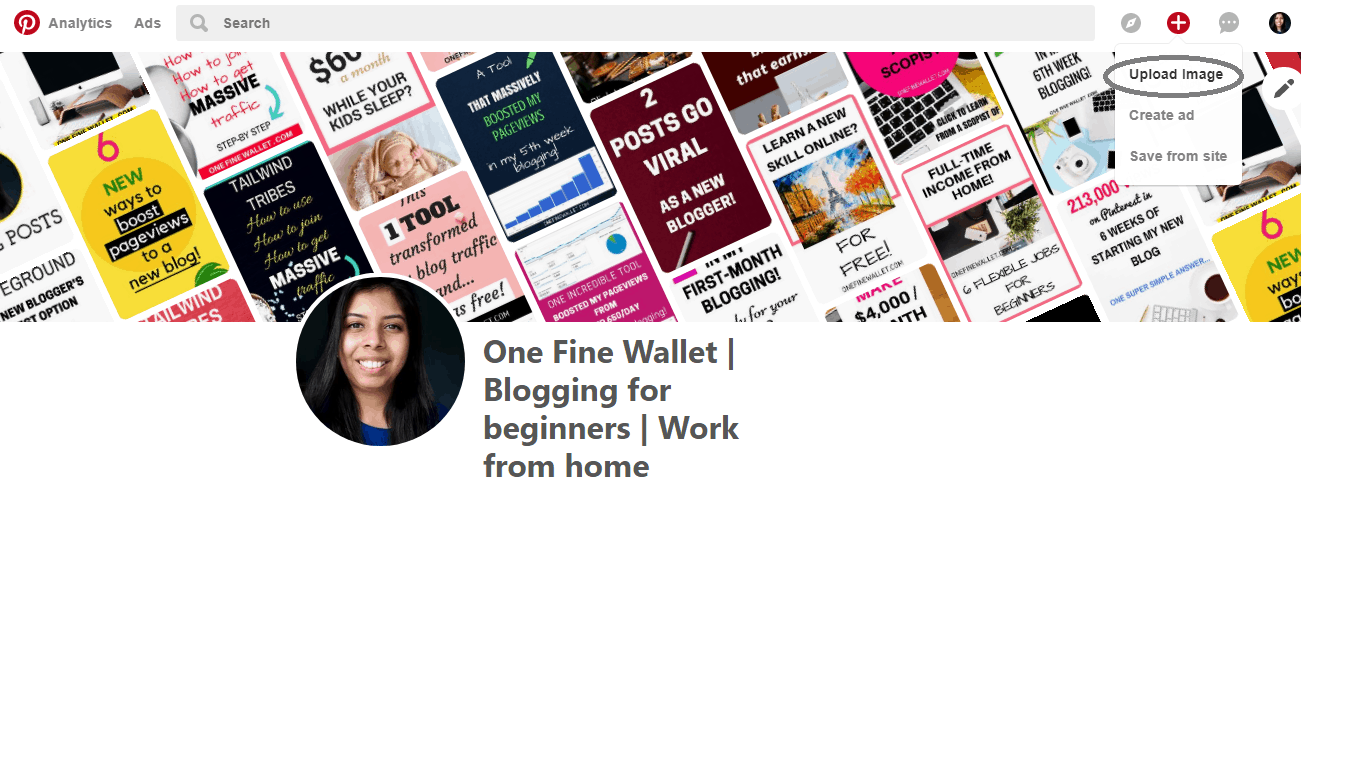 Step 3: Next, you will see this screen below appear. You then,
Upload your image here
Place your affiliate link here
Write out your well-keyworded pin description, a few useful hashtags, and affiliate disclosure.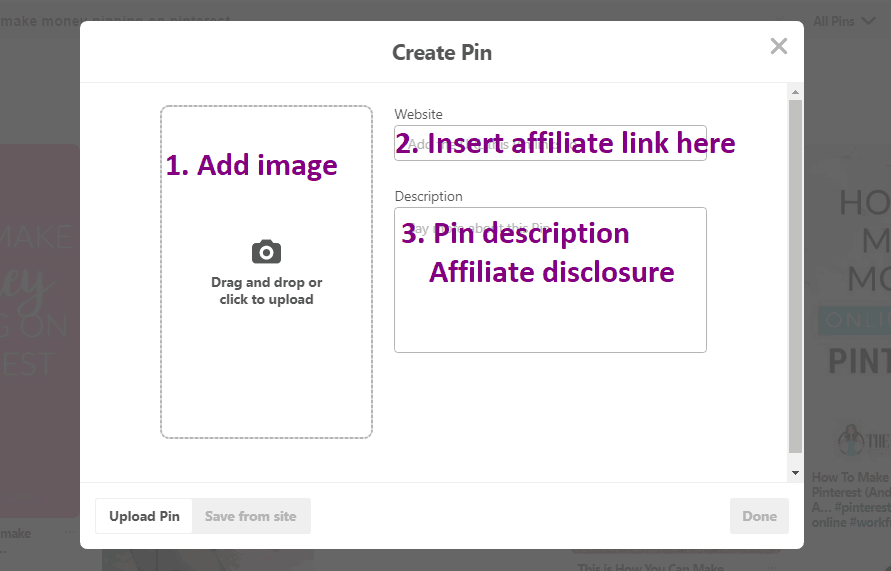 This is how I filled out my affiliate pin below,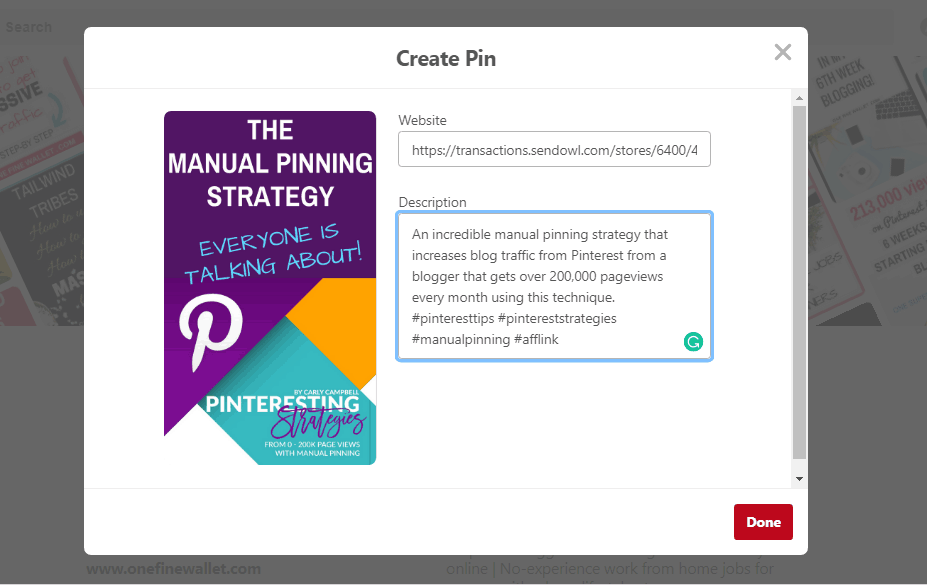 Step 4: Save it to a relevant Pinterest board of yours. I just saved it to my own board "one fine wallet" blog posts.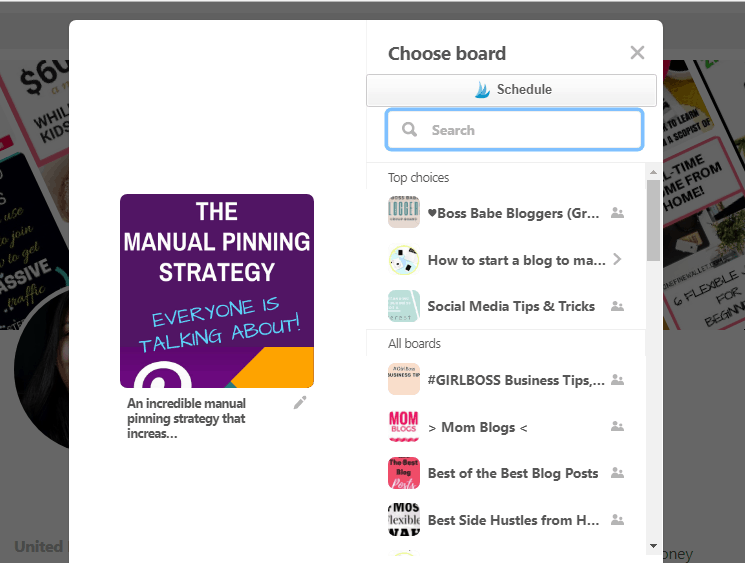 Finally… Promote this pin. Try not to go overboard with promoting affiliate links as you might look spammy. You can create multiple images (pins) for the same affiliate link. See which one performs better and promote the better performing pin. I have had a decent amount of sales sharing these affiliate pins.
2 tips to be successful at making money with affiliate pins:
A stunning pin image – I recommend Picmonkey as I love its features. You can also use canva for this as its a free tool and easy to use. You can only make a sale if someone clicks on your "pin image". So create some awesome images!
Join a reputable or highly trusted affiliate program. Readers will buy products, only if the products and the company or people behind it are reliable. For example, some of the recipe ebooks I promote have been featured in People magazine, Women's health and Martha Stewart. This gives your readers an understanding of how popular your products are and a reason to buy it.
Now remember how I told you, you can promote products in any niche?
This depends on if you get accepted into that affiliate program. And when you do, start creating your affiliate pins and promoting them.
A good place to get easily accepted into is Shareasale. This platform is great for new bloggers.
I got accepted into their program in one week of starting my blog. You can choose from thousands of products they have listed ranging from fashion, food, lifestyle, finance and more.
You can sign up with Shareasale here for free.
Start promoting your affiliate pins and let me know how they have worked out for you in the comments section below.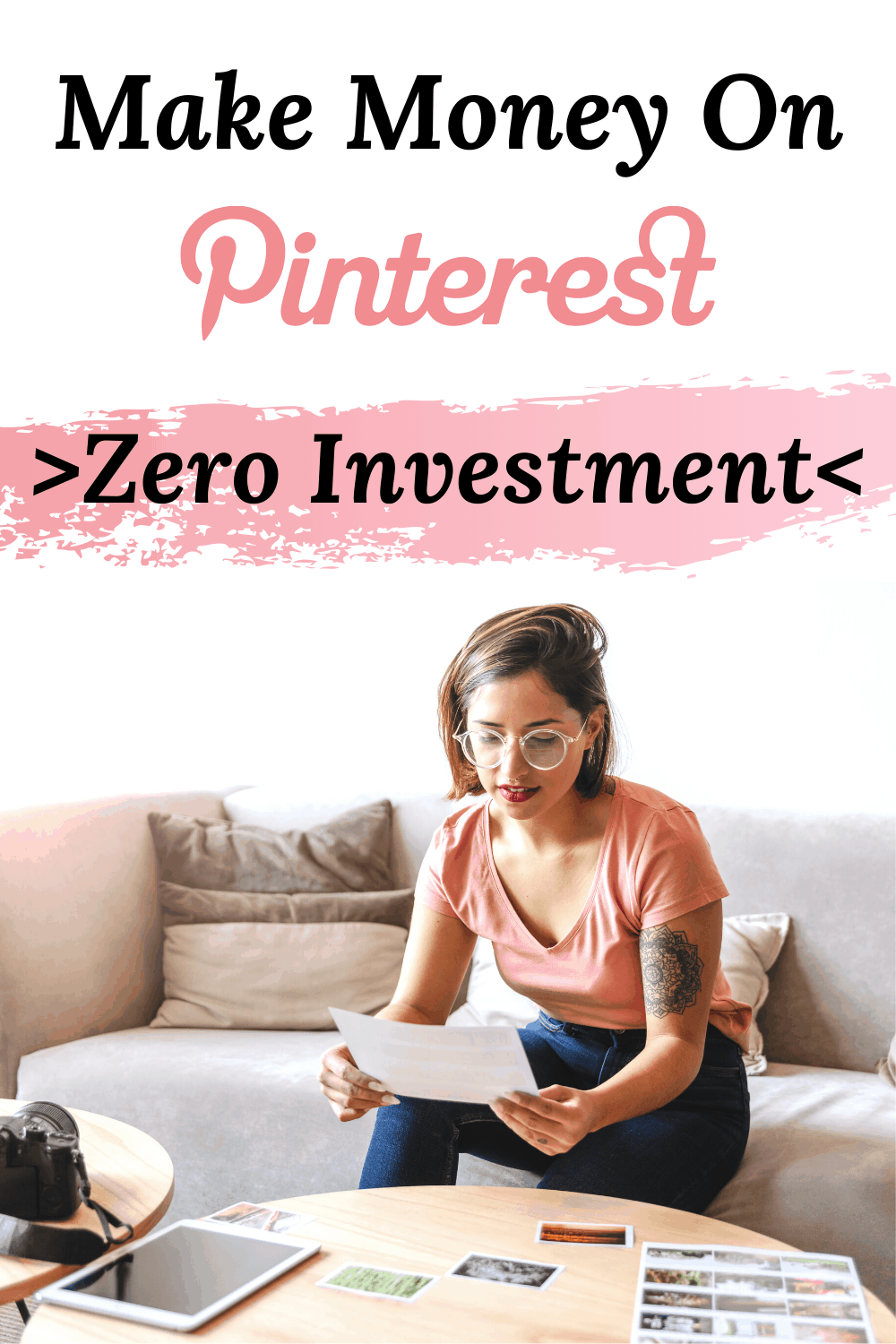 Make Money on Pinterest