*This post may contain affiliate links. Please read the full disclosure here. 
Beginner Voice Over Jobs
Have you always been complimented on the sound of your voice when on the phone?
Or, are you great at reading bedtime stories by using imaginative and creative character voices when reading to your kiddos?
Then you just may have the makings of a great voice over artist.
Voice acting jobs pay well and can be a flexible way to make money from home.
Let's look at what is voice over work and how you can get started with this career.
What is a Voice Over Artist?
A voiceover actor is someone who uses their voice to read a script to narrate, promote, convey or explain without actually being physically seen.
Let's simplify this, voiceover job opportunities are all around us.
While driving in your car listening to your favourite radio station you heard numerous voiceover jingles and ear-catching intros and outros on popular podcasts.
That audiobook you recently purchased on Amazon, sounded great, didn't it?
How about while sitting watching cartoons with your kids or your teenagers playing the latest video game? These are all places where voiceover work is done.
Beginner Voice Over Jobs
Here are some popular ways in which voiceover is used:
Audiobooks

Radio

TV Commercials

Video Games

Animation for TV, film, and internet

Podcasts

Explainer e-learning training videos

Recorded Telephone Messages

Store Announcements

Transport Announcements

Documentaries
Corporate promotional videos
How to get into voice acting?
Gone are the days when you had to go to an actual studio and pay expensive fees to do demos and voiceovers.
Nowadays, with technology so easily available you can do voiceover jobs at home and make a full-time income depending on how much work you wish to put in.
To get started you will need some basic equipment such as a computer plus fast internet connection, a microphone, a pop filter, audio software, the most common being Audacity and a very, very quiet place to work.
You don't need a top-of-the-range home recording studio to start.
Now that you know what voiceover is and the basic equipment you will need I will share with you where to find voice over jobs from home to start making a part-time or full-time income.
Here is a free mini-course that answers questions on becoming an audiobook narrator.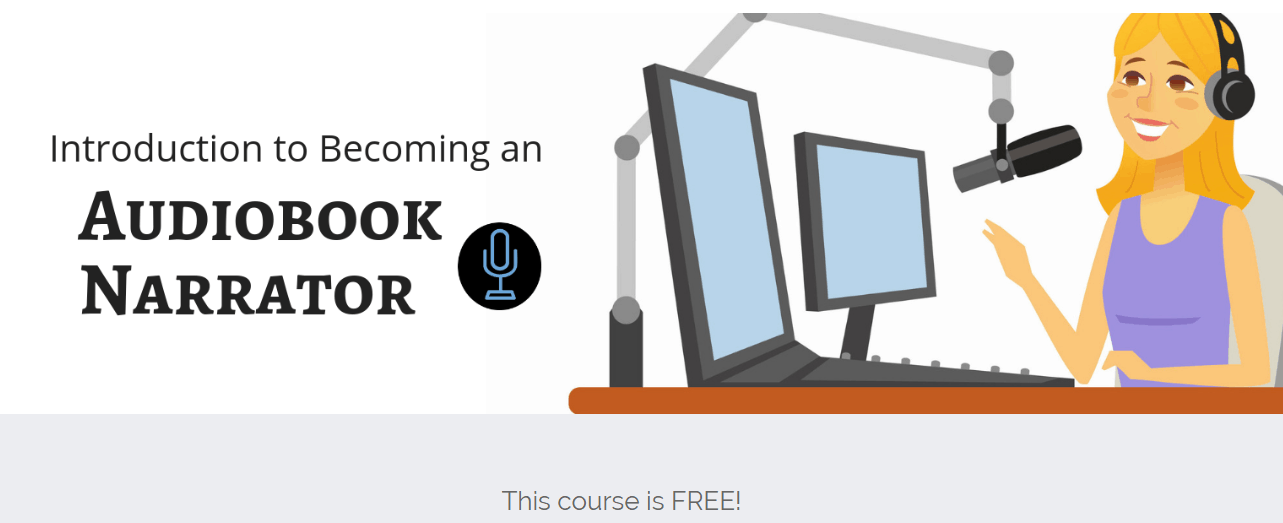 Voice Over Jobs from home
This is one of the best places to start your audiobook career.
To get begin, you will need to create a profile showcasing your voice acting skills.
Next, upload some samples of your accents and styles.
Finally, to get paid, you can choose between a flat rate or share 50% royalties or choose both the options.
Browse ACX for books you want to narrate and submit a few minutes of the manuscript to be considered for the offer.
This is another audiobook production service to connect authors and narrators.
The narrators get paid per finished hour, which is based on the duration of the final performance.
The rate of pay can also be set by the narrator and may be changed at any time.
To start, you can create an account with Findaway Voices here.
Easy to join, Voices.com is the largest community of voice-over artists, producers, actors, and narrators.
Jobs are posted on the site on a daily basis providing freelancers with a wide variety of projects to work on.
The benefits of using Voices.com include auditioning only for the jobs that you want, quoting your own rates, access to dozens of opportunities daily, and having the freedom of making your own business decisions.
4. Fiverr and Upwork
To get a voiceover job as a beginner you can create voice-over gigs and sell them on the platforms like Fiverr and Upwork.
For Upwork you may need to do a few tests. These platforms operate as marketplaces, and there are many people searching for voiceover services.
Just Sign up for an account with Fiverr add some great demos of varying styles and you can start earning almost immediately.
Don't let the $5 Fiverr tag scare you off though, as your experience and demand grow you can quickly scale up your fees.
Filmless is another great option for promoting your voiceover services.
The site boasts of hiring freelance voiceover artists from all over the world and connecting them to interested customers.
Although they recommend having your own studio as an ideal way of working with Filmless, it is not a requirement.
A quiet corner of your walk-in closet will work just as well as I know someone who actually started out like this.
Snap recordings is a company that hires people occasionally to work from home as voiceover artists.
You can offer voiceover services such as phone greetings, voice prompts, and messages on hold.
The major requirements to join Snap Recordings include having your own voiceover demo, and the ability to make timely delivery of voiceover recordings.
Working as a freelance voiceover artist at Voice Bunny is quite easy.
You have the freedom of setting your own prices and you get paid for every voiceover recording you do.
However, you have to submit an application and get accepted to work with Voice Bunny.
---
Get $5 for signing up with Swagbucks:
Make extra money by browsing the web, watching videos, playing online games and testing new products - clothing, food, cosmetics and more! Its free to join. Sign up for your chance to
get a $5 Swagbucks bonus.
---
The application process is pretty competitive with only 2% of applicants being accepted. So, you need to make sure that your voice acting skills are on point.
At Voices 123, you get to work with clients directly so a percentage is not deducted. There are no commissions or agent fees taken by the company since it is an open market place.
The site brings clients looking for voiceover services straight to your email daily.
Once a client contacts and hires you as a voiceover artist, the transaction and direct invoicing take place between the both of you for the terms of the project.
This is a Voice over jobs platform in the US, that is a community of actors and theatre professionals.
Mandy, previously called Voices Pro, allows you to apply to a number of voice over jobs by creating your online profile on their site, to show off your skills.
With over 1,202,518 members, Mandy is free to join and once you're in, you receive the latest job alerts according to your preference.
Voice Crafters is a voice acting marketplace that offers jobs in commercials, audiobooks, e-learning, promotional and corporate videos in over 80 different languages.
Currently, they are looking for people to work in other languages.
They only accept those that have at least 5 years of experience, so this is not a voice over job for beginners, but definitely an option to consider later on.
11. Job Boards
There are many other options such as checking out job boards such as FlexJobs and Indeed.
For e-learning videos and commercial voiceovers, Bodalgo is also great options to consider.
Connect with Clients on LinkedIn and Facebook
Once have a number of voiceover jobs under your belt make sure to update your LinkedIn and Facebook profiles.
Join groups to showcase your professional voice acting abilities, skills, and work experience.
They are both great platforms for networking and getting additional voiceover job opportunities.
Voice Actor salary
This is a good question as it varies depending on what platform you use, your experience, if you can do a number of character voices and accents but the average, once you have a bit of experience, can be anywhere from $100 – $400 per audio minute.
If you're a drama student this would be a great side hustle to start and it can grow to bigger and better things.
According to ZipRecruiter, the national average voice actor salary is $71,373/year (as of 8th April 2019).
Don't forget, children can also get involved in voiceover work, just think of the character Peppa Pig. Also, you might not be aware but a lot of the time women tend to be the voices of children in cartoons.
It's a good idea as your voiceover experience grows that you sign up with more than one company if you wish to always be in work to start making a great income.
So you see you can easily start making a great income from the comfort of your own home just by talking all day.
If you want more information on how to get into the voiceover business there are numerous YouTube videos that can give you a basic outline from more experienced voiceover actors.
Voice Over Training
Wondering how to get started in voice over work?
Would you prefer more formal training?
Not a problem, you can try out this free mini Intro course to check if this is what you want to do.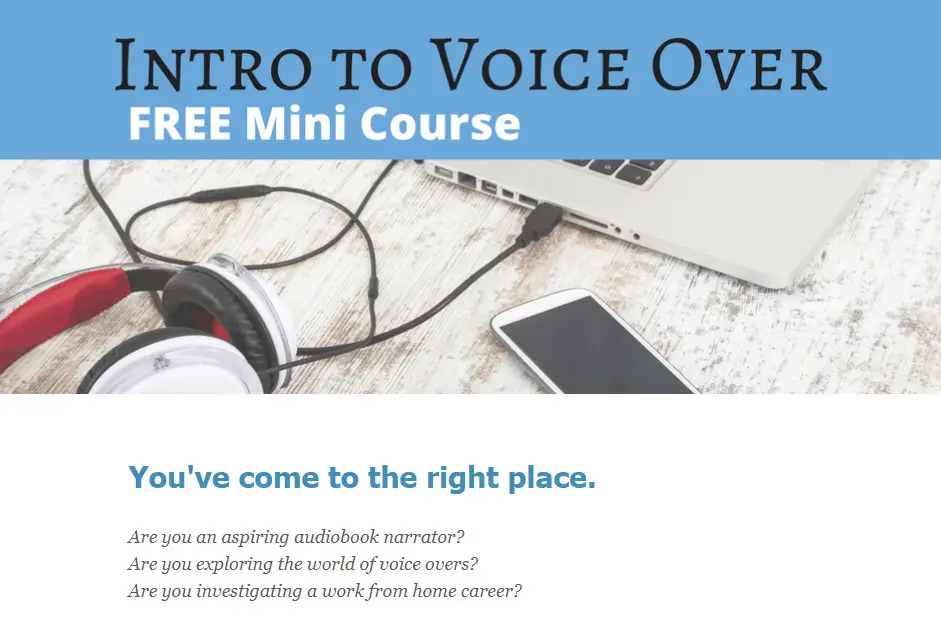 There are so many options for making money from home that I hope with the list provided above that you will consider voiceover work as another work from home opportunity to make a full-time income or as a side hustle if you prefer.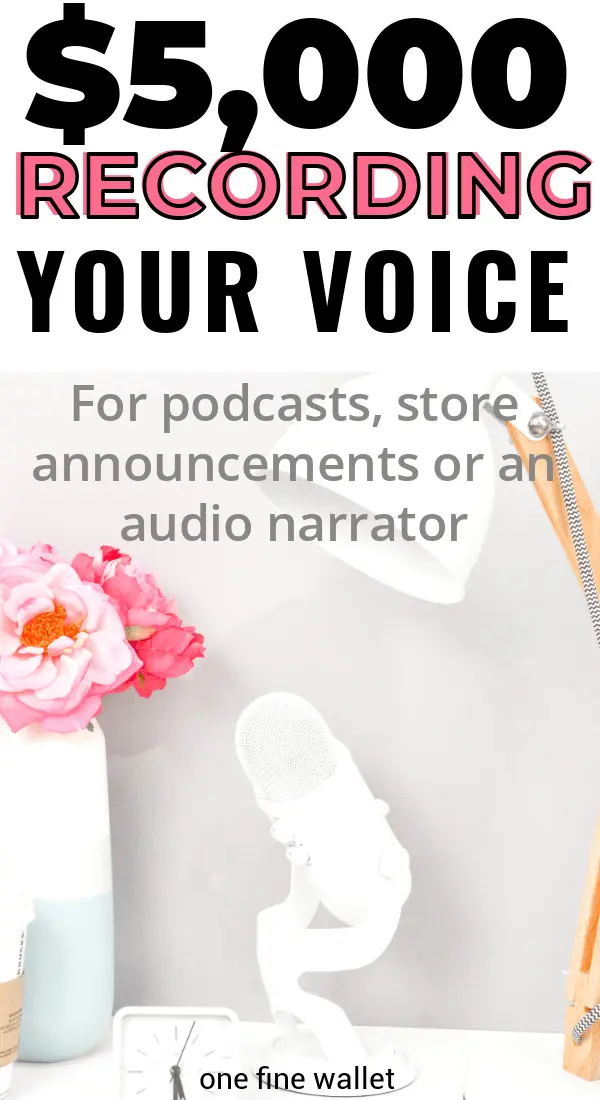 Guest Blogger: Diane Riley of Teamworkdream is a blogger and freelance writer for hire, a Londoner now based in the sunny Caribbean who specializes in writing easy to understand posts on work from home ideas and opportunities, work-life balance tips, plus she does beekeeping to calm her nerves.