40 Best Direct Sales Companies List
Today we are going to take a look at over 40 direct selling companies, and check out which is the best direct selling company to join and make money.
First, let's take a look at what is a direct sales company.
*This post may contain affiliate links. Disclosure here.
What is a Direct Sales Company?
Direct sales is a business model in which products are sold directly to the consumer via an independent contractor.
Sales are can be done remotely, through online methods or through catalog sales and home parties. The contractor then earns income through the sales themselves as well as bringing on other direct sellers. This is how, many make a living using some of the best direct sales companies.
You may be familiar with some of these direct sales companies, but you may not know in-depth what each of them sell, and which is the best to partner with. Let's review some of the best direct sales companies in various industries and understand their income potential.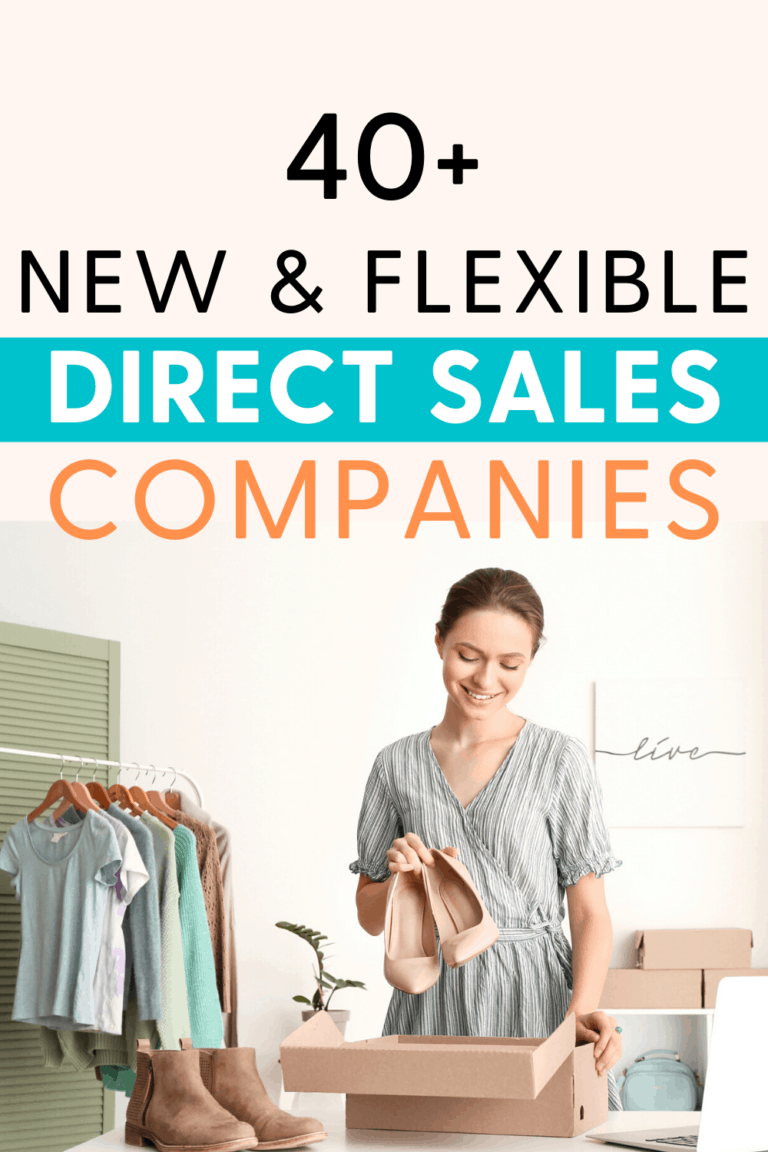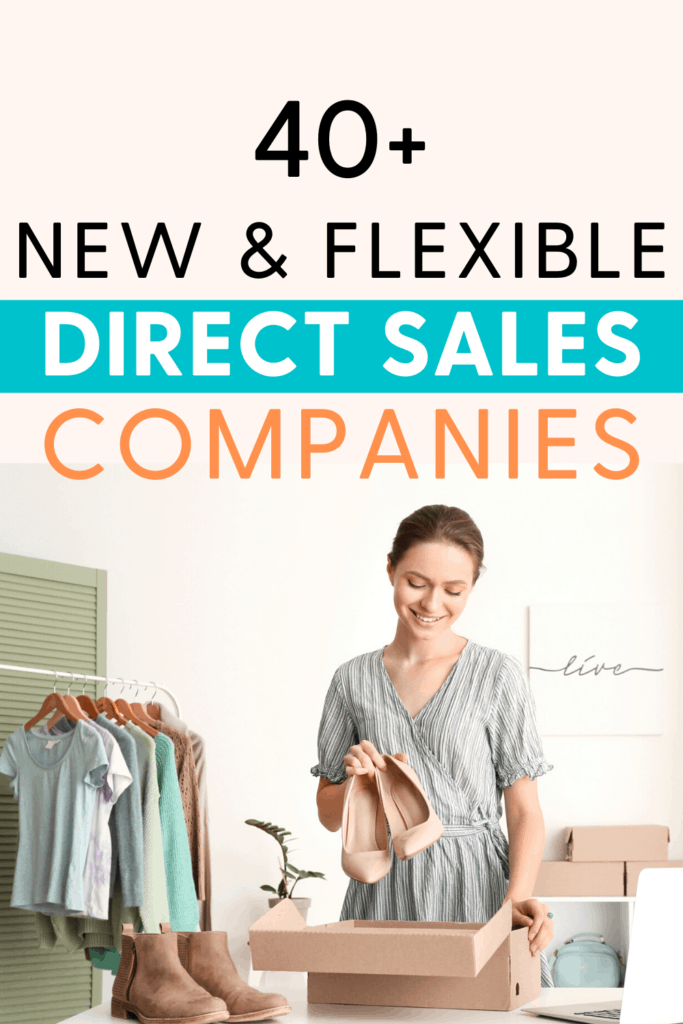 What direct sales company makes the most money?
Here is a list of direct selling companies, split into seven of the most popular categories to help you narrow your search. The seven categories include fashion, beauty, kids, food, home décor, art, and health/wellness.
Most of the companies offer to set you up with a personalised website and you will need to purchase a starter kit with their products. The starter kits come in different ranges with the budget-friendly ones beginning at $30 and the higher ranges ones around $499 and above. Its entirely up to you to decide if you want to begin with a low-cost starter kit or one that costs more.
Let's now take a look at this list of direct sales companies to work with.
Fashion
A popular direct sales company, Lula Roe is a multi-level marketing company that sells clothing. They are most well-known for their leggings with fun and fashionable patterns. Independent distributors get paid via sales they make through social media and word of mouth.
This company is a privately owned jewellery company. The company started out creating custom lockets for purchase, and eventually transformed into a direct sales model. The business model employs independent designers to host parties, where they are able to craft jewellery through provided kits. From there, they may sell the jewellery direct to the consumer.
How much can you make?
With Origami Owl you earn up to 50% commission on what you sell, and additional perks such as free jewellery and discounts.
Paparazzi is a popular jewellery company that also operates through a direct sales model. Unlike Origami Owl, consultants only sell the jewellery, they do not craft it. You can choose between three starter kits ranging from $99 to $499.
How much can you earn?
You earn between 35%-45% commission on sales.
This company sells clothing and accessories through a direct sales model, and a portion of profits are used to end human trafficking. Products are sold direct to consumer through a consultant and they make a portion of profit, while another portion is donated to the cause.
There are three ways to earn with Crowned Free.
Be A Social Seller: Earn up to $450 a month working 3-5 hours a week at pop-up shops or through social media.
Part time career: Add a few friends to your tribe and increase your earnings to $2,900 a month working 8-14 hours a week.
Make it a career: Grow your tribe and help them grow their tribe. This has a higher income potential between $3,000 to $17,000.
Grace and Heart offers the opportunity to begin a business, and make commission through direct sales to consumers. They offer high quality and well-made products to be sold through independent consultants. They provide weekly live training and mentoring along with marketing tools including catalogues, digital assets, flyers and postcards.
How much can you earn?
Earn a commission of 25-33% on sales from dollar one.
Stella and Dot is a company that sells jewellery, bags, and accessories through a direct sales model. Becoming a Stella and Dot ambassador gives you access to all of the tools for selling and making commission through products.
How much will you earn?
As an Ambassador you get 20%-40% commission on every sale and you get paid weekly. If you decide to lead other Ambassadors, you earn an additional 18% commission. Other bonuses include 25% off everything you buy including new products.
This company sells bags and totes through independent consultants. You can earn income through direct selling and also by signing up additional consultants. As a consultant, you can host parties and sell direct to customer and build an income.
Commission:
Earn 25% commission on all sales and up to 35% as a leader.
Azuli Skye is a social selling jewellery company that is fairly new. Similar to the other jewellery companies that participate in direct sales, Azuli Skye offers the opportunity to become a consultant and make a profit through direct sales and home parties.
Commission Rates:
Their Skye Spree offers you 20 to 40% of guest sales.
---
Beauty
This company produces and sells personal care, skin care, beauty, and cosmetic products. This is one of the most familiar direct sales company in the beauty industry.
Companies like Avon sell products through direct sellers who make a commission based off of sales and bringing on new representatives.
Younique is a company that produces beauty products that are distributed via direct sales. Products are sold direct to customer via "presenters" who earn commission from the products they sell. Like most other companies, Younique presenters earn further profit from bringing on other individuals to sell products.
You will start with a 20% commission that will increase as you progress. They have a quick payment system where you earn within 3 hours of every sale.
Another cosmetic company, Beauty Counter sells products directly through it's website, independent consultants, and some retail stores. One thing that makes this company unique is it's emphasis on creating quality beauty products without the harsh chemicals.
This company is a privately owned, multi-level marketing company that specializes in cosmetics and skin care products. Mary Kay consultants can make income through direct selling to customers, as well as by recruiting people to become consultants.
Their starter kits begin from $30. Commissions are up to 50% on the sales.
This company boasts toxin-free skin care through their direct sales model. As a consultant, you can make commissions through sharing and selling products. However, this company does not seem to place as much emphasis on signing up additional people to sell.
Earn up to 35% in commissions selling toxic free products.
---
Kids
If you are looking to start an independent consultant business selling kids books, try Usborne.
Usborne began using a multi-level marketing approach in 1981 to sell books directly to consumer. Through direct sales, consultants can make commission from books and by encouraging others to sell as well.
This company also produces children's books through their private publishing company. Through being an ambassador, you can sell books to individuals, teachers, and schools to make a profit. The company also sells other educational toys, which can generate commission as well.
Discovery Toys is a multi-level marketing company that sells and distributes educational toys for children. These toys can be sold by consultants of the company, and they can make a commission and income based off of what they sell to customers.
This company produces a variety of educational games for children. Simply Fun places an emphasis on learning and a direct sales model, to get products straight into the hands of families. Playologists or independent consultants can host parties online or in-person to make a profit.
Earn a 25% of the retail value of the games you sell.
---
Direct Sales Food Companies
Boisset Collection is a company that specializes in winery-direct sales. Ambassadors can have parties to sell wine, or sell direct to customer. Ambassadors can earn income or rewards such as trips for selling wine to consumers.
This company also sells wine direct to consumer, although in this case half of the profits are donated to charitable causes. One Hope offers individuals the opportunity to launch their own business and make a profit through hosting parties and selling wine to customers.
Epicure is a direct sales company that offers meal solutions, recipes, and kits. As a consultant, you can help to find food solutions for families, and those looking to eat healthy on a busy schedule. You can make income through earning commissions and rewards when selling products.
Paw Tree produces and sells pet treats, food, and supplements through direct sales. Through Paw Tree, you can sign up to be a consultant and make an income through selling products direct to customer.
This company is another wine-selling company, but they boast clean processing and better wine for all. As a consultant, you can begin your own wine business, and earn a profit selling good, clean wine.
Tastefully Simple is a company that sells meal kits and other prepared products for meal time. Products are sold through distributors who either have online parties or sell direct to customer via word of mouth or social media.
This company boasts tasty dry meal kits with only a few ingredients needed to make a delicious meal. The business opportunity offers the chance to build income with low product purchase requirements and great training.
---
Home
Tupperware is a popular and one of my favourite independent consultant companies that develop products for the kitchen and home, mainly for storage and organization. Tupperware is sold mostly through parties, with the host or hostess making a profit based off of the sales they make from the event.
This company sells health and home care products direct to customer. Amway distributors can sell direct to customer, and they also make an income through encouraging others to become Amway distributors as well.
Scentsy is a multi-level marketing company that sells home products, primarily wax warmers. Scentsy sells products only through independent consultants, as the products are not available through traditional retail.
This company is very popular and well-known, offering cookbooks, and kitchen tools and gadgets for the home. Products are sold via the party plan, similar to Tupperware. These sales occur via in-home demonstrations where customers can purchase products.
PartyLite is a fragrance company that sells a variety of candles and other fragrances for the home. Customers can turn their love for fragrances into a real business opportunity by making a profit through encouraging others to buy PartyLite products.
Work from home selling products with Jewel Scent.
This company also specializes in home fragrance, selling bath bombs, candles, and bath and body products. Individuals can sign up to be a direct sales representative and make profit when customers shop through them when buying products.
This biblical company offers home products to add beauty to everyday moments and entertaining. Consultants can host parties where they can sell products and build their business to make an income.
Rena Ware is a company that produces and sells cookware products through direct sales. Rena Ware consultants earn immediate profits from selling cookware to customers directly.
---
Arts/Creativity
This company offers unique DIY art kits through direct sales. Consultants make a profit through hosting pallet parties and making commissions through the purchase of the art kits and cost of the party.
Close to My Heart is a paper crafting company that sells kits direct to consumers. By becoming a "maker" with the company, you can begin your own paper crafting business and make a profit through selling kits.
Artsy is a company that allows you to buy and sell art and create a business through your passion for creativity. Customers can buy art directly from the site, which will in turn profit the artist.
Heritage Makers offers a variety of memory and life keepsakes and mementos. As an independent consultant, you can make income through serving customers and connecting them with products to meet what they are looking for.
---
Health and Wellness
This company develops and sells dietary supplements direct to consumers. Distributors can earn income by selling the products to individuals who are not distributors. Some examples of products include weight loss shakes, teas, and aloes.
Beachbody is a health and wellness company that offers streaming at home workouts and health supplements to customers. Coaches can make an income by connecting customers with the total solution for their health and building their team of coaches. It's no wonder why it is one of the best direct sales companies.
This company produces and sells essential oils for direct sale to customers. As a Wellness advocate for the company, you can sign up to earn commissions by selling oils to customers directly.
Juice Plus is a line of dietary supplements, which contain concentrated fruit and vegetable juice with added vitamins and nutrients. Juice Plus is sold by individual "distributers" who get a sales commission based on the number of customers enrolled in the program within a set time frame.
Young Living is a company that sells essential oils, which are advertised to be, "completely pure, naturally derived oils" and other products. The products are sold online from their shop or through individual distributers, who earn commission and sales based on how much product is sold and how many more distributers are recruited.
Shaklee manufactures and distributes natural nutrition supplements, beauty products, weight-management products, and other household products. Like many other multi-level marketing businesses, individual distributors can earn sales and commission for selling product and recruiting more distributors.
Aihu is a Health and Wellness company that sells products for anti-stress aromatherapy, skin care, facial healing, and several home cleaning products. Aihu consultants get free items and discounts on their store, as well as a commission and sales system for those they sell to and recruit to become consultants.
2 Popular Money Making Sites
Earn up to $50 each time you share your opinion about products and brands - available to those in the US, Canada and Australia. Join Survey Junkie here, it's free!
Take part in daily surveys worth up to $35 with Swagbucks.