*This post may contain affiliate links. Please read the full disclosure here. 
As a busy mom, one thing that makes me go blank every day is – what to cook today?
I'm either lost for ideas or repeating my meals.
When you come home from work, the last thing you want to do is brainstorm dinner ideas. And it gets tough if you have picky eaters at home.
To make this a less painful process, here is a weekly menu planner that not only contains, a healthy eating meal plan with grocery shopping lists, but also recipes that are under 15 minutes!
That's right, meals under 15 minutes mean spending more time with family, more time for yourself and less stress.
*This post may contain affiliate links. Please read disclosure.
As a busy mom, I love that you get pre-made shopping lists, this way you can just send hubby away to buy the groceries while you can take care of other things that need attention.
This is, in fact, a monthly menu planner so you can plan weeks in advance if you need to.
We are a family of four, and dining out easily costs over $40 – and we are not talking about high-end restaurants.
Best way to save money on food is to cook healthy at home, and fast (with a little help:).
Eating Healthy on a budget
Grocery shopping can be a huge hit to your wallet, especially if you are a large family. And that's, why I love this meal plan, as its quite affordable.
So many of us spend the weekend taking care of meal planning and grocery shopping. Here is a way to save time, money and sanity so you can enjoy more of your free time!
Weekly meal planner with grocery list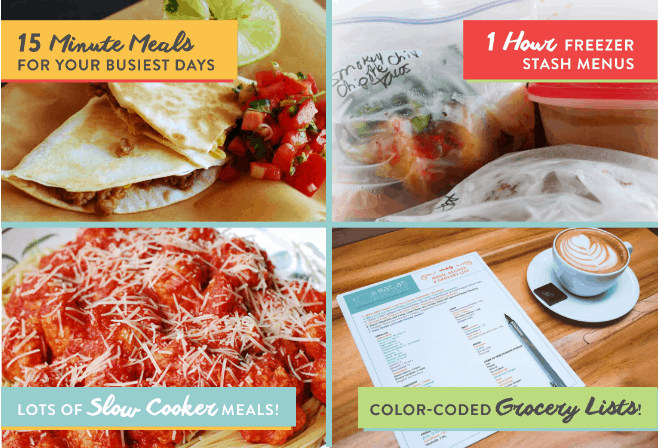 How does this meal plan work?
Once you sign up for the meal plan – you get 4 choices of meal plans that you can access online.
Traditional
Wholesome Traditional
Slow Cooker
The No Flour/No Sugar plan options (you get ALL four of them!).
You get a 7-day meal plan each week and one dessert recipe.
This means you get 28 meal plans a week, as you have access to all the 4 options.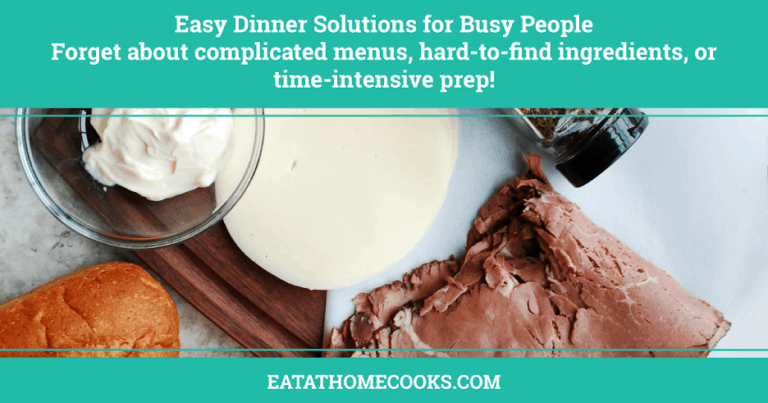 Below is one sample meal plan.
On the top of the plan, you see the menu and recipes, each in a separate color. And below in the produce section, you see the ingredients color coded to match the recipe you want to cook. So easy!
Related post: 20 easy ketogenic recipes on a budget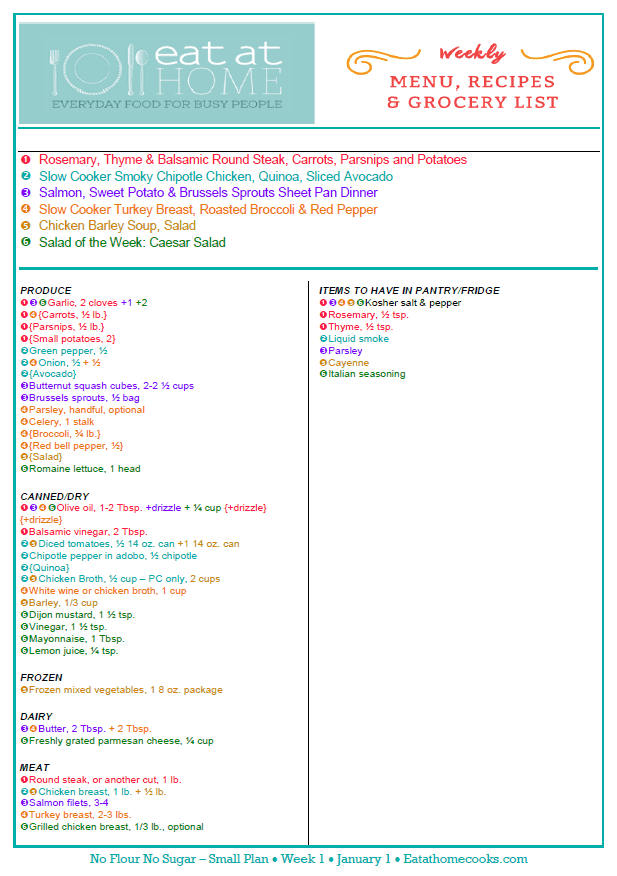 How much does this cost?
It's one of the very few cheap healthy meal plans out there in the market.
You can either pay monthly or annually for just $7/month – to eat healthy without a hassle and stay organized. These meals are healthy and taste good, you don't need to spend extra money on takeaways or pre-packed meals at the grocery store.
About the Eat at Home Cooks
This is an initiative by Tiffany King a meal planning guru, that helps you save money by cooking everyday healthy meals at home at a low price.
She's been featured in the Wall Street Journal, Forbes, Huff Post, and many more mainstream media.
Her recipes have been tested by millions of readers.
Related post: Cheap healthy foods to buy to reduce your shopping bill.
Why is this one of the best meal plans?
The recipes included make use of everyday ingredients, so you don't need to go anywhere special to buy them. The produce used are affordable, so you save money.
The meal plans also include slow cooker recipes, instant pot recipes, 15-minute meals and more.
Freezer Meals
If you enjoy creating freezer meals, with these recipes you can cook 6 meals in under an hour.
Printable
Recipes and menu are in a printable format, so you can download as use when cooking or hang the menu on the fridge so your family can see what's for dinner.
Picky eaters
The traditional plan included is created particularly for picky eaters. And the food is very kid-friendly so your whole family will enjoy.
Not much of a cook?
You don't need to be an expert cook to give this a try. Most of their 18,000+ members share that they hated cooking, or had no idea how to cook until they started using Eat At Home meal plans. The recipes are straightforward, easy to follow, quick to make and taste delicious.
---
Make extra money by browsing the web, watching videos, playing online games and testing new products - clothing, food, cosmetics and more! Its free to join. Sign up for your chance to
get a $5 Swagbucks bonus.
---
You can cancel your monthly and quarterly memberships at any time with just an email.
For just $7 a month on their annual membership, you are saving so much time and money. With their handy shopping list, you buy only what you need – this means less food wastage also.