*This post may contain affiliate links. Please read the full disclosure here. 
Get Paid to Lose Weight
Want to lose weight but need extra motivation?
What if I say you can get paid to lose weight?
Yes, we are talking about a weight loss challenge for money.
With HealthyWage you can get paid to lose weight and earn up to $10,000 in prize money once you reach your weight loss goal.
Before you think this is not possible let me show you a couple of people who have made money from this weight loss challenge, and this is from the HealthyWage website.
Anastasia and Blake have won $10,000 and $4,670 for losing weight in an 18 month and 15-month time frame.
These are just 2 individuals that earned money for losing weight, here are some more success stories.
The amount you earn depends on your weight loss goal, how many months you to take to complete the challenge and the bet you place.
They have a prize calculator that you can use to play around and see how much you'd like to bet on. This is how the calculator looks like.

So I tried to play with the calculator a bit and got these figures. If I were to pay $20 for 18 months and reach my target weight loss this means I make an additional $393 and.. lose weight!
That's a double bonus.
** Note: This prize money is based on my own height, weight and gender. It differs from person to person. So check out the calculator to see how much money you are eligible.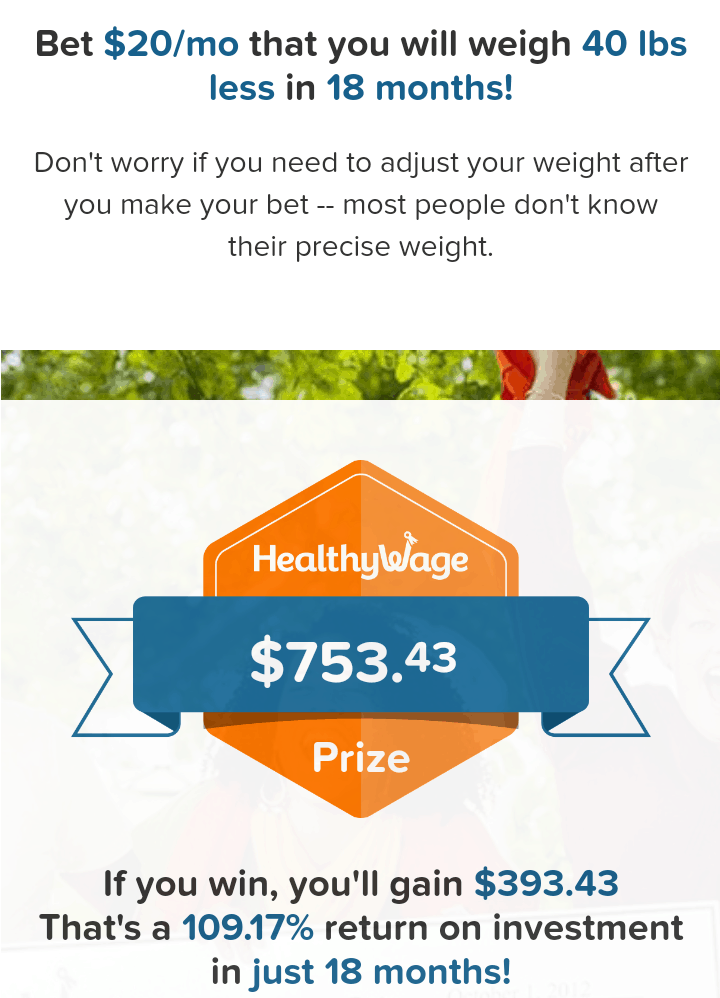 Get Paid to Lose Weight – HealthyWage Rules
With HealthyWage you place a bet, set a weight loss goal and earn money once you reach your goal.
3 simple steps on how it works
Enter your stats like height, weight and gender. Use the prize calculator to choose how much you want to bet each month and the duration of the bet. For example, you could choose to pay $40 for 10 months.
Use the HealthyWage progress tracker to keep you motivated.
Finally – get your money when you have successfully lost weight. Payment method is by PayPal or check.
Is Healthy Wage Legit?
Founded in 2009, HealthyWage is a legit company that has run challenges in large companies (like Fortune 500), Universities, state and local government, hospitals and energy companies in the US and throughout the world.
They have also been featured in mainstream media like CNN, FOX news, ABC, NBC, The New York Times, The Wall Street Journal and over a dozen other media sites.
HealthyWage has also recently teamed up with television fitness personality Shaun T, who is the creator of the widely popular programs Insanity, Transform: 20 and T25.
Weightloss Challenge for money
This is the perfect weight loss challenge because you are competing against yourself and the prize money stands as the motivating factor.
You use the prize calculator to determine how much money you can earn. You can raise or reduce your bet and play around with the amount of weight you set as a goal.
To win the final prize money, you will need to send proof of your weight loss. Acceptable methods are,
The HealthyWage App
Video verification – get a friend to help take a video of yourself stepping on the scale in one shot (uncut take).
Print out a form given called "VerifyMe" on their website and get a healthcare professional to sign it. Once done upload the file into your dashboard.
To help with your weight loss journey I have put together a few helpful resources to help you lose weight naturally.
Earn more with HealthyWage
Once you join HealthyWage you can earn more money by referring friends and family to take part in the weight loss challenge.
For each member that signs up from your referral, you and your referral earn an additional $40 bonus. So if you refer 10 people to join you earn $400!
How to lose weight fast naturally
While exercising is important, eating right also plays a big part in weight loss.
Controlling portion size, avoiding fast food and snacking often, can keep your weight under check.
This post has a list of weight loss recipes that are healthy. In addition here is a free vegan weight loss guide for those following a vegan diet.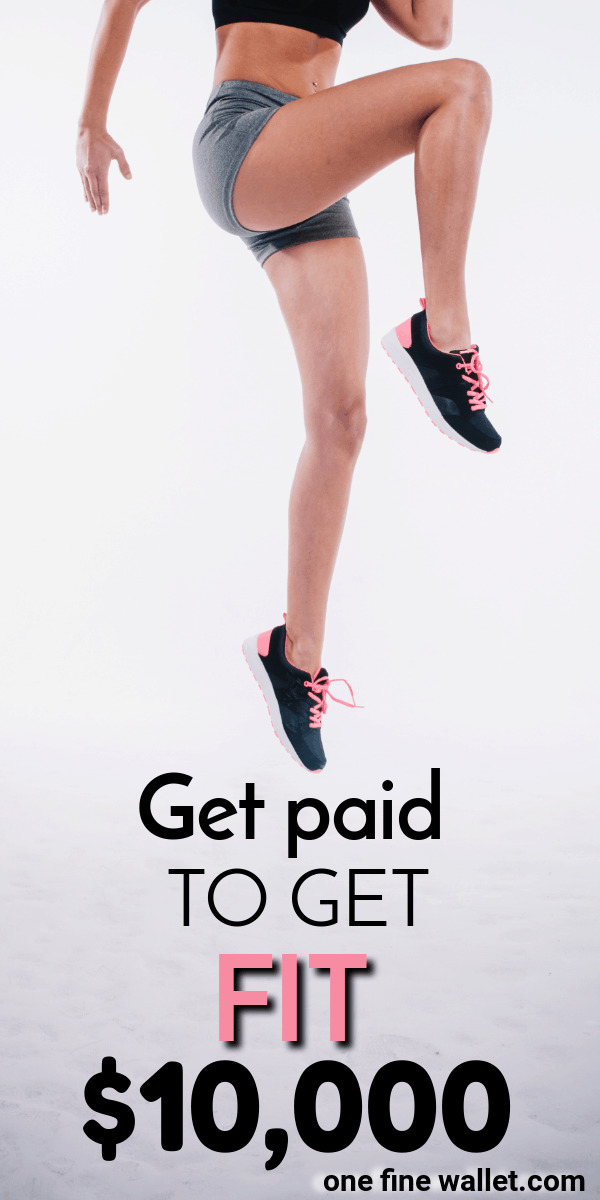 Weight loss Challenge for Money